During hiking activities, you can experience various injuries or pains, among them, the most common can be knee pains.
Usually, in this case, the two most suspected factors are terrain and hiking boots.
Temporarily putting the Terrain aside, there are a lot of people who question whether hiking boots cause knee pain.
Well, the answer is maybe yes, and maybe no, because it depends on many factors. In today's article, we will give you a complete overview of this issue!
Let's take a look!
Can Hiking Boots Cause Knee Pain?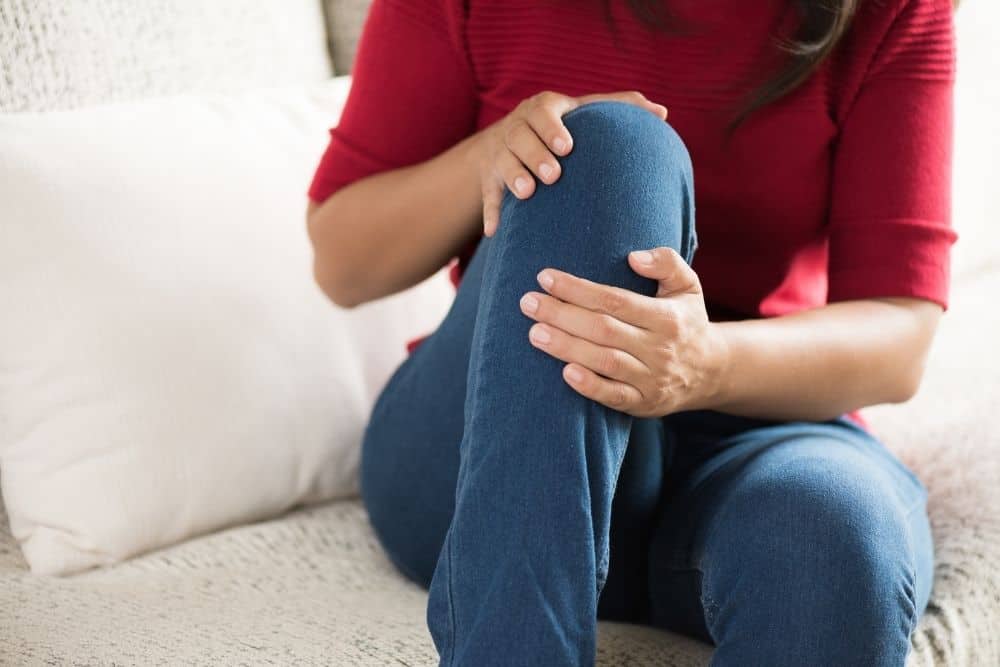 In most cases, hiking boots won't cause knee pain, because these types of footwear usually support the foot very well.
They feature shock absorption, arch, ankle, and heel support, etc. These ensure your knees don't suffer a lot of pressure or shock during hiking.
However, it is the ideal case if you own a good pair of hiking boots with a great fit.
In other rare cases, when hiking boots miss the ankle or arch support, or they have heels that are too high than expected, your knee is still likely to hurt.
Here are some of the most common causes we've rounded up.
Let's take a look!
Reason 1: Lack of arch/ankle support
One primary reason why your hiking boots make your knees hurt is that they lack ankle support.
Usually, hiking boots, by design, are stiff and sturdy and provide ankle support. This is so that you can have comfortable hiking experiences – rid of pains.
However, not all hiking boots have that feature, or they lack in that aspect.
That could be the case because they are unfit, either too tight or too loose for your feet. These leave your ankle too stuck up or too free in your hiking boots.
And since you don't have enough ankle support, your knees have to bear the whole responsibility of supporting your body and weight when hiking. As a result, you may experience knee pains when hiking or after.
Solution: Change your boots
You do not need to wear hiking boots that are lacking in the support department. On the contrary, one major thing that makes a hike suitable for you is your hiking boots' support.
Once that is absent, you may have the most tedious or annoying hiking experience. So, it's best if you buy better-fit hiking boots.
So, when you want to buy your hiking boots, you have to check they are the right fit for you. After, you have to check for their ankle support.
Check if they have the right cushioning and if they snug around your ankles perfectly. Then, changing your hiking boots might be the solution you need.
Reason 2: Too much heel
Another way your hiking boots may be hurting your knees could be that they have too high heels. While regular hiking boots have heels that we can't precisely categorize as high, they could also make your feet hurt.
It could be worse if you wear those fashionable ones with higher heels. One thing you should know is that the higher your hiking boots heels, the more your knees are likely to be subject to compression pressure.
For instance, one-inch heels could amount to 23% compression pressure. However, manufacturers keep hiking boots heels between 1 to 1.5 inches to provide ankle support and make you comfortable.
So, in some other cases, your hiking boots heels may not be the problem. But, on the other hand, if you wear fashionable hiking boots with heels higher than two inches, you may have to worry about knee pains.
When you wear hiking boots with heels of 2+ inches, you put more pressure on your knees and heels. As a result, it may cause your bones to rub together, leading to knee pains.
Solution: Wear hiking boots with smaller heel inch size
The solution to that would be to wear hiking boots with a smaller inch size. You would have to measure your hiking boots heels to know if they are between the standard size, 1 to 1.5 inches.
If you realize that they are, you should probably replace them with something lower. You don't need them hiking anyway since you'd be walking on different hiking terrains, and they may do more harm than good.
However, you may not need to replace them if you don't wear them hiking at all or if you wear them just around and for shorter periods. But, of what use is a hiking boot if you don't wear them hiking?
Reason 3: They are heavy
Your hiking boots could be causing you knee pains because they are heavy. We know that hiking boots are different from your regular shoes due to their design and purpose, but do they have to be heavy?
Hiking boots are sturdy, and with all those materials that make them up, they tend to be heavier than regular shoes.
Unfortunately, the weight could strain your knees. Also, the weight could mess with your balance with every step you take, straining your muscles as your feet hit the ground.
Not only would you need your ankle to help you out, but your knees would also bear some of that hurt. And if you feel your knees pulling and pushing as you lift your legs, your knees may hurt during and after hiking.
Solution: Cut down the weight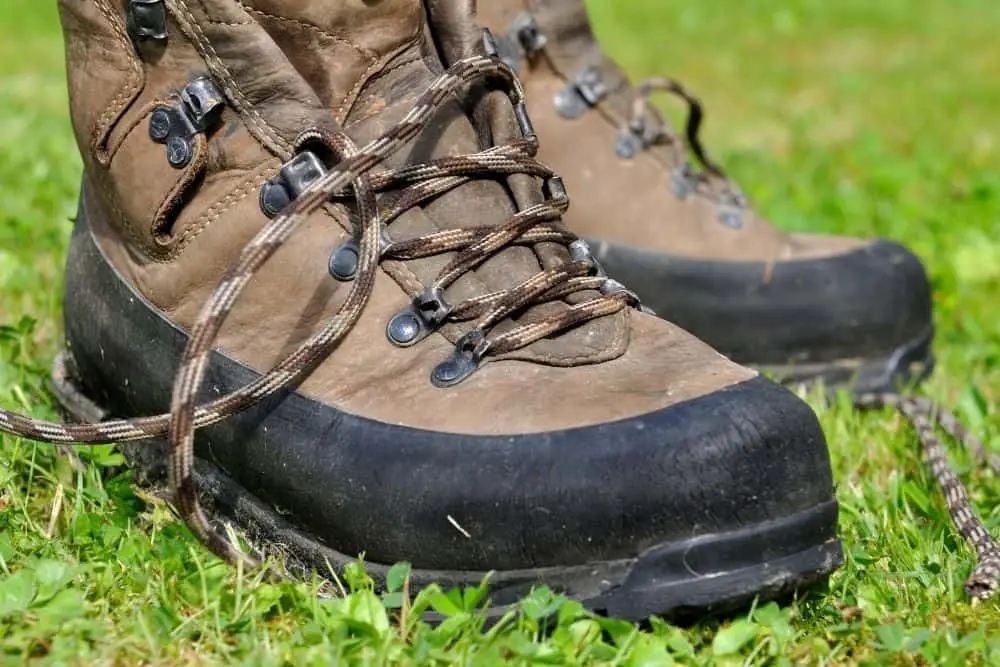 The solution to that would be to cut the weight down. If your hiking boots aren't your size, you may need to find the right size for your feet.
Also, you could try to break them in and see if they feel less heavy. They could've been heavy because they're new, and the materials need a little bit of stretching for them to soften. So, soften them up and try again.
In addition, you should reduce the weight on your back too.
If you combine the weight on your back and you're hiking boots, you would be overworking your knees. So, try to hike with fewer heavy loads on your back.
Reason 4: Lacks shock absorbing features
Your hiking boots could make your knees hurt if they lack shock-absorbing features. How? This feature helps to reduce the physical impact you feel every time your feet touch the ground.
Additionally, the feature helps the force that travels from your lower joints to your upper joints. Plus, it also keeps you steady on the terrain with every step you take.
With the right shock absorbing features, your hiking boots can reduce the impact you feel hiking. However, when it's not so, the effect travels to your knees, putting more pressure on them and making them hurt.
Solution: Hike on easy terrains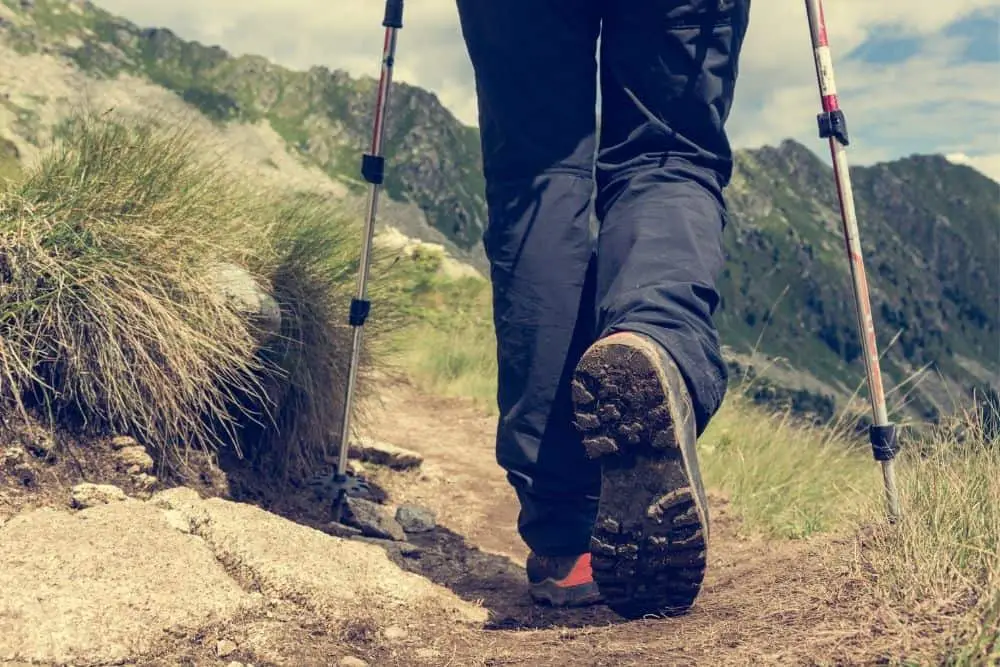 You could sort that out by hiking on easy terrains. This will help lower the impact you feel on your knees. When the hiking terrains aren't so solid or rugged, you may save your knees some pain during and after hiking.
Another thing you should consider is to wear shoes with good shock absorption features. How do you know a pair of hiking boots have good shock absorbers?
You can check if they have thick cushioned footbeds or thick midsoles. This will help minimize the impact that you feel on your feet or ankle and aid in keeping your balance when hiking.
Reason 5: Uneven and minimal outsole
You could be feeling some pain in your knees because your hiking boots have uneven or minimal outsole. After wearing your hiking boots for a while, a part of the outsole may wear off more than the other side due to how you walk or stand in your boots.
Also, hiking boots outsoles have miles lifespan, so the more miles you wear them for, the more they wear off. Your hiking boots soles are like another surface, apart from the ground, where your feet maintain a balance.
So, they make your feet feel comfortable or uncomfortable when hiking, depending on how good and balanced they are. When your hiking boots' soles don't balance, it puts a lot of pressure on your joints.
As a result, your knees have to make up for that. Also, if one side seems worn out more than the other, you have to maintain a slant stance throughout your hike.
Plus, when your hiking boots have minimal outsoles, they've messed with the balance that manufacturers had in mind for them. Uneven and minimal outsoles happen when you've worn the hiking boots for quite some miles, and they begin to wear off.
An imbalanced walking stance leads to uneven outsoles so that it may have been you all along, and you probably didn't notice until the pains came along. So what do you do then?
Solution: Tread hiking trails carefully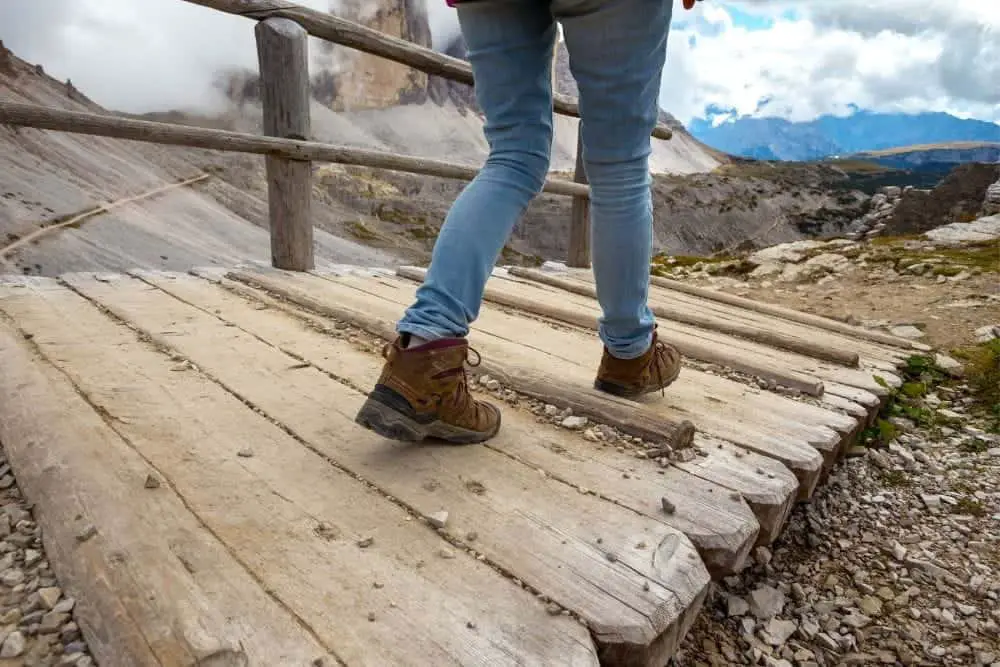 You could try treading on hiking trails more carefully, especially if you don't want to replace your hiking boots. Hiking carefully means you can watch your steps as you go up or down a hiking trail.
However, this probably won't be the best solution to stop your knees from hurting. Instead, you can replace the soles if you can't afford a new pair of hiking boots. You could give them to a professional shoe repairer to replace the soles for you so you can enjoy hiking once again.
Reason 6: Their high cut features
The issue with your hiking boots could also be their high cut feature. Manufacturers include this feature to provide hikers with enough ankle support.
However, they may be too tight or rigid, and as a result, reduce mobility as you hike. Also, since you can't move your ankles as you want, your knees have to compensate for that resulting in more pressure on your knees.
As a result, you could end up with severe knee pains when you finish hiking.
Solution: Wear knee braces
Sale
Last update on 2022-11-05 / Affiliate links / Images from Amazon Product Advertising API
You can wear knee braces to solve the knee pains issue. They help support and protect your knee joints while you hike comfortably and free from pain.
One good thing about knee braces is that they don't impede your movement or compress your knees. So, when you wear them, you can still expect the same quality hiking experience.
Reason 7: They're stiff and have thick insoles
Another reason why your hiking boots hurt your knees is that they are stiff and have thick soles. This gives less room for flexibility for your feet.
Your hiking boots should flex and move when you walk in them, but if that doesn't happen, your ankle and knees suffer instead. Also, many hiking boots are usually stiff because they are new and need some time to break in.
Also, they tend to come with thick soles, which could be too sturdy for your joints. However, you have a chance with them to easily break them in and show signs that they can bend.
If they don't bulge at all, you can replace them. In the meantime, you can try a solution till they break in.
Solution: Use a trekking pole
Last update on 2022-11-05 / Affiliate links / Images from Amazon Product Advertising API
You can try hiking with a trekking pole in hand. This is because trekking poles take some part of the weight your knees and ankles carry.
That way, you reduce the stress and load on your knees. When getting a trekking pole, watch out for one with good shock absorption so that it would be a double win for you.
Other solutions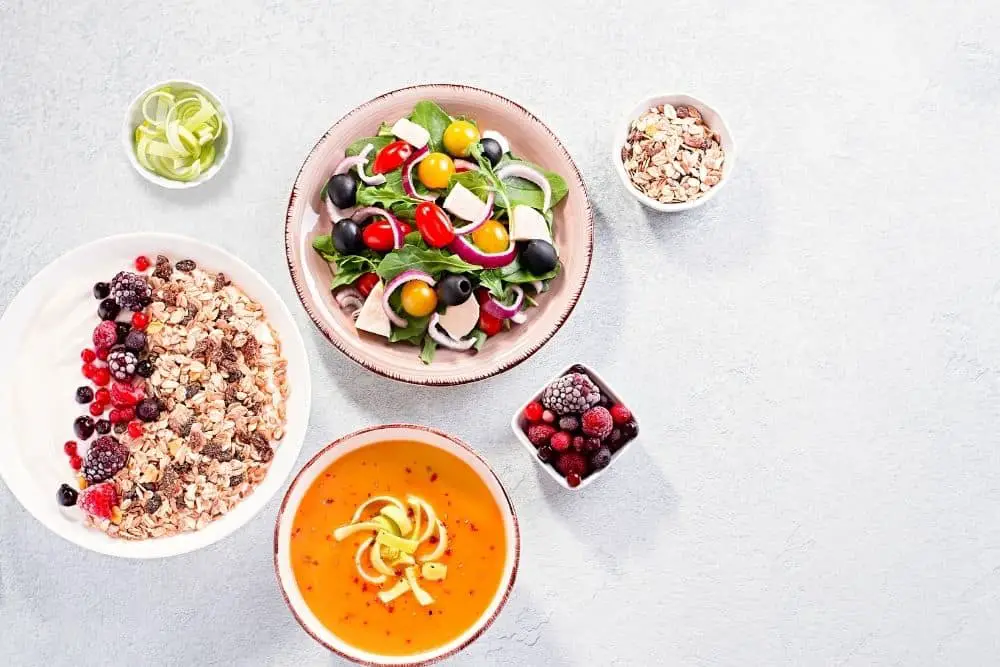 You could improve your knees' health with better nutrition. Your diet is essential, and it contributes to your overall well-being, and in this case, your knees health.
You should eat meals high in Omega-3 fatty acids as they help lubricate your joints and lower inflammation at the joints. You could also take Omega-3 supplements for more anti-inflammatory purposes.
Also, you should desist from eating foods that cause inflammation, like sugar, processed meat, alcohol, fried food, and refined carbohydrates. Instead, you could replace them with fruits, vegetables, spices, fatty fish, and nuts that help reduce inflammation.
When you have healthy joints, you can be sure that your likelihood of experiencing knee pains while hiking will reduce.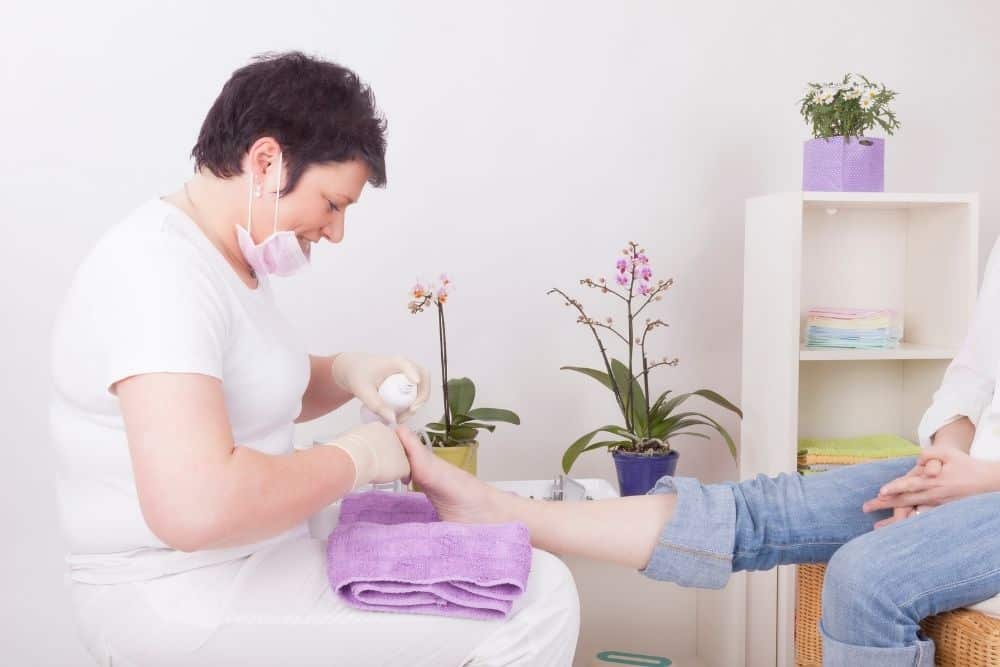 When you realize that you experience knee pains when hiking, you could visit a podiatrist for help. They could recommend hiking boots that can help improve the pain.
At the same time, they can also recommend or help with inserts that improve your knees when you hike. You can resort to this solution after trying other methods and still feel pains in the knee area.
Sometimes, the problem may not be your hiking boots, or they could've worsened the situation.
Conclusion
You may have experienced knee pains on different occasions when hiking and wondered what could be the problem. Sometimes, the problem could be with the hiking boots you wear.
They may not provide enough support or be too stiff, or could be some other reason. Hiking with knee pains or experiencing pains after hiking sucks and can make you dislike the activity.
So, this is why you need to know what the problem is and how you can solve them. And that's what this article has helped you to figure out.
This article discussed why your hiking boots make your knees hurt and provided solutions to help you out. Therefore, find out what the problem is and try the solutions that we suggested for the problem.