How often do you hike in a month whether it's for losing weight or just to explore a whole new place?
If this frequency is more than 5 times per month, you will probably find out that you need to do something right away for your feet and hiking boots, for example, give them 1 brand new pair of new insoles.
With some walks for dozens of miles in a month, your boot's original insoles soon become flat, smell fishy due to your sweat and they are no longer providing enough support for your arch and heels no matter how well-constructed they were right out of the box.
That's when you know deep down that you need to add in some new, good insoles.
This is even vital for those suffering from plantar fasciitis, high arches, flat feet, overpronation or underpronation syndromes. The more they walk, the more painful and sore their feet are supposed to experience.
There's a very little percentage of Americans who can walk normally in good posture. It sounds pretty surprising but we somewhat don't often pay enough attention to this problem until we have experienced a very bad hike after that.
There's almost no way to cure these foot issues or the process can be pretty time consuming.
Don't let it prevent you from enjoying this life. Just give them suitable insoles before you are ready for the hiking.
Check out which is the best type of insoles you need, right below!
10 Best Insoles for Hiking Boots
Look no further for best insoles for hiking boots, here are what you need:
1. Best comfortable insoles for hiking boots overall: MAXIMUM FORM Insoles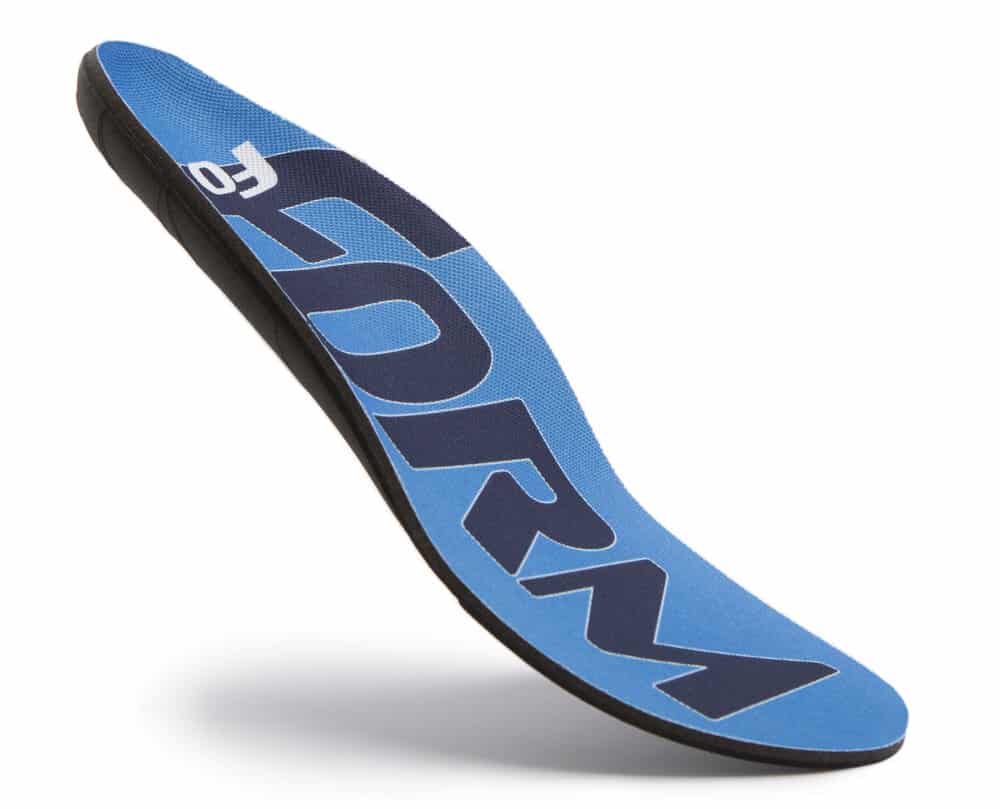 FORM premium insole brand has never been a big player in this industry so far. It's not clear when it was founded but their insoles are a real game changer, especially these MAXIUM FORM insoles.
This insole construction comes up with biomechanical shapes that fit well the curve of the feet from heel to toe. That's why they work well for those who are normally high arches, plantar fasciitis, and low arches.
Some wearers with these foot symptoms can walk happily for 30 minutes straight away with the insole which has never happened before.
This is due to the fact that the wearers can feel every part of their feet, which allows them to put more control on the way they walk. This greatly helps prevent unusual pronation while walking.
Besides, the heel and arch portions are reinforced with thick foam with rubber soles. You can immediately feel no rocks under your step and the pains are relieved well.
If your hiking boot's soles are already flat and worn-out, frankly speaking, these FORM insoles are your lifesaver from foot fatigue when walking through stony, rugged and rock-strewn terrains.
Both thick heel cups and rubber soles play a big impact on excellent shock absorption on the way you go. As a result, you don't notice really bad foot fatigue, bunions, tailor's bunions or blisters at the end of the day.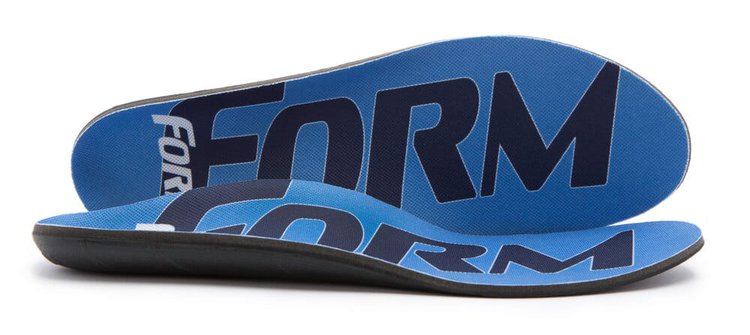 Some people claim that the insoles make themselves a good option for high arches.
From my previous experience, it works for low arch too as long as you know how to adjust it.
This is due to the immensely smart feature of FORM insoles (you may find it nowhere else) that allows you to heat and adapt the moldability level to your own feet.
For example, if your arches are rather flat, heat the insoles then walk on them for a few times. The device will fit perfectly without excessive discomfort.
In case the insoles flatten over time and they no longer fit your high arches, heat them in 2 minutes then they mold to your arches just like before.
That's pretty amazing!
However, keep in mind that the insoles can be noticeably thick and may fit snugly in your hiking boots.
Features:
Made from a combination of EVA Foam, Polyurethane, Polyester
Rubber sole for anti heel slippage
A thick volume of foam under the arch and heel portions for shock absorption
Possessing natural, biomechanical curves of feet
Featuring Temperweave top layer for fighting bad odors
Heat them up to make them mold to your feet
Con:
The thick construction of insoles may narrow the space inside the hiking boots.
2. Best insoles for hiking boots with plantar fasciitis: REINFORCED FORM Insoles – Comfort & Relief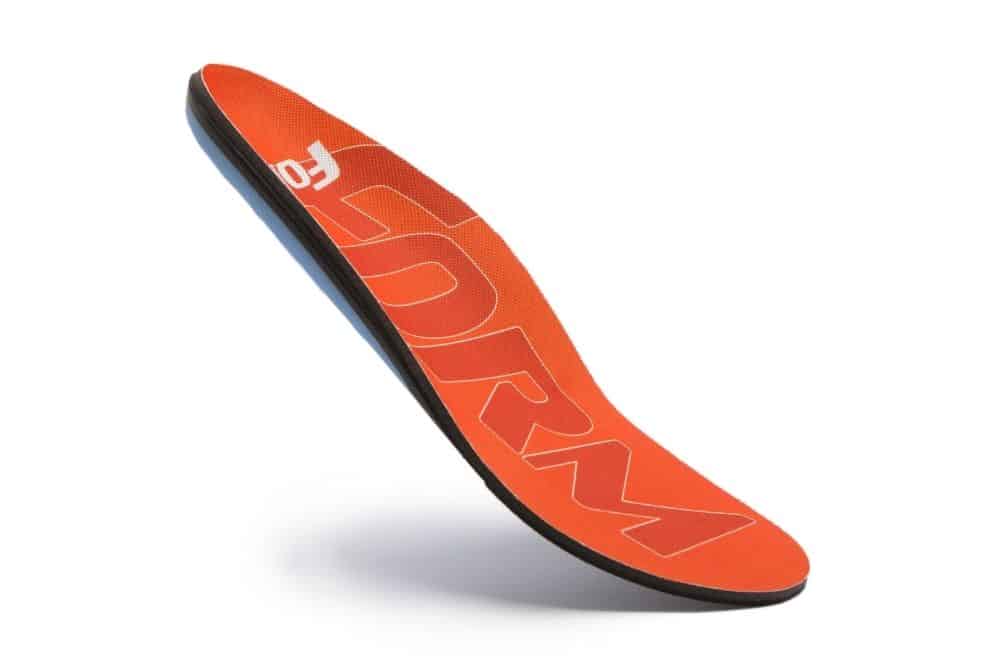 You may be confused between FORM insoles because they look quite a lot similar. Not really! These REINFORCED FORM Insoles are rather incredible for curing Plantar fasciitis.
If you have developed years of this foot symptom, this insole is the best for you.
The design of these orthotic insoles is strengthened with EnduraHeel which refers to an added base shell right under the heels and arches.
You are less likely to encounter plantar fascia strain stretch every time you walk. It means no more stinging pains afterward and those with Plantar fasciitis can walk up to 2 hours right away with these insoles.
Many feel the insoles are way sturdier than any other insoles but that's how orthopedic insoles are supposed to be. You can take more active control over your pronation, your arch and the heels on the go.
Meaning, there's less chance of getting wrong walking postures, helping to cure lower back pains, knee pains and calf pains at the end of the day.
What I like about these devices is how helpful they are to support your feet up to either 12 hours standing up on cramped boots or 10 miles of walking all day long.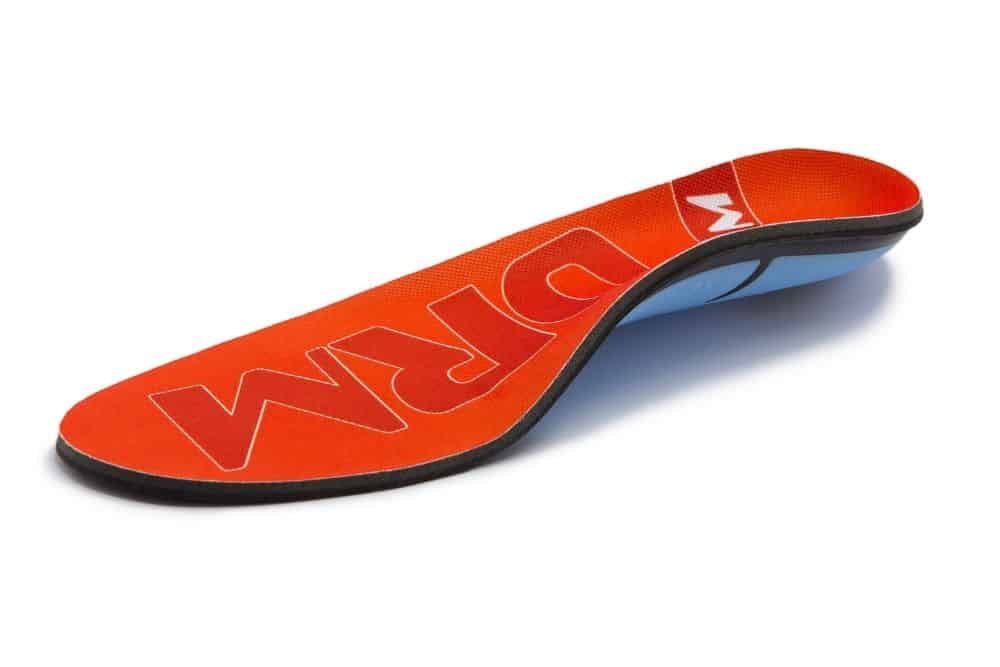 You may experience some tough feeling at the very first try but since you heat the insole up in about 2 minutes, they soften immediately, mold to your feet and become an excellent practical cushion to cure Plantar fasciitis pains.
Besides, the high quality construction of the insole allows you to freely trim down them to fit your hiking boots better.
The combination of EVA foam, polyurethane and polyester is rigid and unyielding to not produce tiny residuals after being cut.
Features:
A combination of EVA Foam, Polyurethane and Polyester for sturdy construction
Rubber sole for anti slipping
Featuring EnduraHeel for excellent Plantar fasciitis support
Thick and supportive heel cups and arches for shock absorption
Featuring Temperweave for anti bad odors
Heat them to make them mold the way you want
Con: 
You may experience some little sturdy feels on the very first try.
3. Best insoles for hiking boots with flat feet:

KEEN Utility Mens K-20 Insole
KEEN Utility Men's Utility K-20 Cushion Accessories, Black, XL
CUSHIONING & FIT: a premium, thick, full length shock absorbing material evenly cushions the entire...
Heel Stability: A Heel Cup Centers And Aligns The Heel And Foot, Improving Alignment From Heel...
ANTI-ODOR TECHNOLOGY: features cleansport nxt (a trademark of the stewart group); a quick drying,...
Last update on 2023-11-07 / Affiliate links / Images from Amazon Product Advertising API
For those who are born with flat feet, you soon realize you don't need much super arch support or some thick volume around this part.
That's why these KEEN Utility Men's K-20 Insoles, possess a smooth-running and even shape from heel to toes make them the best option for flat feet.
However, you can still feel some super cushioning support from the bottom of the device. This ensures more than 10 hours of walking or standing with no discomfort.
Whether you apply them for working or hiking, you will get home with happy feet at the end of the day.
The thickness of the insoles is not really noticeable in comparison to high-arches insoles but it comes just enough for what flat feet need.
You can start to absorb energy back to your steps from the insole due to the high rebound foam construction.
Some tell me even though their KEEN insoles are already developing obvious worn-out marks, the devices are still supportive with excellent cushion.
They don't flatten over time but the cushion can last for months up to a year with dozens of miles.
But what I may not like too much about these insoles are they are not water resistant. I once had to dry my KEEN K-20 insoles out under the sunlight in the middle of my hike heading to Moaula Falls in Hawaii.
There are several small streams on the way and when I unfortunately step on a large puddle and the hiking boots get wet, the insoles start to store some dampness immediately.
If I continue to walk in this case, chances are I am going to experience pretty bad blisters at the end of the day.
So, there's no choice but to hang the insoles for about 1 hour to let them dry. The good news is the insoles don't show any degradation after that.
Features:
Made from 100% synthetic foam with sturdy construction
Featuring thick, even shape particularly for flat feet
Excellent heel cups to prevent heel strike
Anti-slipping soles
Featuring Cleansport NXT for extra anti-bad odor
It's okay to trim down
Con:
4. Best insoles for hiking boots with high arch:

Spenco Rx Orthotic
Sale
Last update on 2023-11-07 / Affiliate links / Images from Amazon Product Advertising API
Right from first sight, you would know deep down that these Spenco Rx Orthotic Arch Support Insoles are the best choice for medium high arches to exclusive high arches.
The length of the insole is only 3/4 the length of a regular insole which looks kinda unusual. But since high arches require only the curve to embrace correctly their arch type, this shape shall work the best.
You can feel the support immediately after putting your feet above the insoles and feel your arches are filled up.
Now, the bend of the insoles comes into play. If most of the high arches insoles cushion is thick and stiff underneath the arches, you will probably feel the heat and some rigidity when walking.
But with this curving support, your arches can feel natural bounce from the insoles, helping to absorb shocks better and making your move flexibly. That's why the insoles don't narrow space inside hiking boots which fit your feet snugly with discomfort.
Many claim that the insoles are pretty much helpful for high arches to go through about 15 miles with no pain.
Besides, the design of the insoles also helps cure foot fatigue at the end of the day by providing a superb layer of shock absorption and cushion. What's good about this insole is instead they don't get flattened over time and use the more you walk.
That's the most common problem that high arches often encounter. The insoles shall be good for months of frequent use. However, keep in mind that the insoles can somewhat heat your feet due to the plastic sole.
Features:
Featuring 3/4 length insole for better roomy toe boxes
The exclusive curve with cushioning layer for shock absorption and relief
Plastic sole for better moldability
Featuring 4-way stretch fabric to fight against bad odors
Con: 
I don't quite recommend wearing the insoles in super hot weather.
5. Best insoles for hiking in developed trails:

Dr. Scholl's Extra Support Insoles
Last update on 2023-11-07 / Affiliate links / Images from Amazon Product Advertising API
If you are new to hiking, it's better to get your first trip with developed trails that are highly well-maintained and safe.
But what may challenge your staying is that you shall spend lots of energy on climbing up the stairs or uphill along the trails that lead you to somewhere like Grotto Trail or specific mountains.
That's why you need these Dr.Scholl's Extra Support Insoles to fuel your steps throughout the hike. The brand claims that you can move 10% more with gel insoles since they are unable to bounce back and return energy on your steps.
The gel pads added in the heels and arches feature pretty elasticity to cushion your feet.
So every time you put your feet on, the insoles give the same bouncing effects as when you first buy them. Gel insoles are also pretty cool and refreshing. They don't retain heat and help regulate the temperature inside the hiking boots.
Since walking uphill produces more heat than normal, these Dr. Scholl insoles are just what you need.
The ball of the foot also receives some good treats from massaging gel which claims to reduce up to 30% shock. I haven't made the calculation but they work just fine for me to continuously go up for miles exploring Archeology Trail.
However, if you have super high arches, the insole shall not be a good option for you.
Features:
Featuring supportive construction with gel pads around heels and arches
Messaging Gel added to the ball of the foot for extra shock relief
Semi grooved soles for anti-slipping
It's fine to trim down for better fit
Good values for the money
Con:
It seems not really reasonable for high arches.
6. Best insoles for hiking boots with extended trails: Timberland PRO Men's Anti-Fatigue Technology Replacement Insole
Last update on 2023-11-07 / Affiliate links / Images from Amazon Product Advertising API
Extended trails can be a pretty demanding trail that will test your breath, your persistence and your feet as well. They can take long days to reach the destination which often extends to more than 100 miles long.
There may not be many uphill occurred in the middle of your hike like with developed trails but you will continue to abuse your feet for days or even a week.
That's why you need these Timberland Pro Men's Anti-Fatigue Insoles. The strength and consistency of the device are made for hundreds of miles to go.
First off, the thick volume of exclusive inverted cone foam under the heels and arches never flatten over time and heavy-abused use which makes them last longer than your expectation.
The bottom of the insoles is made up of honeycomb-shaped foam arrays connected together. This helps spread shock and force from the feet better than while receiving a pretty supportive bounce around the heels and arches.
Wearers will experience reduced foot pain when walking for dozens of miles a day. My friend has told me that he had experienced a wonderful and easy hike through somewhere in the mountains of Colorado on these insoles.
My friend often gets muscle cramps in his muscles and toes when walking continuously while he has been suffering from plantar fasciitis for years.
But the firm support in heels from the insoles prevents excessive stretching of plantar fasciitis strains during all-day walking. Yet, from my own experience, the shape of the insoles seems not to be good for high arches.
Features: 
Featuring exclusive inverted cone foam for durability and shock absorption
Excellent fit all over the feet
The thick volume under the heels and arches for comfort and support
It's fine to trim down
Con:
Not a good option for medium to super high arches.
7. Best insoles for hiking boots in way trails:

Spenco Polysorb Cross Trainer Athletic Cushioning Arch Support Shoe Insoles
Last update on 2023-11-07 / Affiliate links / Images from Amazon Product Advertising API
Way trails are often unplanned trails that head to a river, a beach, a waterfall or a mountain. But the paths are usually formed and flattened since many have gone through these ways and produced a clear way to go.
But the key challenge of this trail is that it can be pretty sandy, mossy and slipping due to the quick development of natural creatures on the go.
The best insole you need for this trail is beyond just support to relieve foot fatigue. It should be well resistant when stepping on large puddles or streams as well. You can find all these functions in these Spenco Polysorb Cross Trainer Insoles.
If you're someone who puts more weight on your heels than your toes when walking, the insole works best to relieve heel pains at the end of the day for you.
This is due to the super thick heel and arch foam of 5/32 inch layer which helps absorb shocks and stabilize your steps much better.
As a result, your feet don't get suddenly twisted when walking through uneven and slippery terrains on sand or moss.
What else is good in these insoles? They don't store water quickly. So, whenever you are hiking during the rain or passing through deep wet vegetation, your feet still stay dry and cozy to an extent.
However, one thing to keep in mind is that the insoles are recommended for the neutral arch with natural pronation.
Yet, from my experience, the arch shall be a little bit high for a normal arch which causes a little discomfort from the very first try.
But things will get smoother when the insoles flatten a little bit over time and use. So, if you have flat feet, I do not suggest using this insole .
Features:
Reinforced with a 5/32 inch layer of foam in heels and arches for shock absorption
Featuring forefoot crash pad to maximize comfort
Natural fit to neutral arches and normal pronation
It's okay to trim it down
Con:
Not recommended for flat feet.
8. Best insoles for hiking boots in long-distance trails: Sof Sole Insoles
Last update on 2023-11-07 / Affiliate links / Images from Amazon Product Advertising API
Long distance trails are way shorter than extended trails with about 30 miles in length. The trails often require walking through the dense forest and rocky uphills like Ice Age Trail.
Sometimes, you will challenge your strength by climbing some short mountains as well.
But the good news is the trails are planned and clear. However, for many people, maintaining good energy through a more than 30 miles hike isn't a piece of cake.
You need a lot of support from your hiking boots and these Sof Sole Insoles too. I have tried gel insoles, foam insoles but these airy-constructed insoles are pretty unique and interesting.
It's noticeably much lighter than gel insoles but is able to give the same effect of energy returns and bounce back.
The Skydex air bubbles are reinforced in the heels and part of the arches work the same way as gel pads for shock absorption and easing foot fatigue at the end of the day. But they don't weigh your step down.
But if you sort of put more pressure on your forefoot when you walk, the gel pads here are also helpful to relieve pressure and pains for the ball of the foot.
Overall, the wearers can feel a great cushion underneath their feet but some will experience a sturdiness on the very first try.
But the more you walk, the more the air bubbles soften and bounce back. Yet, keep in mind that the insoles may take over some places inside your boots, causing a narrow fit or snug fit.
In this case, you can decide whether or not to trim down some part of the toes of the insoles for a better fit.
Features:
Featuring Skydex air bubbles in the heels and arches for shock absorption
Gel pads reinforced in the forefoot for pain relief
CoolMax tech in fabric for refreshing and moisture-wicking
It's fine to trim it down
Con:
Not a good option for high arches.
9. Best insoles for hiking boots in unmaintained trails: MEMORY FOAM Cushion Insoles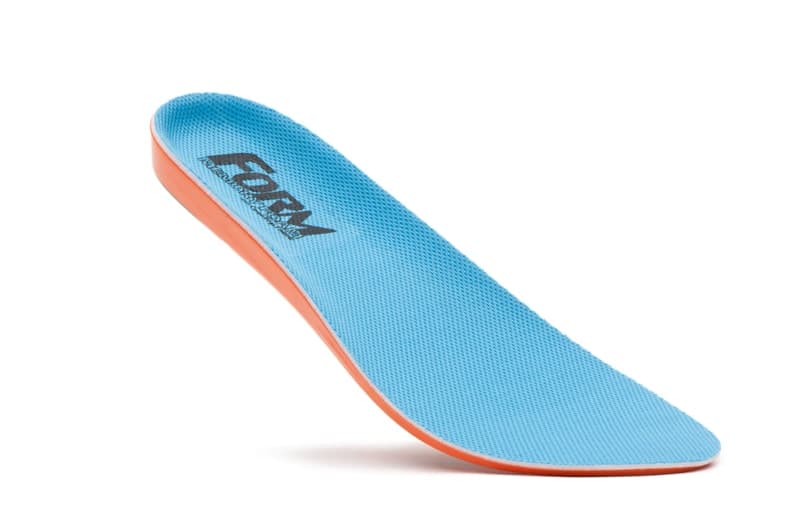 Unmaintained trails are pretty much challenging and , of course, unmaintained but full of curiosity and excitement, I know.
But since you don't know exactly what terrains you are going through, some unexpected scenarios can be encountering lots of sharp rocks, mossy and uneven grounds, old trees fallen over the path or some overgrown brush that may stab your hiking boots from below.
There's often no clear pathway to go, so hikers should be very cautious on every single step they take.
You can benefit from these MEMORY FOAM cushion insoles in many ways when it comes to wearing them and exploring unmaintained trails in Basin Lakes Loop Hike or somewhere else. The super thick memory foam from the insole gives a maximum cushion for your heels and arches, especially when you go up and down the terrains in just a few minutes.
Guess you probably have never seen this thickness in the insole's construction before. However, it doesn't mean the insole will roll or sprain your ankles due to this thickness.
Your heels stay firmly within the deep heel cups which contribute to stabilizing every step you walk.
Therefore, your feet are rather under control even when walking through the bumpy ground. Thanks to the device you don't get twisted ankles or sprained ankles somewhere in the middle of loose grounds of unmaintained trails.
Yet, the insoles won't weigh your feet down as much as gel insoles do.
If you have to function the ball of your foot quite a lot when climbing over huge and prodigious fallen old trees with overgrown vegetation all around, the gel pads placed in the forefoot can help absorb shocks while promoting energy return.
By all means, you should never let yourself fall behind in the midst of this clutter.
Besides, if some sharp branches all of the sudden pierce your hiking boot insoles, they are less likely to go deeper through the thick foam of the insoles and reach out your feet.
Features: 
Super supportive, cushy construction with deep foam reinforced in heels and arches
Gel pads placed under the ball of the foot for extra comfort and shock absorption
Deep heel cups for foot stabilization and correct walking posture
It's fine to trim it down
Heat them up to make them fit your feet
Con:
The insoles may narrow spaces inside hiking boots due to their plump construction.
10. Best insoles for hiking boots in cold weather and snow: Moneysworth & Best Polar Men's Warmth Down to -25c Felt Insole
Last update on 2023-08-27 / Affiliate links / Images from Amazon Product Advertising API
Last but not least on our list today, these Moneysworth & Best Polar Men's Warmth Down Insoles stand out for being one of the best insoles for hiking in cold and snowy weather.
I understand snow boots can be pretty bulky and inflexible for hiking in the snow. So, some of us still prefer hiking boots in this extreme condition.
In some cases, warm linings placed inside the footwear ain't enough. So, including a sort of thermal insoles into your hiking boots can be somewhat of great aid.
That's how you can benefit from these insoles.
They are covered all over the surface with quality and soft felt material which is pretty good at heat retention.
You can feel a great cushion and softness every time your heel and the ball of the feet press on the insoles due to the thickness of their construction.
Besides, the aluminum base reinforced under the insoles stops heat loss and prevent water from going deeper from below. The brand claims that the insoles are capable of keeping feet warm in the -25 degrees Celsius.
You may need to trim down some parts of the insoles as, from my own experience, the shape of the device seems to be a little broad. But don't worry if the felt layer and the base fall apart after cutting.
They are woven together with a pretty strong bond. I have worn the insoles throughout the winter in Madison County walking on 3 inches of deep snow.
There's a very little cold touching my ankles but no freezing occurred to my feet. In one way or another, these Moneysworth & Best Polar insoles are worth every penny.
Features:
Well and strong construction with felt layer and aluminum base for heat trap and cushion
Good value for the money
Be able to keep the feet warm at -25 degrees C
It works for flat feet and neutral arches
Cons:
The insoles are not supportive enough for high arches, unusual pronation or walking on uneven grounds.
May lack proper arch support.
What are insoles for hiking?
One might think that insoles for hiking look just the same as normal insoles that you buy for your trainers or sports shoes.
I saw people do this all the time and their insoles quickly wear and tear, even in the middle of your hike that is somewhere out there in the mountain or forest with no insole replacement you can buy.
If you have a dense frequency of hiking, you better go with something more resilient.
Good insoles for hiking should be constructed tough and sturdy. They should be given a more pronounced thickness along with suppleness than casual insoles, no matter what materials they are made from.
This enhances extra durability and shock resistance when your feet may walk for miles a day.
More importantly, some people have special foot problems such as plantar plantar fasciitis, flat feet or overpronation requiring some pretty specialized supportive insoles.
These can also act as medical insoles to correct the way you walk, preventing the impact of irritating the foot causing pain on the go.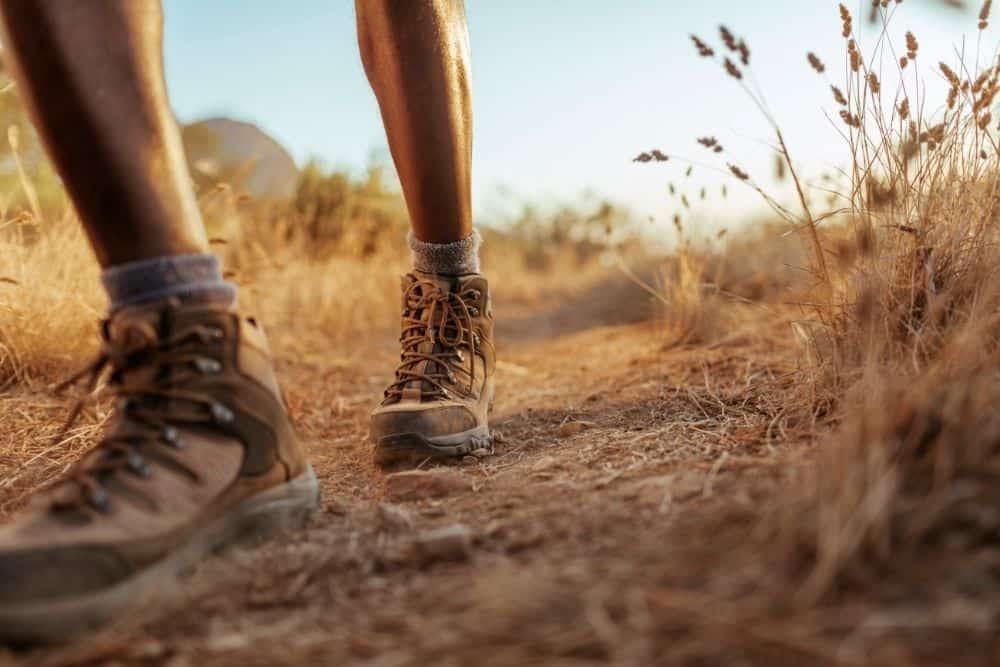 Can you use insoles in hiking boots?
Hiking boots come up with nothing quite different from the way sports shoes fit your feet.
So there's nothing preventing you from inserting insoles in hiking boots. There are many good reasons for this choice:
It's a must for unusual foot issues
Most hiking boots don't customize your feet 'size in their original insoles. Manufacturers only build the size of boot's insoles based on the foot size of the majority of end customers, those who often have normal arches, flat arches or neutral pronation.
But if you have special foot problems such as super high arches or over pronation, you are probably unable to feel good when putting on hiking boots with original insoles and walking for miles. That's why you need some extra add-in that helps correct your pains and walking postures.
My friend suffered from plantar fasciitis for almost 10 years after doing a bungee jump from Navajo Bridge, Arizona at 470 feet. It was pretty crazy but his heels started to feel some stinging pain right after.
His plantar fascia strain in the x-ray film looked almost broken, causing pretty much damage around this place. From then on, he couldn't live without extra insoles for plantar plantar fasciitis, especially when hiking.
New insoles are way better resilient
No manufacturer of hiking boots can claim that their original insoles are better than any other add-in insoles out there in the market.
Hiking boots can have an excellent mid-sole system with layers of shock-absorption stuff for foot support but their insoles often wear out pretty quickly.
This is probably because the manufacturers have invested a lot of budget in the technology and construction of the hiking boots to set themselves apart, so they may not have paid enough attention to hiking boot's insoles since people can be worry- free to add or replace their original insoles with something new.
That's why you'll probably need to insert new insoles into your hiking boots even a few weeks after you get the bill since most of them become flat and degrade very quickly.
Improve the overall comfort
No one can deny that extra insoles can do some good things to optimize the functionality of your hiking boots as well as your overall comfort in the middle of your hike.
Some lines of insoles contain semi grooves on the underside that help prevent foot sweat from seeping deep beneath the original insoles and surrounding linings. Chances are you will not experience badly heel slippage due to excessive moisture inside the boots in this case. What's better than having dry and clean feet at the end of the day after 10 miles of hiking.
Insoles for hiking boots are often optimized for advanced moisture-wicking and anti-odor surfaces . This prevents odors from clinging to the linings of the hiking boots. I saw some of my friends have thrown away good-conditioned hiking boots just because they smell so sour and fishy. That would be a big waste.
If your hiking boots ain't good enough at keeping your feet warm all the way out in early winter during the hike, extra insoles definitely can work things out. Thick construction with cushioning of hiking insoles brings up better coziness for your feet all over the place inside the boots. No cold air can touch your feet from below.
If you decide to hike in a hot, humid and rainy area such as Southern Florida or Hawaii, super breathable and ventilated insoles with porous construction and vents underneath will help cool down the feet while preventing over sweating.
Stabilizing the steps
Another unexpected benefit of having extra insoles in your hiking boots is that they help fill in excessive space inside the hiking boots.
If you mistakenly ordered a pair of boots on an e-commerce site one size bigger, you can use insoles to narrow the space inside your boots, especially in heels, vamps, and toes.
Besides, nothing makes your step more stable than comfortably walking up the slopes, hills or going down the valley. The right pair of extra insoles has the ability to adjust the support for the unusual symptoms of the foot.
They provide arch cushions for high arches or they can also provide some heel cups for plantar fasciitis patients. These all contribute to stabilizing the steps while hiking.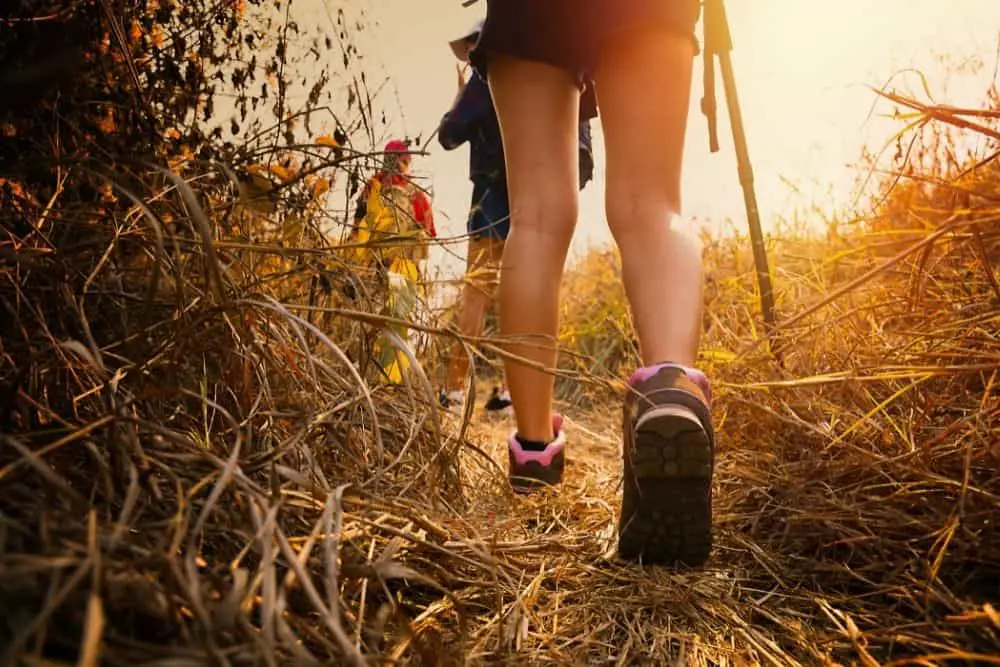 How do I choose insoles?
Here are some essential guides on picking the most suitable insoles based on your hiking case. We have divided insole types into different categories for you to consider.
Types of insoles based on foot health
See if this guide helps cure your pains.
Plantar fasciitis
Most original hiking boot insoles possess a normally flat shape which contributes to overstretch plantar fascia strain, causing more serious stinging pain around this area.
This strain locates on the underside of the foot and is close to the heels.
Therefore, the best insole device for these foot symptoms should be an insole construction with thick and elastic volume just below the plantar fascia strain as well as heels. It reduces the level of the stretch of plantar fascia strain.
Super flat feet
Normal flat feet (or low arch) can get rest assured inside any pair of hiking boots with their original insoles.
However, if you have flat feet and still feel pain in your feet while wearing these boots, your feet can be extra flat. These foot patterns don't come with arches as usual, which increases the pressure of the body on the entire foot when walking or running, especially in heels and arches.
Therefore, you need reinforced insoles with just a little thick volume and a slightly flat shape that run from the heels to the bottom of the arch. Sometimes these insoles don't even need cushion at the ball of the feet.
High arches
Insoles for high arches should come with deep heel cups and thick volume right under the arch portion.
This design helps fill up the large space around arches with a proper cushion. This relieves pressure on the area, reducing heel pain and ball of the foot pain.
Overpronation
Over pronation almost causes metatarsal deformity if this occurs from childhood to adulthood. Insoles for this foot issue are a little bit more special.
Most importantly, they need to help stabilize the step every time you walk, helping to correct the walking posture into neutral pronation. This can be achieved with super deep heel cups and thick cushion under the arch that properly embrace the curve of the arch.
Besides, these insoles should also be reinforced underneath with anti-slip materials (such as soft plastic) to prevent heel slippage inside the boots.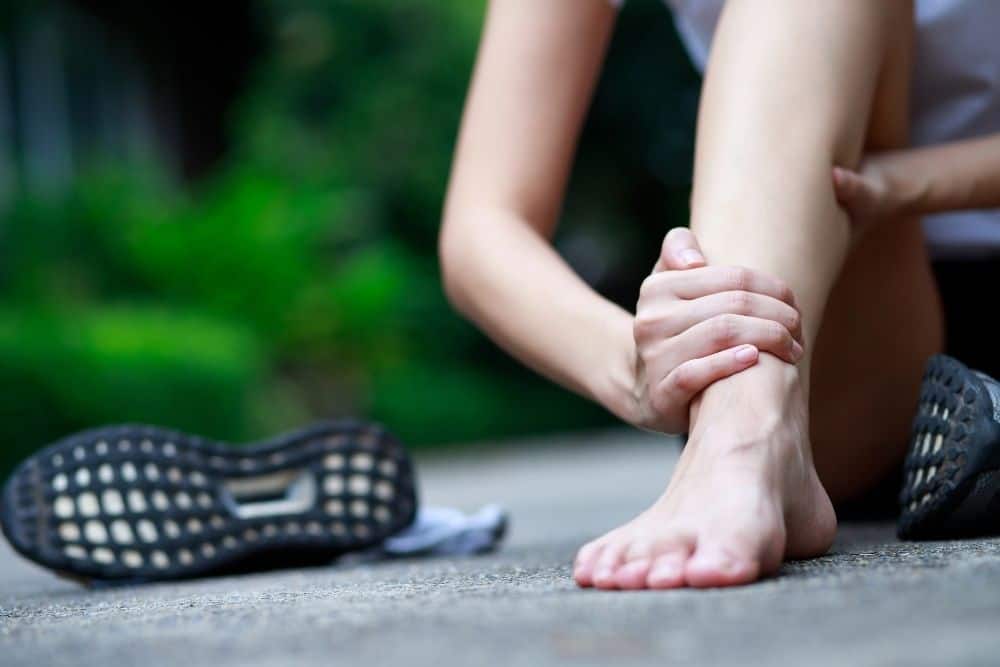 Type of insoles based on trails 
Check out this guide before getting ready for your trip.
Sandy terrains
Hiking through sandy terrains like deserts or beaches can be pretty challenging for anyone.
You'll need to be more concerned with the thick, rigid construction of the insoles, and the underside of the insoles being provided with anti-slip when rubbing against the bottom of the boots.
This helps keep the foot stay much more stable. You are less likely to experience twisted legs, twisted ankles or foot fatigue  quickly in this case.
Unmaintained trails
These trails are just unpredictable. There can be rocks, streams or include developed trails as well. No surprise if you will have to weave through rolling hills or mossy streams.
Your insoles should focus on reducing foot fatigue. This can be achieved by gel insoles or memory foam insoles with thick construction to absorb shock better.
Additionally, they should also be reinforced in heels with deep and thick heel cups to help stabilize your steps when stepping over slippery surfaces. This feature also helps relieve back and calf pain at the end of the day.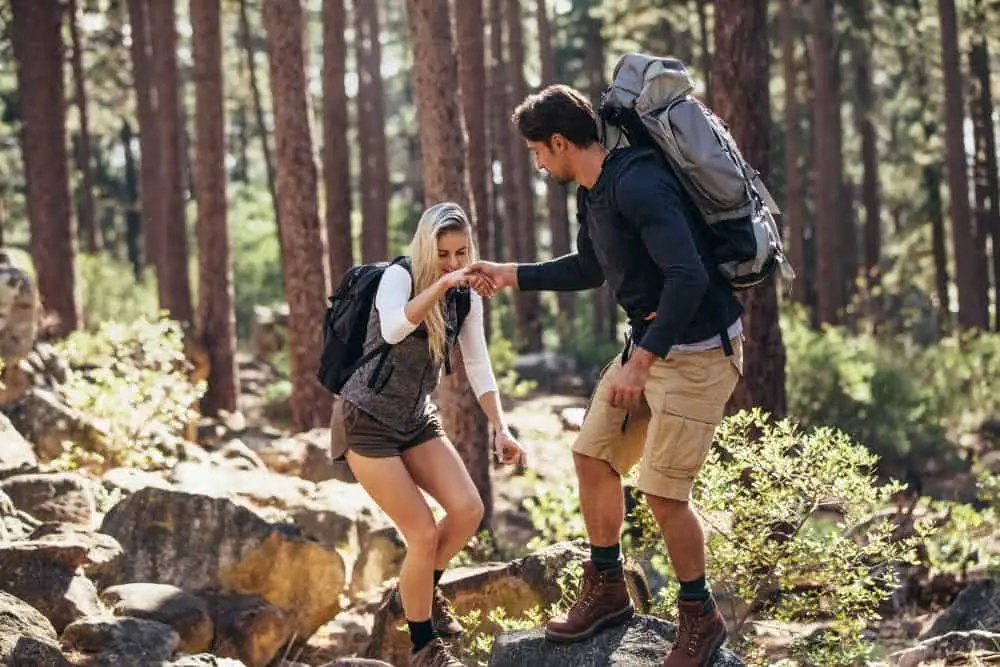 Types of insoles based on weather
It's not wise to ignore weather when it comes to insole buying.
Cold weather
I appreciate thick, foaming with proper thermal-surface insole construction when it comes to hiking in cold weather.
Memory foam has good heat resistance, high elasticity but does not return immediately, it will not cause foot pain in the middle of the hike.
This material is also very light even when memory foam insoles for winter can reach up to nearly 1 inch in depth. So, they don't weigh your feet down together with snow.
Besides, the heat-retention fabric such as felt on the surface keeps the feet warm all the way out.
Hot weather
The right insoles for this type of climate when it comes to hiking are structures containing a breathable, sweat-wicking, and quick-drying fabric surface such as carbon fiber or 100% cotton. These greatly prevent foot odor on the inside of the boots.
In addition, if the environment is too humid, deep moisture can seep into the inside of the boots and can cause heel slippage. You should choose insoles with backing reinforced with sturdy grooves to prevent sliding.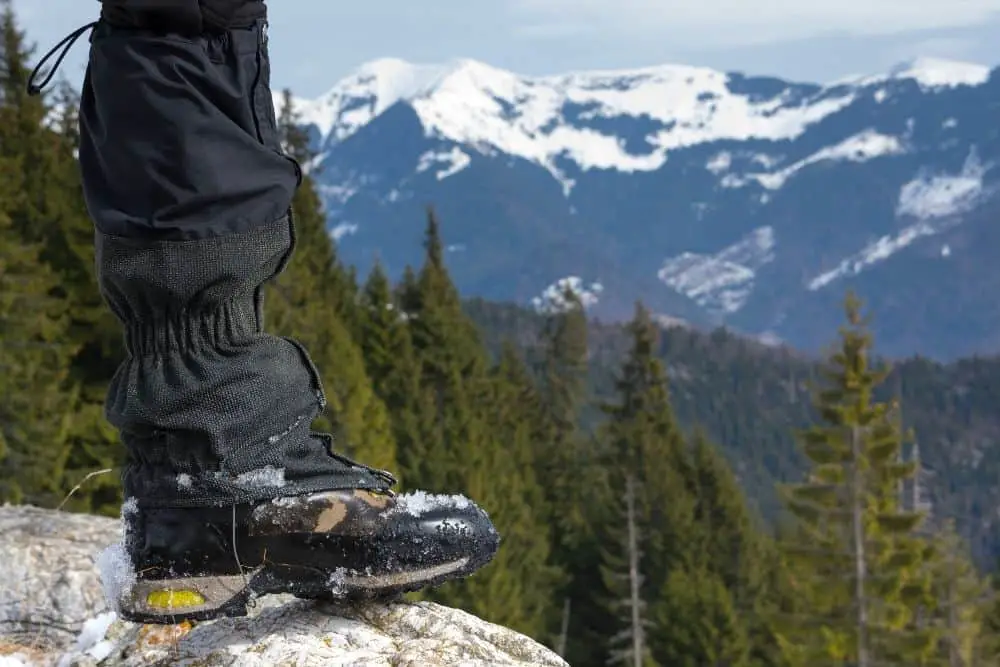 Before you leave
I have spent hundreds of miles of hiking trails in my life since I was 18. From my experience, insoles shall be the second priority of your gear list right below the first position of the hiking boots.
Insoles touch every single inch of your feet directly and act as an intimidating supportive device for curing your feet issues. Keep in mind that the healthier your walk, the longer you can reach on the hike.