A lot of adventure walkers and lifestyle hikers find themselves in a situation where they need to wade through considerable amounts of water.
While most modern, high-quality hiking boots are built with water in mind, and should make light work of wet weather and marshy land, wading through rivers, streams, and larger areas of water is a different story with its own set of requirements.
So, should you buy specific wading boots when you need to hike and also wade through water, or can you use hiking boots for wading?
Can You Use Hiking Boots for Wading?
Most hiking boots are built to take on the challenges of water, but durability, comfort, and grip over rugged terrain are a much higher priority to their build.
Ultimately, how hiking boots handle water depends on the type, quality, and build of the boot.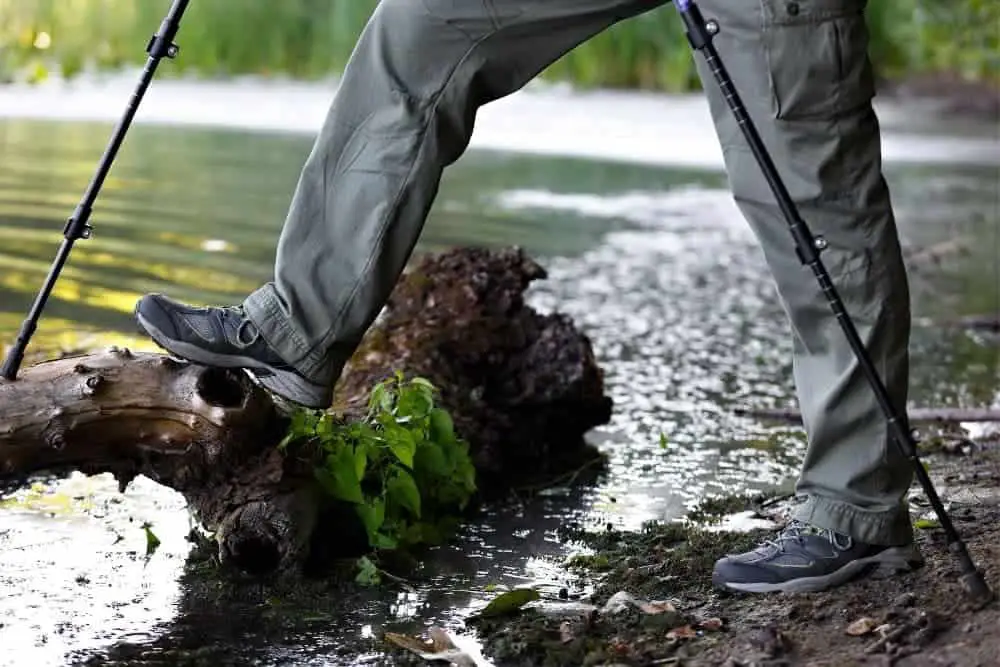 Hiking boots tend to be made from Nylon and split-grain leather, or full-grain leather, and this can make a big difference:
Nylon and split-grain leather boots are commonly supported with inner mesh panels which keep the boots breathable and comfortable through different weather challenges.
Most of these hiking boots will offer a good amount of water protection and often include a waterproof membrane.
They are excellent for long hikes due to their light-weight and durability, and ability to endure wet weather, but they are unlikely to fair-well when submerged in water for significant periods of time.
Full-grain leather hiking boots are even more weather and water resistant, but they are also considerably heavier than other types of hiking boots.
These boots have more natural water protection but they still aren't designed to be used in deeper waters and full leather hiking boots usually come at a premium price.
When used to wade through water for long periods they are likely to add more weight and lose some comfort, and risk long-term damage to the boots.
The difference between hiking and wading boots when used for wading
I just came up with this idea, wading boots are specialized boots for wading. It will be a more objective perspective to answer the main question if we have a comparison between hiking boots and wading boots for wading.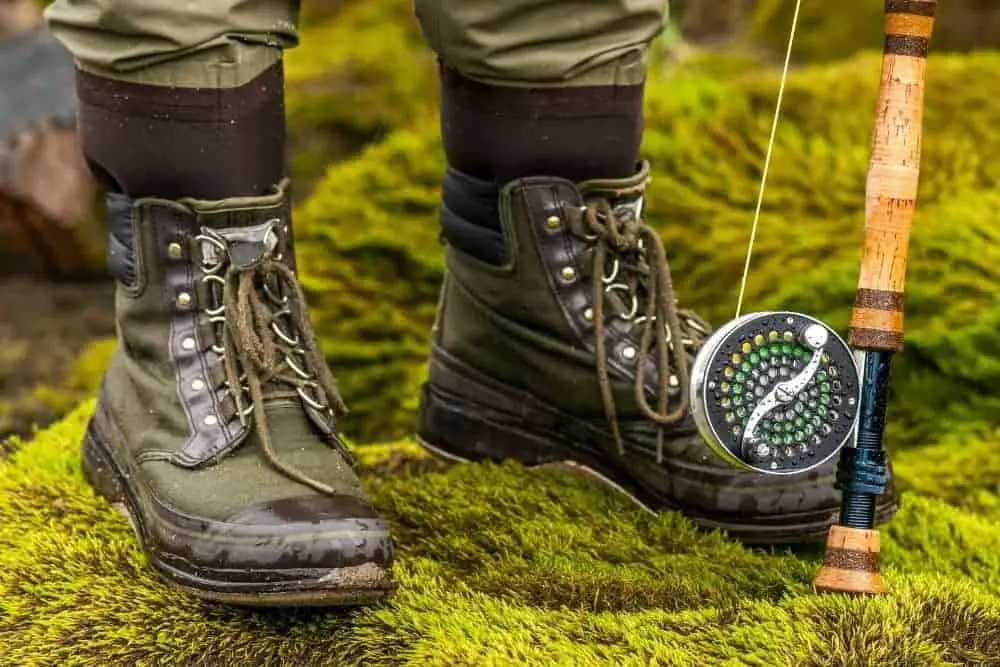 Hiking and wading boots have a lot of similarities. Just like hiking boots, wading boots focus around a set of features to bring ankle support and protection to high-wear boot areas.
Both types of boots are also built to take on rugged surfaces, so grip is of all importance, as is durability and longevity of the boot, but hiking boots are designed for versatility, whereas good wading boots are specifically tailored to tackle wet and slippery surfaces, and will come with a more aggressive grip and or even a studded grip.
One obvious difference is that of water protection. While some hiking boots advertise themselves as being water-resistant or waterproof, they just aren't built to endure long periods of wading.
In fact, a lot of wading boots aren't actually waterproof and are designed to allow an amount of water to pass through.
A lot of hiking boots will attempt to keep water out, but when too much water does get through, it can damage or cause discomfort, while wading boots usually have more durable inners, which expect water to pass through, or are designed to still maintain a level of comfort and durability when water does penetrate.
| | | |
| --- | --- | --- |
| Outstanding Characteristics | Wading Boots | Hiking boots |
| Comfort | ⭐⭐⭐ | ⭐⭐⭐⭐⭐ |
| Weight | ⭐⭐⭐ | ⭐⭐⭐⭐ |
| Water protection | ⭐⭐⭐⭐⭐ | ⭐⭐⭐ |
| Durability | ⭐⭐⭐⭐⭐ | ⭐⭐⭐⭐ |
| Grip | ⭐⭐⭐⭐ | ⭐⭐⭐⭐⭐ |
| Safety (on rugged terrain) | ⭐⭐⭐⭐ | ⭐⭐⭐⭐⭐ |
| Safety (in water) | ⭐⭐⭐⭐⭐ | ⭐⭐⭐ |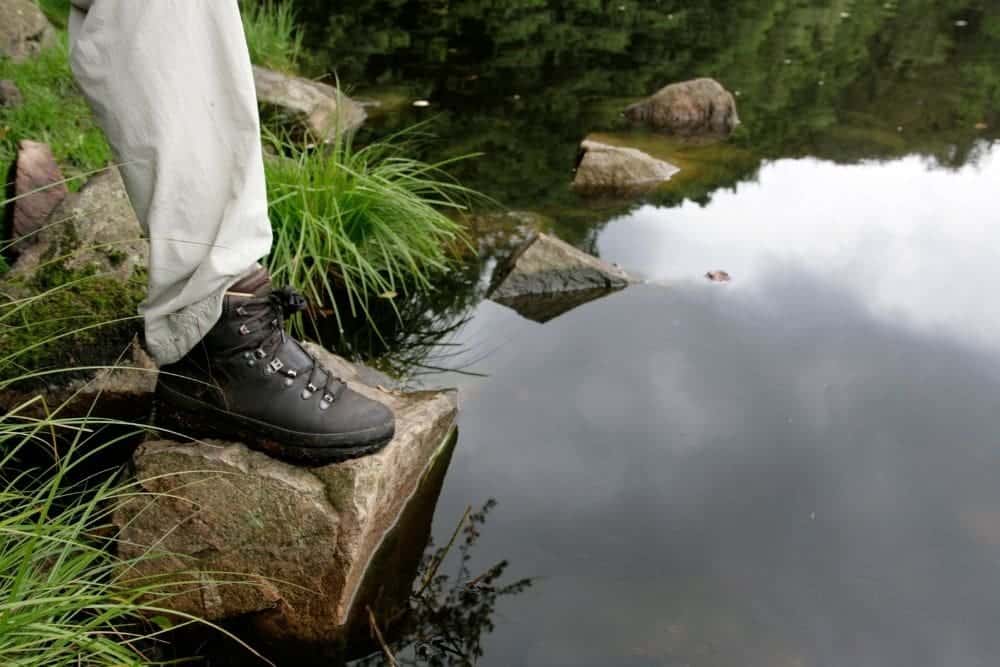 What hiking boots should be used for wading?
You may be thinking, 'why not wear wading boots for hiking?' but where wading boots will let you down is with their comfort, especially on longer hikes.
A lot of modern wading boots are made from vulcanized rubber, which offers incredible water protection, but much less comfort and breathability.
Wearing wading boots on long walks can quickly cause unwanted burns, especially on warm days when rubber and neoprene would not be ideal materials.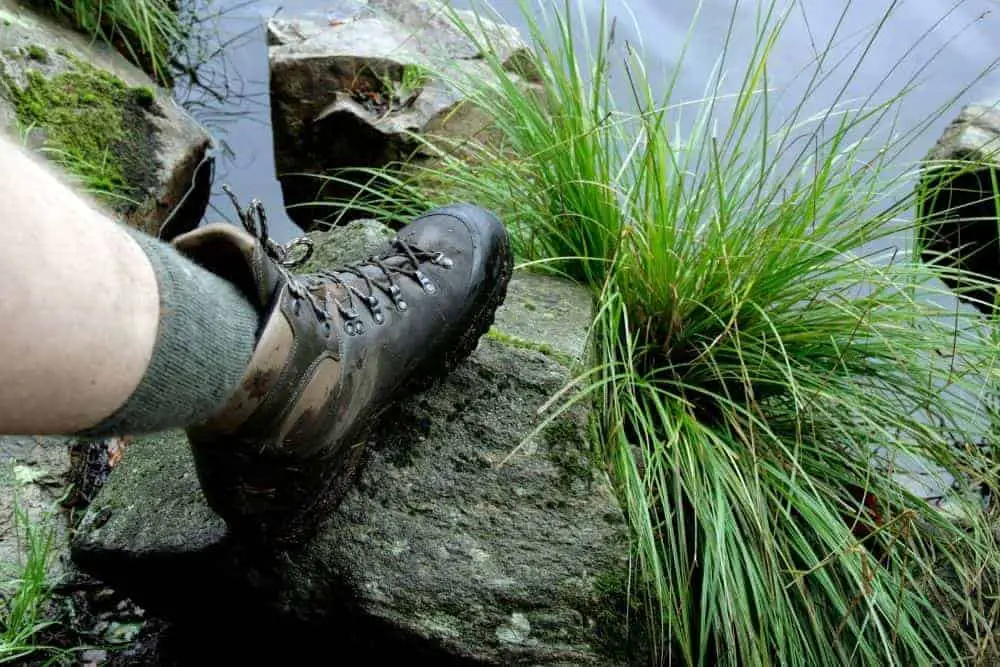 When choosing a pair of hiking boots to see you through some wading activity, we'd suggest considering a 'synthetic leather' boot.
A good synthetic leather hiking boot can offer the same amount of waterproofing as genuine and nubuck leather, but they are lighter and dry much faster.
They are also considerably cheaper and there's always a risk of damaging your boots faster with too much wading.
We'd also suggest going for a waterproof membrane, such as Gore-Tex or eVent.
Another key factor will be ankle support and grip. The chance of ankle injury is much higher when wading, so choose a high-top, such as a backpacking style hiker, over low top hiking shoes.
As for grip, you definitely want to choose a deep and thick lug pattern, and a strong heel brake, to get you the best possible grip on those slippery surfaces.
Can you wear hiking boots with waders?
Another option is to wear waders, or wading trousers.
If you are going on a long hike and expecting to step into a few streams or brooks, this would be seen as overkill, but if your journey isn't too ambitious and you expect some seriously deep water to tackle, then a set of waders may be the smart choice (and they could save you from a serious case of 'soggy bottom'!).
So, can you wear hiking boots with waders? Well, that depends on the type of waders you will wear.
Boot-foot Waders are basically all-in-one waders which have a kind of boot joint to the bottom. The boot is usually not removable so it's not going to be possible to wear hiking boots over the top.
Boot-foot waders will do an amazing job at getting you through waist height water, keeping you dry throughout, but they certainly are not built for long walks or comfort over distances.
Stocking-foot waders are built as you'd expect, with the foot part acting like a stocking, allowing you to slip a hiking boot over the top.
They offer the same level of water protection as the boot-foot, but allow you to slip into a more comfortable pair of boots (such as hiking boots). With that said, your legs and feet will be fully clad in neoprene, or similar material.
Any significant period of walking in these waders, regardless of the boot type you are walking in, will soon bring some discomfort, with serious chafing and skin burns likely over longer walks.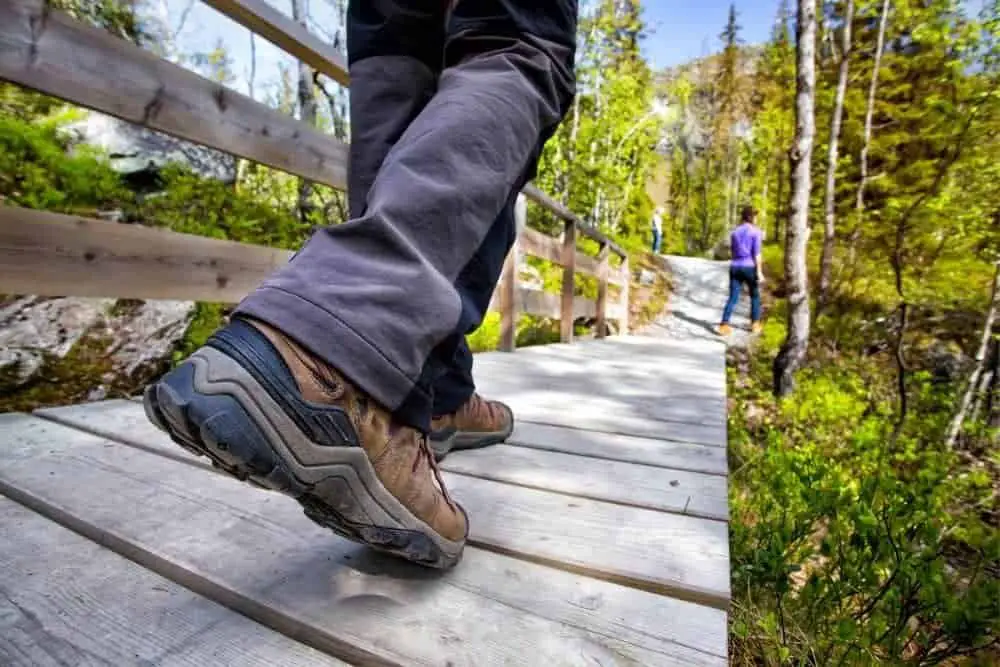 Conclusion
The simple answer is 'yes, you can' but it's not the best option. 
It will be very difficult to find a pair of hiking boots which can drain water like a genuine pair of wading boots, or handle the challenges of slippery and unpredictable water beds.
Equally, you would find it difficult to find a pair of wading boots which could offer the same quality of comfort as a good pair of hiking boots, especially over longer trips.
If you are someone who expects to do a good amount of hiking, over significant distances, but also requires boots for a good amount of wading, the best option is to split your budget and get a pair of each.
A pair of moderately priced hiking boots and moderately priced wading boots are likely to last you much longer than buying a more expensive pair of one or the other, expecting them to handle both tasks.