If there's one central idea you need to understand about hunting or hiking boots; there isn't an ideal one for every season. Also, you might want to kill the idea that either hunting or hiking boots supersede the other.
Why? Both of these boots have unique features that make them stand out. For instance, hunting boots have proven to have high insulating prowess.
Regardless, what makes hiking boots excellent is that they possess unique features that make them suitable for various activities.
Nevertheless, if you are part of the people asking, "can you use hiking boots for hunting" then you are in luck.
In the course of this article, you will find out about the possibility of using hiking boots for hunting.
You will also learn the best ways to choose the perfect hiking boots to use for hunts. In addition, we will highlight three hiking boots to try when going for hunts.
Can You Use Hiking Boots For Hunting?
Here's the deal with hiking boots; they are great for a wide range of activities. Honestly, hunting is part of those activities you can wear hiking boots.
But, the real debate about using hiking boots for hunting comes when you take a look at durability, resistance, and insulation.
Personally, hunting boots are by far the better foot insulators when it comes to usage in colder regions.
But, this revelation doesn't eliminate the concept of using hiking boots for hunting.
In fact, many hunters might prefer to use hiking boots because it allows them to walk long miles for a hunt.
Can you wear hiking boots for hunting? Yes. 

Can you use hiking boots for all hunting sprees? No.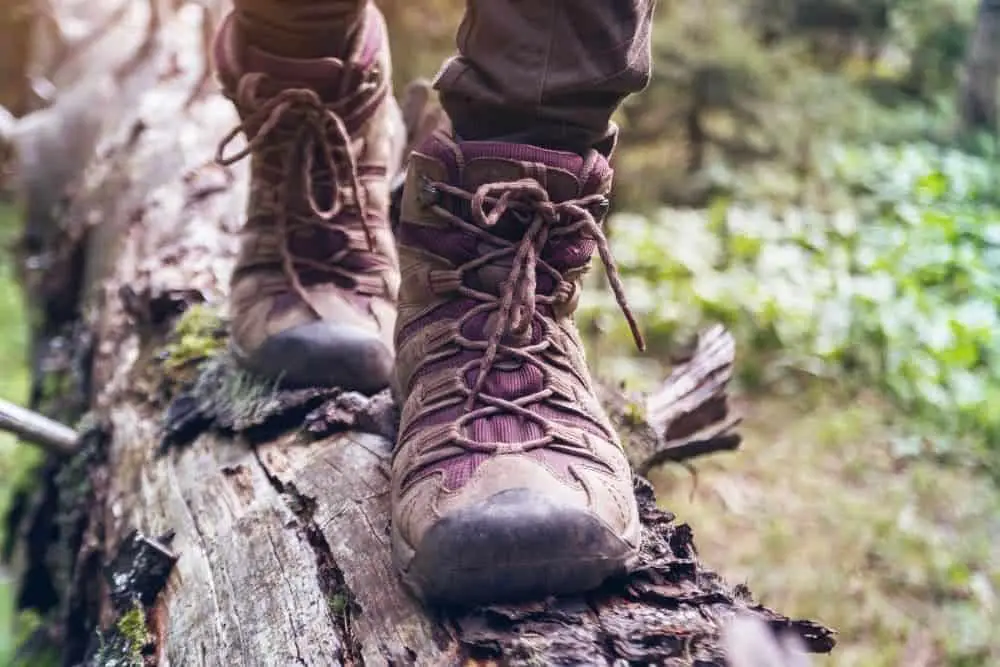 If you are still confused about buying hiking or hunting boots, we will help you make a pick.
We will highlight some excellent features about hiking boots that make them great for hunting.
Also, we will reveal some features that make hunting boots the better pick over hiking footwear.
Reasons To Use Hiking Boots For Hunting
You might be asking yourself what makes hiking boots great for hunting. Well, there are many cool features about hiking boots that make them a perfect fit for hunting.
We will highlight those features in this section.
1. Lightweight
Unlike traditional hunting footwear, hiking boots are famous for their lightweight feel on the feet. This feature is one of the significant advantages of hiking boots over the hunting versions.
Generally, when hunting, every hunter would want to feel as lightweight as possible to reduce the amount of energy they burn by moving. And the weight of hiking boots does this excellently for hunters – by reducing the drag.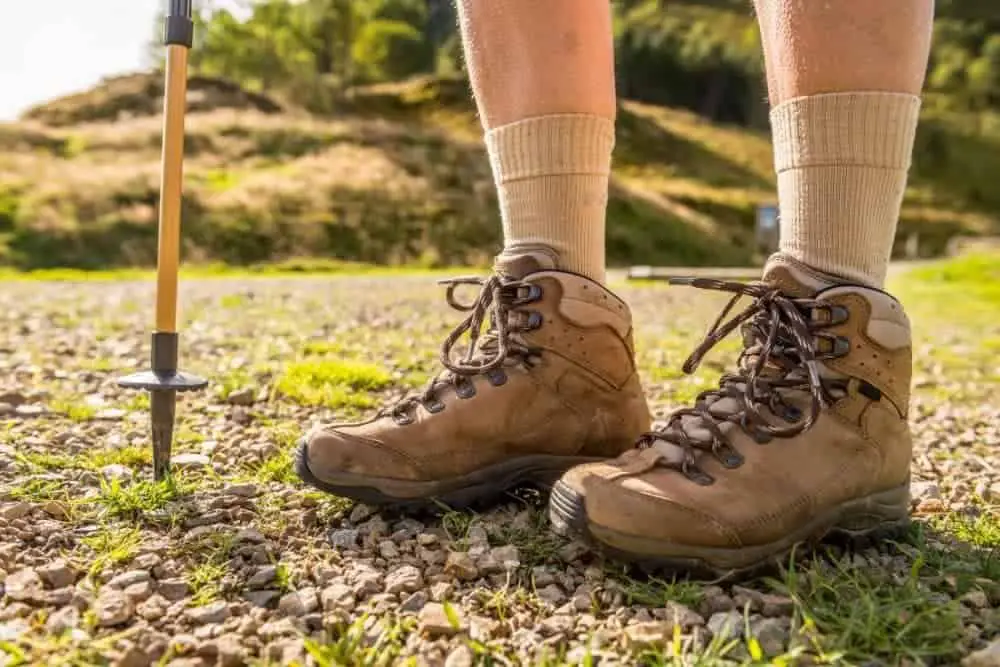 2. You Can Walk For Longer Miles With Hiking Boots
Here's one unspoken truth about hiking boots – they are suitable for longer walks compared to the traditional hunter's shoe. Like it or not, firstly, the lightweight feature makes hiking boots easier for long walk hunting.
Secondly, hiking boots have proven to offer better padding and comfort for the feet.
So whether you are walking through high peaks or rough terrains, hiking boots provide better support and comfort than hunting footwear. This is due to the extra padding and comfortable midsoles they have.
For instance, hiking boots come with proper heel and arch support that will make your feet feel comfortable, even after long walks.
In addition, you get one of the best shock-absorbing features with hiking boots because of the terrains they usually work on.
This comfortable feeling is because, during the production of hiking boots, manufacturers put strenuous activities in mind.
And to make up for whatever rough terrain the boots will pass through, they provide good traction and support.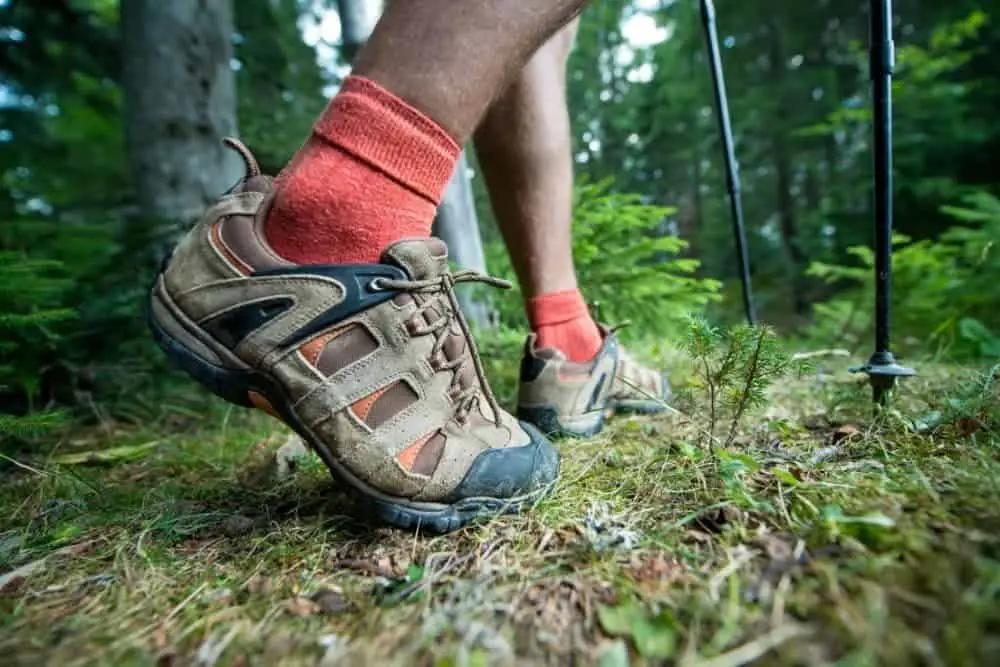 3. Toughness
Personally, when you consider both types of boots, you will not be on the wrong side to state that hiking footwear offers much better toughness.
Don't get me wrong, hunting boots are tough, but not like the ones for hiking.
Due to the material and construction of hiking boots, they offer stronger and better toughness for many terrains. Most hiking boots come with 100% full-grain leather that has high resistance to rigorous activities.
Unlike what you might expect with leather, this material has proven to be tough for surviving different weather conditions.
Moreover, the construction of hiking boots coupled with their material gives them an overall tough finish look.
For instance, if you are to go hunting on a hiker's terrain, the hunter's boots are less of an advisable pick.
Regardless of the hunting terrain, it is best to go for hiking footwear if you are to pick a tough boot. This way, your feet will be safer from the harshness of the terrains.
4. High Breathability
Due to how hiking takes a heavy toll on the body, it can mainly cause sweating. So now, when you begin to sweat, your feet will need breathable coverings that allow proper airflow.
Hunting boots possess some level of breathability, but you get higher airflow within and around it with hiking footwear. So although most hiking boots fit snug, you will almost still get more breathability than hunting shoes.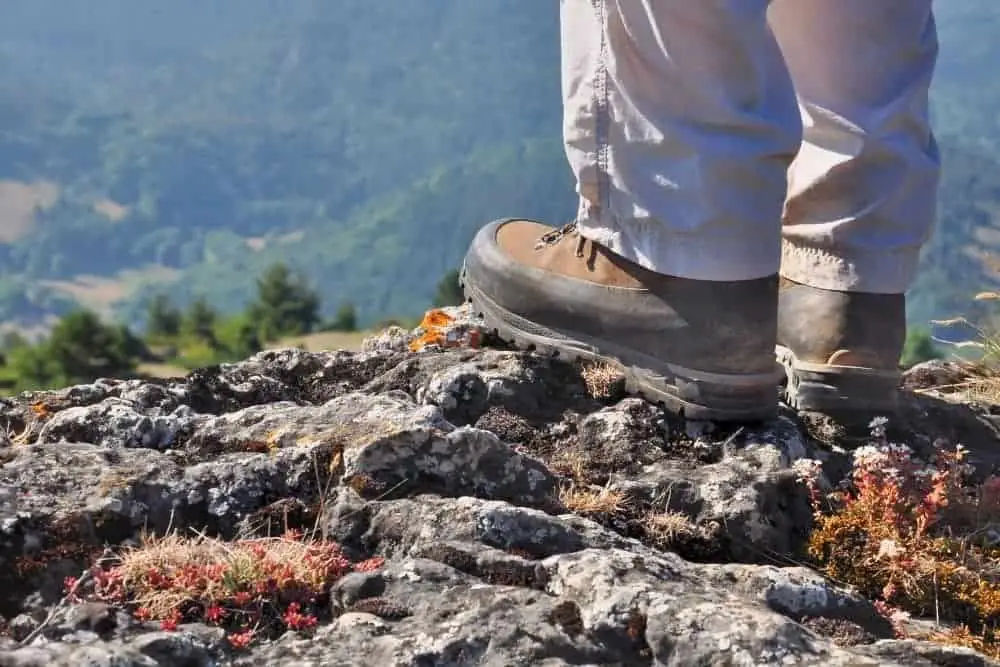 5. Protection
Generally, whenever you are to go for a hunt, you need to ensure you have utmost protection. And hiking boots possess enough protection that will keep your feet safe during each hunt.
For instance, most hiking boots come with either soft or steel-toe protection that protects your toes against collisions. Also, between your leg and feet, your ankle is the most protruding part and it requires high protection.
Hiking boots are famous for their ankle support and protective features and this is why many hunters tend to choose them over hunting shoes.
In addition, to prevent easy slips on wet surfaces, hiking boots mainly feature rubber soles that give proper traction and grip to any terrain.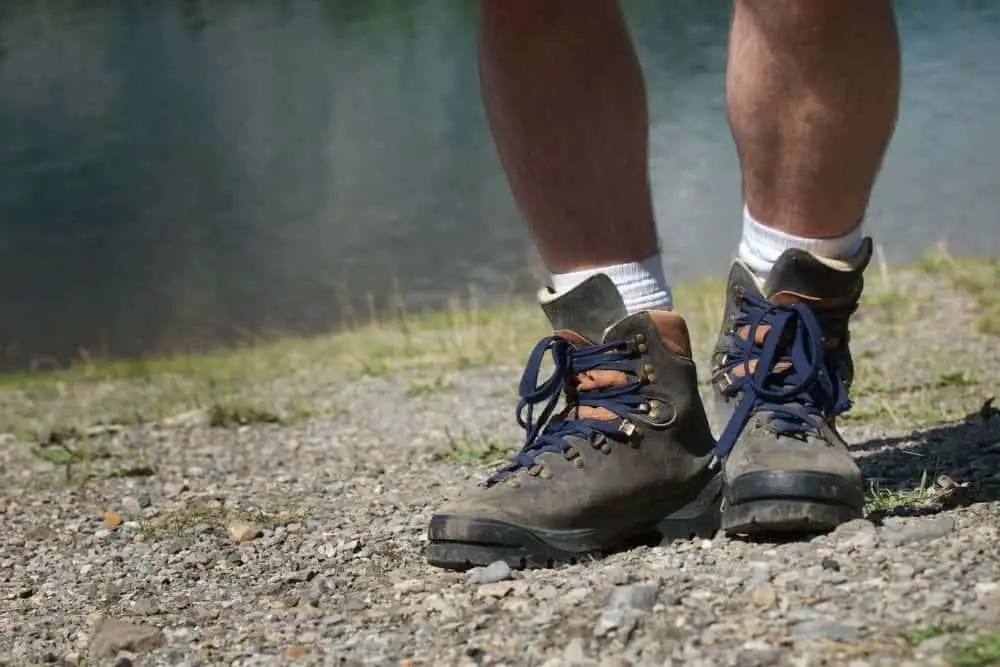 6. Suitable for specific environment and terrain
In fact, hiking boots come in many different designs to suit specific weather, environment and terrain conditions. This is a huge plus for hunters.
I don't know what time of year you like to go hunting! But one thing is for sure, for the best protection and maximum comfort, your boots need to suit the environment and terrain conditions in the hunting grounds.
Hiking boots have that! Many hiking boots have specialized features for each specific terrain and environment such as mountain, snow or desert. That will greatly help the hunt.
They can adapt to the environment very well!
Limiting Factors Of Hiking Boots For Hunting
Although this post has highlighted the possibilities of using hiking boots for hunting, some areas might seem like a bad idea.
So let's see some of the limitations of hiking boots for hunting purposes.
1. Insulation
Hiking boots are not the best insulating shoes out there. In fact, when it comes to hunting, the hunter's boots offer better insulating properties than hiking shoes.
For instance, hunters usually crouch or stay in a position for a while to remain undetected when hunting. And sometimes, that position could be in a cold region, and only hunting boots can withstand the weather.
Sure, there are insulated hiking boots, but you will mainly find the appropriate one at a costly price. But, with hunting boots, the insulating prowess comes even with the cheap and less expensive types.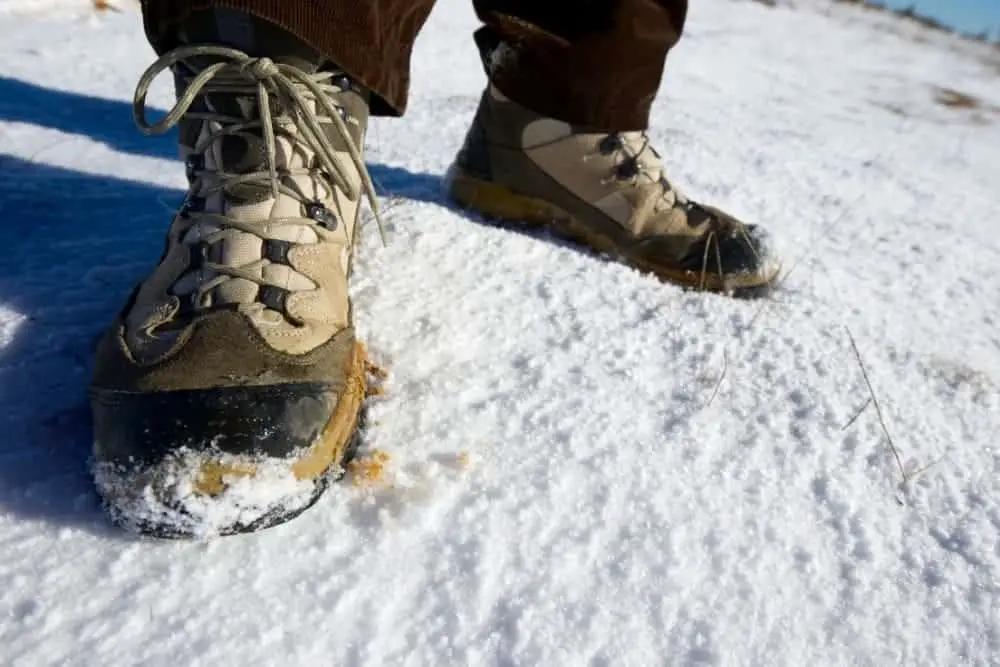 2. Low Shaft Height and less protection
Although most hikers and hunters prefer the low or mid-cut model of hiking boots, it is a disadvantage for hunting.
Why? When hunting, you need to understand that you will be in several wild animal territories, and your safety is paramount.
For instance, you can be sure your ankle and lower leg have protection against crawling snakes and animals that might try to bite with hunting boots. But, with hiking boots, your legs have exposure to any deadly crawling animal in the wild.
Besides, hiking boots are also not a good choice if the hunting terrain is flooded with water.
Many hunting boots are entirely made of rubber and can be said to be 100% waterproof; even if you dip the boots in water, your feet still stay dry.
With hiking boots, they can be waterproof, but if you use them for wading, chances are your feet still get wet. They are not totally "100% waterproof".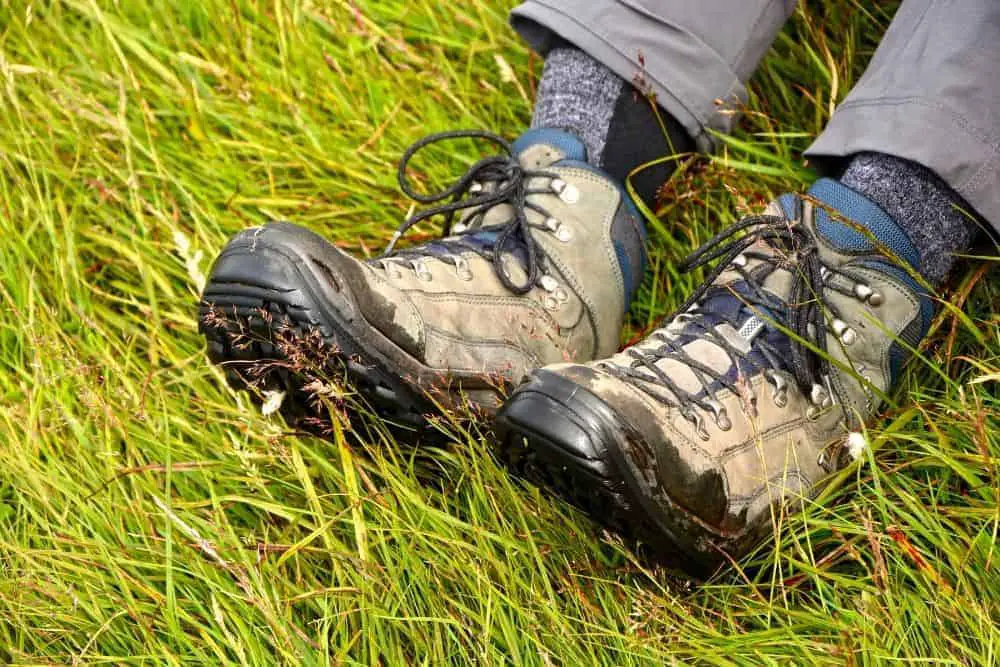 3. Poor Camouflage
The difference between hiking and hunting is that you are doing more exploration with one and searching for things with the other.
Moreover, hunting boots have material designs that allow them to blend perfectly with the surroundings.
Whereas, hiking boots are not always the best for camouflaging.
For instance, some hiking boots tend to have designs that blend with the earth, but their laces can have an obvious differentiating color and branding logos.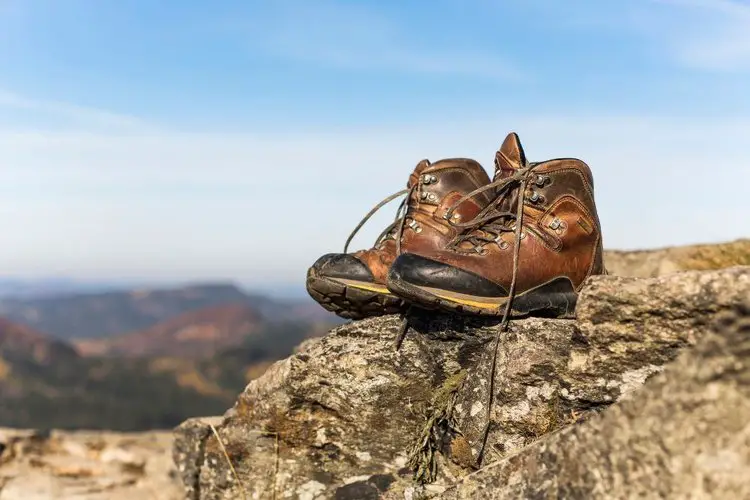 | | |
| --- | --- |
| Features | Editor's rating |
| Comfort | ⭐⭐⭐⭐⭐ |
| Protection | ⭐⭐⭐ |
| Flexibility | ⭐⭐⭐⭐⭐ |
| Waterproofness | ⭐⭐⭐⭐ |
| Insulation | ⭐⭐⭐ |
| Durability | ⭐⭐⭐⭐ |
How To Choose Hiking Boots For Hunting?
As a hunter without hunting boots, there are other footwears you can try to help make your hunt a success, for instance, hiking shoes.
If you are going to choose hiking boots, then there are a few things you need to consider before using them for hunting.
Durability
When it comes to purchasing hiking boots for hunting, you need to ensure you put long-term usage into consideration. Although hiking boots are tough shoes, not all of them are durable enough.
Since you will be moving over several unfriendly terrains in search of game, you need boots that can withstand different landscapes.
We'd advise that you go for hiking boots with full-grain leather as they have proven to be durable.
Waterproof Hiking Boots
Let's face it; you will not always be hunting on dry terrains or during "not-rainy" weather conditions.
So, to prevent your feet from soaking up, you will need to get hiking boots that possess the same waterproof feature hunting shoes have.
This waterproof feature does not only keep your feet dry, but it can also prevent foot itching from wetness.
So, although getting waterproof hiking boots might be a bit pricey, it is worth the buy.
Material
Generally, we'd advise that you go for hiking boots that have leather finishing.
Most times, hiking boots made from 100% full-grain leather have better resistance to freezing or hot regional temperatures.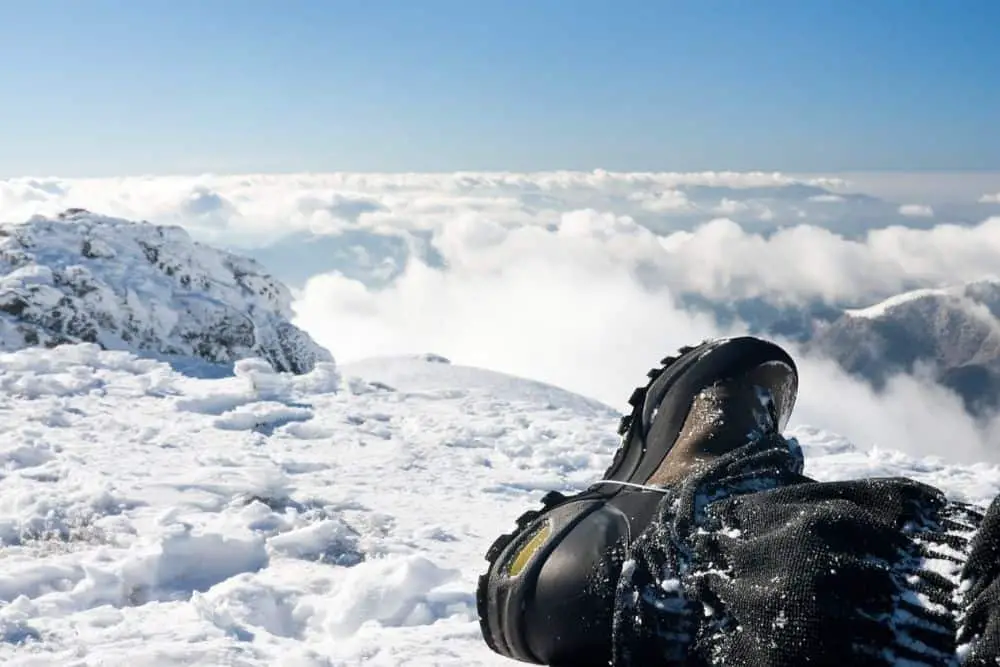 Insulation and Ventilation
As earlier stated, hiking boots do not always possess the best insulating features. However, hiking boots have great insulating prowess, and you need to search for those when purchasing shoes for hunting.
For instance, some of your hunting will occur in regions with low temperatures – this is where the insulation comes into play.
An improperly insulated hiking boot will give you unnecessary cold feet – also pretty literally.
In addition, you wouldn't want a hiking boot that is all insulation and no ventilation.
Although it isn't the best mix for a boot, your choice of hiking shoe for hunting should have good ventilation, especially for hot weather conditions.
Boot Weight
It might seem unimportant, but it can either make your hunting great or sour. Generally, hunting boots are heavier, but some hiking shoes tend to weigh a bit too much.
It would be best to buy hiking boots with a well-balanced and evenly distributed weight that is not too heavy.
Also, you wouldn't want an overly light hiking boot because it would lack some essential features that make it more outstanding.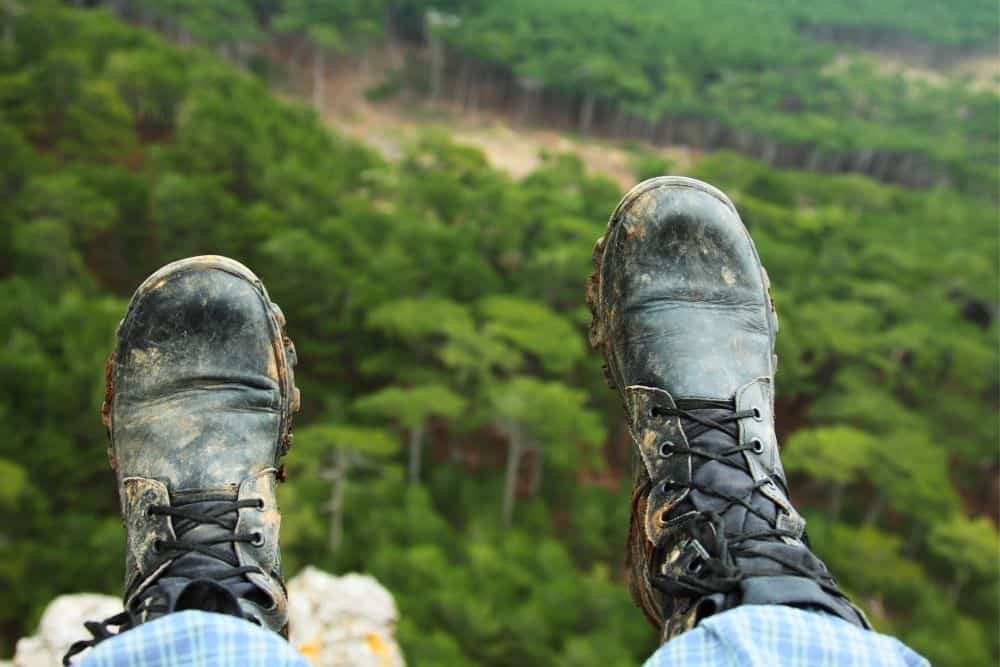 Shaft Height
Here's the deal, judging from surveys taken, not all hunters love high shafts.
However, these shafts (high or mid) offer support for the ankle and protect your leg from any potential danger.
Although not many hiking boots possess high shafts, I'd suggest that you go for the one with the highest shafts height. Unless, based on your preference, you would like your shaft's height low.
More Protection
Considering you are going hunting and your location would primarily be in the wild, it would be best to use boots with high protective features.
As you know, hiking boots offer average protection in comparison with hunting shoes.
We'd suggest that you find hiking boots that have toe caps, heel, and ankle protection.
In addition, you should pick hiking boots with high waterproof and insulating features to keep your feet dry and warm.
Top 3 Picks Hiking Boots Good for Hunting
If you still don't know which hiking boot to purchase for your hunting spree, this section is here to help.
Let's look at our top three hiking boots that are good for hunting.
1. Danner 453 Men's Gore-Tex Hiking Boot
Last update on 2023-05-13 / Affiliate links / Images from Amazon Product Advertising API
The Danner 453 men's hiking boot sports a full-grain leather possessing 100% durability.
When on your hunting trip, this hiking boot provides you with an abrasion-resistant soft toe cap that will protect your feet from collisions.
This hiking boot from Danner comes with Gore-Tex waterproof breathable designs alongside a cushioned fatigue fighter footbed.
In addition, to make your hiking and hunting journey smooth, it comes lightweight with a shock-absorbing EVA midsole.
In fact, many users have referred to this boot from Danner as an excellent choice for long walk hunting.
A previous user claimed he used his Danner 453 to walk over 5 miles and it was comfortable all the way.
However, the Danner 453 hiking boot isn't the best when it comes to protection and insulation.
Regardless, not many people use this feature, but it is essential to have. Nevertheless, the Danner 453 is an excellent hunting choice.
Pros
Waterproof Gore-Tex designs.
Breathable – well ventilated.
Soft, resistant toe cap safety boot.
Highly durable with full-grain leather.
Cons
Many users complained about the lack of insulation.
Lacks steel toe protective cap.
2. Salomon Quest 3 4D GTX Hiking Boots
Last update on 2023-05-13 / Affiliate links / Images from Amazon Product Advertising API
Salomon Quest 3 4D GTX hiking boots stand tall with their 6.3 inches shaft height and 100% synthetic fabric design.
In addition, this boot from Salomon sports the Gore-Tex waterproof feature making it great on wet terrains or for rainy hunts.
The Salomon Quest GTX hiking boots come with an EVA form and EnergyCell midsole to give maximum comfort for all feet types in terms of comfort.
In addition, if you hunt on wet or slippery terrains, this hiking boot comes with rubber soles that offer maximum traction.
However, you might not fancy the lack of insulation on the Salomon Quest hiking boot which can be bad for freezing conditions.
If you are sure your hunting won't be cold, the Salomon Quest GTX is a great buy.
Pros
Waterproof Gore-Tex designs.
It sports a tall shaft height of 6.5 inches.
Comfortable and provides maximum traction of different terrains.
High-performance EVA foam and EnergyCell midsole.
Cons
No insulating feature.
The waterproof Gore-Tex design weakens over time.
3. XPETI Thermator Women's Mid High-Top Hiking Boot
Sale
XPETI Women's Thermator Mid High-Top Waterproof Outdoor Hiking Boot
Waterproof & Protection: Women hiking boots features Hydroshield Membrane waterproof mesh upper that...
200 Grams Thinsulate Insulation for -13°F. Integrated inserted EVA Midsole, Light weight and Sturdy...
Advanced Technology: Integrated inserted EVA midsole.Flexible MD midsole reduces foot fatigue and...
Last update on 2023-05-13 / Affiliate links / Images from Amazon Product Advertising API
The XPETI Thermator women's mid-high-top hiking boot comes with unique technology for feet protection. This boot from XPETI features a molding rubber toe cap and TPU at the heel for all-around feet protection.
When it comes to using this boot in varying weather conditions, it outperforms other hiking shoes in its category.
For instance, it features 200 grams of Thinsulate insulation, meaning you can use the XPETI hiking boot in freezing weather conditions (-13°F).
With the XPETI fabric and synthetic construction, the boot has a sturdy and durable design that allows you to wear it for all hunting sprees.
When it comes to your ankle and shaft protection, the 8 inches boot height protects your leg from the dangers of the wild when hunting.
However, although the XPETI Thermator hiking boot is an excellent pick for hunting, some users have complained about some slight hiccups with it.
For instance, the boot is overweight – making it challenging to walk with, and lacks safety regulation boot standards.
Pros
Midshaft height of 8 inches.
It comes with X-DRY Membrane waterproof mesh design.
Rubber toe cap for protection from collisions.
It features 200 grams of Thinsulate insulation.
Super durable with comfortable midsoles.
Cons
Some users complained that the weight of the shoe is heavy.
Conclusion
Unlike what you would usually use hiking boots for, these shoes have proven functional when hunting.
However, some people do not believe in the effectiveness of hiking boots for hunting.
Nevertheless, if you know anyone still asking, "can you use hiking boots for hunting," then you can enlighten them.
This post has highlighted the possibilities of using hiking boots for hunting alongside some of the best hiking shoes to use.