When it comes to hiking in the Smoky Mountains, your "needs" for the journey usually are much more than any other hike.
For instance, your feet coverings are an essential part of your hike, and that's why we would recommend hiking boots.
Trust us when we say that Smoky Mountains have some of the most unfriendly terrain conditions you would ever encounter.
And that's why we would recommend hiking boots for anyone going to hike the Smoky Mountains. In this post, we will give a breakdown of the Smoky Mountains.
Furthermore, you will discover the need for hiking boots in the Smoky Mountains and how to choose the perfect one.
In addition, you will find some noteworthy tips for hiking Smoky Mountains and our top three hiker's boots to own.
The Smoky Mountains | Everything To Know
Generally, Smoky Mountains are one of the highest peak places in the world and an excellent site for hikers.
However, as exciting as these hiking locations might seem, they often pose some dangers.
Personally, Smoky Mountains are not for a beginner or single hiker.
In the Smoky Mountains, hikers get exposed to some of the craziest terrains they have ever seen, fluctuating weather conditions, and wild animals.
If you are about to hike the Smoky Mountains, you need to understand that you will face nature's harsh conditions.
This section will give you insights into Smoky Mountain conditions for your hike.
Important: Since this is a rather long post, listen to a love song and then read it!
1. Terrain
As much as the Smoky Mountains have one of the best and serene views, their landscape usually has undergone several changes throughout the years.
For instance, the rocks on the mountains are mainly of the sedimentary type.
This means that its formation was due to the accumulation of soil, gravel, sand, and silt. Primarily, in the Smoky Mountains, the terrains are rocky, sandy, steep, and have cliffs.
If you are not careful when hiking these mountains, you might often lose your grip.
For this reason, good hiking boots with proper traction are suitable footwear for hikers.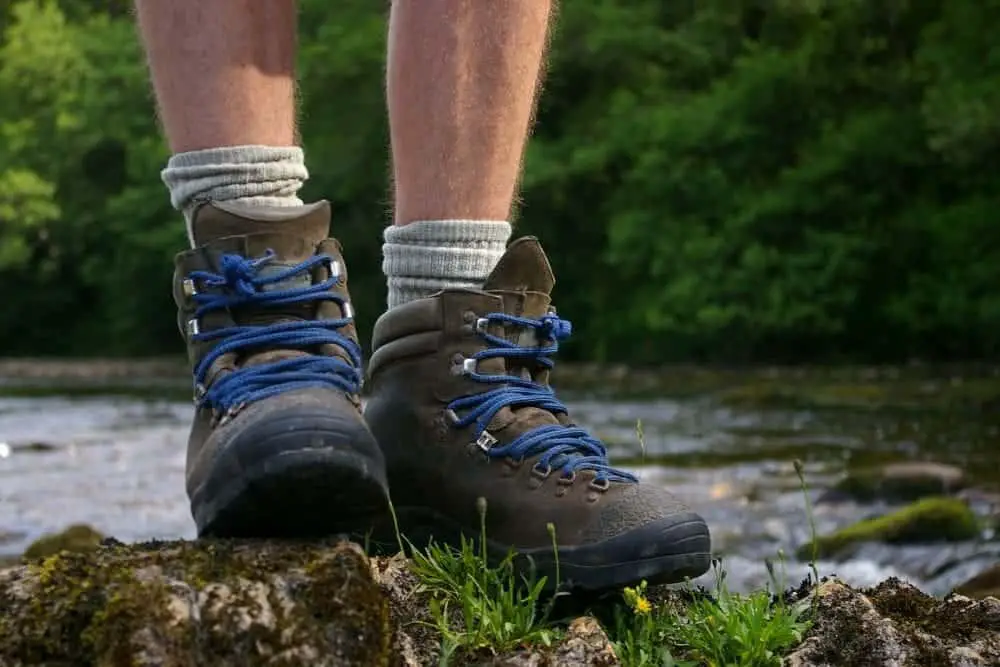 2. Environment
To evaluate the suitability of hiking boots with Smoky Mountain, we need to consider the environmental conditions here.
Based on information from the National Park Service, we have some interesting facts about the environment in Smoky Mountain for you:
Like many other mountains, the Smokies have various environmental weather conditions. Therefore, the weather and temperature conditions fluctuate as the environmental patterns change, especially moving to higher elevations.
For instance, during the spring months, the weather conditions are unpredictable. There could be sunny skies at one point during the day and snow flurries later in some hours.
However, regarding the temperature in the lower elevations, there is a mean high of 61°F and in the higher plane about 42°F averagely.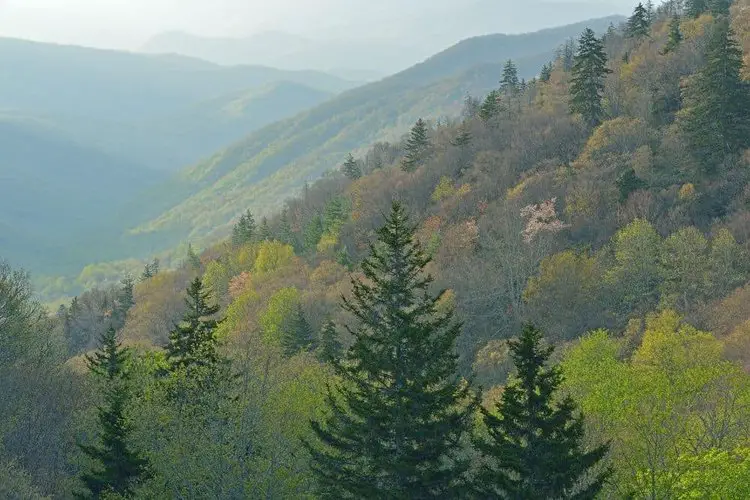 In the summer, the Smoky Mountains usually have increased heat and humidity.
Temperature can be as high as 90s in the lower elevations and in greater higher planes the conditions can be pretty cooler.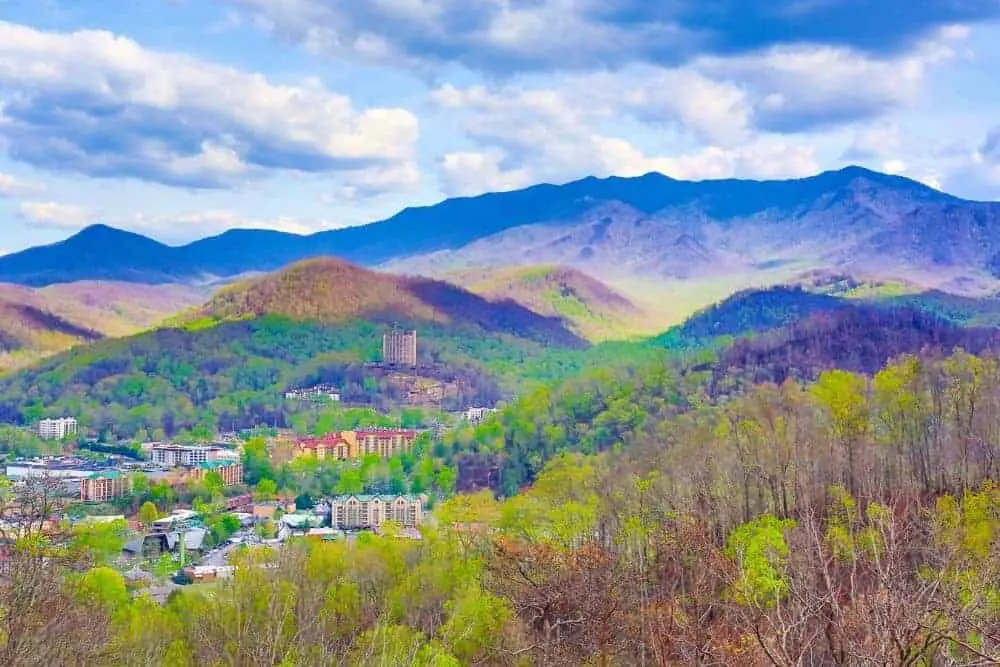 Smoky Mountains during autumn months in the day have temperatures falling between the 70s and 80s.
Meanwhile, it usually falls at night and in early November to about 50s and 60s.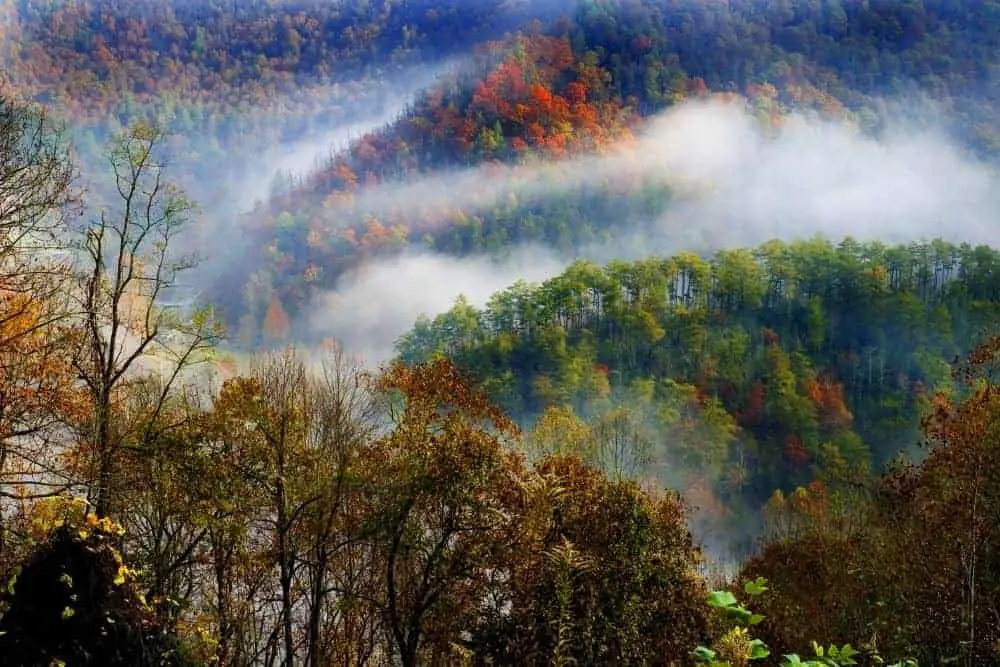 Winter months in the Smoky Mountains are primarily cold. Even in the lower elevations, the temperature usually is pretty low.
Generally, during the day the average temperature is at the 50s, while at night it can be freezing at about -20°F.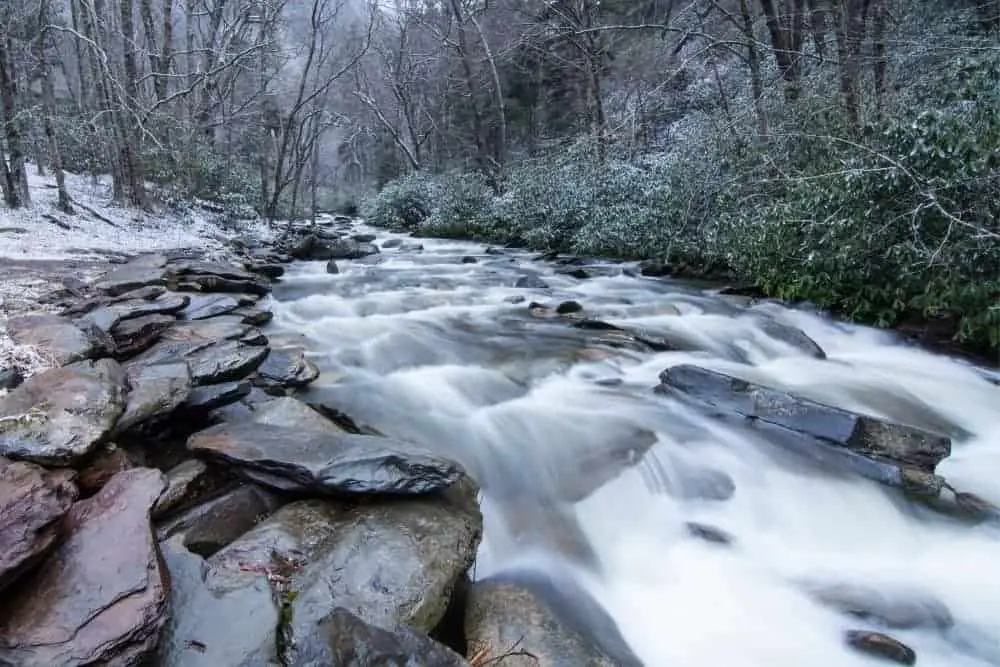 However, you need to know that when you hike on such mountains, the higher you go, the more extreme environmental conditions you experience.
Higher elevations on these mountains indicate lower temperatures, increasing winds, and decreased oxygen levels.
3. Natural Conditions
Undoubtedly, Smoky Mountains possess many trees, pretty numerous to number. But, depending on where you are on the mountain, you also see rushing streams and matured hardwood forests across the horizon.
Most times, the thick forest acts like support for hikers because it allows them to find their way and move around. As it allows them to mark areas they have passed on the journey.
While other times, it usually proves to offer dangers to hikers, due to the wild animals that can hide with their shade.
4. Wild Animals
Here's the truth, Smoky Mountains expose hikers to some pretty dangerous wild animals. For this reason, we advise hikers to be on the most protective hiking boots and gears during a hike.
You get to see black bears, snakes, elk, coyotes, and white-tailed deers on the Great Smoky Mountain. Although there haven't been reported snake bites on this mountain, the creepy crawlies up there can be poisonous.
So, it is best that when you hike Smoky Mountains, you try not to engage these animals. Some expert hikers would even suggest that you never try to feed any animal, as they are wild, dangerous, and could attack in a bid to eat.
Do I Need Hiking Boots For Smoky Mountains?
When moving over Smoky Mountains, you first need to understand the terrains and conditions you will face getting there. For starters, the terrains can be rocky and slippery, depending on your location on the mountain.
Now, if there's any shoe (or footwear) that has proven to have the best traction, grip, support (especially ankle and heel) and sturdiness for Smoky Mountains, it's hiking boots.
So when you take an expert's view on what's needed and what isn't for hiking Smoky Mountains, you will discover the need for hiking boots.
Although some people tend to hike Smoky Mountains with other boots, these hikers often don't always get the exact experience as those with hiking shoes.
Do you need hiking boots for the Smoky Mountains? Yes.
Can you hike with other boots on the Smoky Mountains? Yes.
Is it advisable to hike in the Smoky Mountains without hiking boots? No.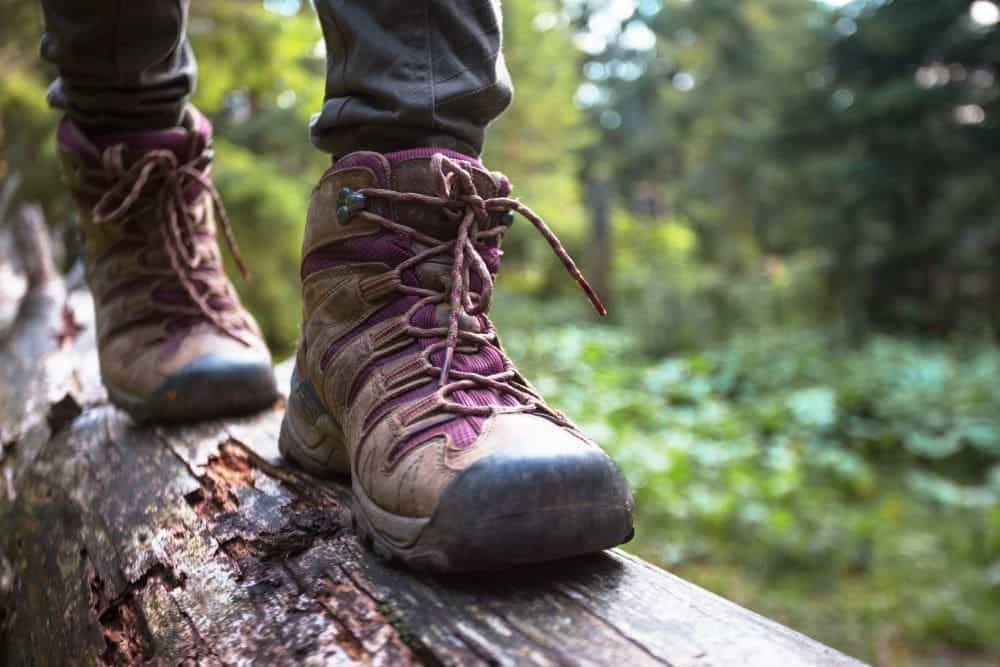 The truth here is some hikers tend to want things safe, which is great, while others love to gamble. But, undoubtedly, hiking boots put a hiker on Smoky Mountains at an advantage for safer climbs.
If you didn't know, hiking boots possess several unique features that make them essential gear for hikers of smoky mountains.
Let's look at some excellent and "not so great" features of hiking boots for Smoky Mountains.
Excellent Features of Hiking Boots For Smoky Mountains
Yes, as already stated, hiking boots are essential gear for hikers on Smoky Mountains.
However, you might wonder what exactly makes them excellent choices over a wide range of boots; well, let's find out!
1. Traction
Personally, hiking boots' resistance to slippage (or traction) has been one of its major selling points. The fact that this boot comes with uniquely designed outsoles that properly prevent easy slippage is a huge win.
When manufacturers produce hiking boots, they ensure that proper traction is a part of the shoe. For instance, hiking boots' manufacturers measure the shoe's traction with the coefficient of friction numbering between 0 and 1.
The closer the shoe's value is to 1, the less likely you are to slip during a hike.
Primarily, hiking boots tend to have their value at 1 (or closer), making them suitable for hikes. And what increases their hiking prowess is the rubber outsole designs they possess.
Generally, every hiking boot has either one or two types of rubber outsoles – blown or carbon.
In particular, most hiking boots have carbon rubber than the blown version because it is hard and more durable, offering better traction and preventing slips and stumbles.
2. Support and Stability
Accept it or not, hiking boots are one of the most stable shoes with excellent support you will ever use for a hike.
Hiking boots achieve this by having proper cushioning and medial support with a curved or semi-curved last.
Check it out; most high-quality hiking boots have unsqueezable heel counter sides.
As a result, these boots can resist twisting unlike other flexible shoes at the rear part (or heel). This subtle test way showcases the maximum strength and support they possess.
In terms of support, most hiking boots tend to offer mid-level shaft height. For some hikers, this is an excellent feature for hiking boots, but for others, not so much.
Regardless, most hiking boots offer ankle support that will keep a hiker going on Smoky Mountains.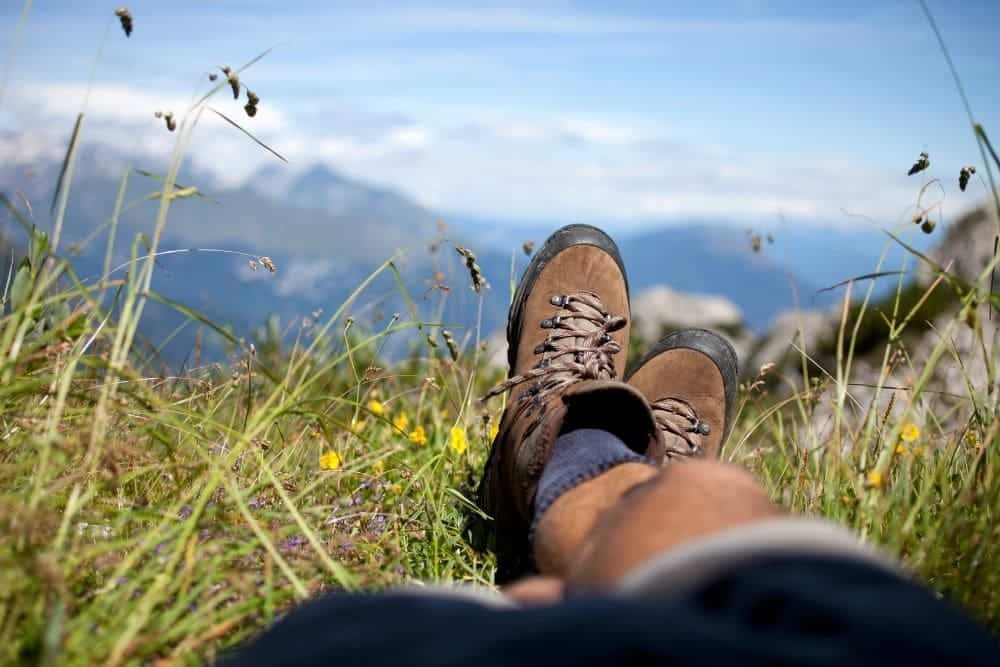 3. Durability
Here's the truth with hiking boots and durability – generally, they are long-lasting shoes, but it all depends on the material used in their production.
For instance, synthetic materials for hiking boots are prone to quicker abrasion damage than leather.
For this reason, most hiking boots are highly durable because they come produced with full-grain leather material.
In addition, the technology used in hiking boots makes up for the high durability of these shoes.
So, if you are to go on a hike in the Smoky Mountains, we'd suggest that you take along hiking boots.
In fact, most hiking boots for Smoky Mountains that come with maximum durability are the ones with leather finishing, even in the upper part.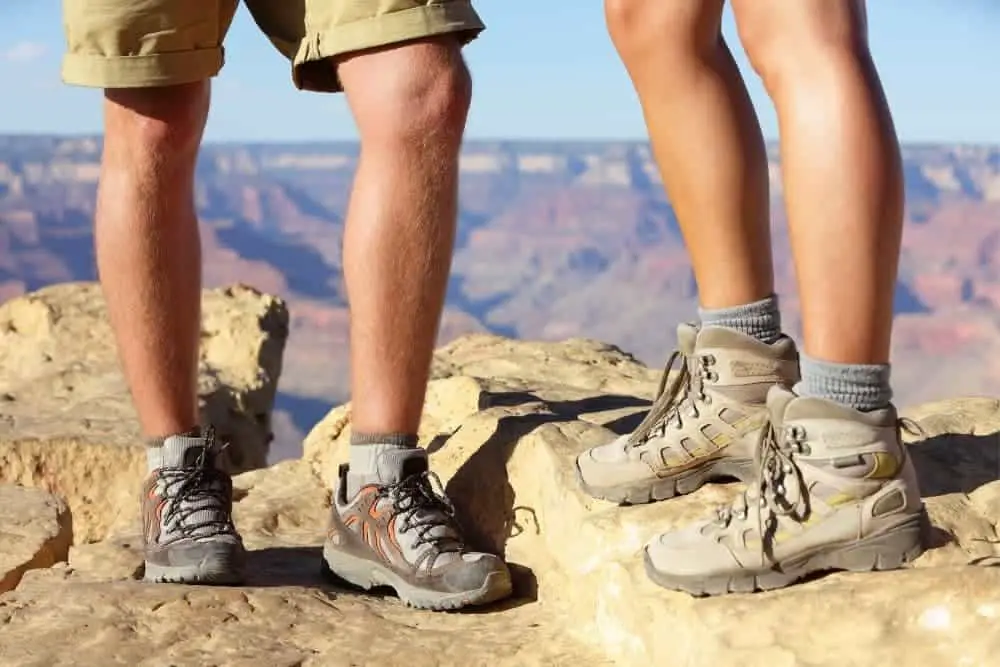 4. Protection
We can't say that hiking boots offer the best protection among its class; however, you can be sure of excellent protective features with this shoe.
To a considerable extent, the material of hiking boots prevents a lot of foot damage you can get on Smoky Mountains.
For instance, hiking boots come with toe caps that soften collisions or impact on your feet – acting as a buffer between twigs and your foot.
In addition, hiking boots possess integrated gusseted tongues that protect your feet from sharp stones and pebbles underneath.
Most hiking boots come with ankle support that makes them an excellent choice for hikes in the Smoky Mountains.
The soft padded round cuff at the shaft makes it comfortable when hiking in the Smoky Mountains.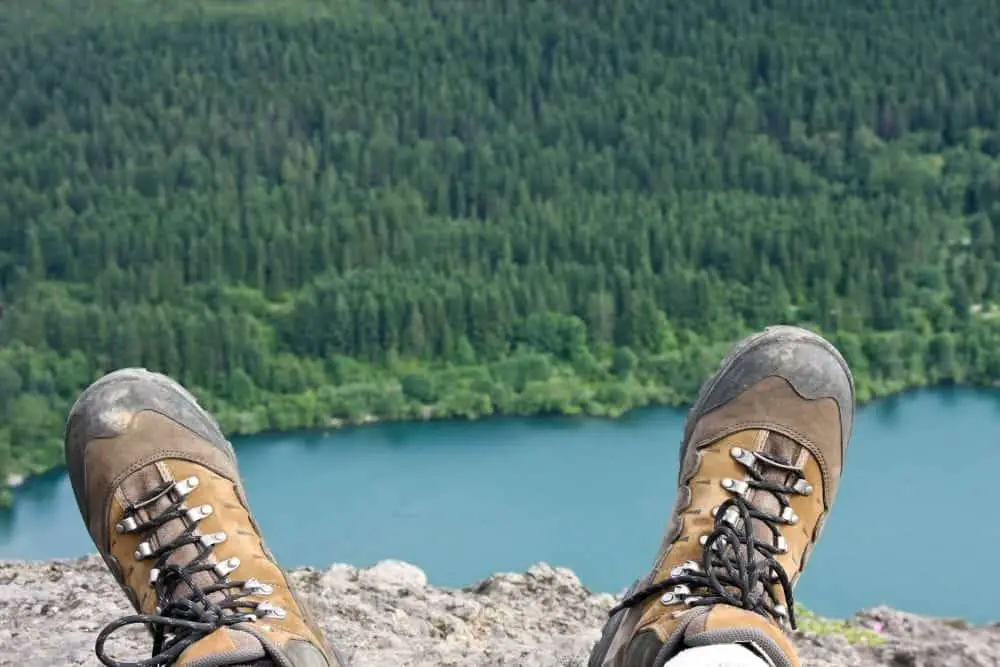 5. Weight
This is another selling point for most hiking shoes. Because hikers require less weight on their feet for hiking, manufacturers tend to ensure that the weight of hiker's boots is at a minimum.
As a hiker, if nothing else would make your journey better, lightweight boots will – you can trust us.
This is why we encourage hiking boots for hikes, especially on Smoky Mountains that already have their challenges.
Many hiking boots' lightweight design is due to the frequently unadded insulating and other features.
This makes the body lightweight and more comfortable to hike on rough-terrain Smoky Mountains.
6. Waterproof or water-resistant
To fight wet environments, wade streams or withstand sudden rains, you need boots that are waterproof or at least water-resistant.
For me, this is one of the first criteria when choosing hiking boots to overcome the precarious roads of Smoky Mountain.
And you can't go wrong when choosing hiking boots, I believe they are all water-resistant or waterproof.
Of course, they can withstand sudden rains, wet environments, but if you wade for too long, you can still get wet. Either way, this feature is of great importance.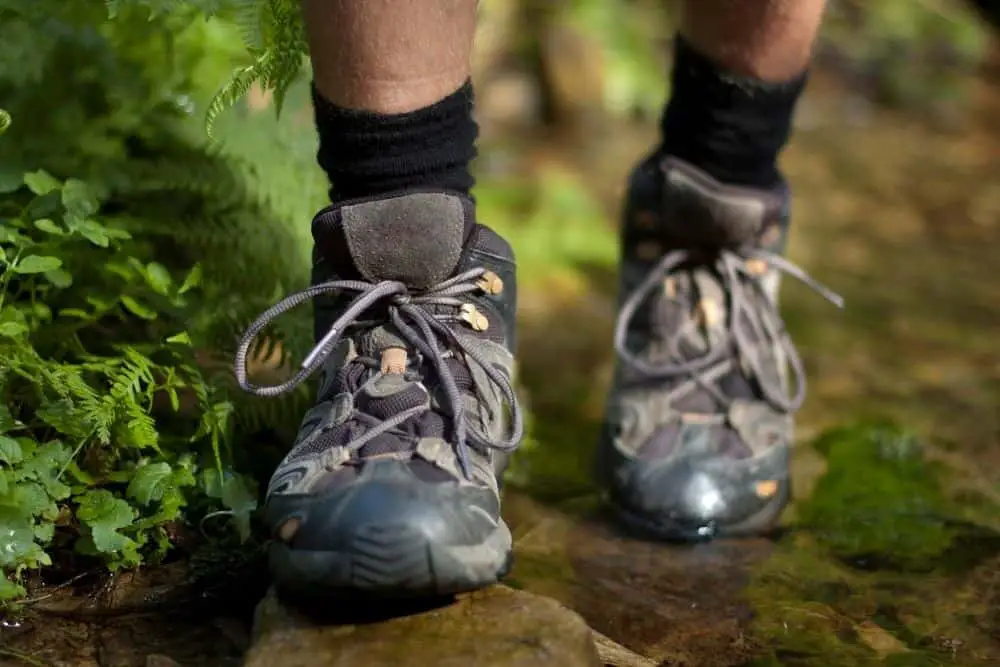 7. Comfort and Cushioning
We believe hiking boots offer one of the most comfortable and well-cushioned designed shoes you can find for hikes on a Smoky Mountain.
When talking about comfort or cushioning, some people refer to it as shock-absorbing, which is a necessary feature for Smoky Mountain hikes.
Generally, most hiking boots today sport EVA or PU midsoles that provide increased shock-absorbing and cushioning features.
In fact, some hiking boots midsoles have designs from both EVA and PU, increasing the cushioning they possess.
8. Diverse
Unlike regular shoes, hiking boots are one of the most diversified footwear out there, especially for hikes in the Smoky Mountains.
For instance, for every weather condition or terrain, there is always a specific hiking boot design fitting it.
If you want to hike in the Smoky Mountains during the summer, several hiking boots have breathable mesh designs that reduce sweaty feet.
And also, during the winter months, the insulated types of hiking boots are best to prevent cold feet.
In addition, depending on the terrain, you can either choose to use integrated gusseted outsoles boots or slightly flatter hiker's footwear.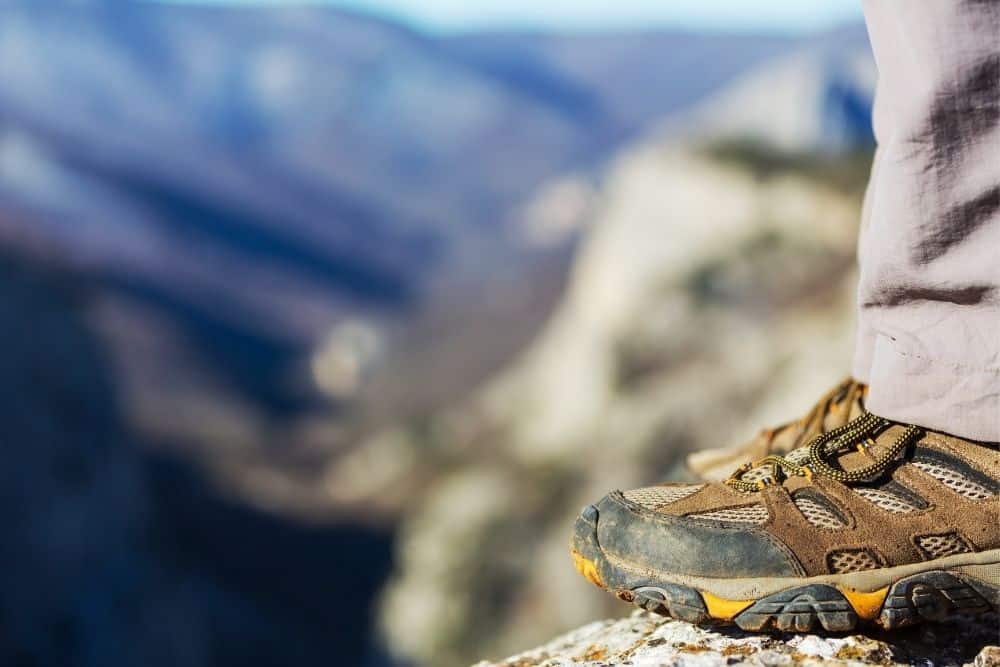 Limiting Features of Hiking Boots For Smoky Mountains
Although we had earlier talked about how hiking boots are an excellent choice for Smoky Mountain hikes, there are some slight hiccups.
No doubt, hiking boots are an ideal pick, but there are some challenges you might face using them on Smoky Mountains.
1. Insulation
Remember you are going to be hiking in the Smoky Mountains? Naturally, you will want a shoe that can keep up the dropping temperature as you climb the mountain.
Unfortunately, hiking boots do not exactly do the trick regarding insulation.
The insulating skills of these boots are mildly average, and other shoes tend to offer better insulation.
However, there are hiking boots with top-notch insulation, but you will mainly find those at a high-cost price.
Due to the nature of production and the idea to keep the boot light, most manufacturers opt for lightweight designs (such as mesh upper) rather than extra insulating materials.
Moreover, since you would be hiking in the Smoky Mountains, you might want to settle for the average insulating feature.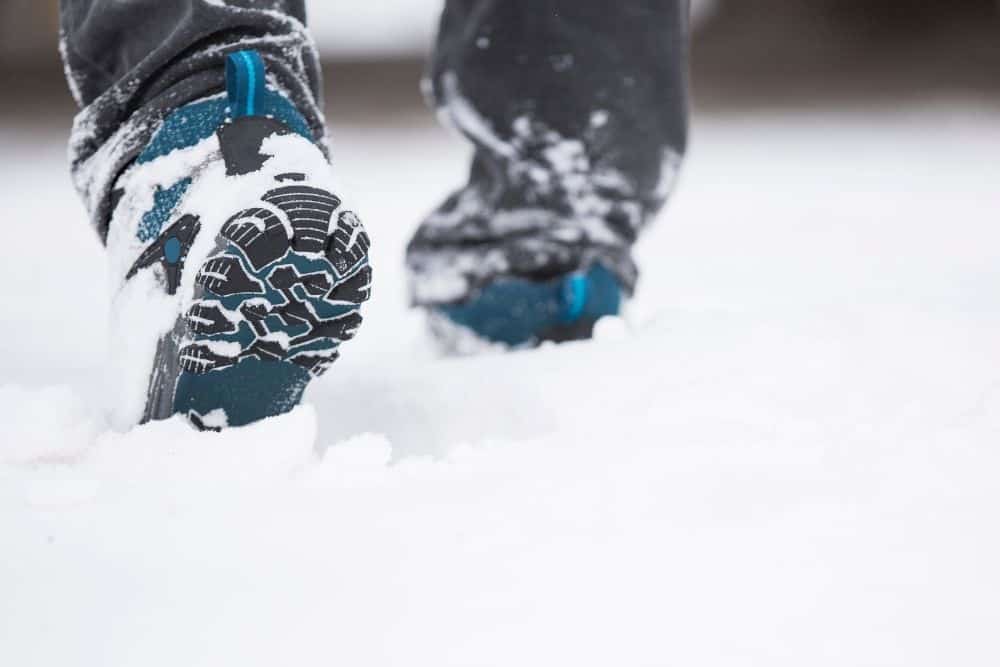 2. Rigid Outsole
Remember the high praise the outsole's stability and support received? Well, there's a bit of a trade-off for it.
As much as the rigid outsole protects your feet from sharp rocks, it prevents your foot from feeling the ground.
This means that your brain gets lesser signals from your feet indicating what type of ground you stand on.
So, in a bid to figure out your stance, your brain and foot muscles undergo more work.
The problem with this is that you are likely to fall and get a sprained ankle when you stand on uneven ground with hiking boots.
In addition, this brief delay in transferring signal will slow down your body's response to adjust your stance if it is unbalanced.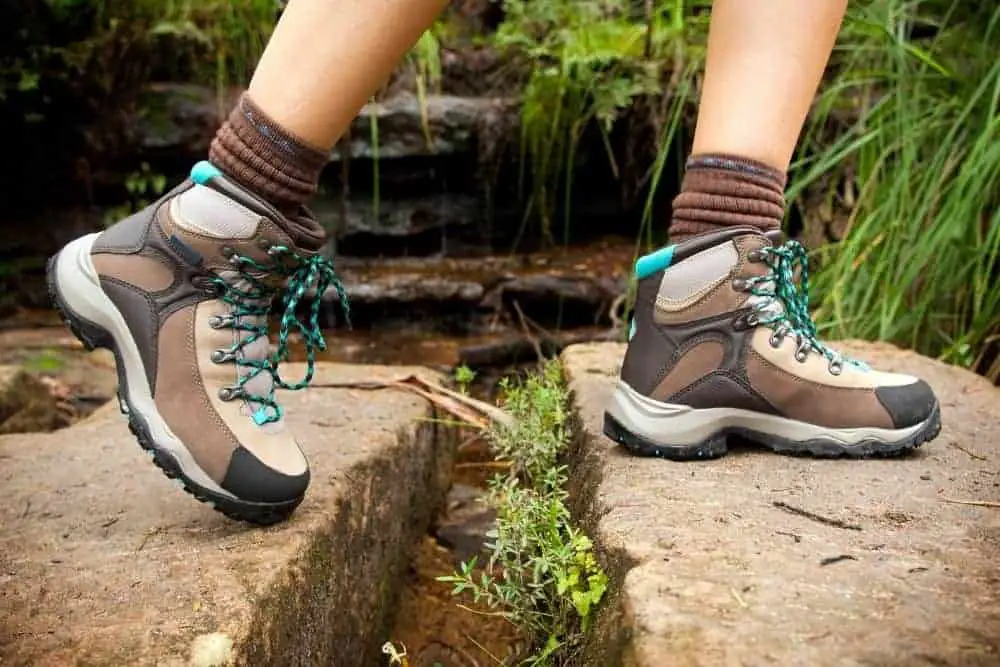 3. Low Protection
I know we stated the protective features of hiking boots, but there are not quite enough.
Yes, hiking boots have reinforced toe caps, ankle protection and strong protective material; however, there are other shoes offering more.
However, they are not snake-proof. You can be quite assured when facing small snakes or small insects. But once you face large rattlesnakes, it's better to stay away from them.
In terms of safety, hunting boots will give you better protection, but they will lack the necessary features for hiking.
If you win one, you lose the other – it's a trade-off!
Many hiking boots have safety toe caps. It remains an excellent feature to have in your boot when hiking in the Smoky Mountains.
My advice: You only have to ensure that you watch out where and how you place your feet. That way, you wouldn't need to worry about anything (snakes, sharp rocks, slippery surfaces).
Overall rating table when using hiking boots for Smoky Mountain
| | |
| --- | --- |
| Features | Editor's rating |
| Comfort | ⭐⭐⭐⭐⭐ |
| Protection | ⭐⭐⭐⭐ |
| Flexibility | ⭐⭐⭐⭐⭐ |
| Waterproofness | ⭐⭐⭐⭐ |
| Insulation | ⭐⭐⭐ |
| Durability | ⭐⭐⭐⭐ |
How To Choose Hiking Boots For Smoky Mountains?
There are many types of hiking boots out there and making a choice for which to use for Smoky Mountains can be challenging.
For this reason, we have created an expert guide for choosing the perfect hiking boots for Smoky Mountains.
1. Waterproof
There are always signs of water somewhere, either by rainfall or wet grounds. When it comes to Smoky Mountains, you wouldn't want that wetness to get into your boot because it would cause foot smell and damage (over time).
The good thing with this essential feature is that it mainly comes in all hiking boots.
However, we would advise that you still keep an eye out to avoid getting a hiking boot without waterproof.
Most waterproof hiking boots will come with Gore-Tex designs coupled with full-grain leather material. Once you don't spot a Gore-Tex design, you will need to observe closely for waterproofing.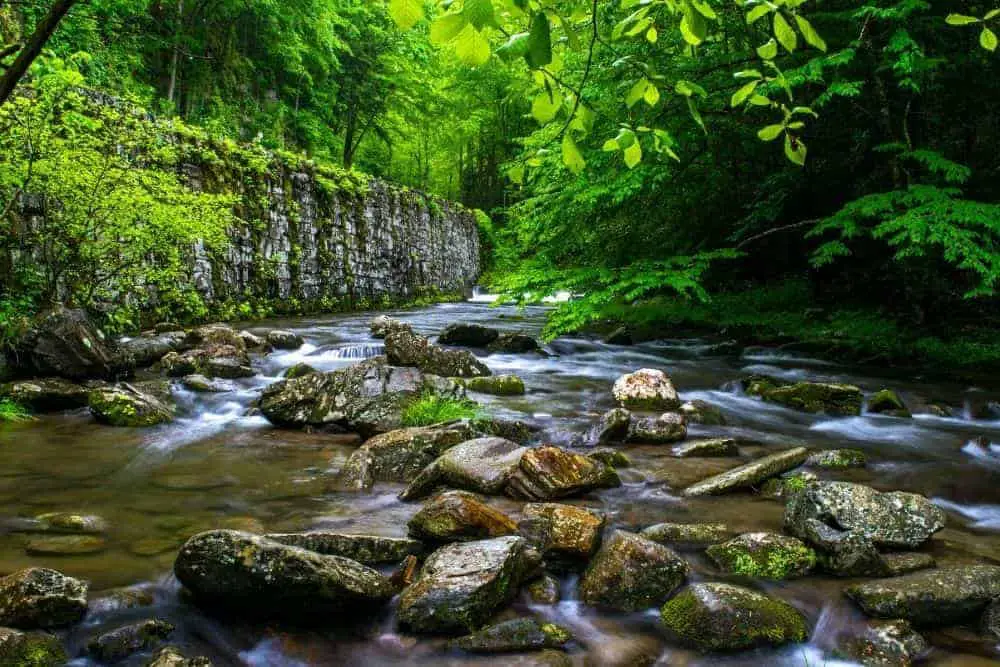 2. Insulation
Understand you are hiking on a Smoky Mountain, and it can get cold.
Trust us; you wouldn't want that temperature getting to your feet; it is uncomfortable and could cause severe foot problems.
To make your hike on Smoky Mountains smooth and enjoyable, we'd advise that you go for hiking boots with insulation.
This feature might not matter if you are not going high up the mountain, but it is nice to have in a hiking boot.
For you to spot whether a hiking boot has insulation, check for Thinsulate insulating properties on the shoe's packaging.
Ensure that you choose the one with insulation; it will give you a comfortable hike.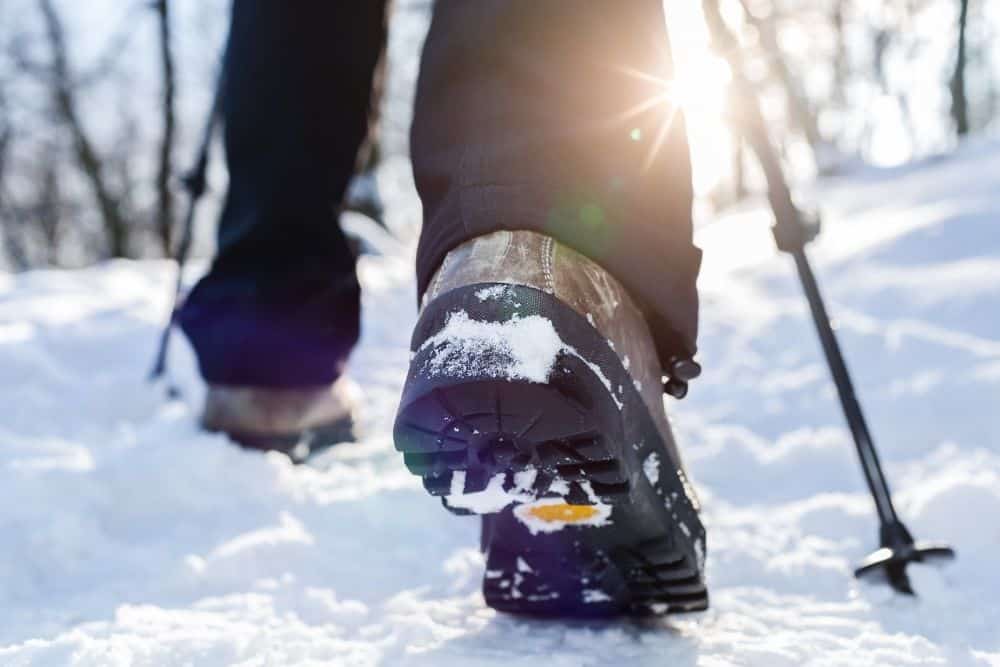 3. Traction
As earlier stated, hiking boots have one of the best outsole traction you can find in a shoe. However, these outsole tractions come in different types.
For starters, do not choose any hiking shoe without a rubber outsole, as this material offers the best traction.
But then, rubber outsole traction comes in two – blown and carbon. The blown rubber is softer and damages faster.
Whereas, carbon rubber is more rigid, durable and highly slip-resistant. So, choose a hiking boot with a carbon rubber outsole, as it would give you the best traction for hiking smoky mountains.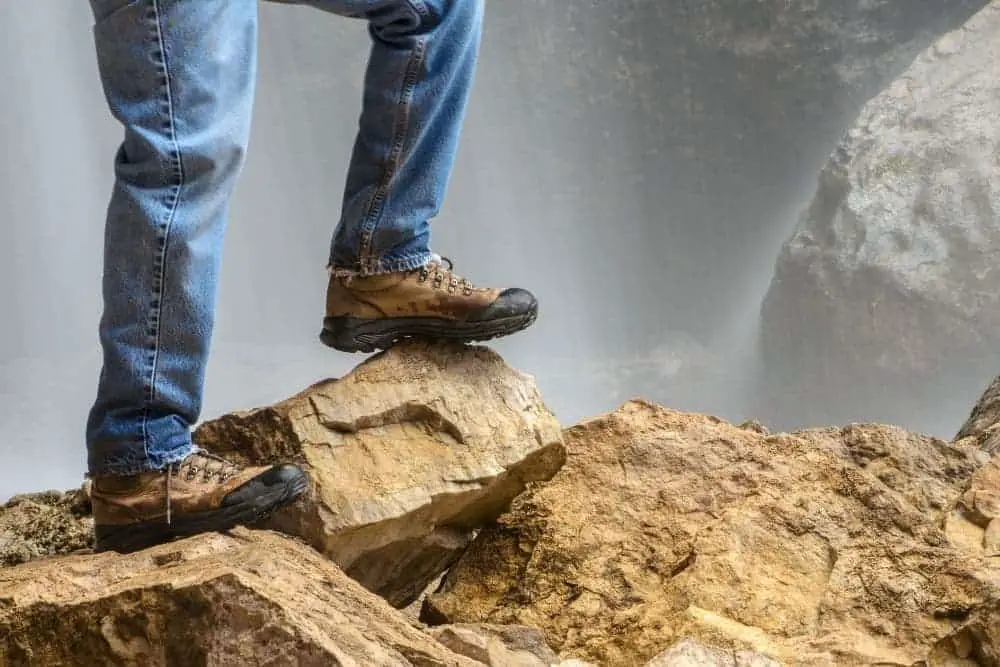 4. Weight
Your boot's weight plays a significant role in how well your hike will go.
If your hiking boots are heavy, the hike will be more strenuous for the hiker. In contrast, when your hiking boot is lightweight, it allows you to move freely on the mountain.
However, you need to be careful not to purchase an overly light boot. The problem with this type of boot is that some essential features might be missing for it to be excessively light.
5. Protection
While on a Smoky Mountain, there are several posing threats to your health. From mountain sickness to foot damage, you will need to keep yourself safe.
For this reason, we recommend hiking boots with protective toe caps and strong builds.
Generally, rubber toe caps are essential features to have in hiking boots as they will protect you.
In addition, your hiking boot's build should be solid, with at least a mid-shaft height level for ankle support – this will act as protection against snakes.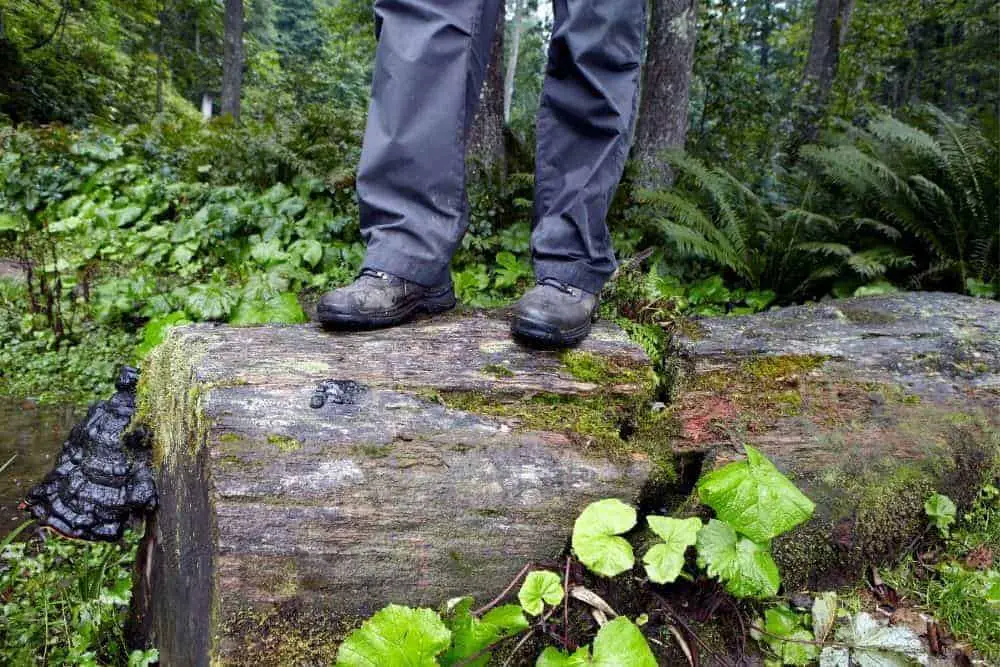 6. Material and Durability
I understand if you are concerned about the beauty of your hiking boots; however, you will need to get them more durable rather than stylish.
Undoubtedly, synthetic materials are more stylish, but leather hiking boots are a durable option.
In terms of durability, full-grain leather hiking boots are far better than synthetic or mesh material designs.
Moreover, some brands offer full-grain leather hiking boots that are stylish and will suit your requirements.
7. Breathability
Yes, your feet can sweat, and this becomes excessive during hot weather conditions. If you always sweat in your hiking boots, soon after, you might begin to have foot issues that will require medical attention.
So, if you are going to hike at the bottom of a Smoky Mountain and the temperature is high, we suggest that you go for breathable hiker's boots.
That way, your hike is comfortable, and your feet are safe. The best breathable hiking shoes are the ones having mesh material designs.
Noteworthy Advice For Hikers On The Road
Whether you are a mid-level or beginner hiker, there are a few expert hiking tips you need to know.
For instance, if you are going to hike on a Smoky Mountain during the winter, you should start your hike early rather than late.
Furthermore, let's see other noteworthy tips:
Never go on any hike alone – go with a guide if you must.
Check the road and weather conditions thoroughly before hiking. Then, do the check again immediately before you start.
Take a backpack along – your first aid kit, food, water, and other essentials should be inside.
Dress appropriately for the weather. If it's cold, cover up; if it's warm, you can lose some clothes.
Start your hike early – don't wait till noon or dark hours before hiking.
What Should I Pack For The Smoky Mountains?
Before hiking, your first thought should be on your essentials. Ensure you have a backpack along with you, and in that bag, there should be;
Water bottle and so much water.
Food or snacks.
Bug spray.
First aid kit.
Sunscreen (if necessary).
Map.
Flashlight.
Compass.
Comfortable clothes you can wear when it gets colder.
Tent (over night).
Lighters.
Hiking boots (of course)
How Long Does It Take To Hike The Smoky Mountains?
Personally, from experience, it usually takes a few days to over a week to hike the Smoky Mountains. It depends on the number of hikers, your load, and trail path.
However, according to most expert reviews, it takes roughly about seven days for most hikers to explore the Smoky Mountains.
But, you can shorten the hike to three (or four days) by using Clingmans Dome or Newfound Gap.
What Is The Best Time To Visit The Smoky Mountains?
The best time differs among people; it can be the fall months, summer, or even winter. If you are a consistent hiker, you can determine which is the best time for you.
But, for a first-time hiker of the Smoky Mountains, we'd suggest that you visit one during the summer (mainly June, July, and August).
In addition, you might also want to consider the fall season (October) because of the peak color season.
Believe me, you will be overwhelmed by the colors of summer and autumn in Smoky Mountains!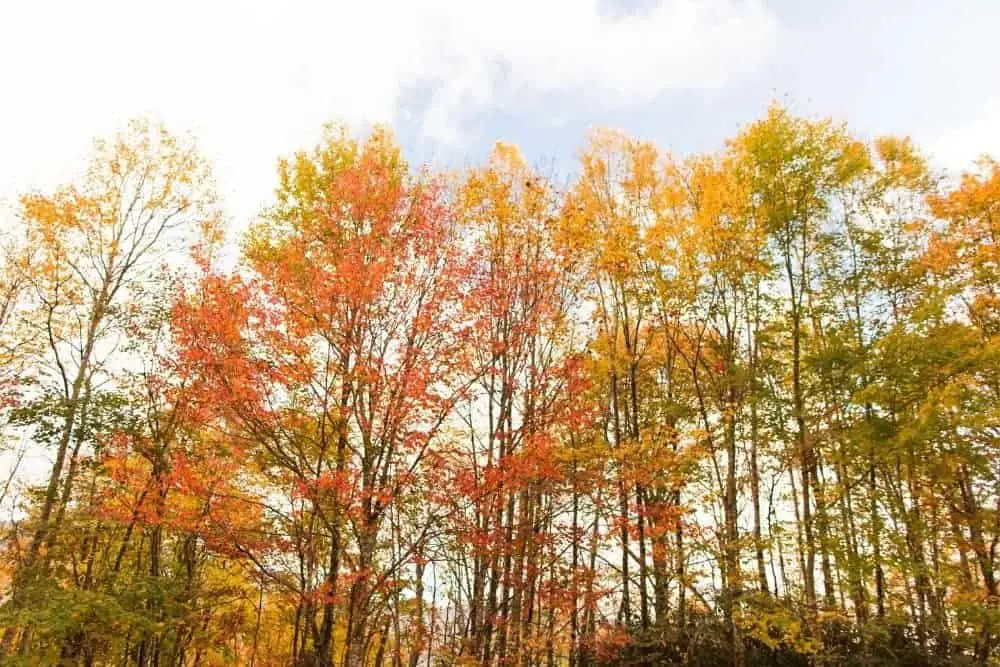 Is It Dangerous To Hike In The Smoky Mountains?
Here's the truth about the dangers of hiking in Smoky Mountains; they are real but avoidable. However, according to statistics, it is unequivocally safe to hike in the Smoky Mountains.
In fact, some statistics even went further to state that there are more dangers while driving within the park than hiking in the Smoky Mountains.
Know that tens of thousands of people hike yearly, and only a few encounter dangerous situations.
Top 3 Picks Hiking Boots Good for Smoky Mountains
We know searching for the perfect hiking boots for Smoky Mountains can be challenging.
And for this reason, we have gone the extra mile to bring you our top three hiking boots for the Smoky Mountains.
So let's take a look!
1. KEEN Men's Targhee II Hiking Boot
Last update on 2023-03-15 / Affiliate links / Images from Amazon Product Advertising API
The KEEN's men Targhee II is a 100% leather hiking boot with waterproofing and breathable features that keep your feet dry.
KEEN claims to have treated the leather with PFC-free water repellant during its production to ensure maximum waterproofing.
One of the best features of the KEEN Targhee II is its traction and support. The Targhee II sports a non-marking carbon rubber outsole that offers proper traction with the ground, preventing slippage.
For support, it comes with a torsion stability external support shank (ESS).
The Targhee II comes with a mid-cut 4.5 inches shaft height that supports your ankles and keeps them stiff.
According to customer feedback, the metatomical footbed design provides excellent natural arch support and balance for all feet types.
In addition, some users have shown complaints about the outsole pulling off after miles of use.
Regardless, the KEEN Targhee II is an excellent hiking choice for Smoky Mountains.
Pros
It comes with a waterproof design and finishing.
100% pure leather.
Offers proper traction and grip with carbon rubber outsoles.
4.5 inches shaft height with ankle support.
Highly comfortable and stable.
Cons
Many users complained about its durability, especially the outsole wears out quickly.
2. Oboz Bridger Mid B-Dry Hiking Boot
Last update on 2023-03-15 / Affiliate links / Images from Amazon Product Advertising API
Oboz Bridger Mid B-Dry Hiking Boot is a new-school hiking shoe sporting a leather finish.
In addition, this boot from Oboz comes with unique B-Dry waterproofing capabilities that make it essential for hiking in Smoky Mountains.
Oboz Bridger Mid B-Dry comes with an EVA midsole and provides shock-absorbing properties for foot comfort and arch support.
In addition, the outsole has excellent grip so it can overcome slippery and uneven rocky terrain.
I also really like the durability of this boot. Besides the durable upper, the treads of this boot can also last a long time despite frequent contact with sharp rocks.
The lightweight of the boots is also a huge plus. The higher you climb Smoky Mountain, the more grateful you feel for that valuable plus.
Although this boot from Oboz comes with several great features, it fails to be breathable enough.
Additionally, the lack of proper airflow causes it to heat up during hot seasons, which can be bad for your feet. However, Oboz tries to balance the lack of breathability with the moisture-wicking top layer.
Regardless, the boot still faults during the winter as there is no proper insulation on it. However, your feet will generate slight heat due to the already warm nature of the Oboz boot.
Overall, you don't need to worry too much, because many people have had very good experiences with these boots in mountainous terrain including Smoky Mountain.
Pros
Superior high-density EVA sculpted arch support for feet.
Possess moisture-wicking top layer.
Super comfortable with shock-absorbing properties.
It sports B-Dry waterproof designs.
Outsoles provide good grip and stability.
Cons
This boot does not come with insulation for hiking Smoky Mountains during winter.
Several complaints about the boot being warm and unbreathable during hot seasons.
3. Salomon GTX Quest 4
Last update on 2023-03-15 / Affiliate links / Images from Amazon Product Advertising API
The Salomon GTX Quest 4 is an improved version of the previous one created by this brand.
The Quest 4 sports highly slip-resistant outsoles that grip properly to any Smoky Mountain surface.
The design and build of the Salomon Quest 4 come with a mix of synthetic and leather material with a tall shaft height construction.
The build and structure of the Quest 4 give it the superior waterproof property that many users have commended it for having.
In addition, the midsole in the Quest 4 has proven to be pretty comfortable on the feet, even on rocky grounds.
Salomon ensures balance and stability with this boot; nevertheless, some users' feedback backs up the claims.
Additionally, the rubber toe cap on the Salomon Quest 4 gives your feet protection in case of collisions while hiking.
However, the shoe can be pretty heavy on the feet for hiking in the Smoky Mountains.
Pros
It offers excellent ankle and shaft support.
Provides proper traction with its superior rubber outsole.
Waterproofing backpack hiking boots.
Durable and sports a rubber toe cap.
Comfortable and sturdy design.
Cons
Many users complained that it is heavy.
Doesn't come with full-grain leather.
Conclusion
Do you need hiking boots for the Smoky Mountains? Yes, you do.
This post has highlighted several features of hiking boots that are advantageous to your hike in the Smoky Mountains.
If you need hiking boots, you can check out our ways to choose the perfect or pick any of our selections.