Hiking is one of the most strenuous activities and places much stress and pressure on your feet. If your ankles are weak, hiking and even other activities like jumping and walking can worsen your issue.
As hiking footwear provides great ankle support, wearers can get a much more comfortable experience even on the most demanding and trickiest trails.
There are various factors to determine how a pair of hiking boots protect your ankles, including heel design, cushioning, arch, outsole, midsole, and shape.
Let's dive into it to figure out if hiking boots protect ankles and how they support them.
Do Hiking Boots Protect Ankles?
It is imperative to have good ankle support when walking, running, climbing, and other activities.
Why? The reason is that ankles are the connecting point between your feet and lower legs.
If they are weak, you are more likely to suffer numerous foot and arch issues when you move.
That's why you need to have footwear that can protect ankles. Hiking boots are an ideal choice you can consider.
As mentioned above, the key factors that can provide ankle support are heel design, cushioning, shape, arch, outsole, and midsole.
Hiking boots, especially models for jungles, can meet essential requirements for protecting your ankles well.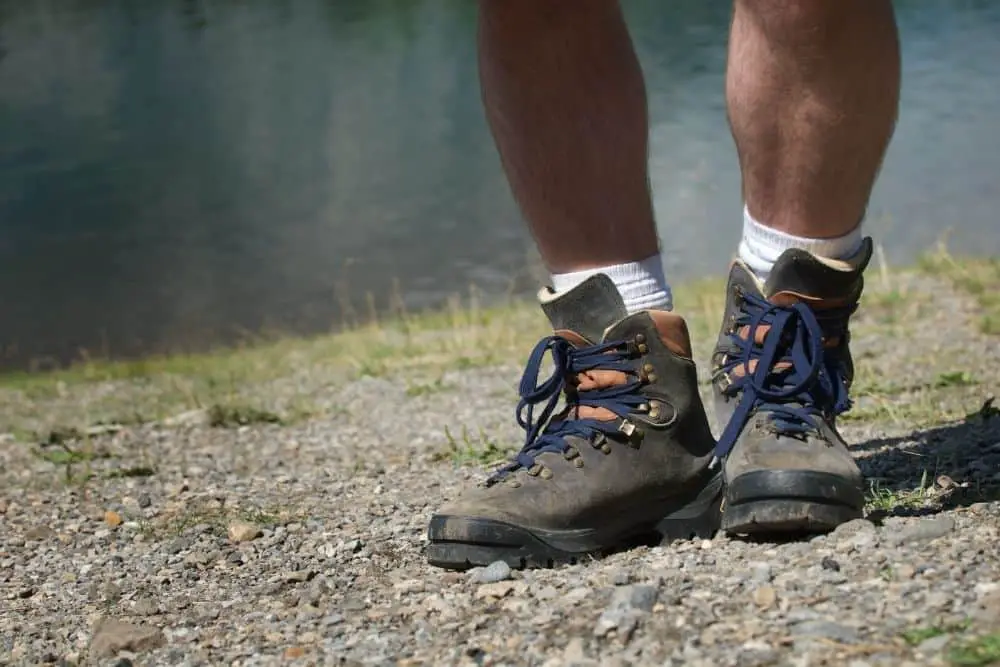 Heel Design
When you are on a hike, it is preferable to have footwear with a low heel.
You might not know this, a proper heel cup can deliver a wider contact space between the ground and your heel.
As a result, this will eliminate the pressure on your ankles so that you can rest assured to wear them comfortably when hiking, walking, or running.
Notably, the hiking footwear model for jungles comes with a quite low heel design that can greatly reduce the stress and pressure on your forefoot.
Cushioning
To protect your ankles, your footwear needs to come with proper cushioning.
A proper cushioning in the arch and heel can greatly help absorb shocks when you hike, jump, walk, or run and thwart unexpected injuries to your feet, especially your foot bones.
Briefly, hiking boots deliver proper cushioning than other conventional boots. Hiking boots have very good shock-absorbent cushions. This is one of the big pluses that make hiking boots great for supporting your ankles.
So do hiking boots protect ankles? The answer is a big Yes. 
They can give great support to your ankles during traveling sessions.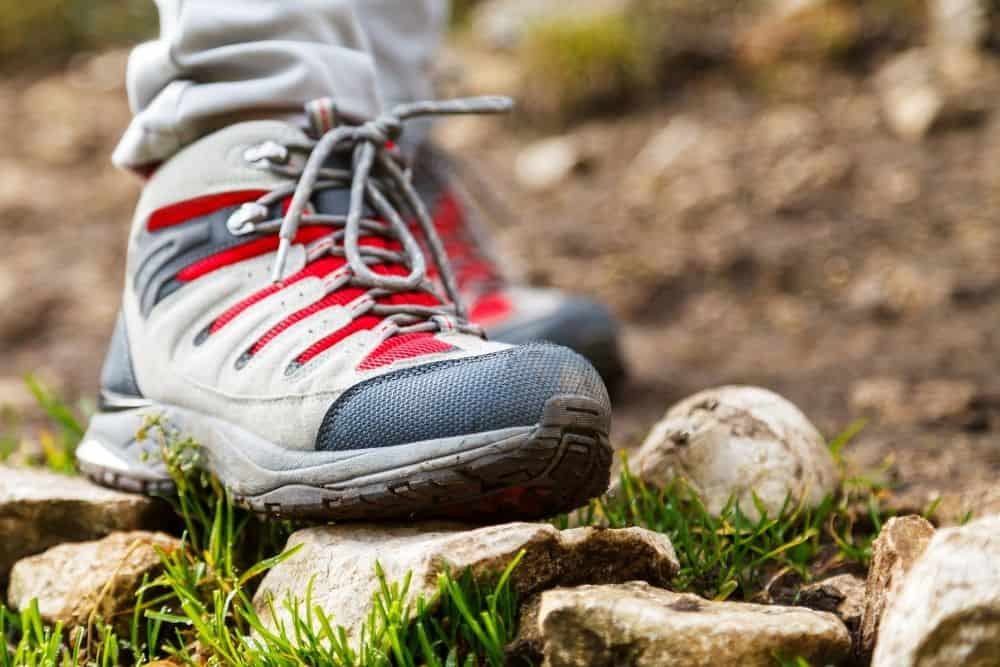 Shaft Height
1. Low-Cut 
The low cut shaft is the best choice to protect your ankles.
The reason is that it helps strengthen your ankles and improve the motions, avoiding injuries for a long time.
Your ankles are freed from being hugged too tightly, they have more movement and, of course, they are stronger.
Moreover, low hiking boots are a bit less heavy than high-collar models, which provides better flexibility for the boots.
Plus, lower hiking footwear can relieve pressure on your shin bone in comparison to taller ones.
2. Mid-Cut
The hiking boots with a mid-cut shaft go under the ankles.
They support your ankles and feet, especially when you carry heavy backpacks over tricky terrains.
So with mid-cut hiking boots, you can feel stable, warm, and sturdy.They are suitable for multi-day long backpacking trips.
Plus, the lacing system of these boots has metal hooks to keep the cuff secured and comfortably cover your legs.
On top of that, they can save your ankles from branches and sharp rocks when hiking or going on the trails.
3. High-Cut
High hiking boots come with a cuff rising several inches above your ankles with the lacing system, aiming to stabilize the collar to snug to the legs.
They are normally waterproof and can keep the feet dry in undesirable conditions like snowy ground, rainstorms, and muddy surfaces.
However, high collar hiking boots will act as the brace that causes a drop in flexibility of your ankle functions and moves.
How they fit
Your footwear's shape will determine how it fits you.
Accordingly, your hiking boot needs to feature the shape that can give you a comfortable feeling right when putting it on your foot, of course, in the true size.
An ideal shape of hiking boots is to hold your feet well without causing the feeling too narrow or tight.
Besides, it is best to ensure there is no lack of space to limit free movements or cause loose stability, resulting in ankle injury risks.
Arch
When hiking, you are likely to suffer frictional injuries as your feet touch rough surfaces.
In this case, if your boot comes with a stiff arch, it can significantly limit your moves' flexibility and place pressure on your ankles, leading to ankle pains.
Also, the hiking boot shank placed underneath the arch portion can provide great arch support. The reason is that it generates a rigid structure to correct the walking gaits by providing balance and stable steppings.
Hence, you will not walk in any wrong posture leading to ankle pains and foot fatigue.
Outsole
Another important element to consider is the hiking boot's outsole to gain optimal protection for your ankles. It helps lower the risks of twisted ankles or falls by providing a non-slip and stable stepping when hiking.
This part of the boot aims to wick away shocks when you step on rugged, uneven and slippery terrains like mountains, jungles, or deserts.
The outsole's construction needs shock-resistant and more responsive materials like hard plastic and rubber to eliminate the risks of trauma when you have to move fast.
Besides, they need deep lugs and high-friction rubber compounds to deliver a nice grip on every movement you make.
You might not know this, but a non-slip outsole can greatly lower the risks of slips and falls due to wet, mossy, or rocky ground while hiking on the trails.
Additionally, if you seek footwear that can resist shocks and slip-on tricky and uneven terrain, hiking boots whose tread patterns come with fairly deep grooves are a good idea.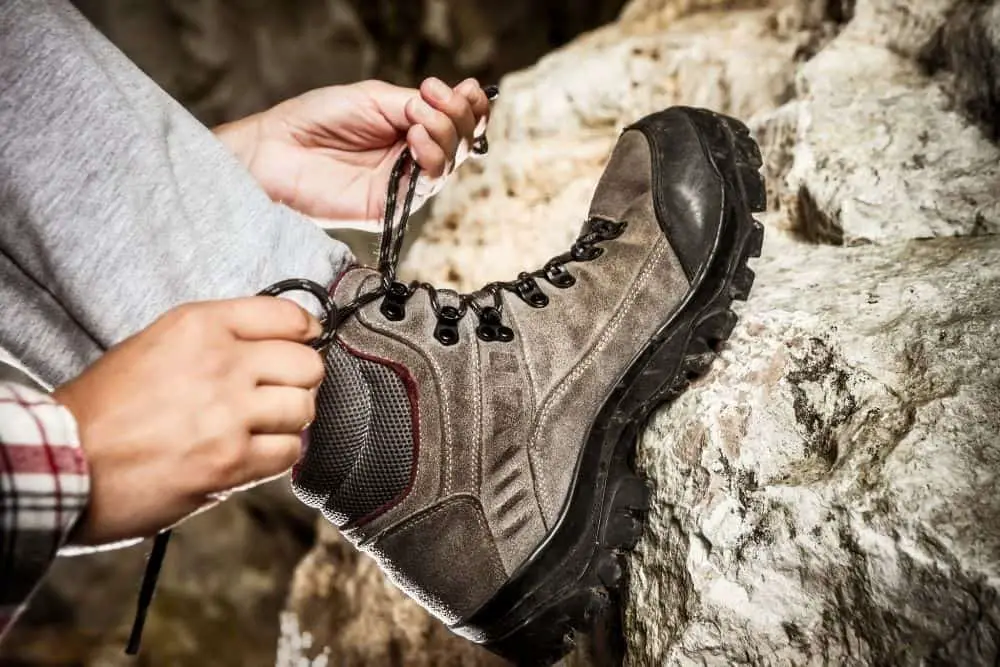 Midsole
Like the outsole, the padded midsole also contributes to the boot's shock absorption capability as it makes your footbed greatly responsive and delivers a nice bouncy effect.
This helps you avoid muscle tension when hiking and moving on uneven terrain.
The best idea is to go for a relatively thick and responsive midsole to provide the best ankle support.
Moreover, the midsole must be padded enough to let you stand on or scramble on the rocky edges.
Are Hiking Boots Good for Ankles?
When you are out traveling, you will certainly go through various types of surfaces.
From even and flat trails to rocky edges are all on the cards for hikers. This is what sets hiking apart from other activities. It is so enjoyable!
That said, you are also likely to suffer more risks of slipping, and god forbid, twisting and breaking your ankles.
Like knees and feet, ankles are a typical body part prone to injuries when you get a fall or twist on the hike.
In this case, hiking boots appear to be a good choice. So you might wonder if they are good for ankles. We have to say, "Definitely, they are."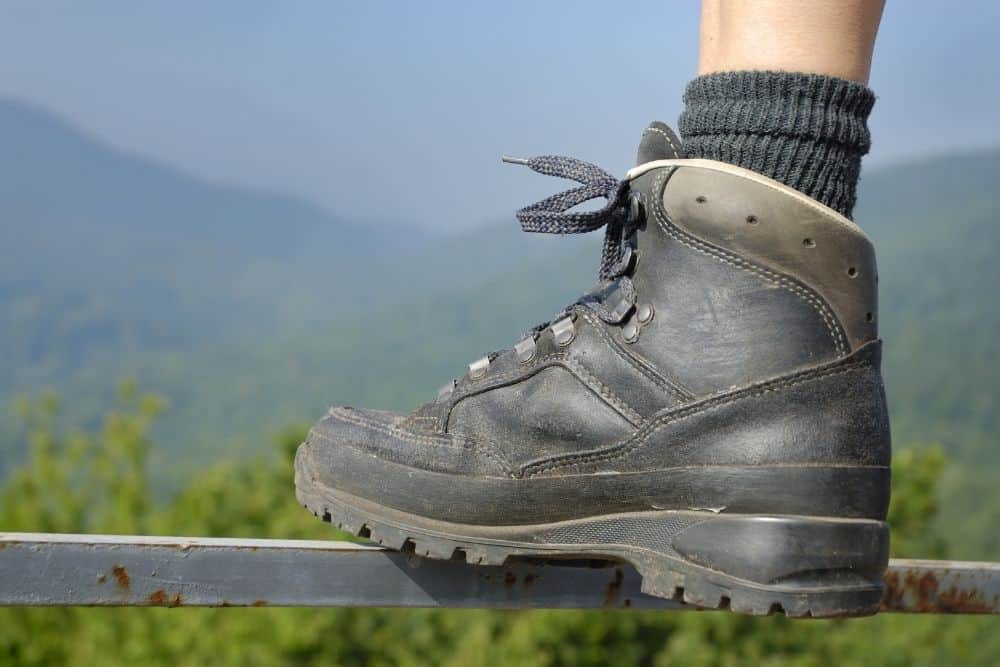 It is the structure of hiking boots that delivers ankle support and stability in them. Of course, you must buy a quality pair of hiking boots.
Hiking boots with a well-designed upper (typically textile or leather or the mix) can work well with all constituent parts of the boots like midsole and shank. Accordingly, they can provide stability around your ankles, protecting them from getting injuries when hiking, jumping, walking, and more.
Besides, you can notice a thick padded collar on your hiking boots.
This cushioning with good lacing will hold the footwear in place when moving. Meanwhile, a padded collar can deliver cushion support for the ankles as well.
On top of that, most hiking boots available on today's market feature a full-length stabilizing shank to increase your stability, providing significant support for hiking, jumping, walking, and other activities.
It is also worth noting that hiking footwear comes with a locking eyelet between ankle eyelets and the forefoot. This design can hold the laces to support your ankles.
With all of the features mentioned above, you can rest assured that your ankles can get enough support you can rely on when wearing good hiking boots.
Wrapping Up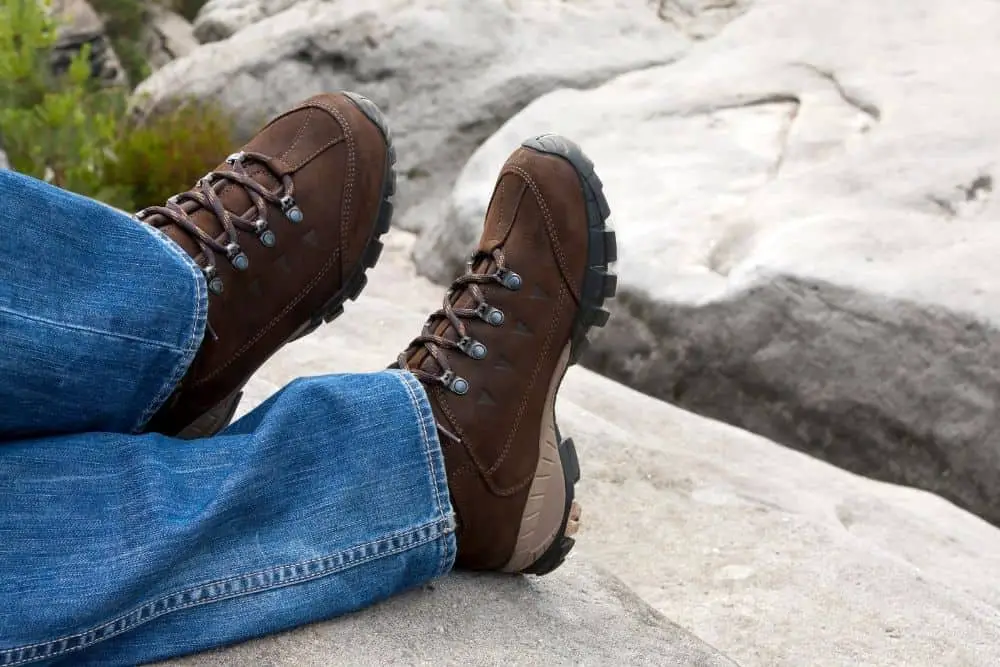 It seems that great ankle support is a must-have thing in hiking boots.
They boast essential features to protect your ankles like proper heel design, cushioning, shape, sole, and arch.
But keep in mind that depending on the types of hiking boots (for trails, jungles, hikes, to name a few), how much they support your ankles will vary from model to model.
That's why you need to consider your preference and carefully choose suitable hiking boots.
For instance, should you frequently hike on even and flat trails, you will not need to focus on ankle protection much.
In contrast, if you are deeply into hiking on rocky edges and rough surfaces, it's worth investing in a quality pair of hiking boots that can provide adequate support for your ankles.
Anyway, we hope our article is helpful for your consideration. Do not forget to share your story with us in the comment section below. Thank you for reading!