Whether you are coming to Costa Rica for hikes on some of its famous trails or to enjoy the adventurous spirit, your foot protection is a priority. We would not be overstating it to say; your feet are an essential body part for hikes in Costa Rica.
As experienced hikers, we have taken our hiking journey across different Costa Rica trails; the famous, difficult, and easy ones. And from these different experiences, we can finally answer the most frequently asked question of the location, "do I need hiking boots for Costa Rica?"
This article will give you our expert opinions concerning the need for hiking boots in Costa Rica. Furthermore, we will provide a helpful guide on choosing the perfect hiking boot for Costa Rica alongside some other expert advice.
Nevertheless, before we proceed, let's take a look at Costa Rica and what to expect. Then, we will give a detailed breakdown, explaining the terrains, natural conditions, weather patterns, and animal sightings while hiking.
Costa Rica Hikes | The Detailed Breakdown
Honestly, as a hiker (beginner or experienced), it is recommended to understand your desired hike sight beforehand. This foresight understanding prepares you for the worst scenarios that are likely to play out on your hike.
First off, knowing and understanding the trails' terrains at Costa Rica beforehand gives you an idea of your footwear choice. So, let's see the conditions to expect in Costa Rica while hiking.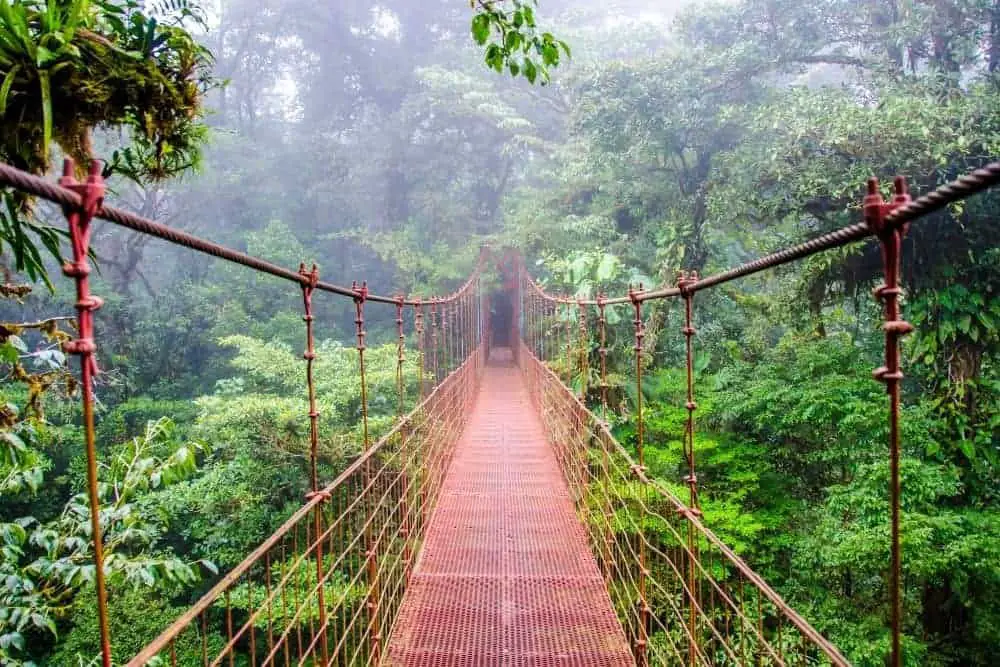 1. Terrain
Generally, you can refer to the terrains in Costa Rica as well-marked, sandy, wet, and bumpy trails – depending on where you're hiking. However, what we saw while hiking in Costa Rica were less difficult trails than most other places.
However, it doesn't eliminate the fact that Costa Rica has some pretty nasty terrains that could damage your feet. For instance, if you hike in the Arenal Volcano Park, you will see old lava flow terrains.
This type of terrain can be bumpy, rugged and will utterly cause you to lose your balance. On the other hand, trails like the Manuel Antonio National Park have flat, groomed, and sandy terrains that are easier – putting less risk to the feet.
Some other popular hiking trails in Costa Rica with difficult terrains include;
Cerro Chato – rough-shaped, steep, bulging roots, and narrow terrains.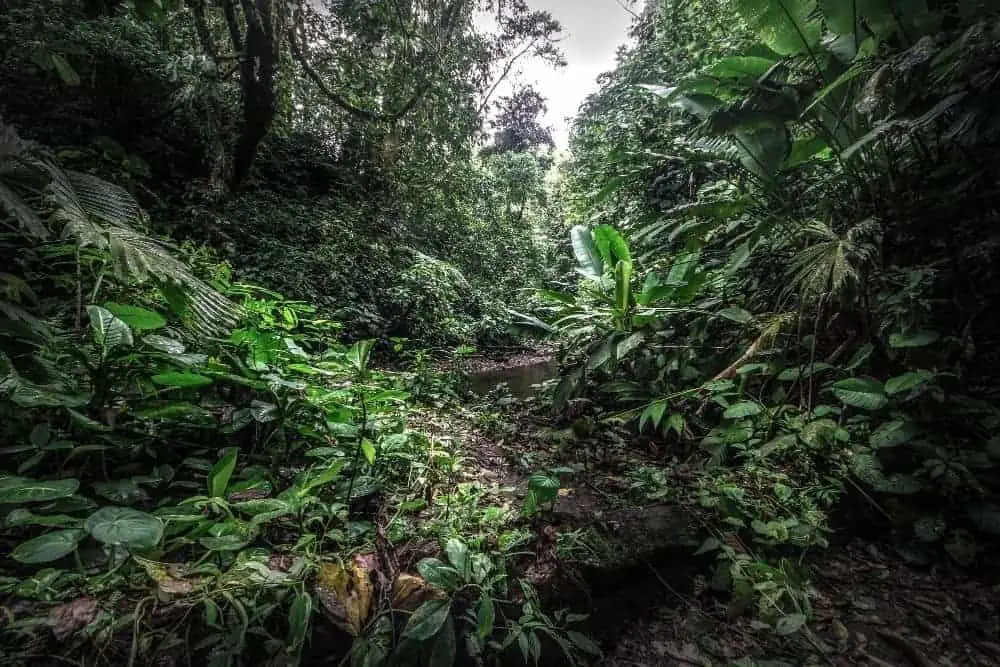 Rincon de la Vieja National Park – hot and unmaintained terrains due to volcanic activities.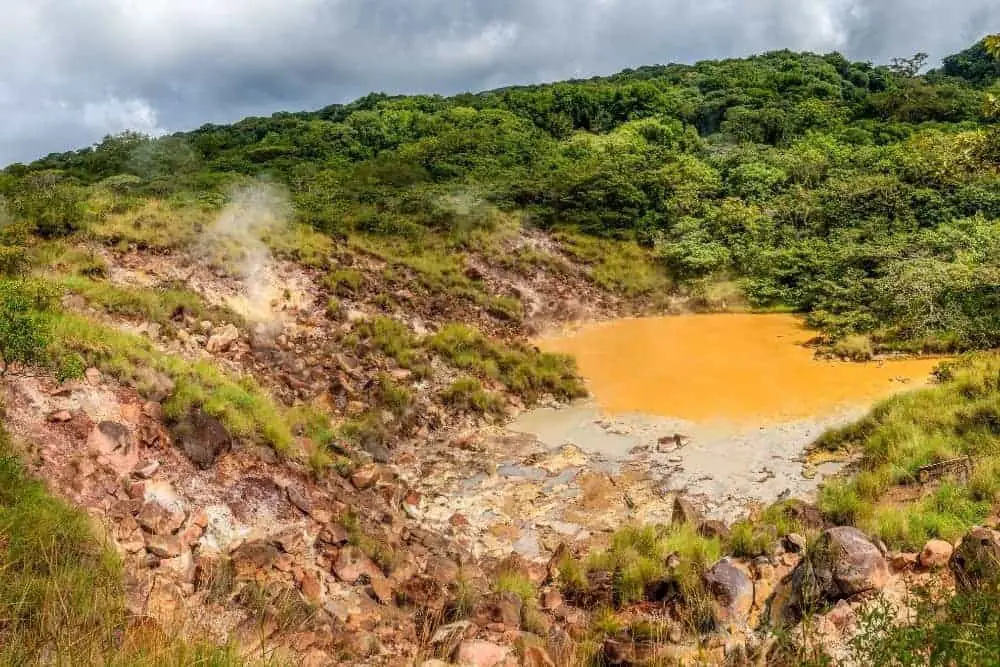 Cerro Chirripo – tall hikes with wet slippery terrains.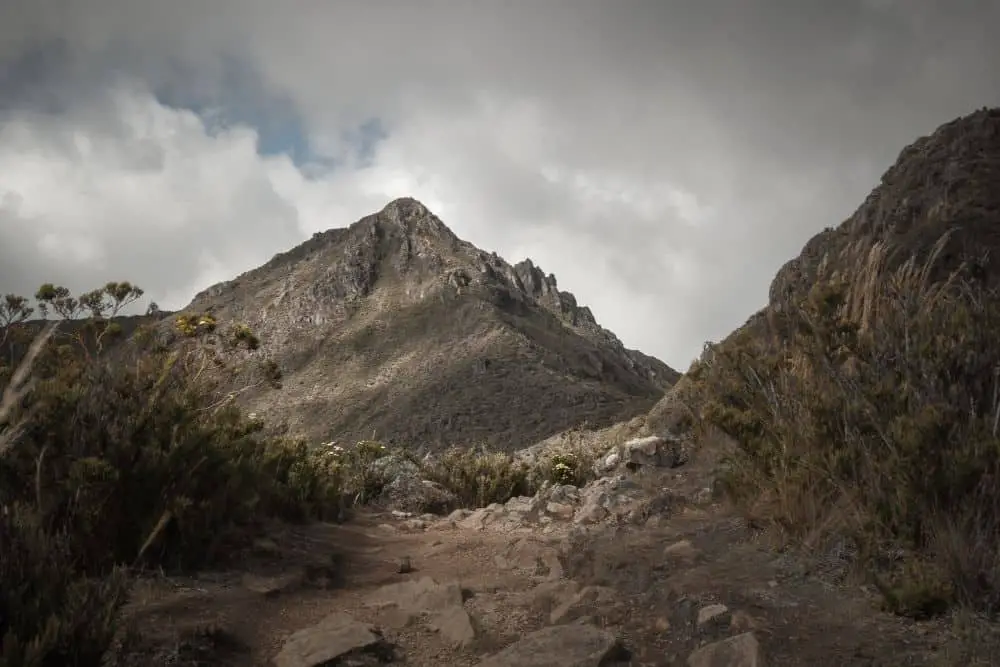 2. Natural Conditions
Costa Rica is home to many of nature's finest conditions, especially while hiking its trails. In Costa Rica, you will find several terrestrial environments and water bodies, which give the area its scenery.
While hiking in Costa Rica, you will see tropical rainforest, dry forest, and cloud forests. In addition, you will notice that the volcano presence in Costa Rica has affected some of its trails.
Also, vegetation and green grasses seem to cover a large area in most Costa Rica trails. Coupled with these, Costa Rica hiking trails have waterfalls, streams, pools, and hot springs (result from the volcano's presence), adding to its scenery.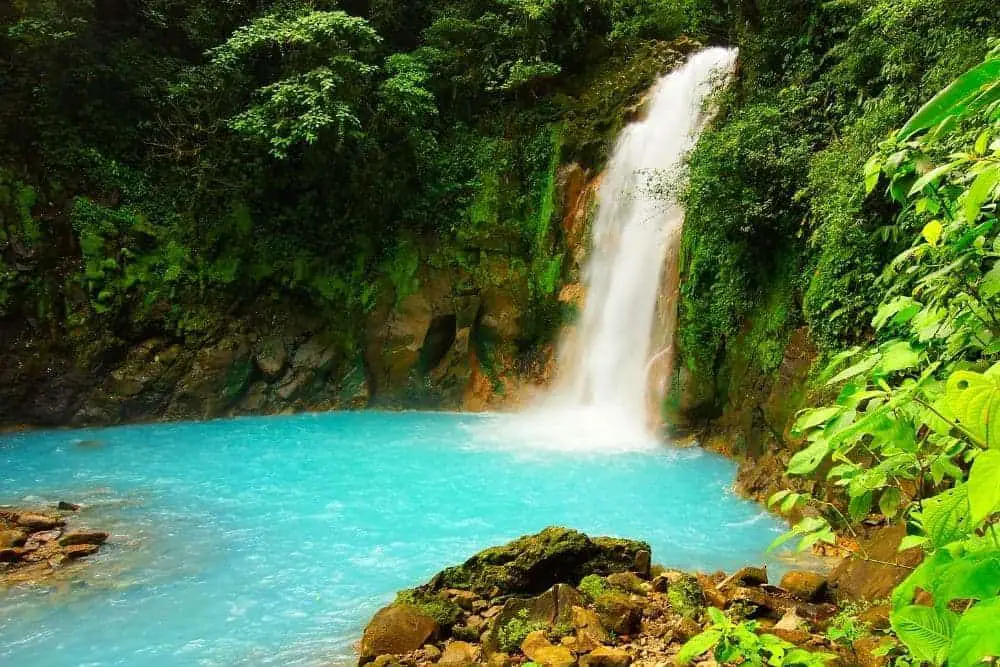 3. Weather
Unlike other countries that experience nature's weather conditions at their fullest, Costa Rica's seasons are primarily only two. And these the two seasons you will likely experience in Costa Rica are dry and rainy (or summer and winter).
You can refer to the temperature in Costa Rica as consistently tropical and warm throughout the year. Averagely, the temperature falls between 22°C and 28°C (or 72°F and 82°F). And for every 3,000 feet climbed, the temperature in Costa Rica drops by 5.5°C (10°F).
This season in Costa Rica usually spans from December to April. We know this goes against the traditional season time, but as we stated earlier, weather patterns in Costa Rica can be pretty unique.
Nevertheless, we find this time pretty exciting to visit any hiking trail in Costa Rica. However, the large influx of visitors might make you want to reconsider. In addition, the amount of rainfall is pretty low, even in the rainforest, making wildlife easy to spot.
Averagely, the temperature during this season in Costa Rica is at 25.6°C (78°F) in the daytime. And by lowlight, evenings, or night-time in Costa Rica, the temperature can drop to at least 16.7°C (62°F). It would be an advisable idea to bring along a coat or thin sweater for evening hikes in the summer.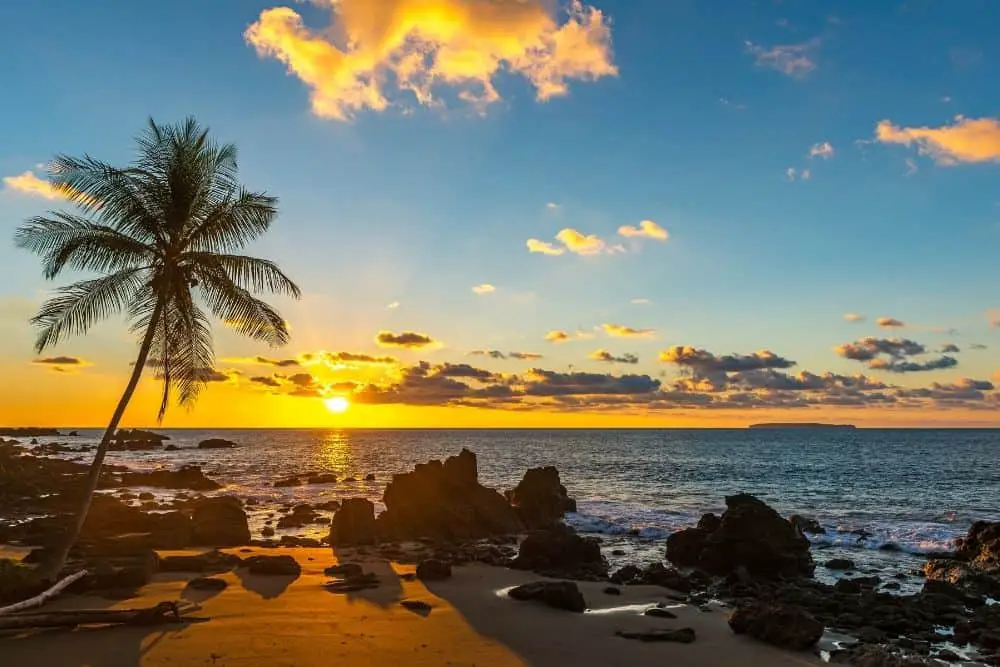 Winter (Rainy/Green Season)
In Costa Rica, the winter season lasts for the remaining months of the year. That is from May to November – making it the most extended season throughout the year. The "green" season tag came from tourists often finding ample vegetation and trees blooming.
However, hikers might find this time slightly more challenging for their hiking activities. And this is due to the wetness and increased slippery nature of the mountains and terrains.
Nevertheless, the temperature during this time usually hangs at around 25°C (77°F) maximum by daytime. And by nighttime, the average temperature can be at +15°C (59°F).
4. Animal
Generally, while hiking in Costa Rica, you will often find yourself exposed to a range of wildlife. In normal circumstances, this wildlife presence will not attack or try to harm. However, hikers shouldn't have direct contact with these animals.
For instance, in the Manuel Antonio National Park, along the rainforest trails, you will see Monkeys and possibly Toucans, Iguanas, Sloths, Coats, and Tree Frogs. Additionally, the Corcovado National Park is home to jungle cats like Puma, Margay, and endangered Jaguar.
Then, from high hilltops and mountains, if you look closely at the sea (or from the beaches) or streams, you can spot Humpback Whales, Sea Turtles, and Tapir. Additionally, you find crawling venomous animals in Costa Rica like snakes and scorpions.
Do I Need Hiking Boots For Costa Rica?
For many hikers in Costa Rica, new or old, one frequent question remains the "necessity" of hiking boots for the area. Personally, the need relies on two things: preference and the type of trail.
For instance, a hiker with experience in Costa Rica trails might opt for other footwear for a specific hike rather than hiking boots. The same way in Costa Rica, the trail's difficulty, terrain roughness, and slippery nature varies.
Nevertheless, our opinion on hiking boots use in Costa Rica is, "it isn't essential." Here's why; some of the trails are well-maintained and marked. But, you will need hiking boots for the rougher and more challenging terrains like the Arenal Volcano Park and Cerro Chirripo.
Are hiking boots essential for easy Costa Rica hikes? No.
Do you need hiking boots for difficult Costa Rica hikes? Yes.
Would we advise you to hike in Costa Rica with hiking boots? Yes.
Features of Hiking Boots Making It Suitable Costa Rica Hikes
There are several unique features of hiking boots that make them essential for hikes in Costa Rica.
These features not only keep you on your feet for the entire hike, but they also protect, comfort, and keep your foot stable on bumpy terrains.
1. Non-Slip Outsoles
This hiking boot feature is one of the major selling points of this footwear to many hikers in Costa Rica. In addition, you can refer to the non-slip outsoles present in hiking boots as second to none because of their high traction and slip resistance.
Although Costa Rica has well-marked terrains in some trails, it can become slippery quickly, especially in winter. And this is where non-slip outsoles of hiking boots tend to outshine other footwear.
The rubber outsole designs, deep lug grooves, and tread patterns underneath play a massive role in resisting slippery surfaces. The deep lug grooves and scattered tread patterns create friction alongside the grippy rubber outsoles.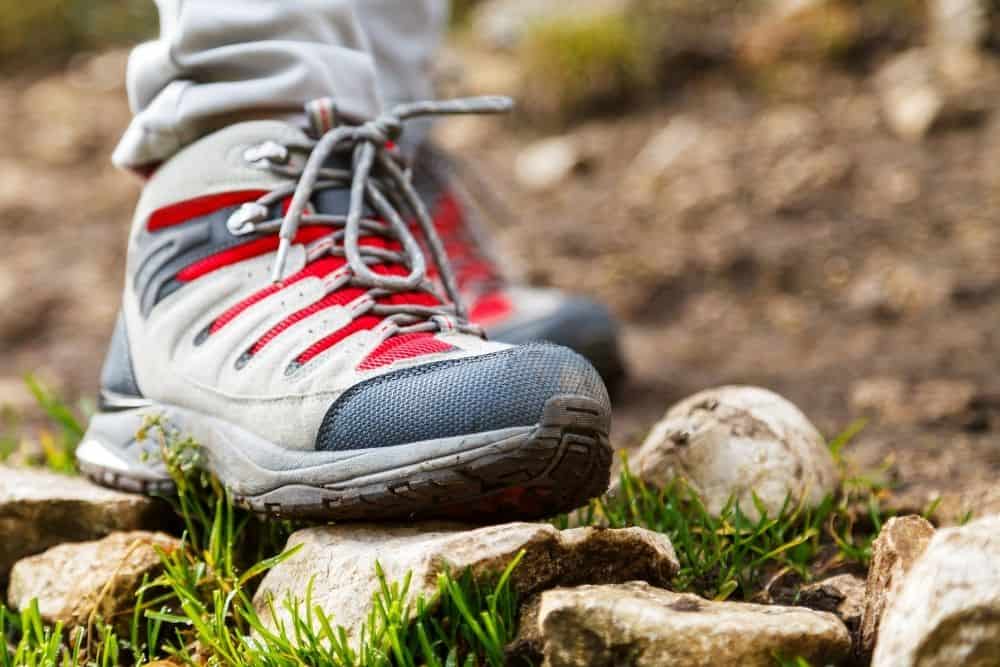 2. Midsoles and Insole
These two parts of hiking boots generate one of the best comforts needed by your foot for hikes in Costa Rica. First off, the midsole is the layer in your hiking boot between the outsole touching the ground surface and insole.
Then, the insole is the layer part in your hiking boot above the midsole that directly touches your feet. Combining both these parts (or features) creates the thick cushioning and comfort of the hiking boot, which is great for both the rough and flat Costa Rica trails.
Personally, the comfort provided by hiking boots for Costa Rica trails is enough to keep your feet without sores or blisters. Although some hikers might recommend other footwear as better comfort providers, they do not come close in other areas where hiking boots succeed.
3. Shanks and Plates
As earlier stated, some trails are flat, marked, and pretty much only sandy in Costa Rica. In contrast, some other trails have rough, bumpy, and uneven terrains that will cause instability to a hiker.
For instance, the Arenal Volcano Park with jagged lava terrains can be pretty bumpy, creating an unbalance. This is why hiking boots' shanks help create balance by adding weight-bearing stiffness on uneven surfaces.
Moreover, some stones and sharp roots or rocks are present on the trails in Costa Rica. And the plates positioned between the midsoles and outsoles protect them, preventing bruises or injuries.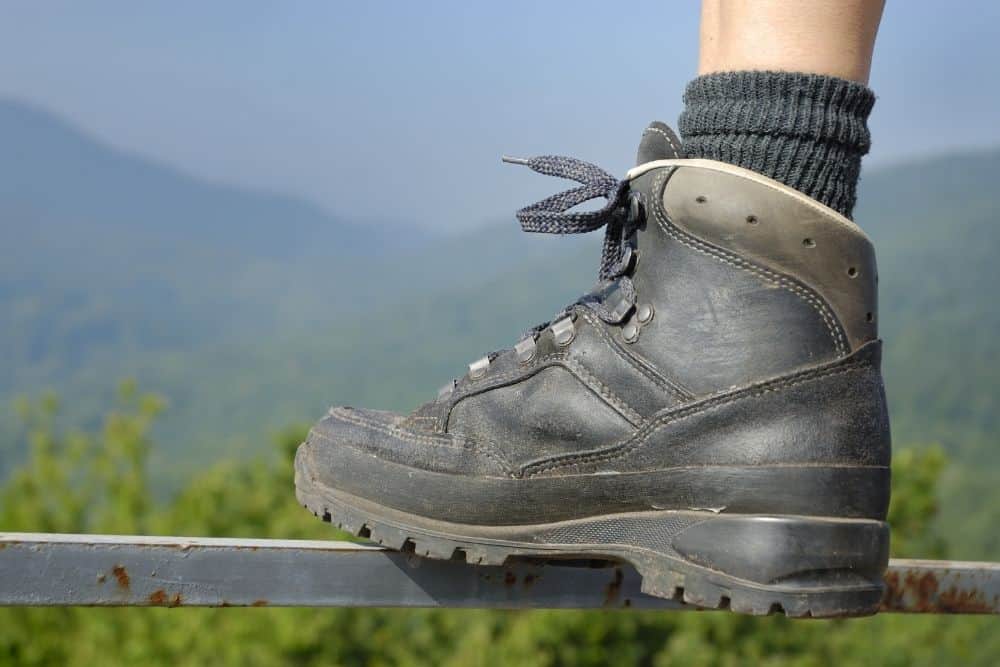 4. Toe Caps and High Collar
Here's the truth; since you will be hiking in Costa Rica, there are high chances of you hitting your boot against an object. Now, several things could happen to your feet if you are on the wrong pair of footwear.
For one, you might have toenail breakage or forefoot pains after hitting your feet. For this reason, the presence of toe caps reduces and eliminates the impact caused by direct collision to your forefoot.
Additionally, while hiking in Costa Rica, you risk your ankles or lower limb getting bitten by crawling animals or insects. Nevertheless, the high collar feature in hiking boots offers adequate protection to keep you going as you like.
4. Internal Ankle Padding
On the bumpy terrains of challenging trails in Costa Rica, your ankle requires enough protection to keep it steady. The internal padding in the ankle part of hiking boots is one of the best you would ever encounter.
This padding helps keep your ankle steady and stiff, preventing twisting and possible dislocation in Costa Rica. Although this internal ankle padding isn't essential for all trails in Costa Rica, some, like the Arenal Volcano Park, will require it.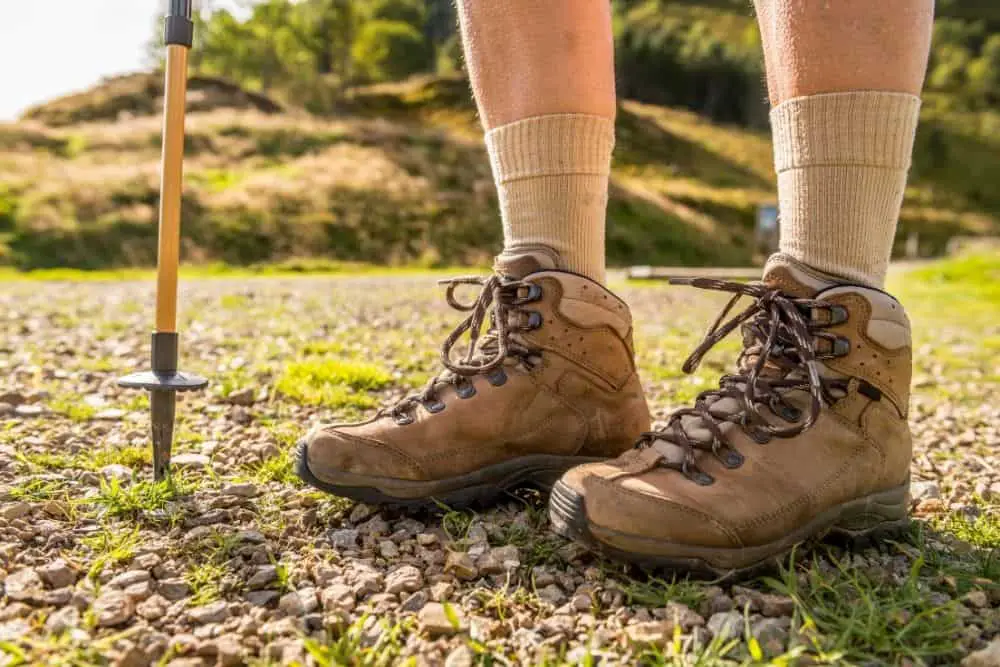 5. Waterproof Lining and Rands
The rainy season in Costa Rica is pretty much a lengthy one, meaning your feet will likely get exposed to drenching with any other footwear. However, the waterproof lining feature of hiking boots has long proven to be effective in keeping water and fluids out.
In addition, the rands of hiking boots have thick, rubber wrapping designs that add to the waterproofness of the footwear. Now, when both the "already superior" waterproof lining and rands combine, they increase the waterproofness in hiking boots.
Personally, this feature is pretty essential for hikes in Costa Rica because the terrains can be wet, especially in the rainforest trails. You wouldn't want your feet getting soaked while hiking because it could lead to severe foot-related problems.
6. Vented Holes
Hiking boots are pretty much one of the most breathable footwear for hikes in Costa Rica. Generally, the temperature in Costa Rica can be pretty mild but more hot than cold. This increased temperature makes the need for breathable shoes higher.
And hiking boots are simply the proper footwear to get the job done. The presence of mesh or nubuck leather material in the upper makes hiking boots breathable. In addition, the vented and eyelet holes add to the breathable nature of hiking boots.
What these breathable designs do is allow airflow in and around the boot's inside. Plus, it wicks (or removes) moisture and sweat from high temperatures from the feet to the outside.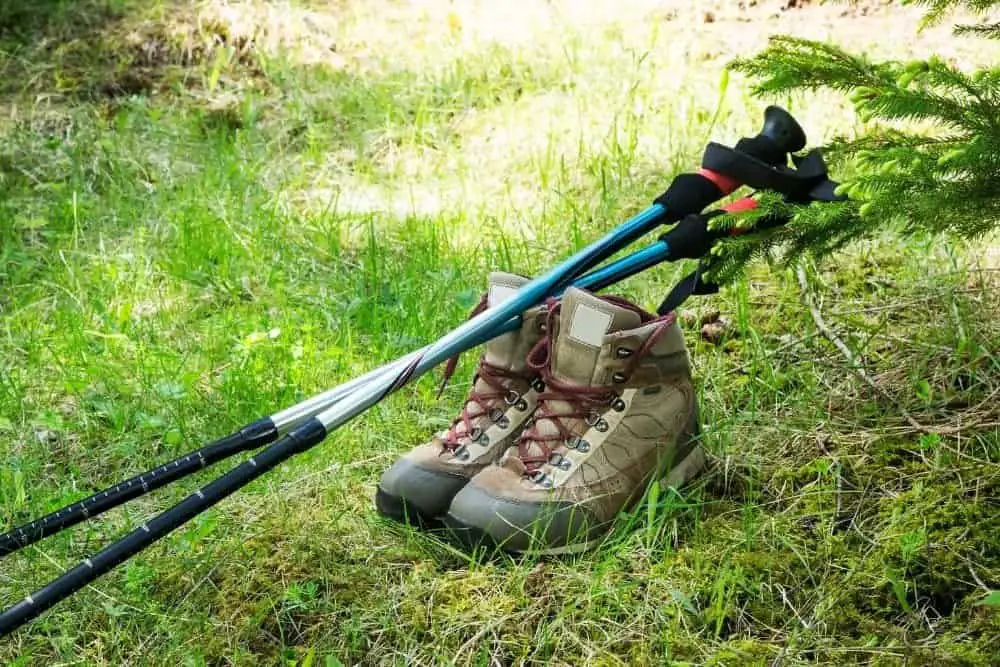 7. Solid Construction
If you didn't know, hiking boots are one of the best footwear offering the highest level of durability. Trust us; once you are hiking on some challenging trails in Costa Rica, you need pretty durable footwear.
Else, you run the risk of cutting the excitement of your hike short. Hiking boots attain this high level of durability through the sturdy leather material in the upper, strong outsoles, and superior stitching. Moreover, these boots last longer for rough hikes better than other footwear.
Read more: Do I Need Hiking Boots for Hawaii?
Low-Quality Features of Hiking Boots For Costa Rica
Of course, hiking boots are the best footwear for hikes in Costa Rica, but sometimes you might doubt its necessity. There are some features in hiking boots that question the need for them in Costa Rica.
1. Rigid Outsole
We earlier stated this as an excellent feature, but there are slight hiccups to it. Hiking boots' outsoles are pretty stiff, rugged, and rigid and make feeling the ground impossible.
When you can't sense the ground, you run the risk of tripping over and falling on your ankles, especially on challenging Costa Rica trails.
Moreover, you are more likely to twist or dislocate your ankle standing on uneven surfaces without being able to sense it.
2. Long Break-In Time
The thing with most hiking boots is that they are pretty rigid and stiff when newly purchased. Break-in time is common in most footwear, but the duration of it in hiking boots is just unnecessarily long.
This makes using them on trails in Costa Rica unadvisable. Moreover, wearing them during this state will often result in blisters, bruises, and injuries to your whole feet.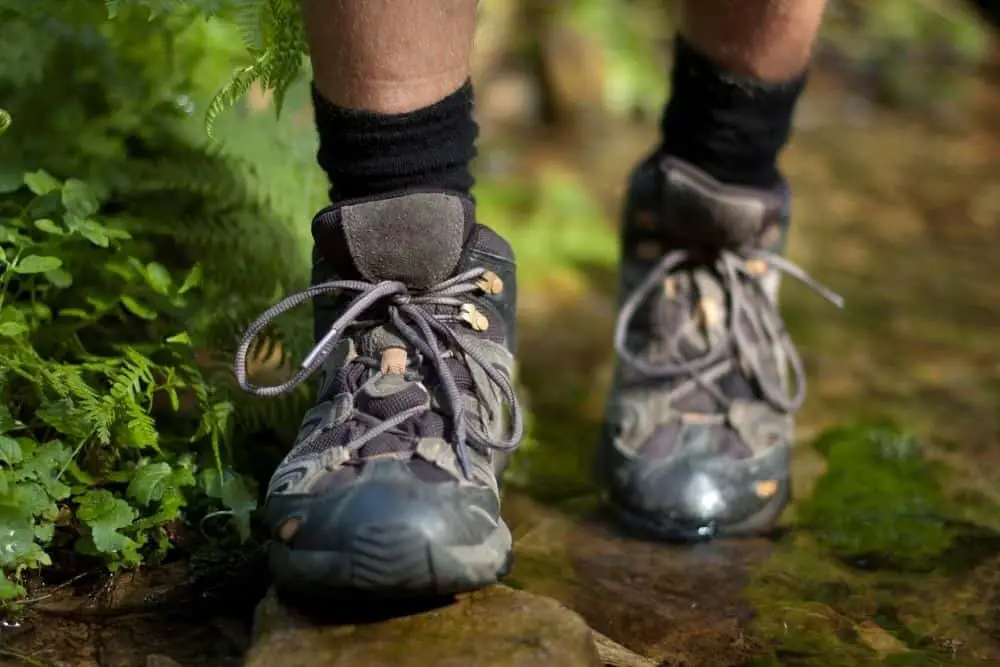 Hiking boots feature function ratings
| | |
| --- | --- |
| Features | Editor's rating |
| Comfort | ⭐⭐⭐⭐⭐ |
| Protection | ⭐⭐⭐⭐ |
| Flexibility | ⭐⭐⭐⭐⭐ |
| Waterproofness | ⭐⭐⭐⭐ |
| Durability | ⭐⭐⭐⭐ |
How To Choose Hiking Boots For Costa Rica?
Whether you need new hiking boots or want to purchase your first pair, finding the appropriate one for Costa Rica hikes can be challenging. This challenge is due to the numerous brands, designs, and functions hiking boots possess.
As you know, Costa Rica terrains can be easy and difficult – depending on the trail. However, you wouldn't want to increase the difficulty by picking the wrong pair of hiking boots.
So, here's what we will do; we will give you our expert guide on how to choose the perfect hiking boot. The things to observe when purchasing hiking boots for Costa Rica include;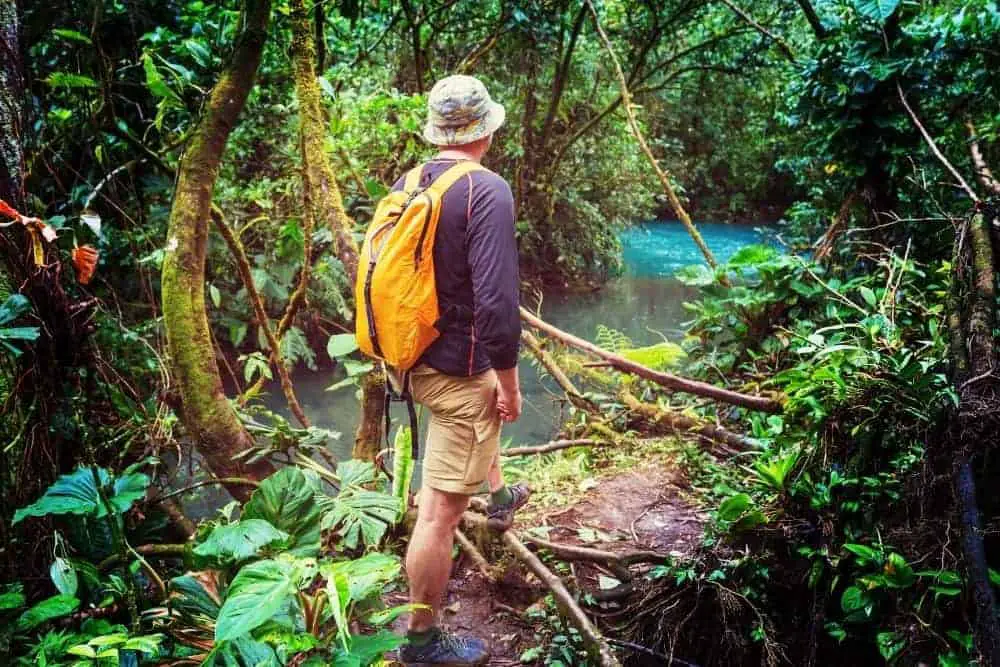 1. Boot Cut Designs (High, Mid, low)
Honestly, in Costa Rica, the terrains aren't the toughest. However, some trails in Costa Rica still require ankle support which is the function of mid to high boot cut designs. So, here's what we will advise you to do.
If you stick to the easier, well-marked, flat trails in Costa Rica, like the Manuel Antonio National Park, then pick low-cut hiking boots. You wouldn't need ankle support on terrains like this. In fact, if you have sensitive ankles, low-cut hiking boots are the perfect pick for you.
But, mid to high boot cuts will do if you choose to hike on trails like Cerro Chirripo with slippery surfaces and Arenal Volcano Park with bumpy terrains. These terrains, especially Arenal Volcano Park, require the ankle support provided by high-cut hiking boots.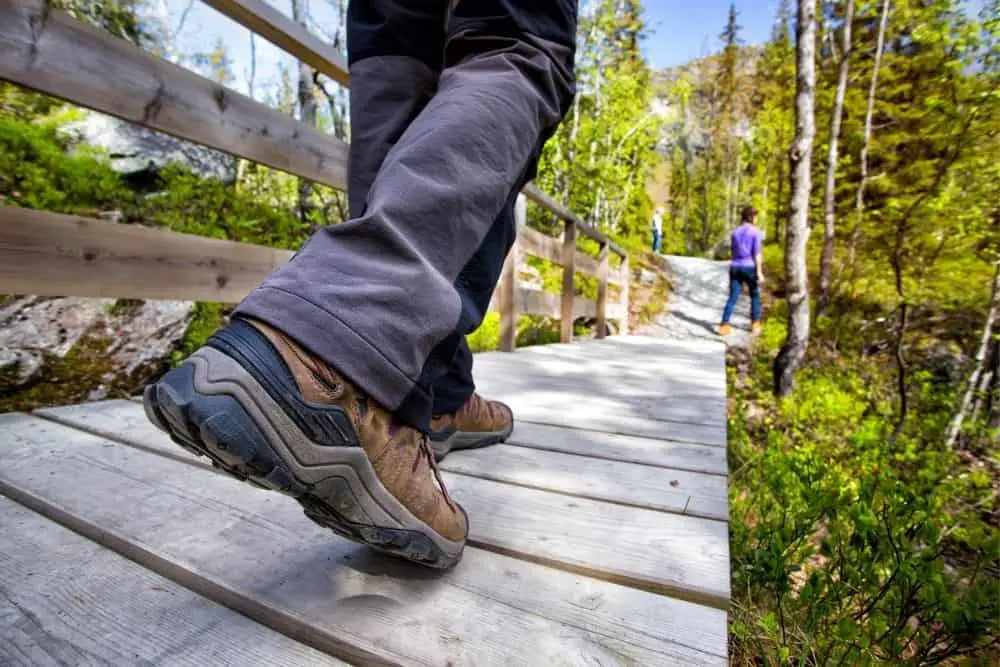 2. Material (Durability)
Generally, hiking boots come with synthetic, split-grain, nubuck, or full-grain leather. And each of these materials has proven to be unique by providing its qualities.
In terms of durability, synthetic materials in hiking boots are the least performing. Synthetic leather tends to be less abrasion-resistant and it tears quicker.
However, in terms of material strength, it gradually graduated from synthetic to split-grain to nubuck leather. The strongest and most durable material on hiking boots is full-grain leather.
This material possesses high resistance to abrasion and water and is perfect for all trails in Costa Rica. Personally, full-grain leather is our favorite, and we expect you to be on the lookout for this material when purchasing hiking boots because it is rigid and tough.
3. Comfortability 
Trust us; look for comfort when purchasing hiking boots. If your hiking boot misses out on this part, your entire hike in Costa Rica could get ruined.
For you to get high comfort inside your hiking boot, look for the ones having EVA or PU-type midsoles. Either one provides enough cushioning, arch support, and firm comfort on all trails in Costa Rica, even the bumpy ones.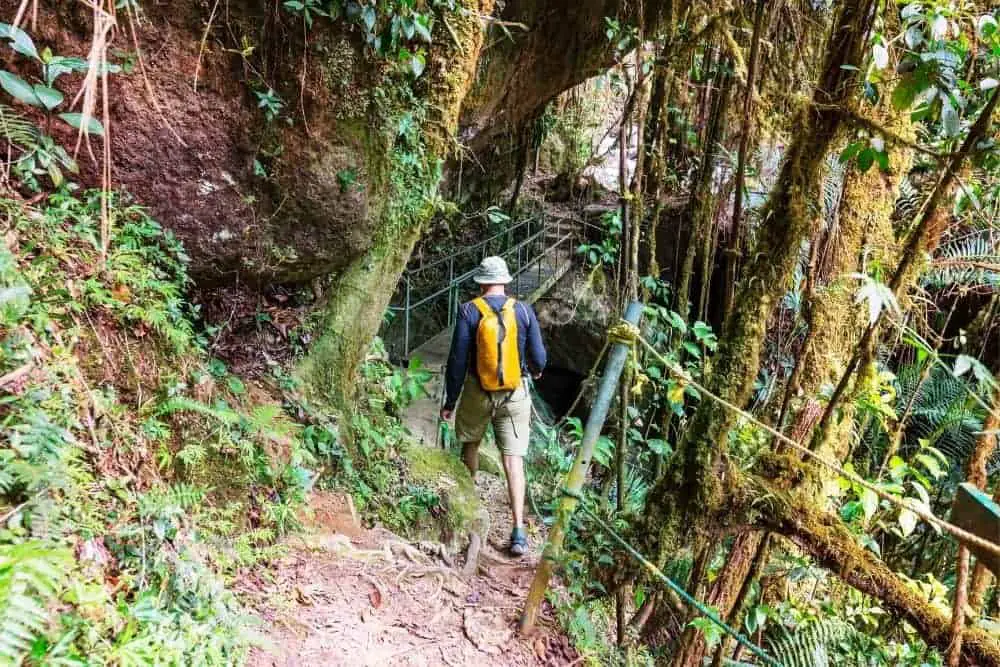 4. Waterproof Membrane
As earlier stated, the rainy/green/winter season in Costa Rica is pretty long. And it is common for the terrains to get wet and muddy, especially in the rainforest trails. This can be bad for your feet as they get drenched, and you have to keep hiking.
For you to avoid foot-related problems caused by wet trails in Costa Rica, hiking boots with a high waterproof membrane are essential. To know whether your hiking boot is waterproof or not, it will primarily have Gore-Tex or eVent membranes.
As our expert advice, we would want you to get hiking boots with either of the mentioned membrane types. However, we would recommend Gore-Tex membrane more as it has proven effective in keeping water out of hiking boots.
5. Weight
The weight of your hiking boot largely affects and, to a significant extent, determines how your hike will go. While hiking, your total weight determines how quickly you could get weak on trails, so you have to ensure your boots are lightweight.
Honestly, several factors determine your hiking boots' weight. For example, the choice of material in the upper part of the toe cap, outsole design, and boot size determine the overall weight.
Personally, our advice to you would be to get a hiking boot weighing not more than 3 lbs and a few ounces. Anything more will be heavy and unsuitable for hikes in Costa Rica.
Read more: Do I Need Hiking Boots for Sedona?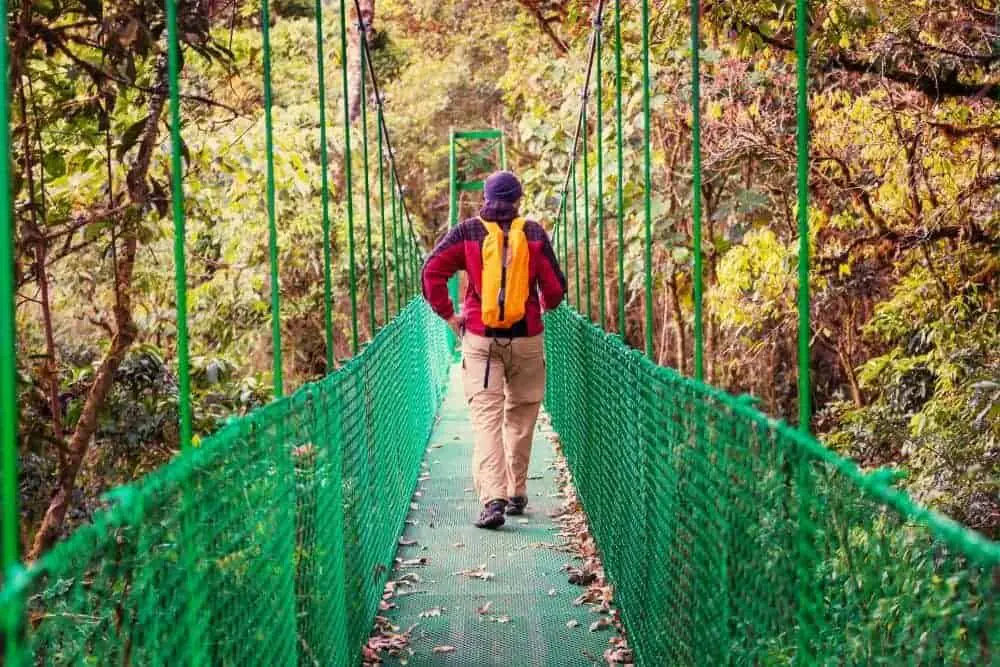 6. Right Fit
It wouldn't be an overstatement to say that the right hiking boots size is just as important as the features it possesses. In fact, all the features and unique functions in hiking boots would be of no use if your footwear doesn't fit right with your feet.
What's the right fit for hiking boots? First off, your hiking boot must fit snugly on your foot; however, it shouldn't compromise your comfort. Then, you should be able to move or wiggle your toes in its box.
If your foot slides (or moves) freely inside the hiking boot, then you have got the wrong size. Wearing this hiking boot in Costa Rica will only result in blisters and bruises while hiking – which is avoidable.
Important Notes For Hikers In Costa Rica
While hiking in Costa Rica can be exciting and fun, it can turn sour quickly without the problem of a guide.
From our hiking experience in Costa Rica, we have a few tips to share with you to make your hike there safe and exciting.
Never go off the marked trails. Don't create your hiking trails.
Be mindful of the leaves in the forest; they can be pretty slippery.
You might need to pack insect repellants.
Never hike alone – go in groups.
Ignore the animals, and they will not attack.
Do not try to feed any animal.
Pick up your litter.
Stop hiking once it gets dark.
Always hike with a guide, especially for the more challenging trails.
Know your limits, don't go for trails you lack the experience to hike.
Is it dangerous to hike in Costa Rica?
Hiking in Costa Rica is dangerous, and that's the truth. It becomes even more dangerous when you try performing any off-marked trail hikes.
However, you can mitigate these dangers and risks by keeping safe, sticking to the park's rules, and following your guide.
Read more: Do You Need Hiking Boots for Yosemite?
What should I avoid while hiking in Costa Rica?
Although hiking can be an excellent way to experience things you have never done, there are some things you shouldn't try doing at all in Costa Rica.
Doing any of these things will likely put you or your hiking group in danger. Some of the things to avoid include;
Going to the beaches late at night.
Avoid the rivers; they are crocodile-infested.
Forgetting to take along insect repellants.
Wildlife.
Failing to pack enough water and food.
What are the best trails in Costa Rica?
In Costa Rica, you will find numerous trail paths, easy and difficult. However, from our time there, some seem to stand out from the others.
Personally, the best trails to hike on in Costa Rica are;
Cerro Chirripo National Park
Pico Blanco por Ventoleras
Poas Volcano Hike
Sender Bosque Nuboso Trail
Rip Negro Hot Springs
Top 3 Picked Hiking Boots For Costa Rica
We understand picking the best hiking boots for hikes in Costa Rica can be challenging. Choosing hiking boots is pretty difficult, and the trails are different, which can confuse hikers wanting to purchase.
Regardless, we have picked our top three hiking boots that would function excellently on all trails in Costa Rica. Our top three hiking boots include;
1. Foxelli Hiking Boot
Sale
Last update on 2022-09-28 / Affiliate links / Images from Amazon Product Advertising API
Pros
Highly breathable mesh and suede leather design.
Lightweight on the feet.
Provides excellent traction with its rubber outsole.
Great arch and ankle support.
Cons
There have been frequent complaints about the waterproof membrane being subpar by users.
Its durability is pretty average.
The Foxelli hiking boot comes with a highly breathable design that has gotten lots of praise from its users. This breathable feature is as a result of the mesh and suede leather design in the upper part.
Additionally, many hikers have found this Foxelli hiking boot lightweight and easy for hikes.
Personally, this hiking boot from Foxelli would do great in Costa Rica. Why? The non-slip rubber outsole, tread patterns, and deep grooves have proved reliable in the eyes of many hiker users.
Also, should you hike on rough or uneven trails in Costa Rica, the comfort in this boot will serve you well. It comes with well-constructed arch and ankle support for comfort on rough and flat Costa Rica trails.
However, the waterproofness in this Foxelli hiking has failed some of its users. Different complaints about leakage or soaked feet during wet hike conditions have become prevalent.
And also, the durability of this Foxelli hiking boot could be better.
2. Skechers Morson-Sinatro Hiking Boot
Last update on 2022-09-28 / Affiliate links / Images from Amazon Product Advertising API
Pros
Stiff and durable construction.
Molded, perforated dual-lite footbed for increased comfort.
Highly breathable hiking boot with a moisture-wicking insole.
Superior waterproof design.
Con
Users complain about the prolonged break-in time.
The Skechers Morson-Sinatro hiking boot is footwear with a complete leather construction. This 100% leather design gives it stiff and durable construction, which users have complimented for being top-notch.
Also, the comfort has received high commendation from many users who have used it. And this highly praised comfort is obtained from the gel-infused, high-rebound memory foam, molded, and perforated dual-lite footbed.
Additionally, in hot conditions or cases of foot sweat, this Skechers Morson-Sinatro hiking boot has high breathability. According to users, the moisture-wicking insoles and footbeds keep the feet dry even on hot days.
But, you might find this hiking boot from Skechers quite discomforting during the first few wears. It takes some time to break in or for the stiffness to reduce. Aside from this, the Skechers Morson-Sinatro is an excellent buy.
3. Danner Mountain 600 Hiking Boot
Last update on 2022-09-28 / Affiliate links / Images from Amazon Product Advertising API
Pros
Megagrip Vibram outsole for maximum traction.
Super comfortable with an open-cell OrthoLite footbed.
High support and stability provision with a TPU heel frame.
Strong full-grain leather and suede upper.
Con
Many users have questioned the claimed waterproof feature.
The Danner Mountain 600 hiking boot comes with the Vibram-type rubber non-slip outsole. Judging by reviews from past users, the outsole offers mega-gripping traction on wet surfaces.
In addition, when hiking on any Costa Rica trail, the Danner Mountain 600 hiking boot has helped users attain high comfort. This comfort is due to the open-cell OrthoLite footbed present in the insole.
Plus, you will find the support and stability on this hiking boot from Danner as one of the best you have seen. The TPU heel frame allows you to feel stable even on bumpy and uneven terrains. And in terms of upper durability, the full-grain leather and suede design does an excellent job.
However, the Danner Mountain 600 hiking boot doesn't offer the best waterproofing membrane. In fact, we think it could be better than it is, because there have been cases of soaked feet during wet hiking conditions. Nevertheless, it remains an excellent choice for hikes in Costa Rica.
Conclusion
Going on hikes in Costa Rica can give you mixed feelings about the need for hiking boots.
Nevertheless, we can tell you that you will need hiking boots for the more challenging trails. But, using these boots for the easier trails might seem too much.
However, we would advise you to wear hiking boots anyways, especially in the winter months in Costa Rica.
Moreover, we stated several features of hiking boots that make them the perfect pick for hikes in Costa Rica.