So you get incredible hiking boots that work perfectly in dry terrains. When the winter comes, you do not want to buy a new pair of boots, then the question "Do hiking boots work in snow?" possibly strikes your mind.
Well, it is a big Yes as long as your hiking boots are waterproof and come with certain features like high insulation, padded collar, and more.
But it does not stop there; many other factors decide if a pair of hiking boots can work in the snow. Are you eager to know more?
Follow me for further interesting details.
Do Hiking Boots Work In Snow?
Though hiking boots can provide protection when walking in snowy conditions, they do not work well with deep snow.
Conventional hiking boots can support hikers to get high stability, ankle protection, good cushioning, and have good traction.
Still, they cannot help keep the feet warm, hinder the snow and water from getting into, and provide good traction on the icy conditions or snowy ground.
This situation is quite dangerous as you potentially get bad blisters or frostbite.
Your feet can be cold because of lacking insulation.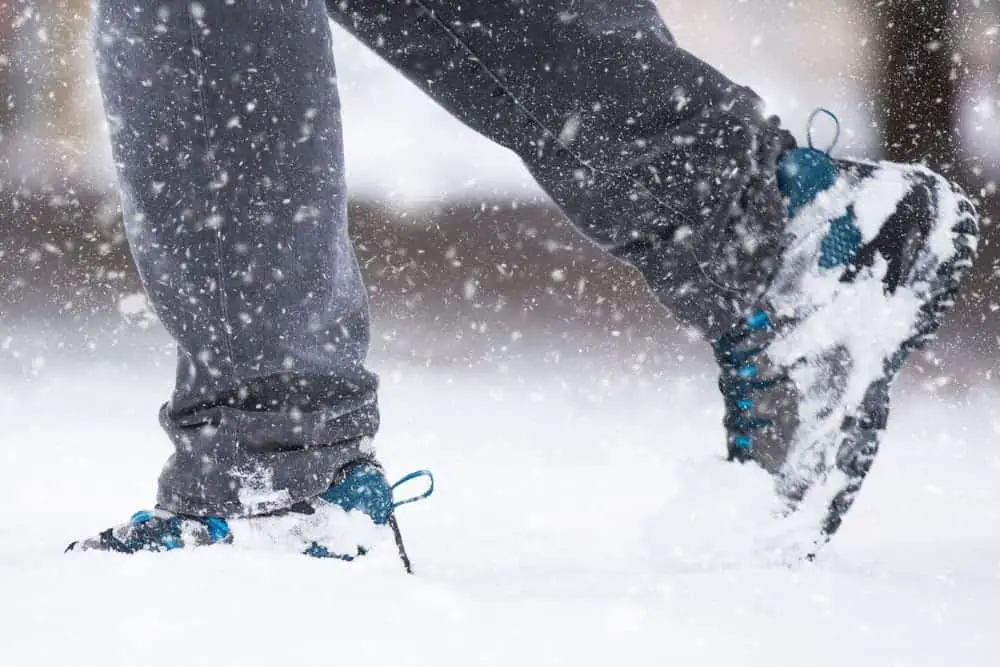 If you hike on the icy surface with conventional hiking boots, it might be significantly dangerous to make the way along the hiking trails, especially when you hike on the mountainside.
As they only provide traction for dry conditions, it is advisable to use traction devices to make you stay stable and upright.
The best solution is to use winter hiking boots in deep snow. This type of boots is built to protect against the harshest conditions.
They can provide great warmth as well as a good balance for you in snowy terrain and low temperatures.
Do Hiking Boots Keep Your Feet Warm?
As we mentioned above, regular hiking boots cannot help your feet being warm in cold weather.
However, if they come with waterproof ability, breathability, insulation, padded collar, snow-proof construction and other essential factors (i.e., good outsoles with deep lugs for good traction), they can keep your feet away from getting cold and slipping.
In fact, in the market today, there are many hiking boots that are specifically designed with many great features above to protect you from sub-zero temperatures.
Moreover, it is imperative to combine hiking boots with other accessories to add warmth to your feet. Here is a list of accessories you can consider.
Thermal insoles: provide extra comfort and heat needed in snowy conditions. They help insulate the feet from the harsh cold on the ground.
Gaiters: they are like a jacket or a barrier for your feet. They can deter the wind from reaching your feet. You can put them on above your hiking boots to provide a better insulating barrier.
Winter socks: Made of materials that can trap the heat, such as wool, fleece, shearling, and more, the winter socks do not lose their insulating properties even when they get wet.



DG Hill (2pk or 4pk Thermal Socks for Men and Women, Heated Winter Boot Socks, Insulated for Cold Weather
Moneysworth & Best Polar Men's Warmth Down to -25c Felt Insole, 11
Pike Trail Leg and Ankle Gaiters for Men and Women - Waterproof Boot Covers - for Hiking, Research Field Trips, Outdoor Trail Use, Snow and More - Adjustable Closures

DG Hill (2pk or 4pk Thermal Socks for Men and Women, Heated Winter Boot Socks, Insulated for Cold Weather

Moneysworth & Best Polar Men's Warmth Down to -25c Felt Insole, 11

Pike Trail Leg and Ankle Gaiters for Men and Women - Waterproof Boot Covers - for Hiking, Research Field Trips, Outdoor Trail Use, Snow and More - Adjustable Closures
Last update on 2023-05-13 / Affiliate links / Images from Amazon Product Advertising API
When wearing a pair of waterproof boots with these socks, you can perfectly keep the feet insulated and warm.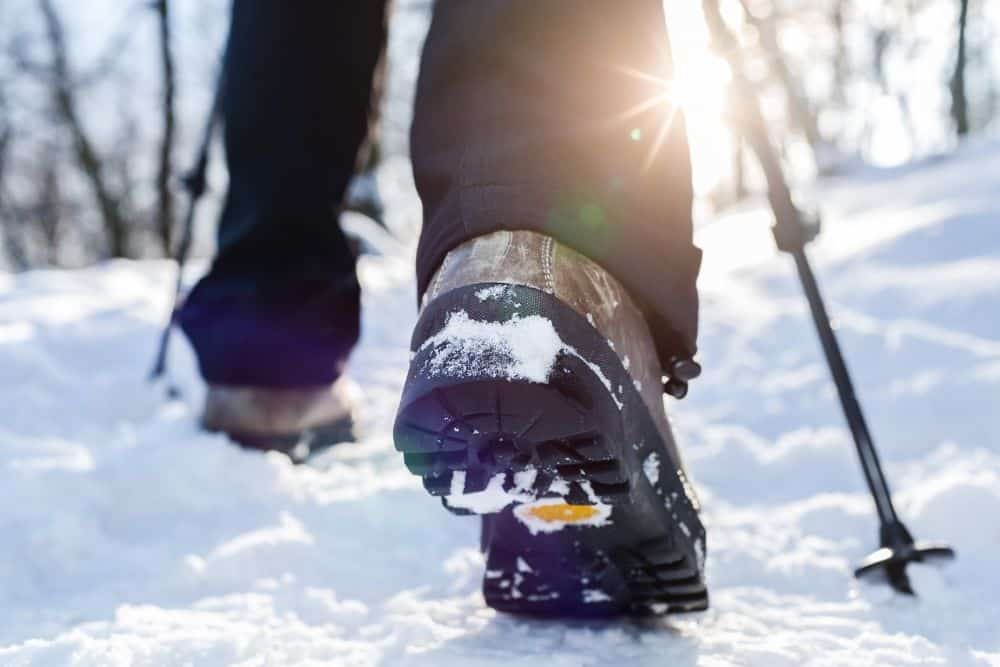 Hiking Boots for Snow

Buying Guide
There are several key features you need to consider when buying boots for hiking in snow.
Insulation
The capacity to handle the harsh cold environment depends on your age, weight, activity level, fitness, and health.
While insulated models are evaluated for various temperatures and feature different insulation thicknesses, it still relies on your personal preference.
While the built-in models are made of a down filling or synthetic materials, detachable insulated shoes come with felted wool or synthetic materials.
Hiking boots for snow often provide 200-600g insulation.
Based on the environmental conditions, you will need to ensure you get the right insulation level in your footwear.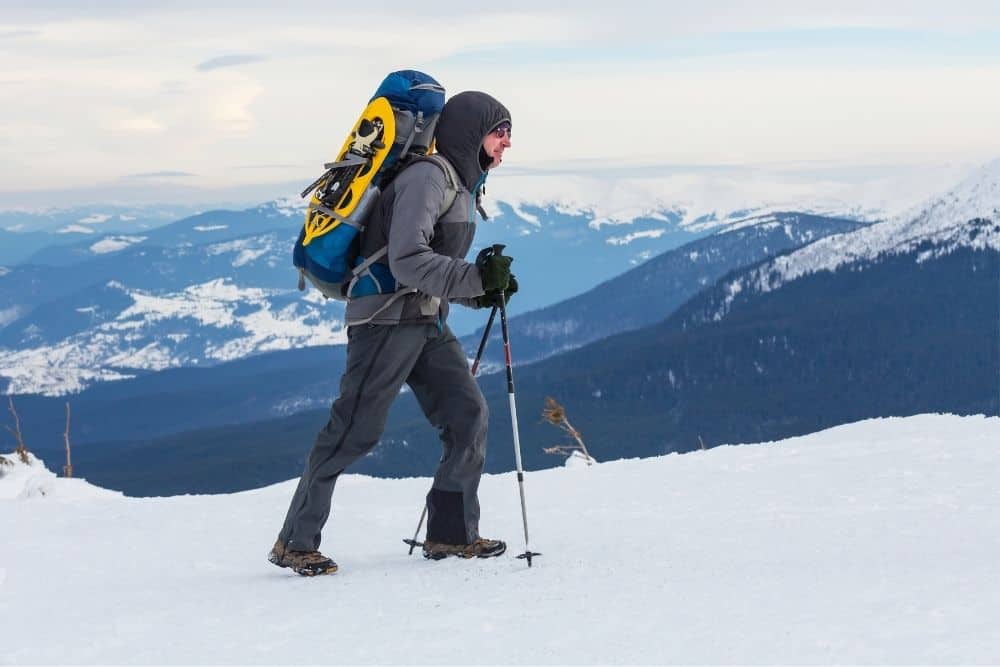 Breathability
With heavy insulation and thick waterproof materials, several winter hiking boots might not be breathable.
Still, breathability affects internal moisture and comfort, making it a critical feature.
Ensure your hiking boots come with the following materials to provide both protection from snow and water and great breathability.
Pure and quality leather (full or split-grain leather, nubuck or suede)
Gore-Tex membrane
Wicking fabric lining
Comprehensive Protection
It is important to consider the protection the boots can provide to your feet while trudging through snow. Here are some variables to protect your feet from external elements.
Waterproof materials: Gore-Tex inner lining can keep the feet dry. Meanwhile, leather uppers and rubber soles can keep wet snow and water away.
Detachable liners: When buying a pair of hiking shoes for snow, it is advisable to check if they come with removable liners. The reason is that you can take them off to dry when the inside gets wet.
Right cut: Hiking boots are available in many styles, from low to high cut. For snow travel, you had better choose high-cut boots to support your ankles in the slippery winter terrain as well as keep snow out.
Reinforced toe cap: Toe cap of hiking boots for snow is regularly made on materials like steel and plastic/composite as they can hamper water and snow getting inside. The reinforced toe cap also ensures your toes are safe from rocks lurking under the snow.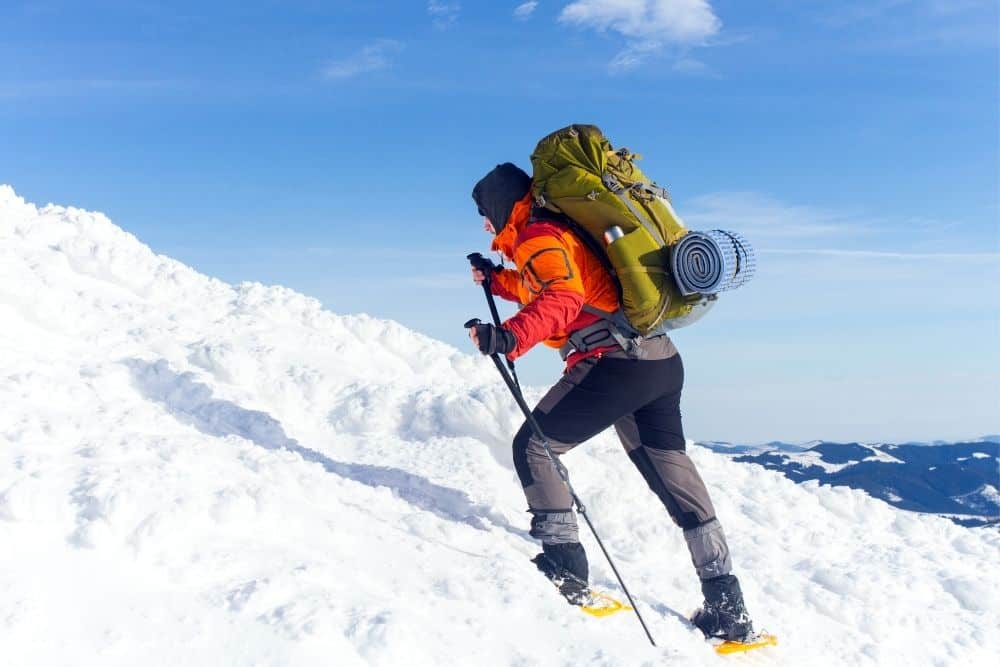 Lining
Most hiking boots have a breathable and waterproof liner between the upper's materials to keep your feet dry.
Meanwhile, a wicking fabric lining or soft leather offers comfort inside the boot and protects the membrane from abrasion and dirt.
Weight
When it comes to the weight of hiking boots, they also come in light and heavy variations.
They are developed for short backpacking trips or day hikes on moderate terrain. They regularly come with half to three-quarter shanks, making them comfortable and flexible to hike.
A big pro of light hiking boots is that you will not lug much weight on the feet. Besides, you can be more nimble when wearing a pair of light models.
However, lightweight hiking boots do not provide good insulation because of their thin material.
Most lightweight hiking boots are made from mesh, nylon and contain less leather, therefore they can provide good breathability, but can not make you feel completely warm in the harsh winter.
Our advice is you should use lightweight hiking boots for winter but only when the temperature is not too low and not too cold.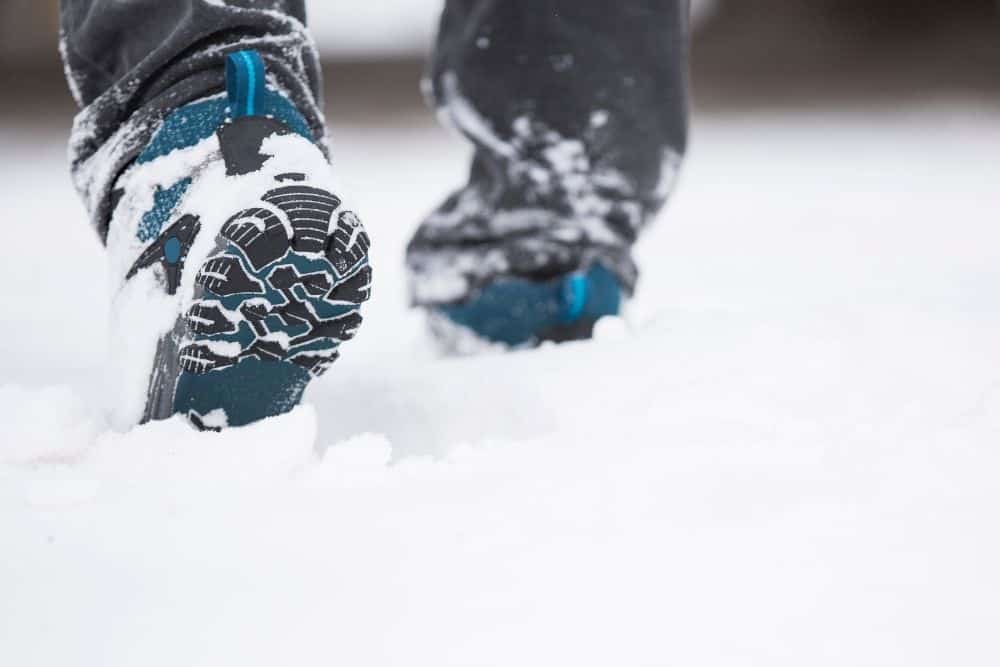 They come with synthetic materials, a leather combination or full-grain leather to hamper environmental factors like snow getting inside.T
Plus, heavy models feature a full rigid shank so they can support your weight when edging over boulders or up rock slab.
They are suitable for long hiking trips on tough terrain like deep snow ground or mountains as they can wick away a heavy load's shocks and provide you the right support.
Usually, heavy hiking boots have thicker uppers and can provide better insulation. That's why they can withstand sub-zero temperatures better.
Padded Collar
Collar is the cuff around your boot's top. When the collar is padded, it can contribute to hinder trail debris (i.e., rock fragments, scree, small pebbles), water, and snow from slipping inside your hiking boots.
In addition, hiking boots with thick padded collars can make your legs (around the ankle) warmer in the snow.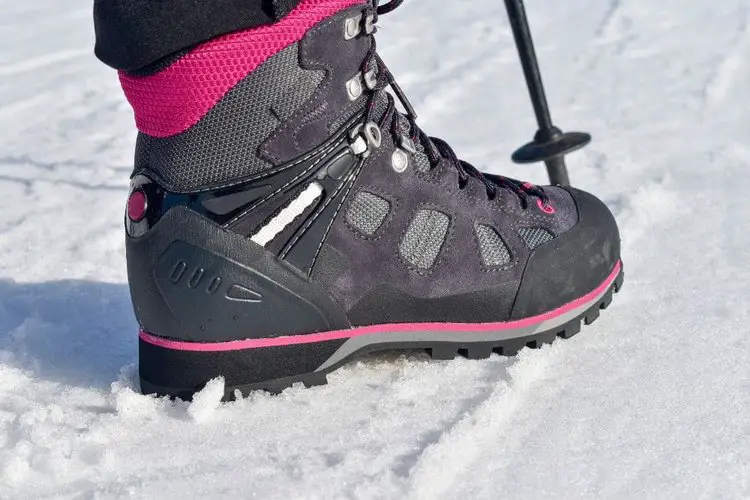 Sole
The best winter hiking shoes will have a rubber outsole to provide a good grip.
Plus, high-friction rubber compounds and deep lugs into the ground can thwart you from slipping or sliding on slippery surfaces.
The midsole is placed inside the boots to offer a proper flex amount. Molded from many composites, the midsole needs to be rigid to allow you to scramble or stand on rocky edges.
When choosing the boots, you can try bending them with your hands to check their flexibility.
Tip: You can also use microspikes or crampons to ensure the hiking boots have the best grip on steep and snowy roads.
Last update on 2023-05-13 / Affiliate links / Images from Amazon Product Advertising API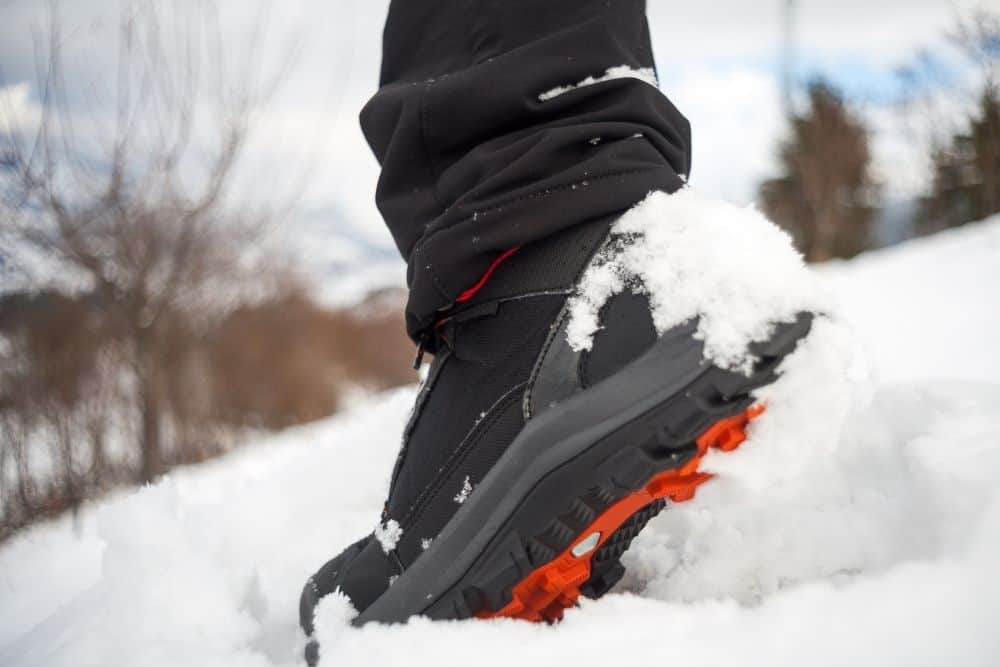 Top Picks Hiking Boots Good for Snow
We will dive into complete reviews of the top 2 hiking boots for snow for your consideration.
1. XPETI Thermator Waterproof Hiking Boots – Best Overall
Sale
Last update on 2023-05-13 / Affiliate links / Images from Amazon Product Advertising API
We will start with our winner – the XPETI Thermator Waterproof Hiking Boots.
This suggestion stands out with advanced technology to provide complete protection for your feet.
It comes with a waterproof mesh upper and X-Dry membrane to keep your feet warm and dry when walking through snow.
The boots deliver high comfort for wearers thanks to the cushioned EVA midsole and the lightweight design.
Plus, you will appreciate the sole's grip and the protection from its rubber toe cap, helping to deliver excellent trail experience. As a result, you can tackle tough terrain with optimal confidence.
Should you be an avid hiker, these excellent boots might be right for you. We found that this pair of boots is quite aggressive to give excellent traction.
In other words, you can rest assured to hike through the snow even on hilly and uneven terrain.
On top of that, these hiking shoes are super warm for subzero temperatures thanks to a 200g insulation.
It is recommended to choose a half-size up than your regular size if you want to buy these boots.
On the downside, we found that these boots are slightly tight at first. What does that mean? You will need time to break in them!
Pros:
Provide complete protection thanks to advanced technology
Waterproof mesh upper to keep the feet warm and dry
Deliver high comfort and stability
Offer excellent traction to hike through snow
200g insulation to prevent water and snow get into
Support the arch of wearers when hiking
Con:
2. Salomon X Ultra Winter CS 2 Hiking Boot – Best For Traction
Last update on 2023-05-13 / Affiliate links / Images from Amazon Product Advertising API
The next candidate is the Salomon X Ultra Winter CS Waterproof 2.
The boots win our hearts for incredible Contagrip traction. You can walk well through wet surfaces like snow without slipping off.
We also love its Advanced Chassis design surrounded by foam cushioning for high comfort. This feature can directly connect to the boots' sole to keep the heel stable.
Plus, the boot's insulation of 200g offers enough insulation for cold and wet conditions. It is best to combine with a pair of socks, especially midweight models.
Leather can work well in deterring moisture from penetrating the boot's outer shell. With the layer of a full-grain leather, these boots can keep your feet dry and warm when walking in snow.
You can rest assured about the protection level of the footwear from snow and mud as they are waterproof.
On top of that, they are quite versatile to wear for hiking in the winter.
We also like their synthetic soles with an upper bootie design to hug your feet for a supportive and snug fit. Also, they can promote a natural roll through a gait cycle.
There is also a molded heel pad to protect your feet from snow.
You will be able to walk on deep snow surfaces with these snow boots, thanks to their gaiter hook.
Plus, they feature an Ortholite sock liner to offer an amazing cushioning underfoot layer for higher rebound properties while providing better moisture control and superior breathability.
Their lightweight will ease your steps on every journey.
The footwear fit true to the normal size so that you will not need to size up when purchasing.
The only point that undermines the overall performance of these boots is their footbeds. They are quite flimsy and flat, affecting the comfort when wearing.
Pros:
Deliver incredible Contagrip traction
Advanced Chassis design for high comfort
200g insulation to handle snowy conditions
Leather layer to keep the feet warm
Waterproof for protection against water and snow
Synthetic soles for a supportive and snug fit
Ortholite sock liner for an amazing cushioning
Con:
Frequently Asked Questions
Can You Use Waterproof Hiking Boots In The Snow?
Yes, you can wear waterproof hiking boots in the snow. Waterproof materials like Gore-Tex and full-grain leather can keep your hiking boots dry and warm during the snowy season.
In fact, waterproof ability is one of the first important factors when you want to choose good footwear to wear in winter.
Why do you need waterproof hiking boots for snow? Most waterproof hiking boots can work quite well in snow when it's not too cold.
The most obvious proof is that they can keep your feet dry and not numb. It is bad if your feet get wet in low temperatures.
However, if the winter is harsh at sub-zero temperatures, waterproof hiking boots are not good enough, it's better to use specialized winter hiking boots in this case.
Specialized winter hiking boots can provide better insulation and balance in slippery terrain.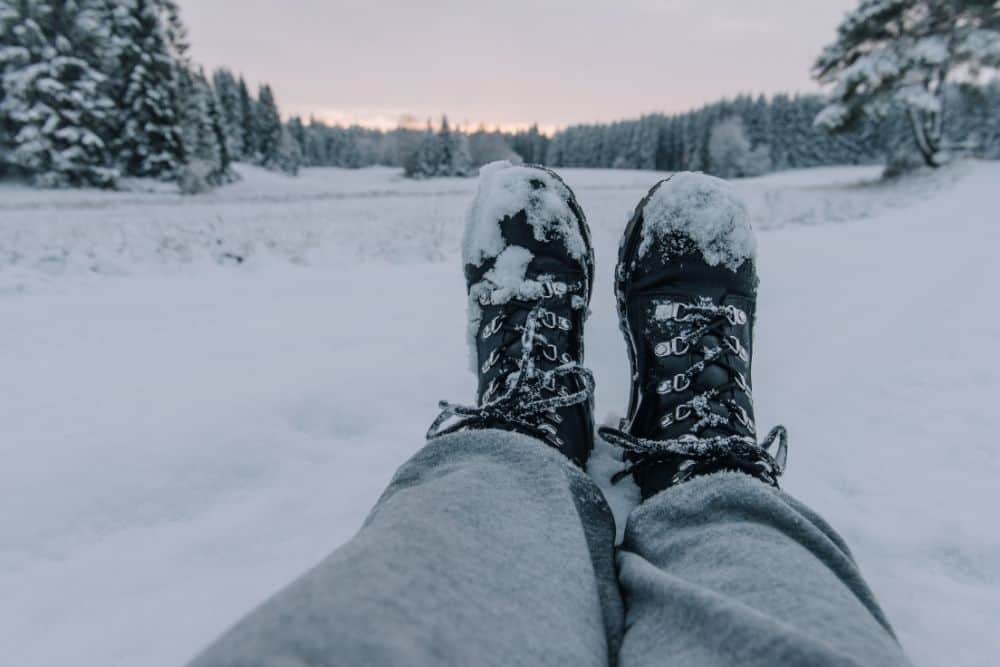 Do I Need Insulated Hiking Boots?
Yes, you do. Insulation is a critical factor for hiking boots to keep your feet warm when traveling in snow.
Based on the temperature rating, you can choose a pair of hiking boots with suitable insulation levels.
| | |
| --- | --- |
| Temperature Rating | Insulation |
| -4°F | 100g |
| -25°F | 200g |
| -40°F | 400g |
| -55°F | 600g |
If you're planning to hike The Great Smoky Mountain, you'll need a pair of hiking boots with good insulation.
The higher you go, the lower the temperature will drop, and you will be grateful for the thermal insulation of specialized hiking boots.
Keeping feet warm is one of the most important things for hikers who enjoy the challenge of high and snowy mountains.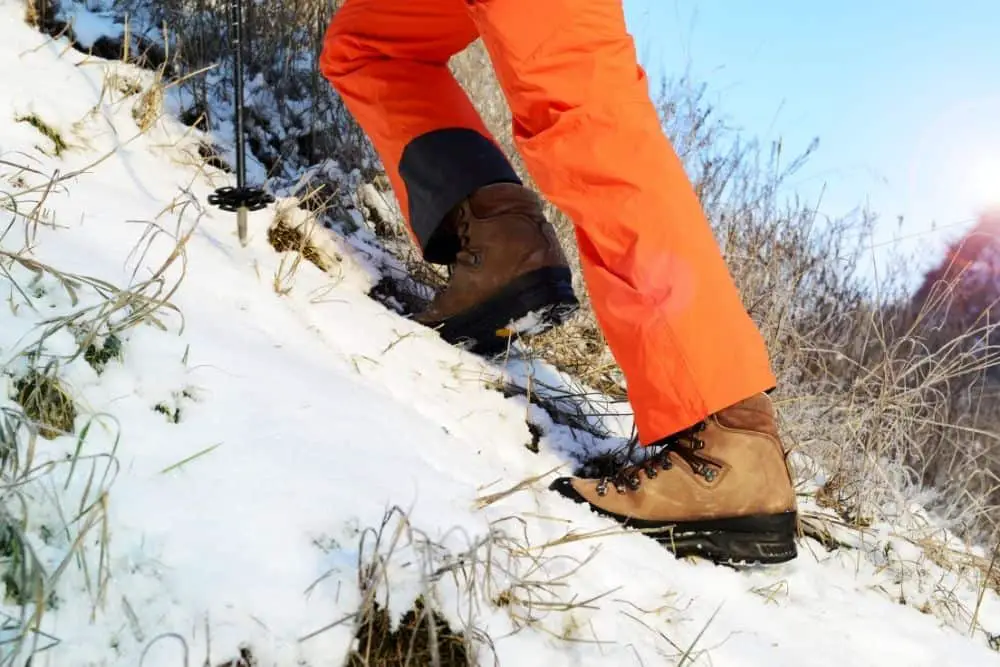 Do I Need Winter Hiking Boots In The Snow?
Yes, you do. The reason is that only winter hiking boots can comprehensively handle sub-zero temperatures.
Besides, they can tackle wet and slippery terrains like snow or icy ground.
The two most serious problems that hikers often encounter in dense snow terrain are keeping warm and balanced.
These two problems will be better solved if you use winter hiking boots instead of regular hiking boots.
Because winter hiking boots have thick materials, effective insulation, padded collars that hug around the ankles (or a little higher), and tongues specifically designed to keep snow out.
All of these make winter hiking boots keep you warm.
Besides, winter hiking boots are often accompanied by deep lugs that can grip well on slippery snow terrain. That ensures you won't fall when traveling on wet and uneven roads.
Final Thoughts
In a nutshell, whether hiking boots work in the snow depends on various factors. Particularly, waterproof material is a must-have feature.
Plus, it is best to check the hiking boots in question if they have high insulation, padded collar and reinforced toe cap to keep your feet warm and dry even in the harsh snowy terrain.
Besides, to ensure you can walk comfortably long distances, it is imperative to check the weight of the boots. But we have to say, lightweight design can compromise the level of insulation.
Should you not be sure how to choose the best hiking boots for snow, do not forget to carefully consider the factors mentioned in our buying guide.
Anyway, if you have any further questions, please feel free to let us know. Thank you for reading.