We know there might be times that you wouldn't want to purchase new boots for work and would rather use your hiking footwear. But, most of the time, the decision can be vital because it determines your safety and comfort while working.
The question, "can hiking boots be used as work boots?" requires a well-thought answer.
So, in the course of this article, we will help you understand the possibilities of using your hiking boots for work.
Furthermore, we will give a breakdown of "hiking boots vs. work boots," stating the unique features of each and their differences.
Finally, you will see our top three hiking boots for work use.
Let's get started!
Hiking Boots vs. Work Boots
Here's the deal with these boots; both of them are tough and rigid for specific activities. However, most times, some people tend to use them for other tasks; like hiking boots for work.
We can't honestly say one is superior to the other; however, all you need to know is that they have unique qualities that best suit the reason for their design.
Generally, both boot manufacturers put in features that enable one of both to be better suited for its field.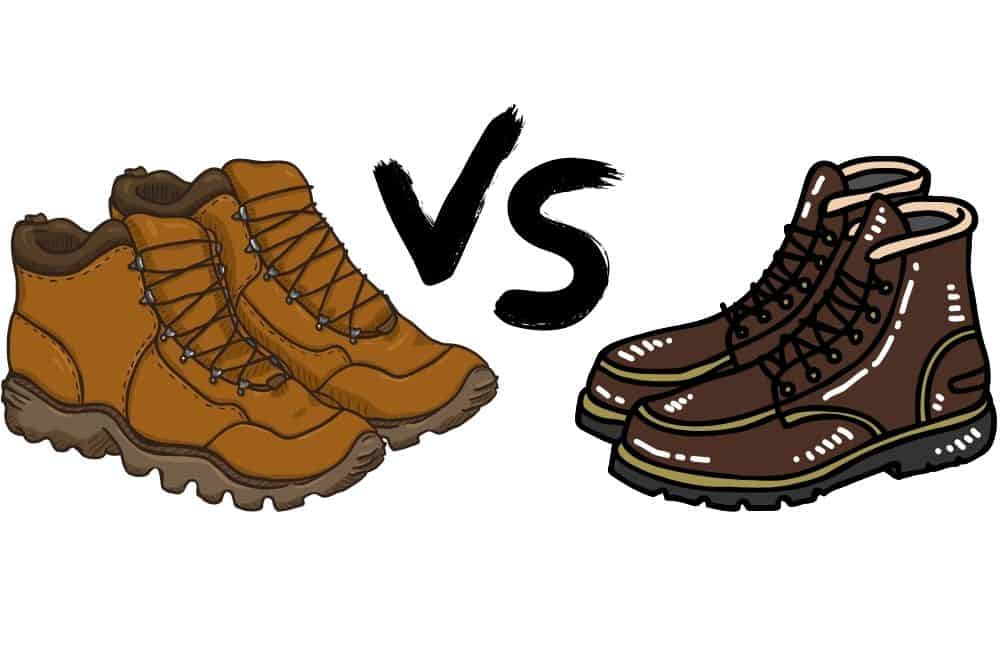 For instance, the hiker's boots are best for hiking because of the type of traction, waterproofness, cushioning and breathability it possesses.
On the other hand, work boots are for factory or heavy tasks due to the durability and several safety features they possess.
You must understand that the "vs." doesn't imply that one trumps the other; it simply is a way to compare both boots.
If you don't know much about hiking or work boots, we will highlight some of the features that make them what they are.
Let's see some characteristics or features of both boots that make them unique for their field.
What Makes a Boot a Hiking Boot?
The truth about boots is that they almost have the same features, but the qualities tend to be higher in some.
For instance, you can differentiate hiking boots from the regular ones through the outsole, support, and breathability.
Let's take an in-depth look at hiking boots to determine their unique features.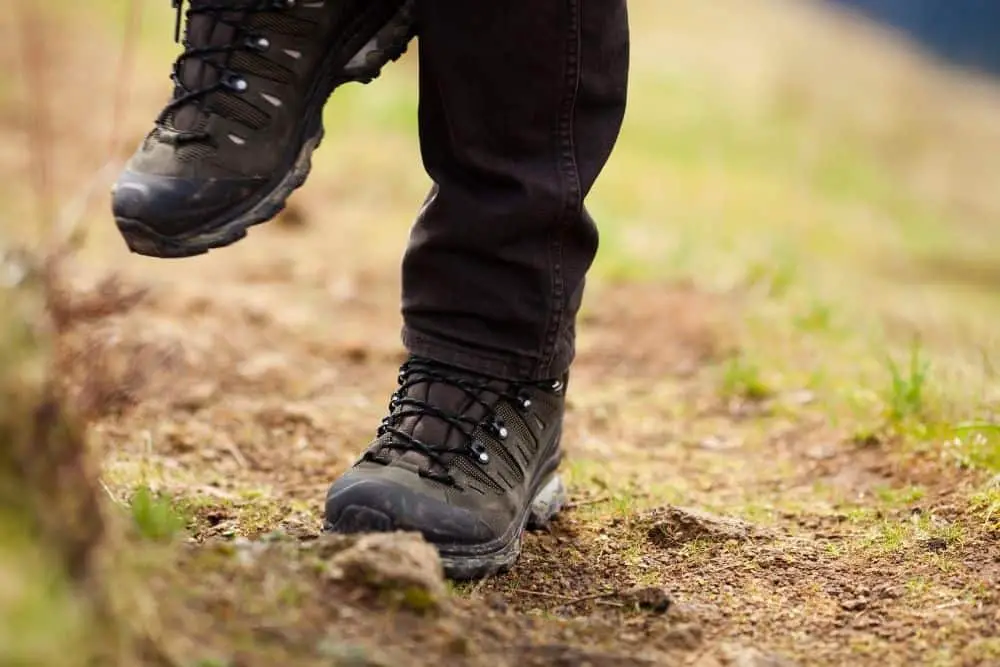 1. Traction
This refers to the slip-resistant nature of hiking boots: the outsole. Although many boot manufacturers will claim many offer slip-resistant features, the traction of hiking footwear tends to be better.
For instance, the outsole design on hiking boots has unique patterns that allow them to grip wet or snowy mountain floors appropriately.
Although rubber is a typical outsole design with boots, hiking shoes tend to use a specific type of rubber for theirs, carbon.
2. Breathability
Due to the nature of hiking, these hiker's boots have super-breathable designs that allow your feet to remain dry on the inside.
This "breathability" isn't to prevent water or other liquid substances from getting into the boot; rather, it is a means to wick foot moisture out.
Generally, foot sweat is a common issue with hikers in hot regions or at the bottom of a mountain; for this reason, modern hiking boots have breathability.
So, whenever you come across the term "moisture-wicking," it also refers to breathability that is high in hiking boots.
The reason for hiking boots' breathability is due to the material used in their production.
For instance, hiking boots have designs made from full-grain leather, mesh, nylon, or a combination of all three materials.
Overtime, these materials have proven to offer the best breathable designs for hiking boots. The increased application of these materials in a hiking boot, the higher the breathability.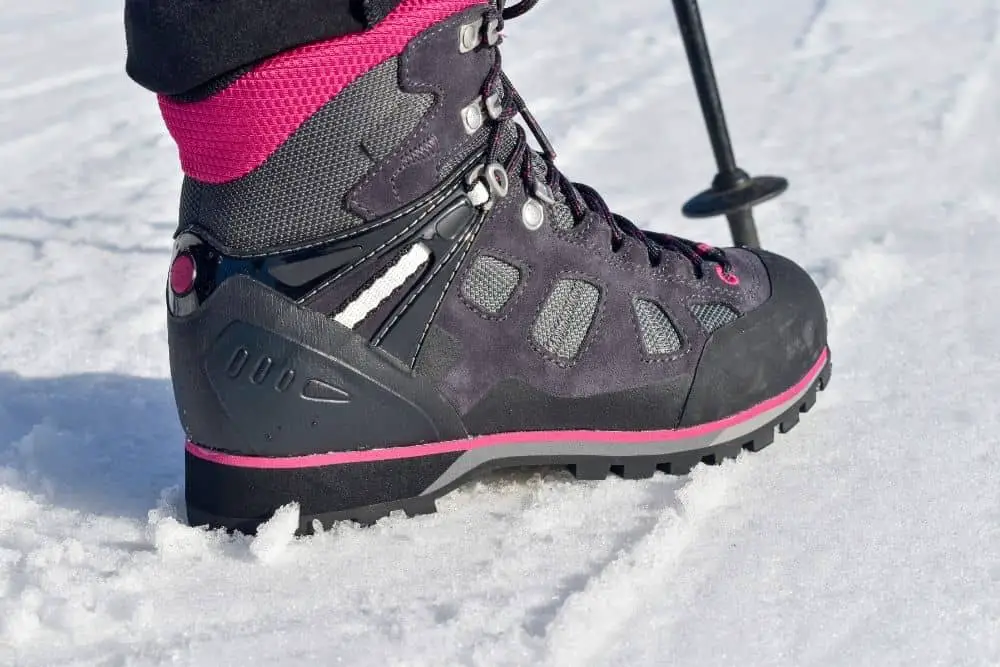 3. Cushioning and Comfort
Feet cushioning and comfort are some of the prominent features in hiking boots. Manufacturers are always searching for new ways to make hiking more enjoyable for hikers. And one way is by offering the best footwear available.
Generally, hiking boots have midsoles or inner EVA cushioning that molds to the shape of your foot to offer proper comfort. Regardless, EVA midsole designs aren't the only cushioning materials for hiking boots.
Other manufacturers tend to use a PU midsole design or even a touch of both for the boot. However, the idea is to highlight the essential features that make a hiking boot: high cushioning and comfortability.
4. Weight
If there's one easy-telling giveaway feature about hiking boots, separating it from others, it is their lightweight design.
When you hold or wear hiking boots, you can already spot the difference from regular large footwear by how much it weighs.
The lack of extra unneeded designs like steel-toe makes the weight of hiking boots moderate for hikers. So, the weight of your boot is an essential determining factor for hiking footwear.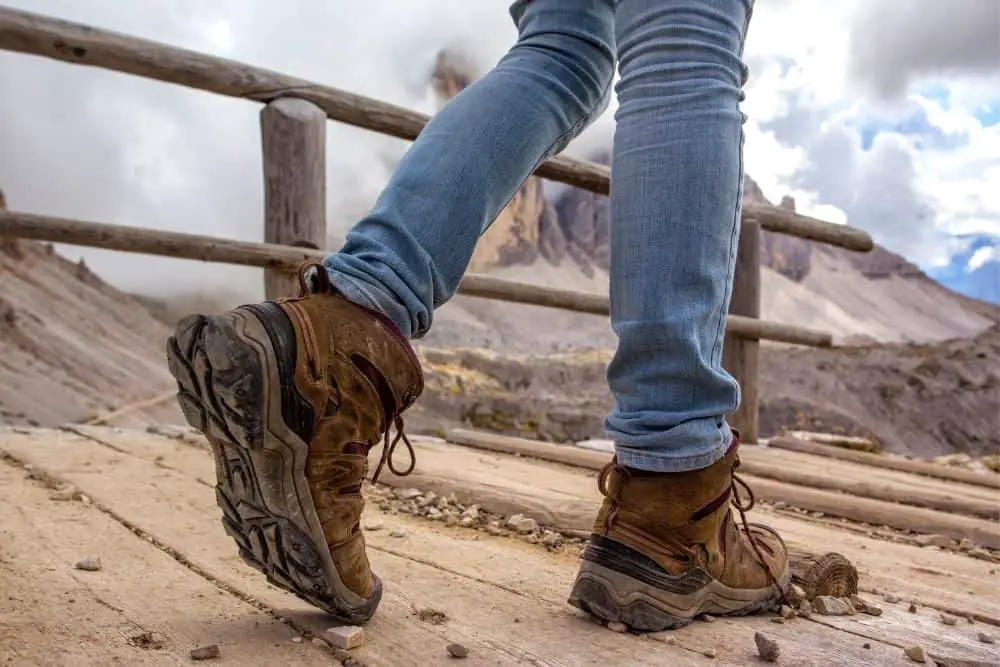 5. Types of hiking boots
Generally, there are three common types of hiking boots available for hikers. However, due to the consistent production and modification of these boots, there could be more types.
Regardless, let's see the four significant types of hiking boots.
You can consider these boots as solid ankle supporters.
They primarily prevent your ankles from rolling over while you stand in them. In addition, a good Day hiking boot will weigh no more than 3.5 pounds per pair.
Backpacking "Frankenstein" boots
We refer to these types of hiking boots as the hitters in the boot-making industry.
Backpacking boots are heavy, insulated, and possess a bit larger sole.
The durability of these boots is exceptionally high and offers superb ankle support like the day hiking version.
Personally, these are the sneakers of the hiking boot world. All the beauty and casual looks you would want in hiking boots, you can find them in these shoes.
However, the disadvantage with hiking shoes is that they sometimes lack ankle support, making them a less suitable option for hikes.
Personally, there is no hiking boot that can truly cover all weather conditions. Although some manufacturers will claim such during their advertisement, it isn't outrightly accurate.
For us, we consider Backpacking "Frankenstein" boots as the better option for the winter because of their insulation.
Whereas for the summer, you can use either Day hiking boots or shoes. An example of  such hiking boots for winter and summer include;
Summer: Columbia Newton Ridge Plus hiking boot.
Winter: Oboz Bridger Insulated B-Dry hiking boot.


Columbia mens Newton Ridge Plus Ii Waterproof Hiking Boot, Cordovan/Squash, 7 US
Oboz Men's Bridger 8" Insulated B-Dry Waterproof Hiking Boot

Columbia mens Newton Ridge Plus Ii Waterproof Hiking Boot, Cordovan/Squash, 7 US

Oboz Men's Bridger 8" Insulated B-Dry Waterproof Hiking Boot
Last update on 2023-03-14 / Affiliate links / Images from Amazon Product Advertising API
6. Protection
Here's the truth, we can't fail to mention the unique protective features of hiking boots.
One of the major selling points about these boots is the well-constructed waterproof feature of hiking boots.
This feature allows you to use hiking boots in wet conditions while your feet remain dry.
Additionally, many hiking boots come with rubber or composite toe caps that give extra protection to the feet from heavy impact or collisions.
What Makes a Boot a Work Boot?
As the name suggests, work boots are footwear with designs that suit tasks involving strenuous activities rather than walking.
Most times, factory workers tend to use these boots to offer better protection for their feet than regular shoes.
So, what makes a work boot? First, let's see some of the features giving work boots their unique design and name.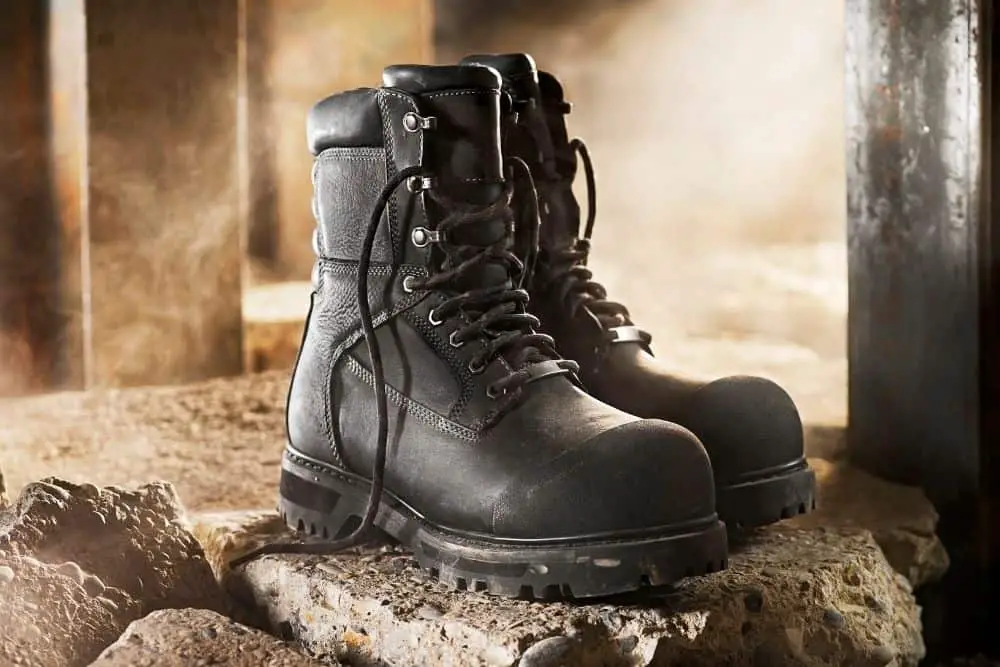 1. Protection and Safety
Generally, work boots are some of the most heavily protected footwear out there for purchase. These boots keep you and your feet from dangers that will likely inhibit your progressive working nature.
For instance, many work boots come with steel-toe or composite-toe caps that protect your toes in your shoes from collisions or heavy impacts.
This feature has proven to be an effective addition to the factory workspace, enabling a healthy and safer environment.
In addition, work boots have several safety standards they must pass; for instance, ASTM, which means that these work boots are likely safe from electrical work hazards and other dangerous work-related occurrences.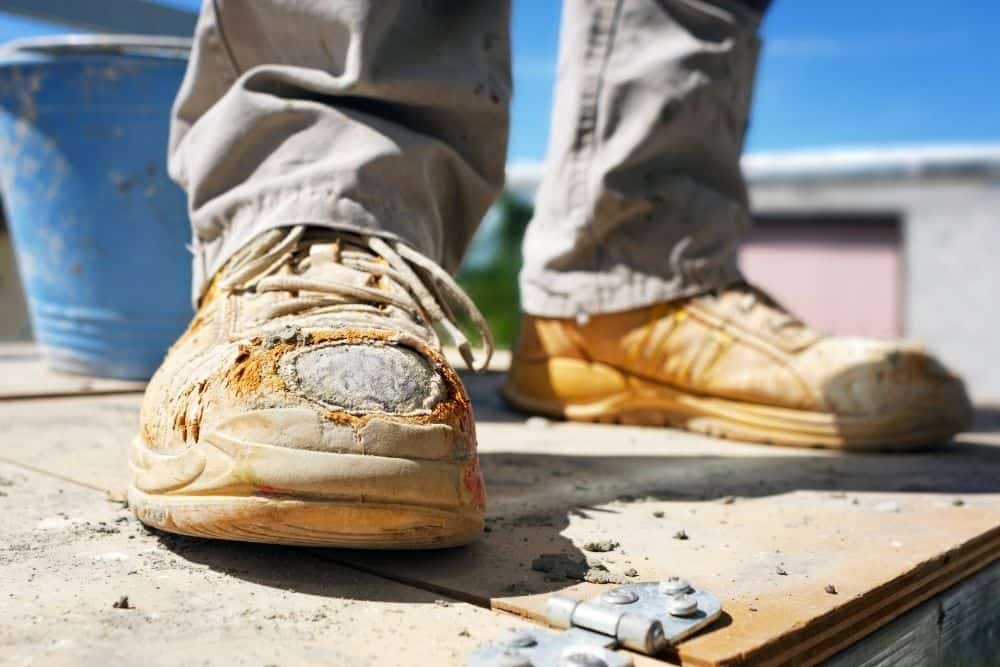 2. Outsole
The outsole in work boots is such that they are slip-resistant and have appropriate traction to keep wearers on their feet. In work boots, you will mainly find two types of soles available – a thermoplastic urethane (TPU) and nitrile (rubber) outsole.
Both outsoles offer high slip resistance and heat resistance surging as high as 130°C. However, according to reviews, the nitrile (rubber) outsole possesses higher heat resistance of up to 300°C – keeping workers' feet safe.
In addition, the outsoles of most work boots are extremely thick and solid to prevent penetration from underneath.
In fact, most manufacturers refer to the boot feature as puncture-resistant, as it prevents nails or other sharp objects from piercing through the shoe.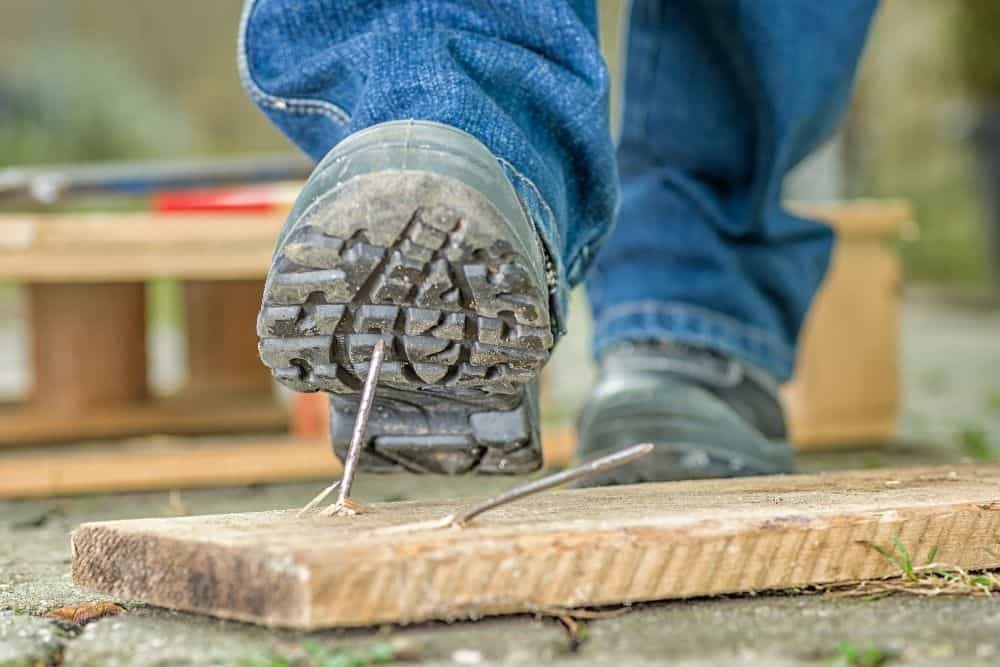 3. Water resistance
Work boots are famous for their water-resisting material feature, making them an excellent option for working in wetland areas.
Due to the material used during work boots manufacture, the design gets arranged and prepared in a manner that it prevents water from entering into the boot. For instance, some manufacturers spray chemicals on the leather to improve the water resisting capability of the boot.
4. Insulation
Personally, insulation is one of the essential features that make these shoes work boots. They come with materials that offer one of the best insulating features you can ever find in a shoe.
You require the insulation on these boots because most of the time, the "work" might be in areas with freezing temperatures.
And when you have to work in areas with low temperature, your feet require optimum protection, or else you might suffer foot-related health issues.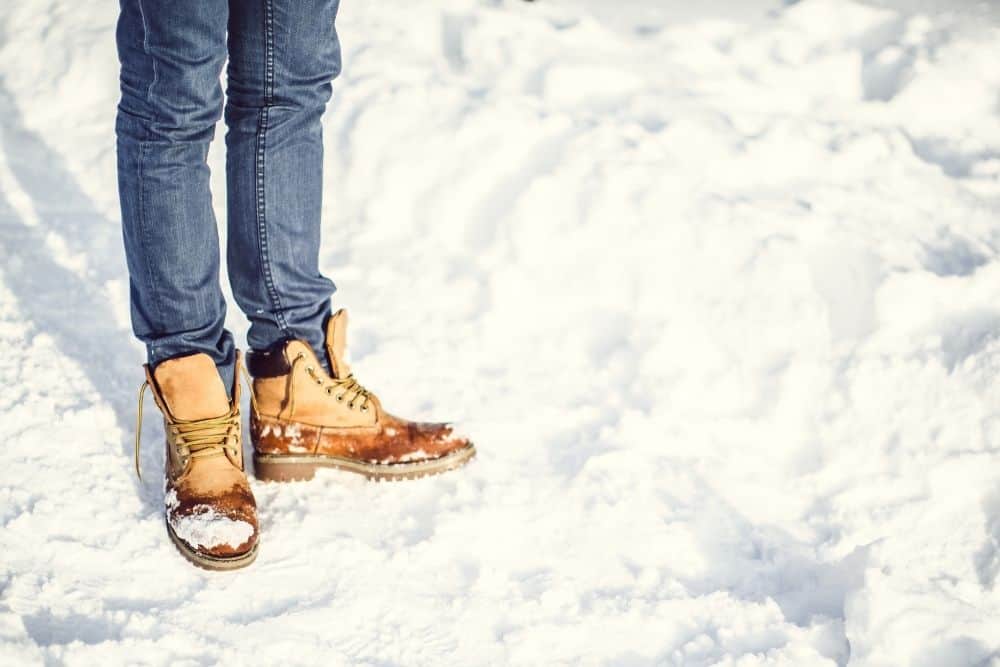 5. Types of work boots
With work boots, the "types" available are numerous to mention; however, you can mainly differentiate them by the kind of work you use them to do. For instance, some types of work boots include;
Electrical safety work boots
Heat resistant work boots
Puncture-resistant work boots.
Difference Between Hiking Boots And Work Boots
Generally, hiking and work boots possess specific features that can almost make them look alike. However, there are some apparent differences between these two types of boots.
As you know, hiking boots are primarily for taking hikes on different terrains with different environments. And on the other hand, work boots are for performing heavy activities or working in places with high hazards like a factory.
Nevertheless, in this section, we will share some significant differences between hiking and work boots. Let's take a look!
1. Traction and Outsole
Personally, both hiking and work boots have almost similar outsoles because they feature either lug or rubber soles. However, when you decide to take an in-depth look at the outsole designs of each boot, you can tell the difference.
Firstly, the outsole design mostly has odd random patterns in hiking boots that make it great for withstanding on uneven ground.
This means that you are likely to get more traction and slip-resistance with hiking boots rather than work shoes.
Additionally, with work boots you mainly notice patterns underneath the shoe on their outsole. However, this doesn't reduce their slip resistance or traction nature; it simply doesn't make them as efficient as hiking boots.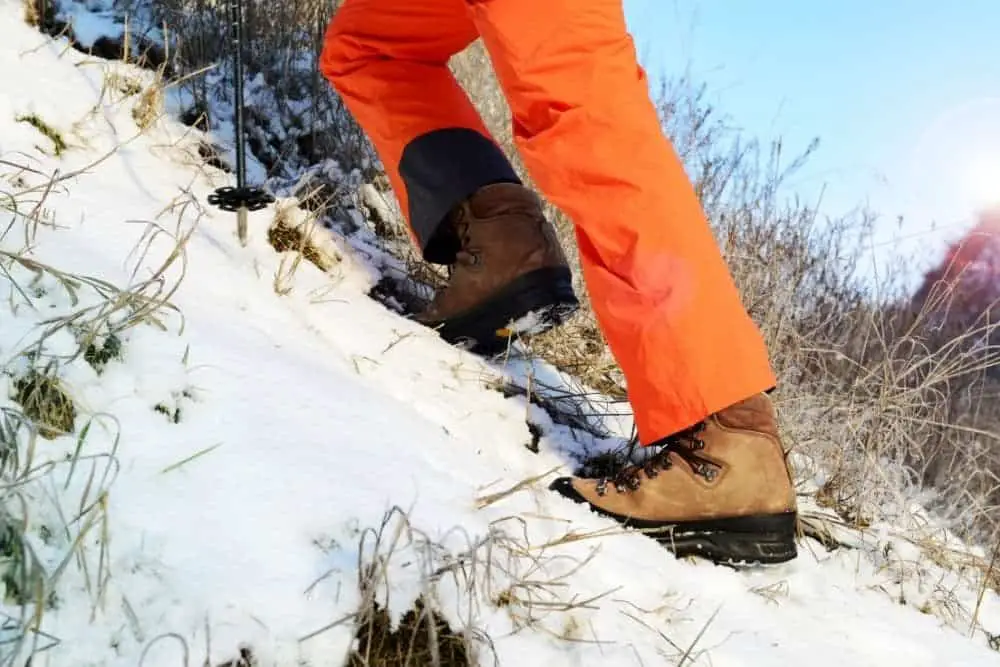 2. Material and Durability
Here's the truth about hiking and work boots – they both offer high durability and withstand harsh conditions. But, durability and extreme conditions vary between scenarios.
Primarily, most hiking boots come with full-grain leather or mesh designs that give them their breathable and waterproof nature. Whereas, with work boots, you will never find the mesh designs, only nubuck or full-grain leather.
However, hiking boots have proven to be the tougher footwear in terms of durability because it allows you to cross different streams and conditions.
For instance, hiking boots dry up quicker, making their material last longer and free of stench.
But, with work boots, the leather design prevents instant drying when wet. And when water settles for long on these boots, the durability and longevity of the footwear get altered.
3. Weight
Personally, this is a downside when you take a look at work boots. However, one area where hiking boots tend to triumph over work shoes is their lightweight design.
Generally speaking, no one wants heavy shoes on their feet as it will slow down your work.
At first, it might not be a big deal, but then you start walking miles; the extra pounds and punches tend to weigh you down.
Primarily, if you are on your feet for an entire day, hiking boots might be the better option because of the less weight they possess than work shoes.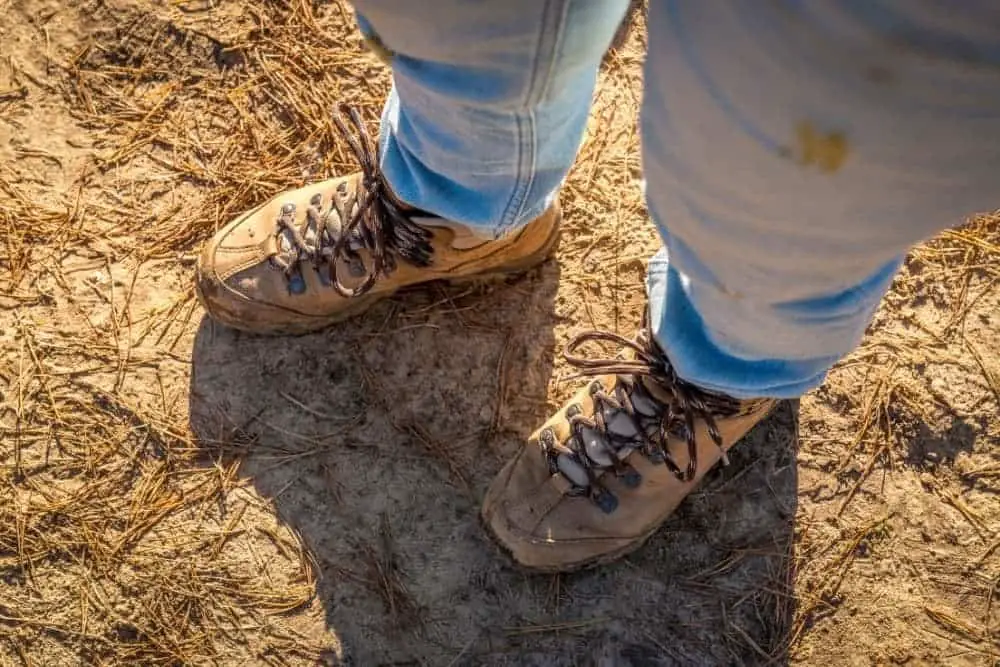 4. Protection
A major selling point with work boots is the protection they offer. Unlike hiking boots, work shoes have designs that intentionally try to prevent any danger to your feet.
In hiking boots, you get strong outsoles that will keep your feet from slightly sharp punctures from underneath. In addition, most hiking boots will come with rubber toe caps, which offer protection but are not enough for work-related activities.
Whereas in work boots, you get solid outsoles that can withstand punctures and electrical surges. Additionally, you will mainly find steel-toe caps on work boots as they offer the best protection from collisions and impact to the toes.
Also, work boots tend to meet several safety standards for use that hiking shoes lack. For example, you will get ASTM certified standards that permit you to use the shoes in fire and electrically dangerous places with work boots.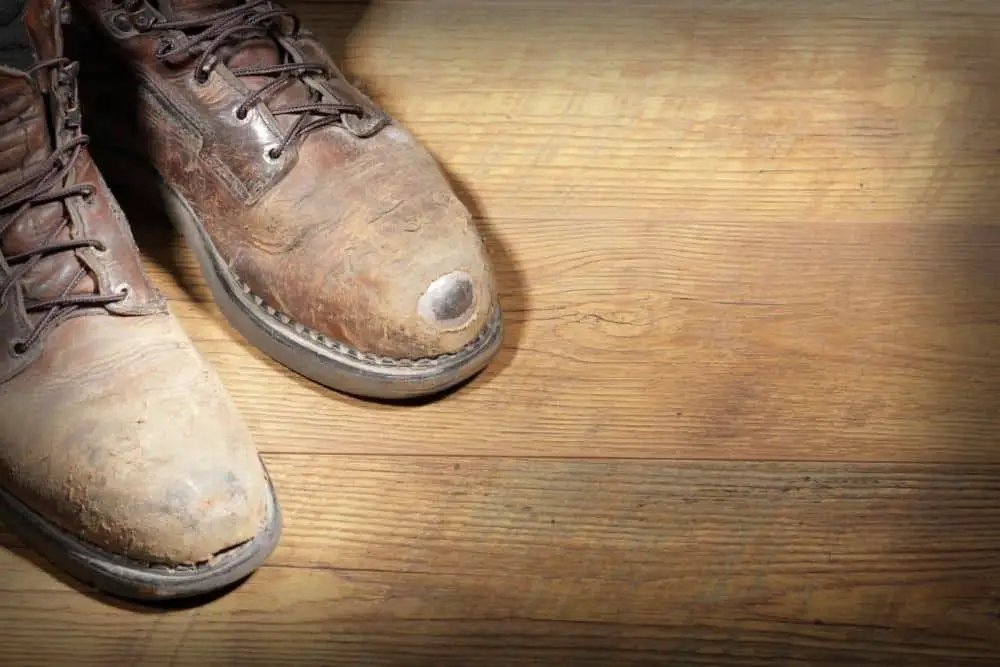 5. Waterproofness vs. Water resistance
For clear understanding, waterproofness is the inability for water to pass through an object. In contrast, water resistance refers to a process that slows the penetration of water or liquid through an object.
Hiking boots are waterproof and will mainly never allow water to get into them. But, work boots mostly have water-resistant capabilities that slow down water penetration through the shoe's material.
Although this can be slightly confusing, you need to understand the difference. Unfortunately, most people tend to mix up both words and use them interchangeably with these boots.
Read more: Can You Use Hiking Boots for Wading?
6. Flexibility
Have you ever accidentally stepped on a nail while on a work boot? Well, we can confidently say that if you did, the nail probably didn't reach your foot.
This is because work boots have strong, rigid, and thick builds that prevent accidents like nail stepping. But, unfortunately, your ankles, feet, and rubber outsole are stiff with work boots, giving you an almost immovable feeling.
Unlike work boots, hiking shoes are less rigid and more flexible. That means you have more ankle movement, a less stiff outsole, and a slightly more penetrable outsole.
Generally, hiking boots are flexible for activities, whereas work shoes are rigid.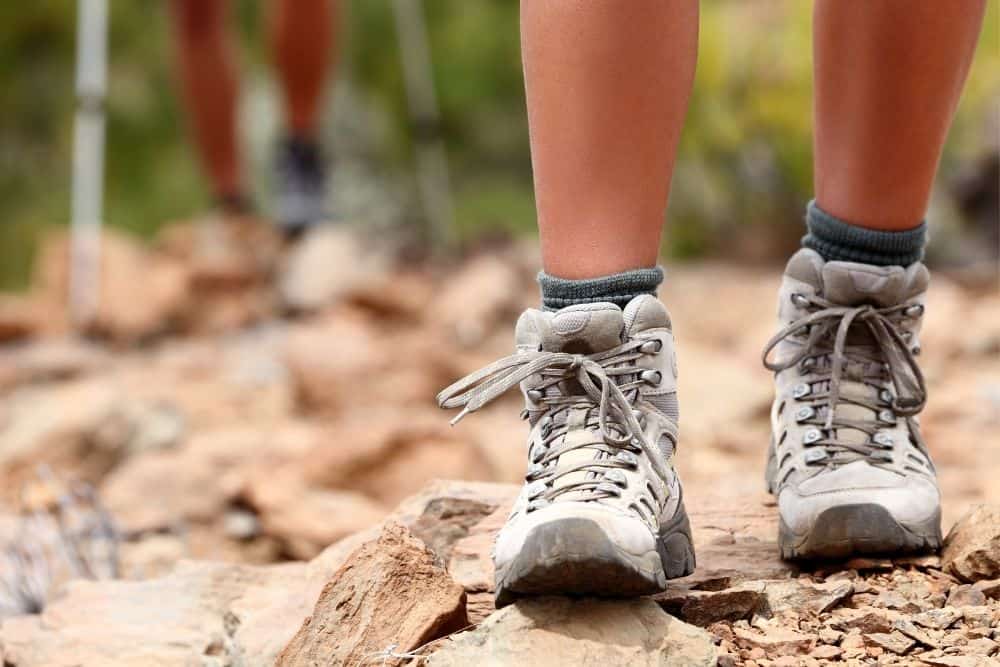 7. Comfort
Both hiking and work boots offer high levels of comfort, but when you decide to put them on a scale, the hiker's shoe tends to win.
Personally, the comfort of work boots are not as high as hiking shoes because of the stiffness, rigidity, and solid nature.
Generally, aside from the midsole, other parts of a boot affect comfort. For instance, the foot space, ankle support, and softness of the interior plays a huge role.
And that of the hiking boots tends to offer larger foot space and softer interior than work shoes.
Boot Feature Comparison
| | | |
| --- | --- | --- |
| Outstanding Characteristics / Boots | Hiking Boots | Work Boots |
| Safety | ⭐⭐⭐⭐ | ⭐⭐⭐⭐⭐ |
| Flexibility | ⭐⭐⭐⭐⭐ | ⭐⭐⭐ |
| Comfort | ⭐⭐⭐⭐⭐ | ⭐⭐⭐⭐ |
| Durability | ⭐⭐⭐⭐ | ⭐⭐⭐⭐ |
| Waterproof | ⭐⭐⭐⭐⭐ | ⭐⭐⭐⭐ |
| Traction | ⭐⭐⭐⭐⭐ | ⭐⭐⭐⭐ |
| Lightweight | ⭐⭐⭐⭐⭐ | ⭐⭐⭐⭐ |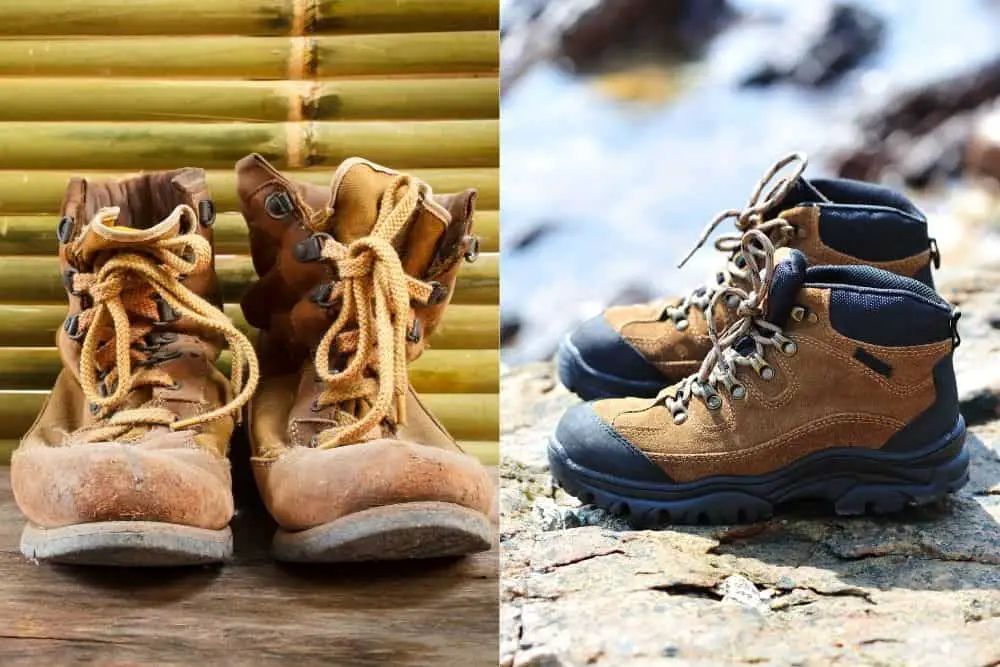 Can Hiking Boots Be Used As Work Boots?
Here's an obvious truth, boots can be pretty expensive. And having both hiking and work boots is often seen as a luxury for some people.
Following a survey, the question, "can hiking boots be used as work boots?" frequently gets asked by hikers who work in factories.
However, you can consider hiking boots as one of the most versatile shoes you will ever come across. These boots have comfortable and strong builds that allow you to use them for several "work" tasks you might have.
Notwithstanding, these hiking boots still have their fair share of being "not so great" for work. Nevertheless, you can use hiking boots as work shoes, but it isn't the best option.
Can you use hiking boots as work boots? Yes.
Do hiking boots offer comfort and necessary features for work? Yes.
Is it advisable to use hiking boots for work use? No.
So, now that you know you can use your hiking boots as work shoes, there are some other things you need to know.
For instance, there are features in hiking boots that make them excellent choices for work. Some of these features include;
1. Waterproofness
The waterproof feature of hiking boots makes them an excellent choice as a replacement for work shoes.
Due to the leather or mesh design of hiking boots, they can withstand water penetration. This is essential for work because the workspace might be wet.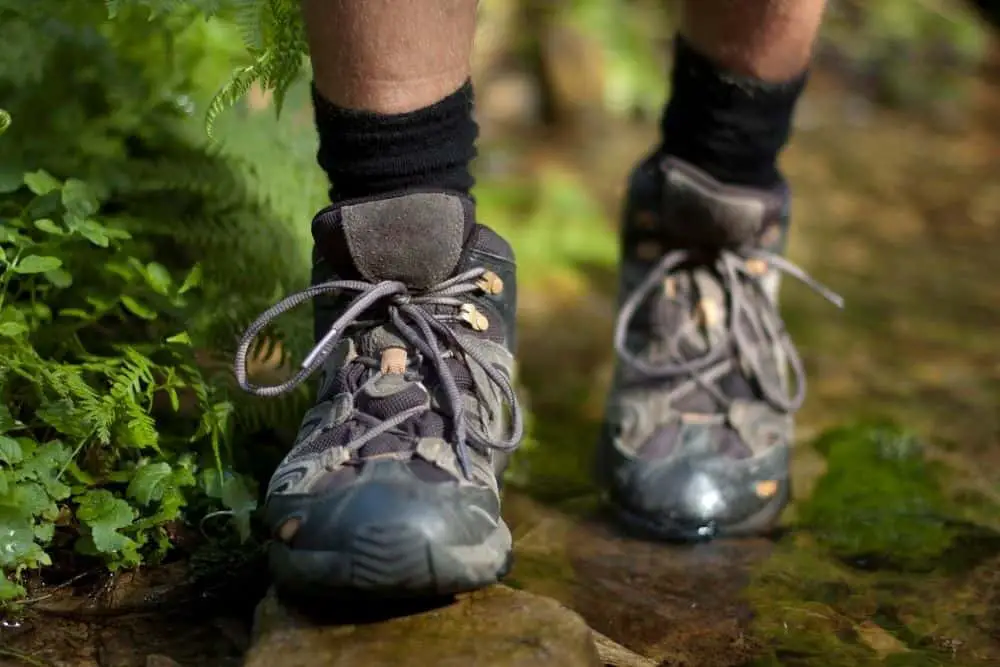 2. Traction
The slip-resistant nature of hiking boots plays a massive role in replacing work shoes because the outsole has one of the best traction you can find in footwear.
When performing a work activity, you will need to ensure you are on highly slip-resistant footwear to prevent accidents.
3. Comfort
The EVA and PU midsoles of hiking boots are features that bring about foot cushioning and comfort with hiking boots.
And comfort with proper foot cushioning is one feature you need in a boot for work because you can be on your feet for almost a day.
4. Breathability
Generally, not every work zone will have cool or freezing temperatures. Often, your work might occur in hot or warm regions, and you will need breathable (moisture-wicking) shoes to keep your feet dry.
Work boots lack this aspect, but with hiking shoes, you get optimum breathability.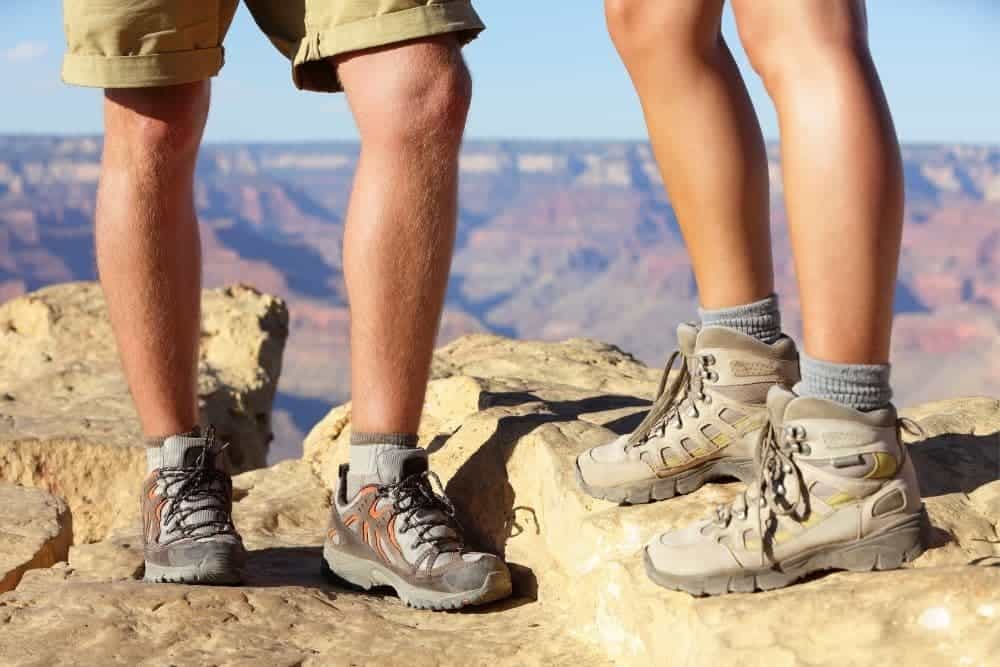 5. Flexibility
Work shoes are pretty rigid, and as much as it is an excellent feature for working, they can also bring challenges and foot ache. Personally, the flexibility of hiking shoes allows for more comfort and ease of use while working.
So, if you are going to use hiking boots for work, ensure it has enough flexibility.
6. Lightweight
As you will be working continuously (moving from one place to the other), you would surely enjoy the lightweight design of hiking boots.
For instance, hiking boots' lightweight design allows you to walk and work without stress for a long time.
7. Suitable for a variety of terrain and weather conditions
In fact, one reason I like using hiking boots as work boots is that they are designed to "survive" in a variety of terrains and environments.
Wet, dry, hot, rainy conditions…hiking boots can all survive well and still give the wearers pretty good safety and high comfort.
I think this is the feature that sets hiking boots apart from work boots.
Some notes
However, although these features of hiking boots make them suitable for work, you might still want to scrutinize your use of it.
For instance, we won't advise that you use hiking boots for heavy tasks. An example of heavy tasks would be one having a lot of nails and sharp objects around.
Hiking boots are not puncture-resistant and will result in foot damage should you step on one.
In addition, the absence of steel-toe caps in hiking boots puts your feet a disadvantage should there be heavy impacts or collisions at work.
If you work on a construction site and often face such situations, I think a pair of work boots with safety toes and puncture-resistant soles will be better.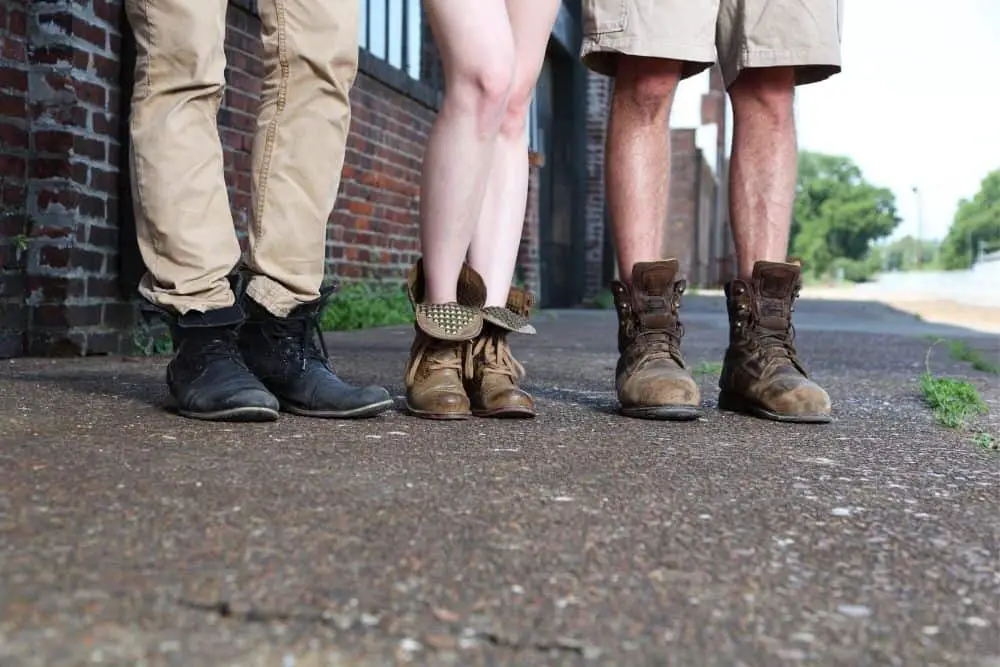 Top 3 Picks Hiking Boots Good for Work
Let's review our top three recommended hiking boots that you can consider using for work – in no particular order.
1. Columbia Newton Ridge Plus Hiking Boot
Sale
Last update on 2023-03-14 / Affiliate links / Images from Amazon Product Advertising API
The Columbia Newton Ridge Plus is a hiking boot with leather, suede, and mesh fabric as its build design.
This boot from Columbia sports a 5-inches shaft height that offers ankle support and comfort.
In terms of comfort, the Columbia Newton Ridge Plus features the Techlite midsole that gives long-lasting comfort and cushioning when standing for long in your workplace.
As a plus with this Columbia boot, it comes with an Omni-grip traction rubber sole.
The manufacturers claim that this advanced rubber outsole offers high slip resistance to water and slippery surfaces.
The best part of this Columbia boot is the waterproof feature – it keeps your feet dry, in case you might be working in wetlands or areas.
However, there have been several complaints about the boot's size as it is narrower than most conventional shoes.
In addition, the no-steel toe feature might sway you away from picking this for heavy work use. Aside from these, the Columbia Newton Ridge Plus is an excellent buy.
Pros
It comes with waterproofing features.
It offers arch and ankle support, making it comfortable to walk.
High slip-resistance with Omni-grip technology rubber outsole.
Durable and lightweight on the feet, reducing stress.
Sports Techlite midsole for long-lasting comfort.
Cons
Many users complained about the boot being too narrow.
It lacks steel-toe caps that are necessary for work-related activities.
2. Danner Mountain Hiking Boot
Last update on 2023-03-14 / Affiliate links / Images from Amazon Product Advertising API
The Danner Mountain hiking boot is a waterproof shoe sporting a suede upper design and full-grain leather for enhanced durability.
In addition, the Danner Mountain boot features a 5.25 inches shaft height that gives your ankles support and comfort.
Unlike many hiking boots, this footwear from Danner has had several positive reviews for it being an easy shoe to use, even for the first time.
You don't have to wear them for long before they can "break in" to feel comfortable.
Additionally, you get to experience foot comfort due to the Vibram SPE midsole present with Megagrip technology.
This means even with long walks while working; your feet will remain comfortable.
However, many users have complained that the boot's size is difficult to fit into because it's large.
Also, the Danner Mountain hiking boot can become unnecessarily hot due to its low breathable and warm interior nature. Regardless, it is an excellent buy if you work in a cold region.
Pros
Many users have commended it for being easy to "break in" boot.
High durability and enhanced heel support.
Offers waterproofing designs to keep your feet dry.
Vibram SPE midsole and open-cell OrthoLite footbed for enhanced feet cushioning and comfort.
Cons
Complaints about the boot size being larger than normal.
The interior of the Danner hiking boot is too warm for many users.
3. KEEN Durand 2 Hiking Boot
Sale
Last update on 2023-03-14 / Affiliate links / Images from Amazon Product Advertising API
The KEEN Durand 2 hiking boot comes with a full-grain leather material and rubber outsole design that gives it its high slip-resistant and traction grip.
In addition, unlike the other mentioned hiking boots, the Durand 2 has only an ankle-length shaft height.
The Duran 2 comes with a highly waterproof material design that ensures no penetration of water, ensuring dry feet at all times while working.
In addition, this boot from KEEN comes with a PU midsole designed for resilient feet cushioning while you work.
To make the KEEN Durand 2 breathable and odor-free, the manufacturers put an Eco anti-odor technology that will naturally eliminate all feet sweat and smell from the boot. This feature has become essential for workers in warm or hot regions.
However, many users have claimed to have issues with the Durand 2's durability. Some users claim they used theirs for a year, and the boot began to wear out.
In addition, the unavailability of EH-rating might not make it great for work, primarily if you work in an electrical company.
Pros
Very comfortable to use on concrete floors.
High traction grip and slip-resistant nature.
Waterproof and durable full-grain leather design.
It sports the KEEN dry, breathable membrane to wick moisture.
Cons
Many users question the boot's durability.
It lacks the ASTM and EH-rating protection.
Conclusion
Generally, the price of boots prevents many people from purchasing new ones for specific use.
And that is why till today many people ask about the possibility of using hiking boots for work. Regardless, in this article, we stated that you could use hiking boots for work.
However, you will need to ensure that the boot you pick has the necessary features required for the specific work you do.
Nevertheless, we have given our top three best hiking boots to use for work.