The need for hiking boots in Zion National Park has always been a conflicting discussion. Some visitors and hikers believe it isn't essential, while others find them pretty helpful for a successful hike.
Regardless, while at Zion National Park, you will discover that "do I need hiking boots for Zion," is among the most frequently asked questions by hikers. And asking this question is pretty normal because the trails there can be pretty easy and challenging.
So, here's what we will do; we will answer these "most-asked" questions in Zion. Then, we will highlight some excellent and "not-so-great" features hiking boots possess. And to help you get the best hiking boots available, we will give you a guide on choosing the best one.
But, first, let's see the Zion National Park and every natural occurring feature that can affect hikers. Let's get started!
Zion National Park | Things To Know
At Zion National Park, you will discover a wide array of trails to hike coupled with breath-taking scenic views. And if it's your first time at the park, you can mainly access the more popular trails through the valley floors.
However, your access to some parts of the park will get closed to private vehicles from April to October. Access to these would then be by the Zion Canyon Shuttle System.
Nevertheless, in this section, let's take an in-depth look at Zion National Park and everything that affects hikers in this hike zone.
We will look at Zion National Park in four categories; terrain, natural condition, environment, and animals.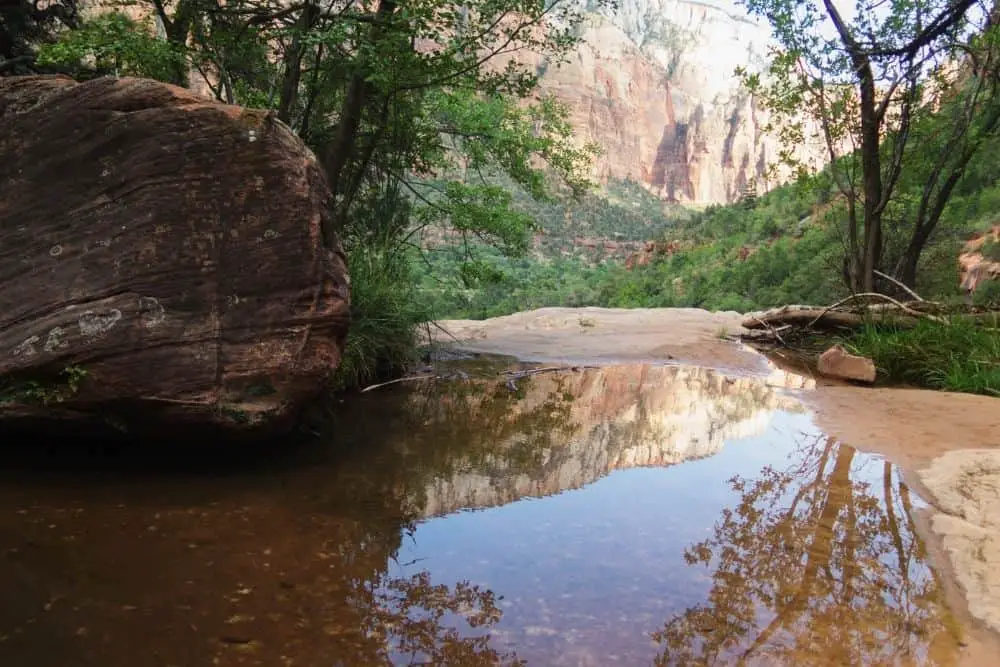 1. Terrain
Here's what we can tell you from our time at Zion National Park; the terrains aren't the most rugged or rough. But, don't get us wrong, you will find difficulty hiking on trails like the Observation Point and Angels Landing.
Some of the trails in Zion National Park are flat, paved, and well-maintained, making them suitable for even children to hike. However, things become rougher and rockier when you move over to the moderate and strenuous trails.
For instance, the Sand Bench Trail has extremely sandy terrains and lush bushes to raise dust while hiking.
Furthermore, the Upper Emerald Pool Trail is famous for its hard and rocky terrains, making it difficult for hikers with the wrong footwear.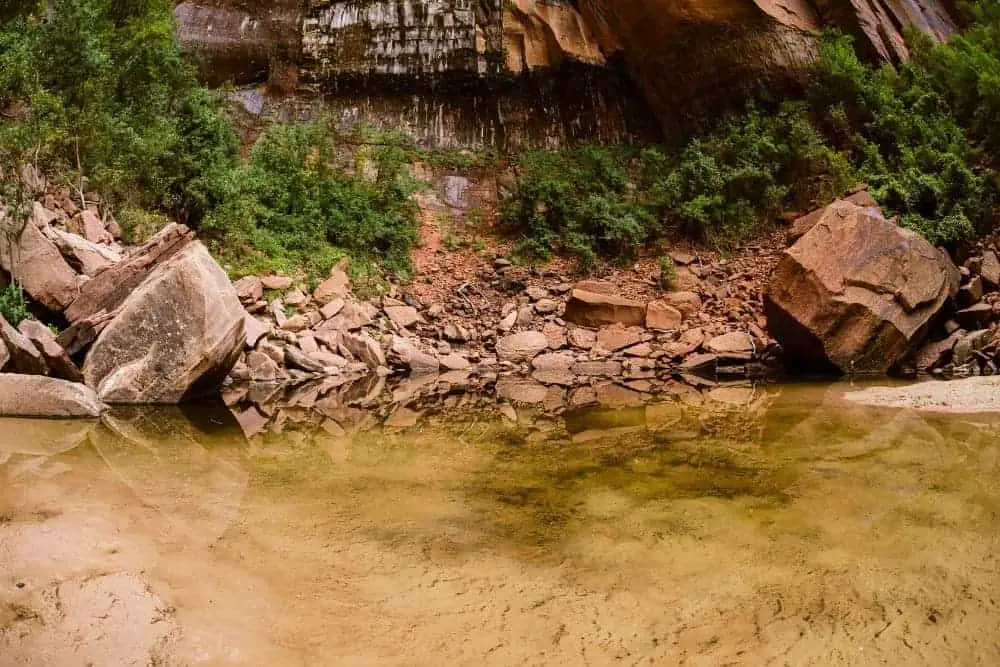 Generally, the terrains at Zion National Park are flat, sandy, rough, rocky, and even steep in some trails. For this reason, many hikers tend to opt for other footwear rather than hiking boots.
2. Natural Conditions
At Zion National Park, you will likely see various scenic views from one hilltop or the other. And Zion has canyon walls with tan-colored and reddish Navajo Sandstone that have gotten eroded. Generally, the park reaches its highest peak at 8,726 ft in the Horse Ranch Mountain.
Incoming desert conditions persist around the rocky ledges and Zion canyon bottoms. Also, you can spot water pools on some trails while hiking and also natural growing trees.
Furthermore, trees and bushes are often a common thing in Zion National Park. On some sandy terrains, you will see lush bushes making a pathway for hikers to move over.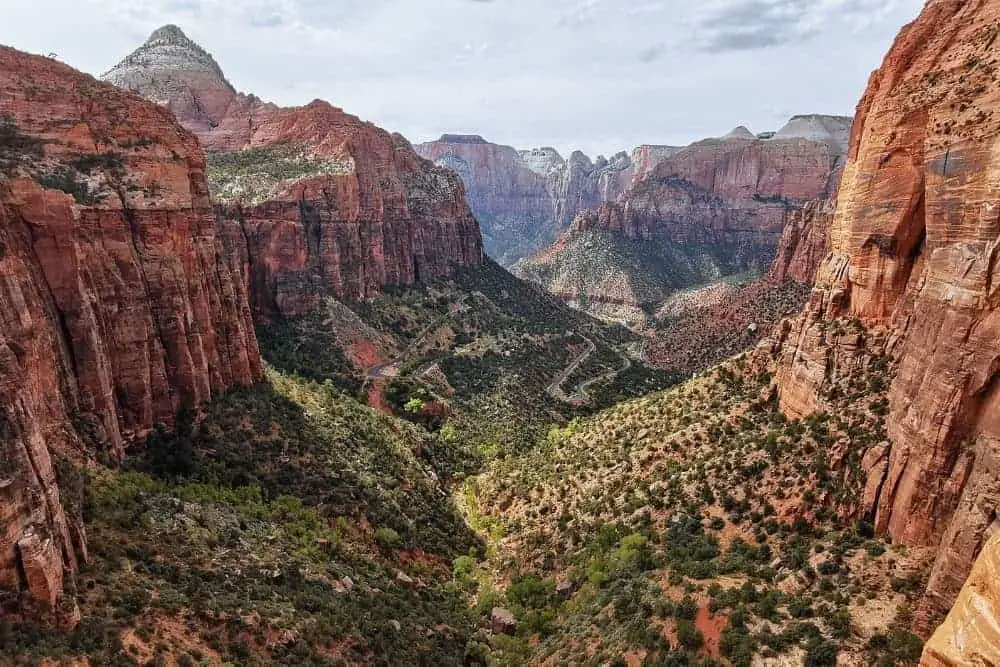 3. Environment
Generally, regular hikers at Zion understand that the environmental weather conditions can vary widely. And this refers to the varying changes of temperature and climate conditions easily in Zion.
The temperature and weather conditions at Zion National Park vary according to the season. Sometimes hikers have no choice but to pack breathable outfits, while other times, insulated ones.
However, let's see the average temperature in Zion National Park under the four seasons.
The fall months in Zion National Park are primarily October and November, and it brings some pretty beautifying scenery. Usually, during the fall season, the temperature is pretty cool, especially during the day.
However, at night the use of layers might become necessary to battle the dropping temperature. Averagely, the high and low temperatures of each day in Zion can differ by over 17°C/30°F. Therefore, we would advise that you consider having layers with you if you would be hiking this season.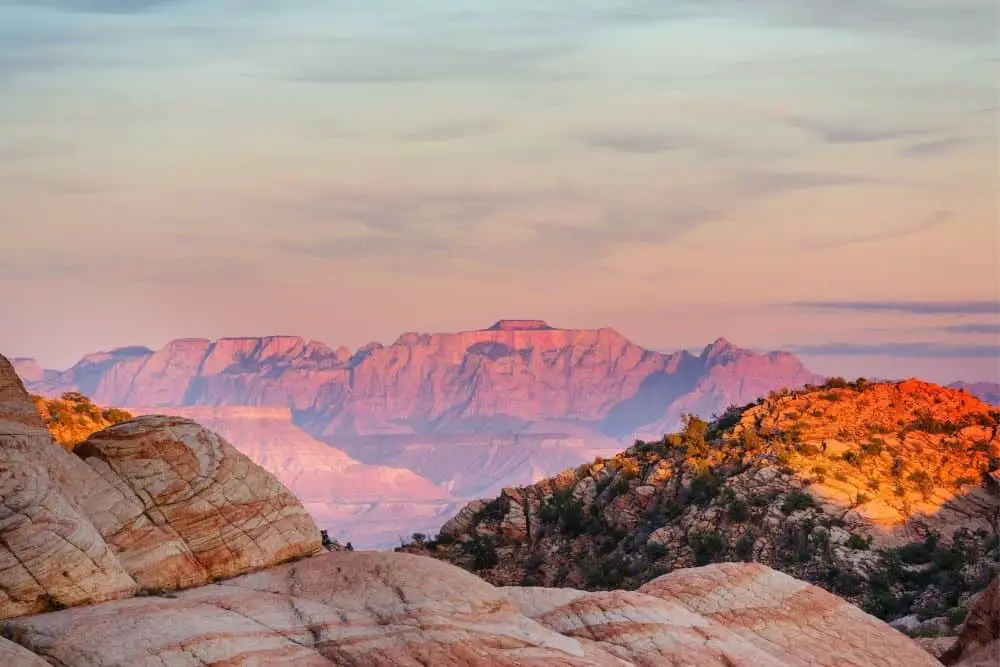 The spring season (March and April) in Zion National Park slightly aligns with that of fall. Meanwhile, you will also need to prepare yourself for varying temperature changes with layers. For instance, wet weather isn't unusual, and sunny weather and warm climates are typical.
Averagely, the highest temperature you can get in this season during the day would be 32°C (90°F). Plus, at night or lowlight, the temperature difference can usually be around 17°C/30°F. However, precipitation in Zion peaks in March, and there are high water levels due to snowmelt.
The summer months in Zion National Park span from May through to September, and this season tends to have the most visitors. Now, because it is the summer, the temperature is mostly pretty hot. So we'd suggest that you pack a lot of water in refillable bottles.
The summer temperature in Zion tends to increase the higher your climb in elevation. Sometimes the temperature may go over 32°C (90°F). In fact, the summer season in Zion may see temperatures scaling about 38°C (100°F).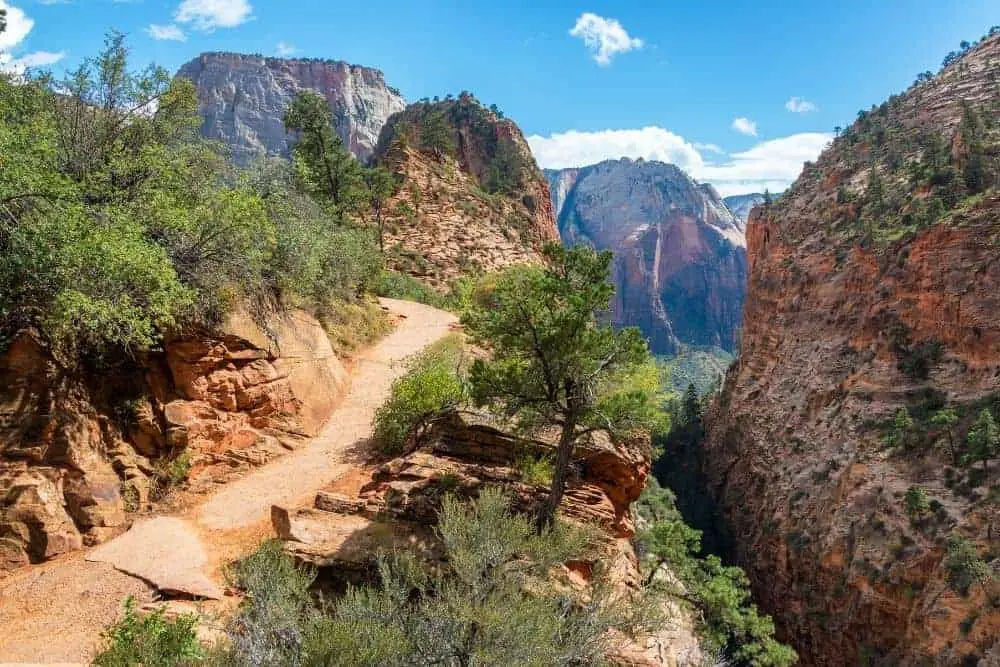 This is the season of cold, wet terrains and snowfalls. You will mainly catch the winter season in Zion when you hike from December to February. Furthermore, almost about half the precipitation in Zion occurs between this season and early spring.
The terrains become extremely slippery this season due to high precipitation and icy trails. Usually, the temperature during winter at Zion ranges from 10°C to 15°C (50°F to 60°F) during the day. Then, at night or lowlight time, the temperature goes well below freezing.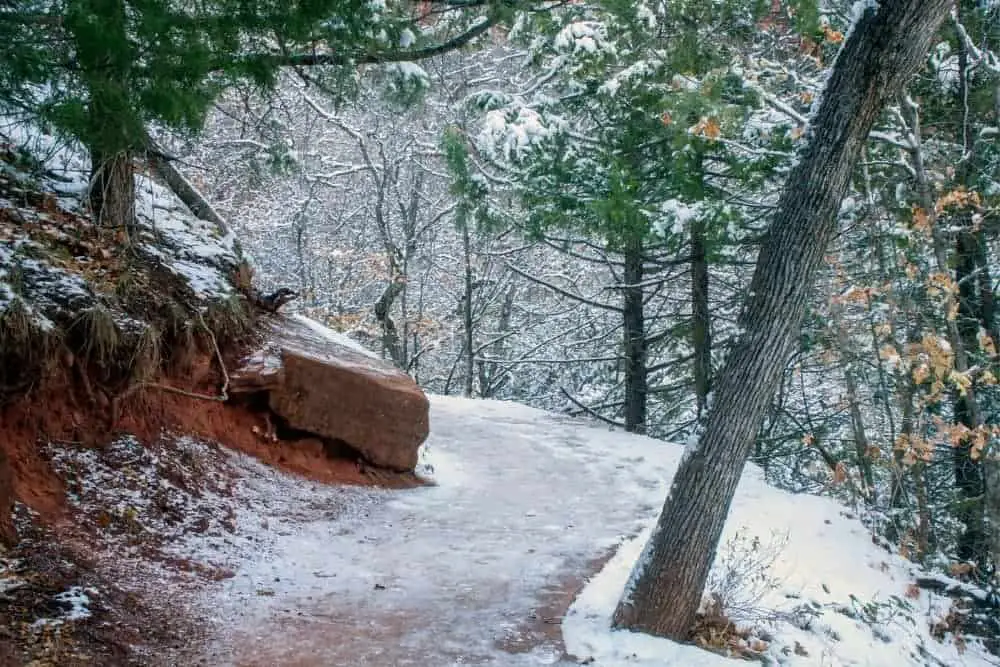 4. Animals
Generally, Zion is home to a wide range of animal species with varying features. For instance, at Zion National Park, there are over hundreds of different animal species.
Additionally, you can often spot some Mountain Lions at lowlights. But, then, the Mule Deers, wild Turkeys, western Rattlesnakes, and Ringtails are common in the Zion National Park during the daytime.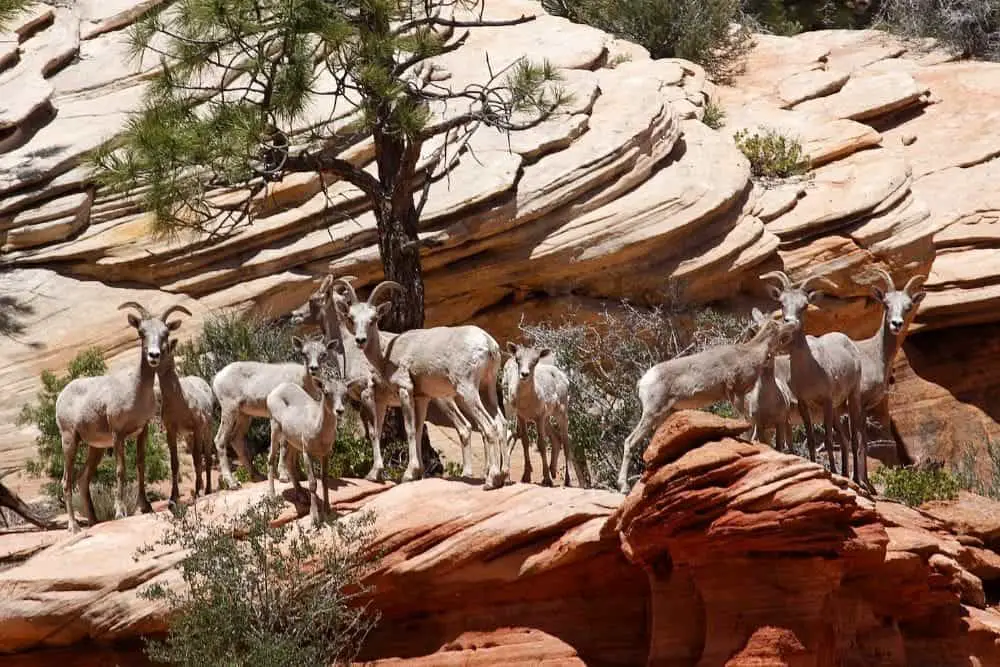 Do I Need Hiking Boots For Zion National Park?
As stated earlier, many hikers at Zion National Park have conflicting opinions about the need for hiking boots. And it has become understandable because the trails can be easy, moderate, and difficult.
However, although most people might find themselves using other footwear at Zion, especially for the easier trails, hiking boots might be the most appropriate. Why? Other footwears are "okay" for easier, less rocky terrains, but not the moderate to difficult trails.
For instance, using other footwears might place your feet at risk of injury or discomfort when hiking on hard and rocky grounds.
Therefore, although there are some unneeded attributes of hiking boots in Zion National Park, it remains the most advisable use – depending on the trail.
Are hiking boots necessary for every trail in Zion? No.
Can you use other footwear for every trail in Zion? No.
Do you need hiking boots for the moderate to difficult trails at Zion? Yes.
Needed Features of Hiking Boots For Zion
You might wonder what exactly makes hiking boots essential for hikes in Zion. Well, there are some features (or parts) of hiking boots that just make them appropriate.
And some of these excellent hiking boot features include;
1. Material
Undoubtedly, hiking boots come with one of the most rigid materials for hikes in Zion. Plus, the construction of hiking boots places their strength and abrasion resistance high.
Hiking boot manufacturers tend to use leather (full-grain, split-grain, and nubuck), mesh, or synthetics (Cordura and Denier Nylon) materials. And for a long time, these materials have proven to be abrasion-resistant.
We find the material in hiking boots upper pretty good for hikes in Zion. Why? Because the long trails and varying weather conditions might cause quick damages and these hiking boot materials can withstand the conditions – for a long time.
2. Non-slip Outsoles
Trust us; you will find this hiking boot feature extremely "needed" for hikes at Zion, especially during the winter and high precipitation months. The terrains can become pretty slippery, which is unfavorable for hikers.
Going on hikes with shoes having poor non-slip outsoles puts you at risk of injuries and heavy falls. As you know, some Zion National Park trails are on high hills, cliffs, and elevation – now, slipping at such height can be dangerous.
The non-slip outsoles help to create adequate friction that will give you traction, even on icy surfaces. So, those accidental slips will likely get prevented – thereby keeping you on your feet throughout the hike.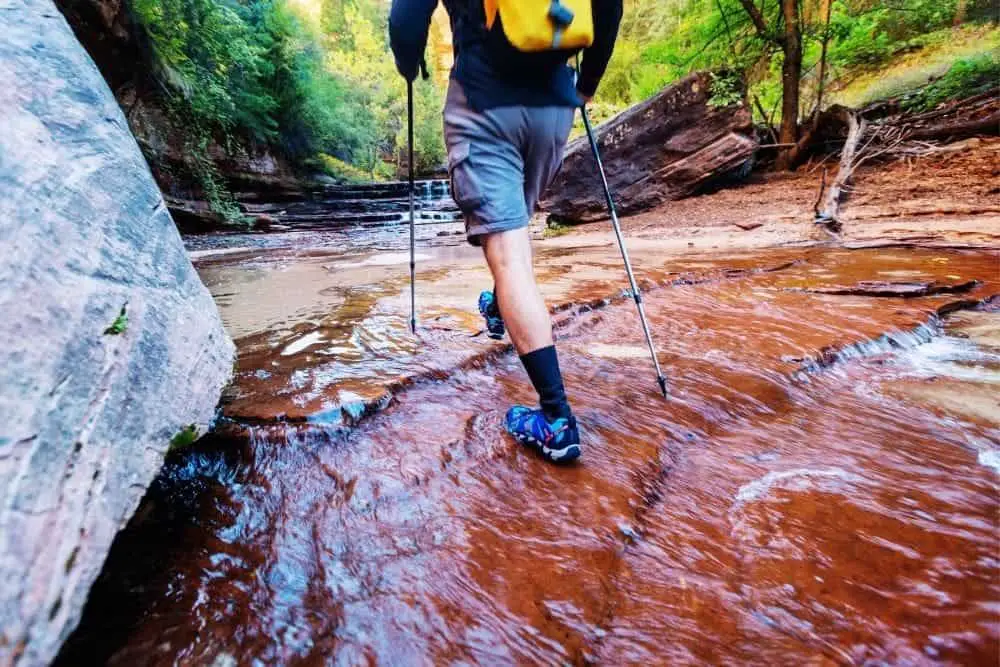 3. Insole and Midsole
Whether hiking on the easy, moderate, or difficult trail, your foot's comfort is essential. The insole and midsole part of hiking boots provides sufficient comfort when hiking for a prolonged time, even on hard grounds.
For this reason, the midsole part lying between the outsole and insole helps to act as the first cushioning against the rocky terrains at Zion. Then, the insole softens the feet on the inside to give it the desired comfortable feeling.
Although some other footwears used by hikers in Zion provide comfort, you still cannot compare them to hiking boots, especially on difficult trails. And this makes the hiking boots midsole and insole combination highly unique.
4. Eyelets and Vented Holes
From May to September in Zion National Park, the summer season takes its toll on hikers. During this time, hikers tend to sweat more, burn more energy, and become weak. And one of the major problems during this season is sweaty feet.
Generally, you can consider sweaty feet normal during hot conditions, but they become bad when you continuously hike with them. And that's where the vented holes and eyelets in hiking boots come to play.
These features ensure proper breathability all around the hiking boot. In addition, it allows air to flow into the hiking boot for additional moisture-wicking capabilities – thereby keeping your feet dry.
5. Waterproof Membrane
Although summertime in Zion can seem hot and with average precipitation, the winter and early spring often bring high downpours. And just like sweaty feet, having your foot wet due to rain or wet terrains can be bad for your hike.
The deal with hiking boots is that they are mostly always waterproof. Although some fail in providing the best waterproof membrane, there are more hiking boots with reliable water-repelling lining.
You will find this feature essential when hiking on wet trails and during the winter in Zion. However, the waterproof membrane doesn't always act alone to keep water out; it also has help from the leather material in the hiking boot's upper.
Read more: Can You Use Hiking Boots for Wading?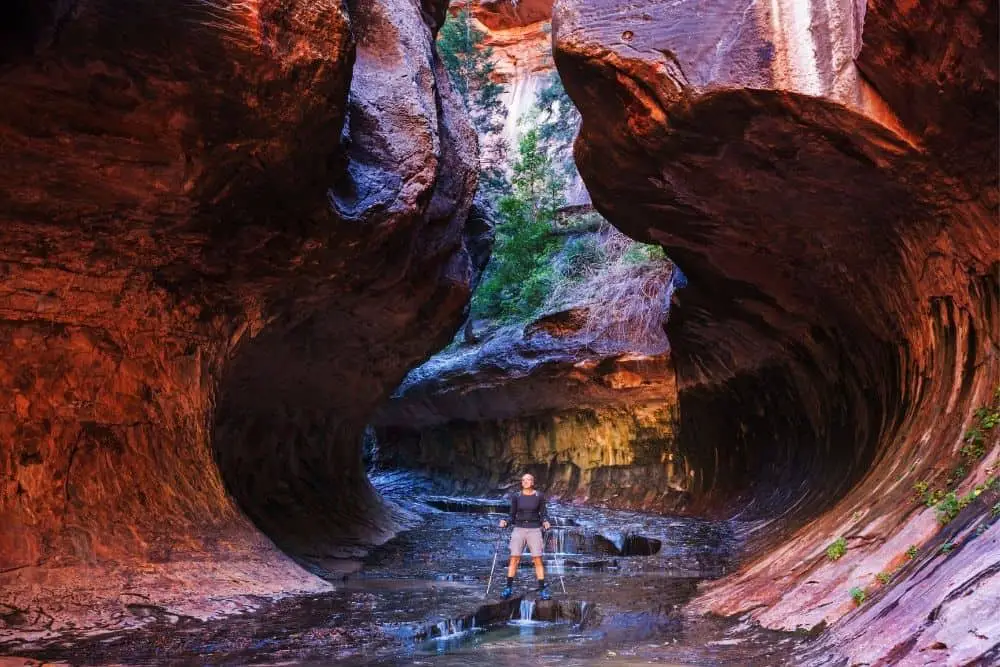 6. Toe Cap
This is one essential feature of hiking boots that not many other footwear might possess. In addition, the toe cap of hiking boots protects your feet from high-impact collisions that could cause damage.
Due to the state of Zion National Park terrain, protecting your feet is paramount. Unfortunately, the rocky terrains of the moderate/difficult trails pose a threat to your feet.
How?
Accidental collisions with stones and rocks while hiking is pretty normal. And that's why the protective composite or rubber toe cap feature lies in the front part of the hiking boot. It takes the force of the entire collision – keeping your feet safe.
7. Shanks and Plates
The shanks and plates featured in hiking boots work mainly for rocky terrains. The shanks on your hiking boot add weight-bearing stiffness for you. This will allow you to hike better on flat, steep, and rocky terrains.
Then, the plates on hiking boots act as protection for your feet from underneath. What these do is prevent sharp rocks or stones from piercing or penetrating from under the hiking boots. And this will keep your feet safe from potential harm on the rocky terrains in Zion.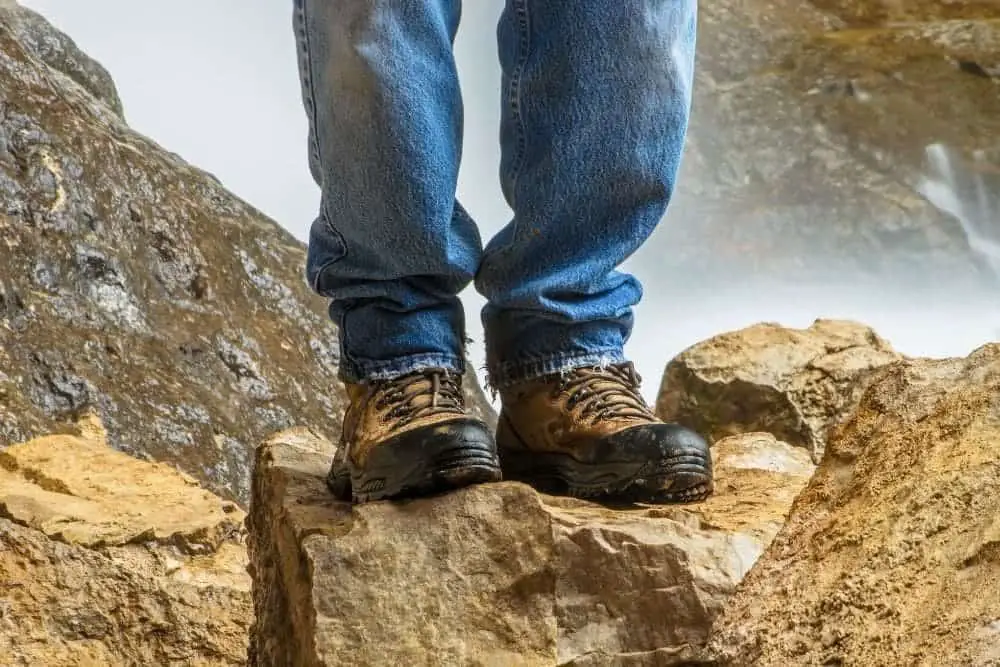 Unneeded Features of Hiking Boot For Zion
Let's face it; not all hiking boot features are essential for hikes in Zion National Park. In fact, some of the features tend to inhibit the hiking process, making it uncomfortable.
And for this reason, some hikers tend to opt for other footwear. So let's see the "unneeded" features of hiking boots when going on hikes in Zion National Park.
1. High Collar
Most hiking boots tend to come with the high collar design, which in normal circumstances is excellent. But, for hikes at Zion, they are pretty much unneeded. Here's why!
High collar hiking boots tend to offer ankle support which is practically unnecessary here at Zion. First off, the terrains are rocky but not exactly bumpy, so ankle support seems unlikely.
Plus, high collar hiking boots mean you will likely get stiff and solid finishing at the ankle and lower limb. However, while hiking at Zion, we figured that you don't need stiffness as much; in fact, freedom is almost essential while hiking on this terrain.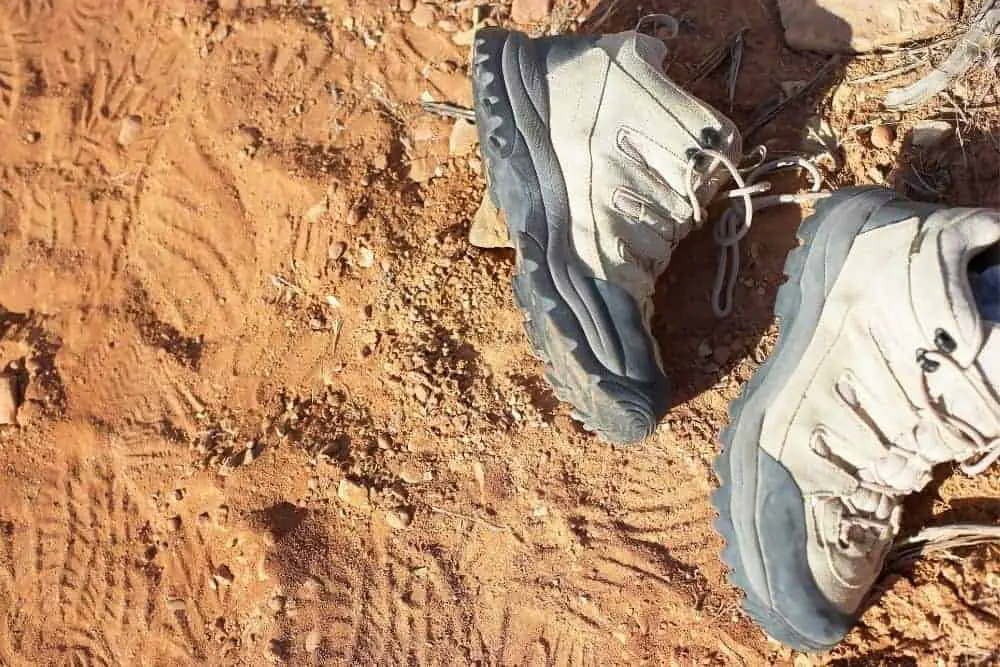 2. Rigid Outsole
Of course, rigid outsoles are necessary for hiking boots for rocky and rough terrains, but Zion isn't one of the most rugged ones. Generally, the rigid outsole works excellently for the rocky trails, but there seems to be a let off with them.
For instance, the rigid outsoles tend to block the feet from sensing the ground properly. Generally, hikers need to know when their foot touches the ground for them to move the next.
Now, when this feeling gets blocked or reduced, there is a big chance of tripping over. In addition, hikers will often misstep with hiking boots having a rigid outsole in Zion than in other locations.
3. Insulating Material
You need this feature in hiking boots, especially during the winter and cold nights at Zion. Unfortunately, however, hiking boots fail to do an excellent job with it.
You will often find better insulation with other footwear like work boots than in these. In addition, even hiking boots having reliable insulating properties are pretty costly and may fail at some point.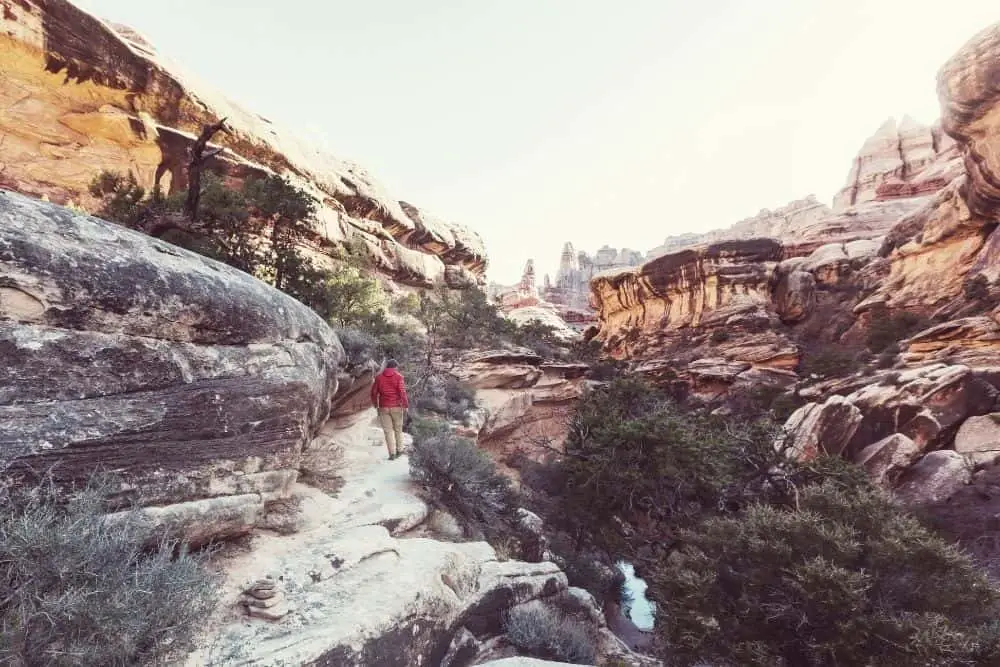 4. Solid Finishing
If you wear hiking boots normally, you can attest that they are pretty solid in terms of finishing. And although this is a good feature, it has its side effects.
For instance, most hiking boots will have a prolonged break-in time. Meaning you might have to wear your hiking boots for long periods to have better comfort.
This will cause pain, discomfort, blisters, and injuries should you persist with hiking boots. However, this is not a general problem with all hiking boots, but most will likely need some "break-in" time – making it unfavorable for hikes in Zion.
Read more: Do I Need Hiking Boots for Arches National Park?
Hiking Boot Ratings for Zion Terrain
| | |
| --- | --- |
| Features | Editor's rating |
| Comfort | ⭐⭐⭐⭐⭐ |
| Breathability | ⭐⭐⭐⭐⭐ |
| Waterproofness | ⭐⭐⭐⭐ |
| Durability | ⭐⭐⭐⭐ |
| Insulation | ⭐⭐⭐ |
How To Choose Hiking Boots For Zion?
We have highlighted the importance of hiking boots for hikes in Zion, especially on the moderate to difficult trails.
We will show some ways for you to choose the most appropriate hiking boot for hikes at Zion.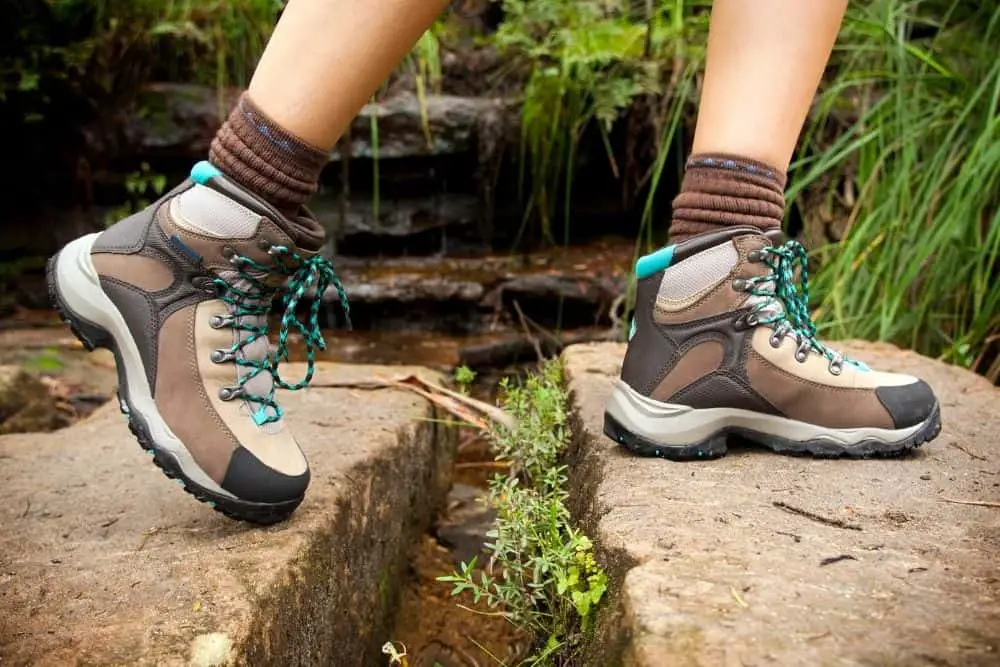 1. Waterproofness
This is an essential function for your hiking boot to possess. Why? The terrains (or trails) at Zion National Park can become wet by rain or melting snow. And when this happens, it can quickly soak up your feet on the inside.
You will have to choose hiking boots having high waterproofness. Generally, hiking boots come with two primary waterproof membranes, Gore-Tex and eVent lining. Choosing hiking boots with any of these waterproof membranes will make your hike smoother during precipitation.
In addition, you might want to consider a water-repelling material for your hiking boot upper. And full-grain leather does it best when it comes to repelling water. However, it can be pretty heavy, so we'd suggest you go for synthetics like Denier Nylon material in the upper.
2. Breathability
In Zion, summertime is pretty much the longest season throughout the entire year. And this will make having breathable outfits a top priority.
For you to spot highly breathable hiking boots with moisture-wicking properties is pretty easy, with some tips. First off, you need hiking boots with appropriate vented holes and eyelets to allow proper airflow.
Then, you need a moisture-wicking material in the upper. As our expert advice, we would recommend that you find hiking boots with nubuck leather or mesh fabric material. Both of these materials have proven to be highly reliable and efficient breathable designs.
3. High Traction
This has to do with the slip resistance of your hiking boots. Trust us; you need the best you can find when hiking in Zion, especially during icy seasons. After that, the trails would become slippery, and falling can be dangerous.
For starters, the most recommendable hiking boots with superior traction are the ones with rubber outsoles. Furthermore, you might want to go for carbon rubber outsoles because this type has proven excellent at providing high traction.
Then, you need to ensure that your choice of hiking boots is one with enough scattered tread patterns underneath. Not only that, the hiking boot needs to have deep grooves under the outsoles to create enough friction needed to prevent falls.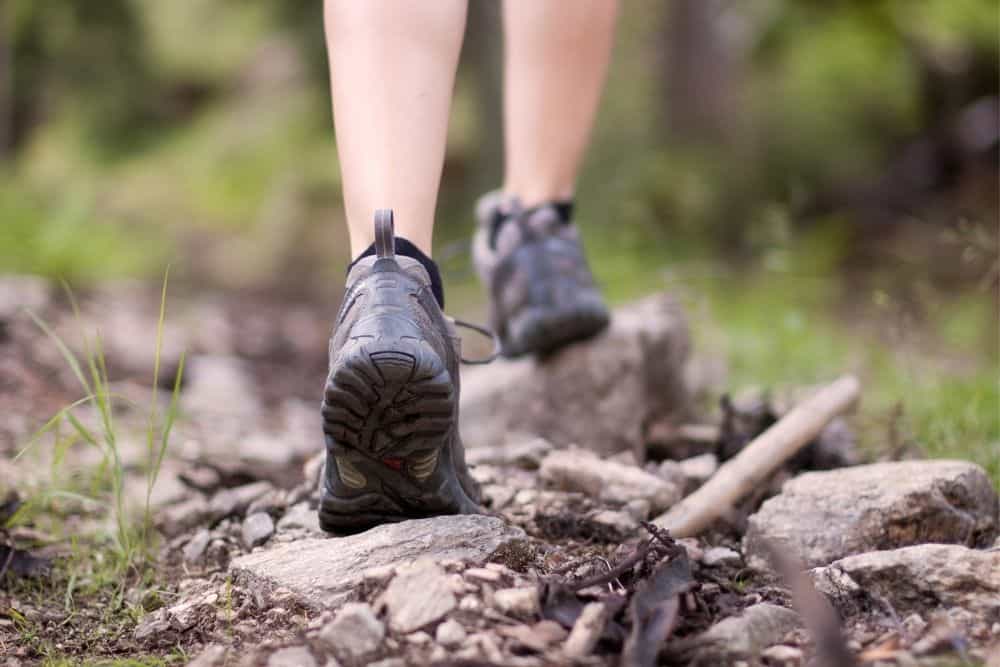 4. Comfortability
This hiking boot function is just as essential as high traction for hikes in Zion and generally. Although hiking can be tough, your foot doesn't need to feel it while inside a boot.
What this means is that you need the best comfort-providing designs you can find in your hiking boots. Generally, EVA and PU materials have proven to be the best for hiking boots' interior comfort.
These materials cushion the feet properly and form a well-molded footbed for you. Although both cushioning materials are excellent, EVA designs tend to do it for us better when we hike at Zion. So, as advice, you might want to consider picking EVA or even PU interior cushioning designs.
5. Weight
While hiking, the weight of your footwear plays a significant role in determining how far you will hike without getting tired. And you do not want to have hiking boots that weigh heavily on your feet.
Plus, you need to know that several other features affect the overall weight of your hiking boot. For instance, the type of upper material and the presence of insulating materials.
Although the perfect hiking boot weight differs between hikers, we have been able to figure out the average your footwear should weigh. We recommend hiking boots weighing 3 lbs and a few ounces – nothing more, else they will become too heavy.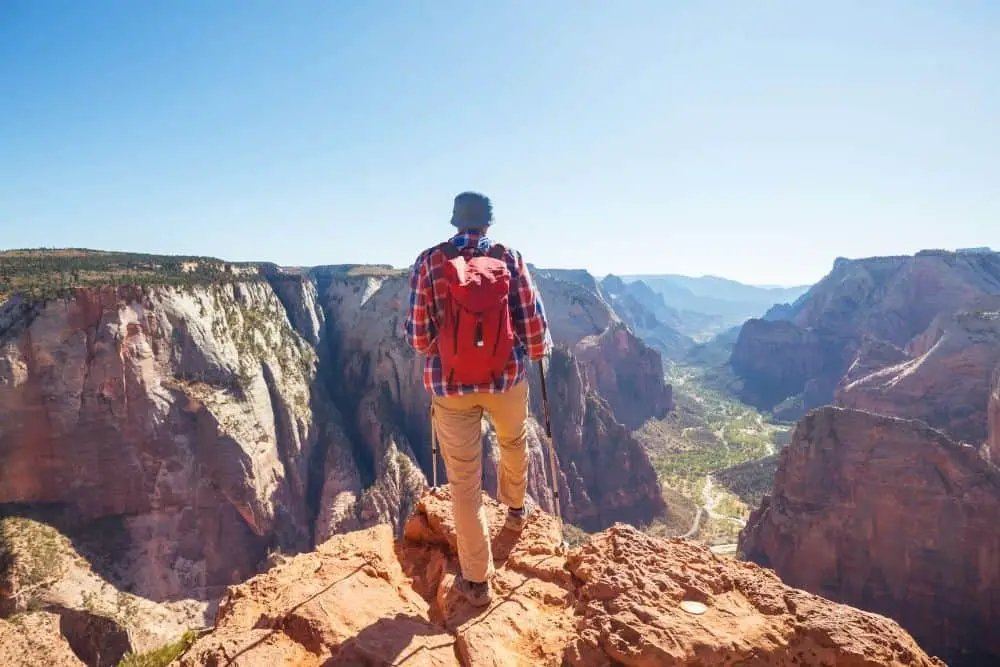 6. The Right Size
We know a lot of online shopping goes on these days, and it prevents you from trying on your boots before purchasing. However, you need to ensure your desired hiking boot is your perfect size for those buying through physical stores.
How? First off, the hiking boot will fit snugly to your feet – meaning your foot would not easily dance around in the shoe. Then, the toe box should be big enough for you to wiggle your toes around.
Failure to get the right size of hiking boots for your feet might result in bruises and blisters while hiking in Zion.
7. Durability
Do you want long-lasting hiking boots? If yes, then you want to look closely at this. Generally, hiking boots are durable (to some extent). But, there are ways to improve on this durability.
First off, in the upper part, the most recommendable materials with high durability are leather (full-grain, nubuck, split-grain), synthetics, and mesh. In fact, synthetics (Denier Nylon) and leather (full-grain) are presumably the most durable.
Then, for the outsoles, rubber is the only advisable material. It is strong, durable, and has high traction properties. Regardless, always check that the seamless construction or stitching together of both upper and outsoles are appropriate and without flaw before purchasing.
Read more: Do I Need Hiking Boots for Smoky Mountains?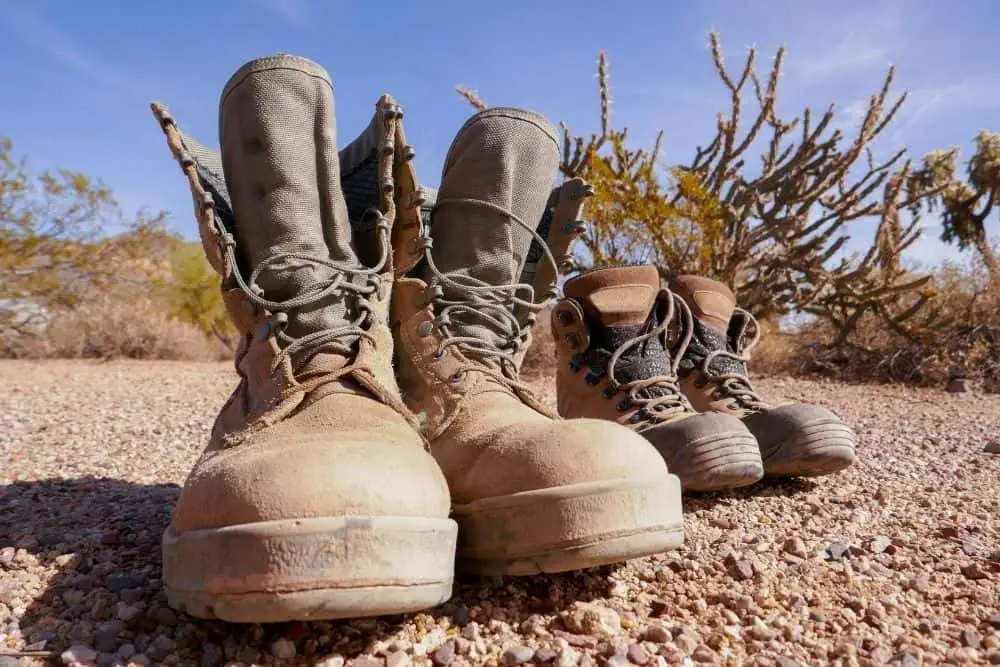 Free Tips For Hikers Going To Zion
Before setting out to Zion National Park for your hiking adventure, there are a few things you might want to know. Based on our time at Zion National Park, we have come up with a few things to make your hike there much more enjoyable.
You might want to consider getting wet in the narrows.
Be careful of the Virgin River as it has some toxic cyanobacteria.
Have a ranger with you on your hike.
Avoid littering the park's environment.
Keep a reasonable distance between yourself and wildlife.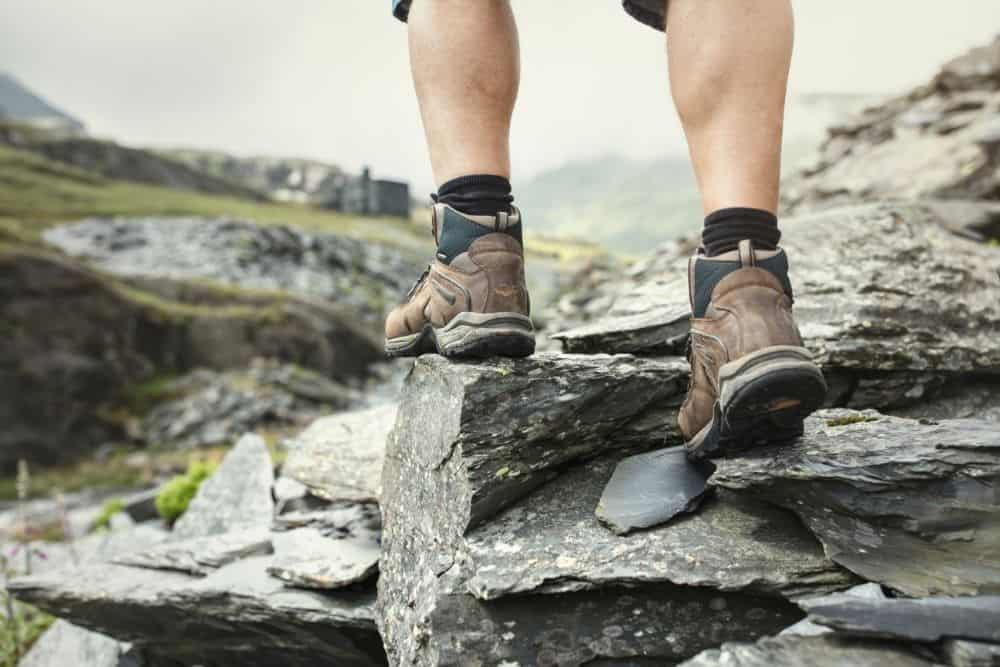 What do you need to hike in Zion?
For your hike in Zion National Park to be a success and exciting, there are several things you will need. These things will help your hike become easier and better.
Sunscreen.
Bottle water – lots of it.
Hiking boots, of course.
Food.
Clothing – breathable for summer and layers for the winter.
Your National Park passes or entry fee.
Camera.
Flashlight.
EpiPen for known bee sting allergy.
Hat or cap.
https://www.youtube.com/watch?v=OGjG_c9LP1E
What you shouldn't miss in Zion National Park?
If you plan on having a memorable hike experience in Zion National Park, then there are things you must try out. First off, we would advise that you see the beautiful river and stand on majestic cliffs.  Nevertheless, let's see other things that you shouldn't miss.
The Zion-mount Carmel tunnel.
The overlooking Canyon trail.
Weeping Rock.
Riverside Walk.
Emerald Pools Trail.
Angels Landing.
Court of Patriarchs.
Pa'rus Trail.
The Narrows.
Checkerboard Mesa.
https://www.youtube.com/watch?v=OGjG_c9LP1E
Is Zion a hard hike?
For us, this is pretty much preferential and may vary with different hikers. But, we can confirm that there are some easy, moderate, and strenuous (or hard) trails in Zion National Park.
Can you generally classify hiking at Zion as hard? No. But, that doesn't disregard that some hiking trails there will test your physical endurance to the limits. Some common examples of "hard hikes" in Zion include;
Angels Landing.
The West Rim Trail.
Observation Point.
The Narrows.
 The Subway
What is the easiest hike in Zion National Park?
Sometimes you might just want to take a stroll or learn how to hike a mountain. Well, trust that Zion National Park has a trail for you.
The easiest hike in Zion National Park depends on the hiker. For some hikers, they might say the Lower Emerald Pools. However, we feel a little different.
We rank the Water Canyons as one of the easiest hikes in Zion. Why? It has less rugged terrain, the round trip is only 1.2 miles, and you can spend 30 minutes hiking here. Other easy hikes in Zion from our perspective include;
Northgate Peaks.
West Bank of the Virgin River.
The Watchman.
What are the best hikes in Zion National Park?
Here's the truth; while in Zion, you will encounter stunning views and gather unique experiences. Some of the trails will even cause you to start planning your next hike journey while still hiking.
While we were hiking on different trails in Zion, we discovered a few that we truly loved. Not only us, but our entire hiking team also found these specific trails exciting as well. So, from our experience, the best hikes in Zion include;
The Narrows.
Angels Landing.
Weeping Rock.
Emerald Pools Trail.
Hidden Canyon.
Top 3 Hiking Boots For Zion
We earlier gave you a guide on "how to choose" hiking boots. Well, this time, we decided to provide you with our top three choices.
From customers' experience, while using these boots in Zion National Park, we were able to identify the top picks.
1. Skechers Segment-Garnet Hiking Boot
Last update on 2023-05-12 / Affiliate links / Images from Amazon Product Advertising API
Pros
100% leather-made hiking boots.
It sports a highly comfortable air-cooled memory foam.
High traction non-slip synthetic outsole.
Mid-cut hiking boots for Zion trails.
Cons
This hiking lacks insulation for winter hikes in Zion.
Users have complained about the boot running larger than normal.
The Skechers Segment-Garnet hiking boot is a full leather-made and designed footwear. And according to several hikers' reviews, you will notice that the leather has a highly durable build for hikes in Zion National Park.
Also, you would expect low traction from these boots' synthetic outsole, but that's not the case. In fact, the slip resistance on this boot has gotten high praise from several users, and they term it reliable. In addition, this hiking boot at mid-cut height is perfect for Zion.
Then, in terms of interior comfort for your feet, while you hike, the Segment-Garnet boots come with in-built air-cooled memory foam. This feature has helped several users find comfort even on the rocky trails of Zion.
However, this hiking boot isn't the most ideal for winter. Why? It fails to provide insulating capabilities for the cold, and the interior warmth isn't enough. Plus, many users have stated that this boot's size is larger than normal.
2. CC-Los Hiking Boot 
Pros
It sports a super comfortable advanced memory foam cushioning midsole.
High-performance waterproof technology.
100% premium leather and mesh material designs.
Non-slip rubber outsole for ultimate traction.
It has shock-absorbing capabilities.
Con
Multiple complaints from users about this boot's durability.
The CC-Los hiking boot comes with superior 100% leather and mesh materials in its upper. And although it isn't the most durable part of this hiking boot, it does an excellent job at being waterproof.
In addition, this hiking boot comes with a high-performance waterproof membrane that prevents water leaks into the boot. And according to customers' reviews, they haven't experienced issues with the waterproofing design.
Furthermore, the provided foot comfort in this hiking boot is by the advanced memory foam cushioning technology. Which users have commended this boot for having. Plus, you are sure to remain on your feet due to the non-slip rubber outsoles having scattered tread patterns and deep grooves.
However, buying this hiking boot from CC-Los means you might be setting yourself up for failed durability. Everything else works in this boot except for being durable – meaning you will get only about one or two hikes with it. Aside from that, it's a great boot with superb shock-absorbing capability.
3. KEEN Voyageur-M Hiking Boot
Sale
Last update on 2023-05-12 / Affiliate links / Images from Amazon Product Advertising API
Pros
100% leather material design.
It comes with a unique metatomical EVA footbed.
Non-slip, non-marking high traction rubber outsoles.
Highly breathable hiking boots for the summer.
Cons
Extremely questionable durability as many users have raised complaints.
The waterproof feature of this hiking boot is average to subpar.
The KEEN Voyageur-M hiking boot comes with a premium 100% leather material in the upper part. Then, in the lower (or outsole), it features a superior non-slip and non-marking rubber design.
The rubber outsole coupled with the deep grooves and tread patterns makes this hiking boot possess high traction on slippery surfaces. Also, you find this hiking boot is pretty comfortable.
The manufacturers of this hiking boot have added a metatomical EVA footbed that will mold your feet just right to provide comfort. In addition, during the summer, the highly breathable design helps to wick moisture from feet quickly.
However, this hiking boot isn't the best waterproof footwear on the market – it performs below average. Then, its claimed durability by KEEN is questionable. Several customers have complained about theirs falling out after a couple of uses.
Conclusion
Do I Need hiking boots for Zion? Well, as much as this question sparks a lot of conflicting answers, we hope we have been able to make things much more straightforward for you.
You can refer to this article when you have conflicting answers with a fellow hiker about the need for hiking boots at Zion.
We have stated the features of hiking boots that make them suitable and unsuitable for hikes at Zion National Park.