Joshua Tree National Park tells a tale of resilience and survival. The 794,000 acres park sits between Riverside County and San Bernardino County and provides habitat for numerous insects, reptiles, and mammals.
It is a great location for hiking, climbing, photography, and so on. When going to Joshua Tree, you need to be just as tough—at least look at it—because of the rugged topography.
Packing is an important part of hiking Joshua Tree. From sunscreen to bug spray and a bottle of water, you need a long list of itineraries for your backpack. However, should you also worry about hiking boots for Joshua Tree?
Keep reading to know if you need hiking boots for this fun adventure and see our top picks.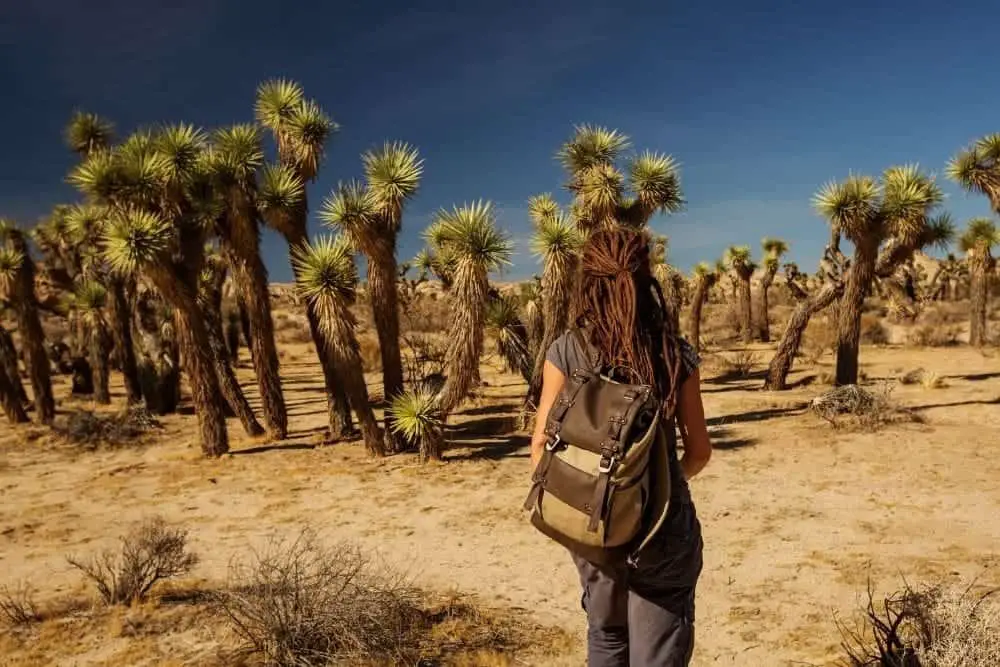 Everything you need to know about Joshua Tree
Joshua Tree National Park encompasses part of Colorado and the Mojave Desert. San Bernardino Mountains sits on the southwest end, opening into a vast expanse of wilderness.
The North and West entrance off Interstate 62 opens into the Mojave Desert side of the park while the Colorado Desert is at the southeastern entrance, off Interstate 10.
Its terrain is totally different from what you will find in other parks in the United States. Therefore, your hiking or camping needs will be slightly different.
The topography and the weather of Joshua Tree can be extremely harsh at some times of the year. Understanding the prevailing conditions in this place facilitates better planning. Below are insights on what you should expect when hiking Joshua Tree.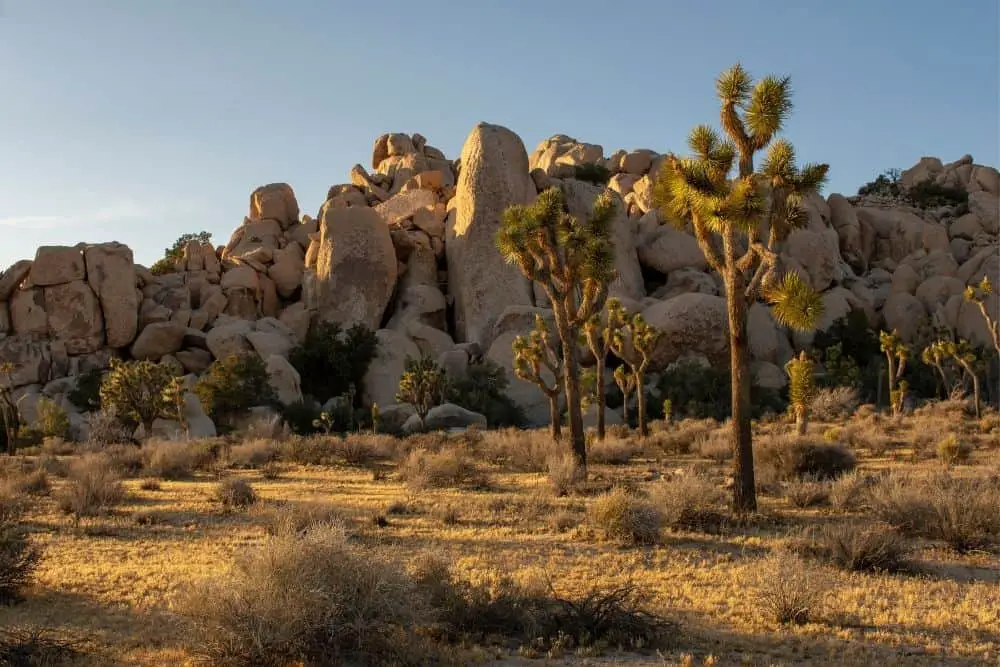 1. Weather
The weather of Joshua Tree National Park tends to be on the high side—although it snows here sometimes too. During summer peaks, the temperature can exceed 100°F. Average temperatures are usually in excess of 80°F during the summer months and 50°F in winter.
If you are visiting this location in the summer, sunscreen is an important accessory that will definitely come in handy. Apply it to every exposed part of your body. Also, you will need to wear light-colored, loose-fitting clothes and a hat. Bring lots of water too.
The winter seasons can get really cold. It is not surprising that the park sees fewer visitors at this time of the year. Winter evenings can get really cold. Therefore, make sure you pack warm clothes and extra accessories if you are camping.
The weather can change by 40°F within 24 hours. In terms of weather, Joshua Tree is most comfortable in the months of October to November (fall) and March to May (spring).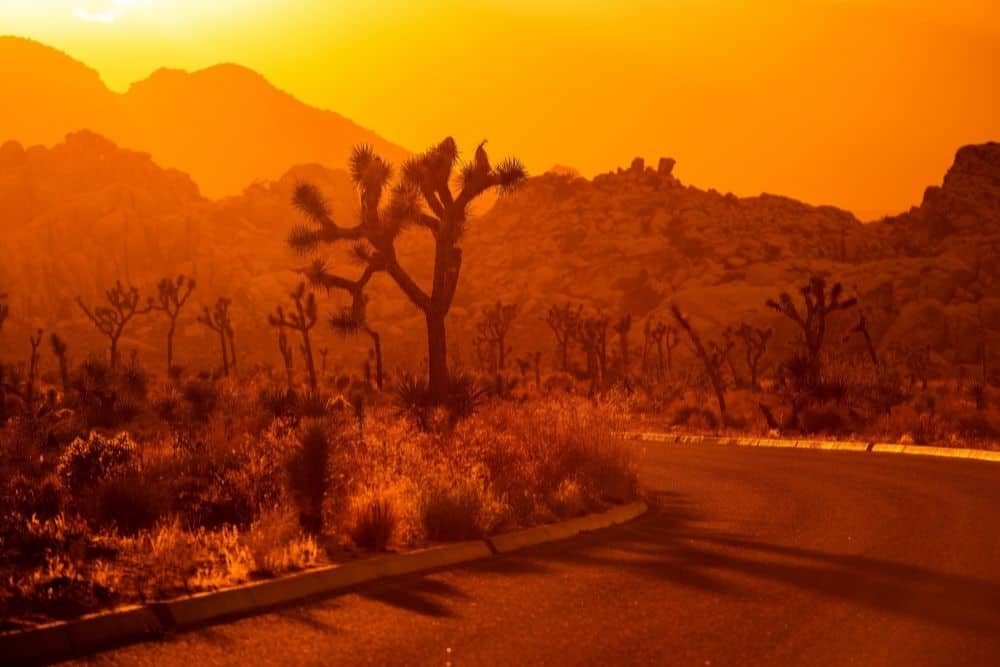 Some information is referred to Weatherspark
2. Flora and Fauna
Joshua Tree National Park houses fifty-seven mammal species, especially small ones. The scarcity of water in the desert makes it hard for large mammals to survive. While small animals like rodents spend the day in burrows and crevices to escape the heat, larger mammals like deer do not stray far from the spring so that they can drink daily.
You may also encounter one of 46 species of reptiles including desert tortoises, snakes, and lizards. There are over 250 species of birds in Joshua Tree making it a good destination for birdwatching. Surprisingly, you will find toads and frogs here too. They are the only amphibian species here.
If you are camping in Joshua Tree, it is highly likely that you will encounter friendly insects like butterflies or venomous scorpions and tarantulas.
Plants in Joshua Tree like Aloe Vera, Yucca brevifolia, and Prickly pear are usually adapted for desert climates. To minimize transpiration, their leaves are reduced to spines. Therefore, it is important to wear long pants to avoid getting scars from the spikes.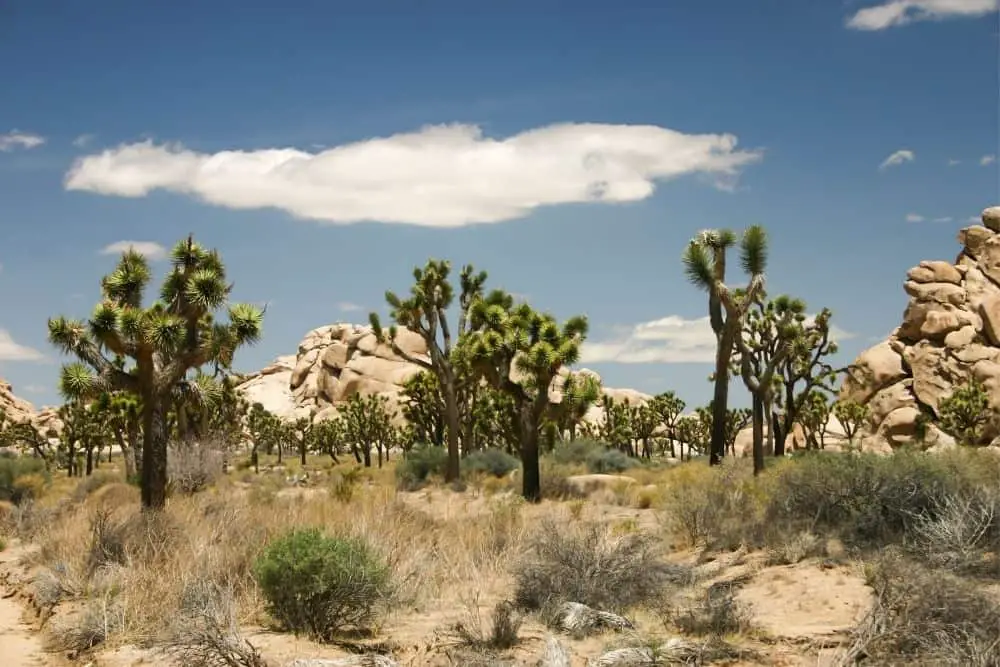 3. Terrain
The topographical feature that is dominant here is hills of bare rocks broken into boulders. They provide the perfect location for rock climbers. Between the hills, you will find flatlands with a sparse population of Joshua trees—where this park got its name from.
Pinto gneiss is among the oldest rocks in this area and is over a billion years old. It has thousands of climbing routes with varying difficulty, suitable for climbers of all levels.
To protect sensitive wildlife, some of the routes are closed in certain seasons while other routes are permanently closed. Zombie Woof Rock, Energy Crisis, and Lonely Stones Area #3 are among the permanently closed bouldering and climbing routes.
Warren Peak Trail, Ryan Mountain Trail, and Hidden Valley Nature Trail are among the best hiking routes in Joshua Tree because they provide unique scenes and views. Warren Peak Trail in the park's northwest corner stretches 6 miles making it the longest of the three.
To get to the summit of Warren Peak Trail, you have to meander through a steep, rugged climb. Getting to the top, you will be rewarded with a panoramic view of the Mojave Desert.
The trail is sandy with minimal rocks. Warren Peak Trail is among the challenging hikes and not suitable for beginners.
Hidden Valley Nature Trail is both for beginners and the shortest of the three most popular hikes in Joshua Tree. It features a valley enclosed by rock which was once said to be a route for cattle rustlers.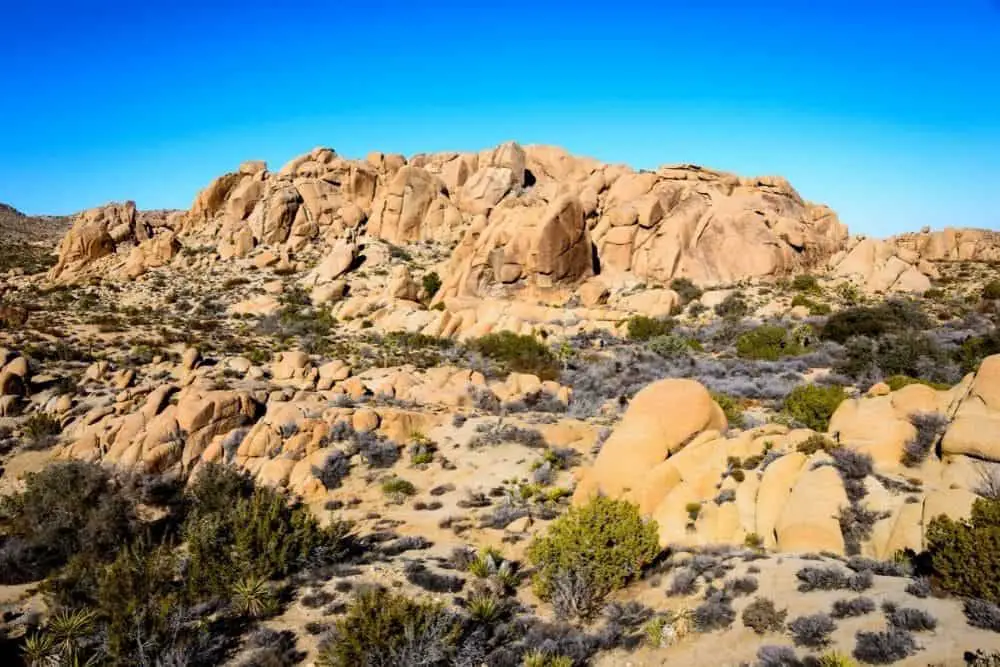 Do I need hiking boots for Joshua Tree?
Taking a trip means embracing outdoor life with lots of trekking and exploration. To easily navigate the rocky terrain and desert terrain, you will need solid hiking boots with a good grip. Climbers will need separate climbing shoes.
During summer peaks, you can substitute hiking boots with hiking sandals. Hiking sandals allows better airflow around your feet which prevents sticky feet and smelly shoes. Hiking sandals are also lighter in weight and price.
Hiking is usually a way of breaking free from the noisy city life and soaking yourself in nature. However, this should never be at the detriment of your health and safety. That is where hiking boots come in handy.
While there are different footwear for hiking, below are some of the reasons why hiking boots are better for Joshua Tree.
1. Protection for your feet
The reason why hiking boots are better than hiking sandals for Joshua Tree is because of the rough terrain and spiky plants. When you wear anything outside hiking boots, you risk having something sharp in your foot—especially Cholla.
Cholla is a native southwestern United States cactus that has a cylindrical stem. It is fondly called 'jumping cactus' because if a spike pricks you, the entire bulb will go along with it—and it's really painful.
Besides the spiky plants, you need to be worried about the snakes, scorpions, and tarantulas. Therefore, while there are myriads of other options when it comes to footwear, you will be safest with hiking boots.
Hiking boots can be made of split-grain leather, full-grain leather, Nubuck leather, membrane mesh, or synthetics.
Mesh membrane shoes are waterproof and dries quickly making them the ideal hiking boot for Joshua Tree in the rainy season when you want your feet to stay dry. However, they are only breathable when the temperature gradient between the outside and the inside of the shoe is high. The major setback with membrane shoes is their short lifespan.
Split-grain leather, on the other hand, is obtained from the mixture of synthetic material and leather. The mixture results in a material that is breathable but less water resistant compared to full-grain leather.
That is not all, hiking boots usually have a high cut shaft that wraps above the ankle to provide maximum support. With stiffer, more rugged midsoles and reinforced rubber at the toe and heels, this is perfect for the tough terrains of Joshua Tree. The reinforced rubber protects your toes when you strike your foot against a rock.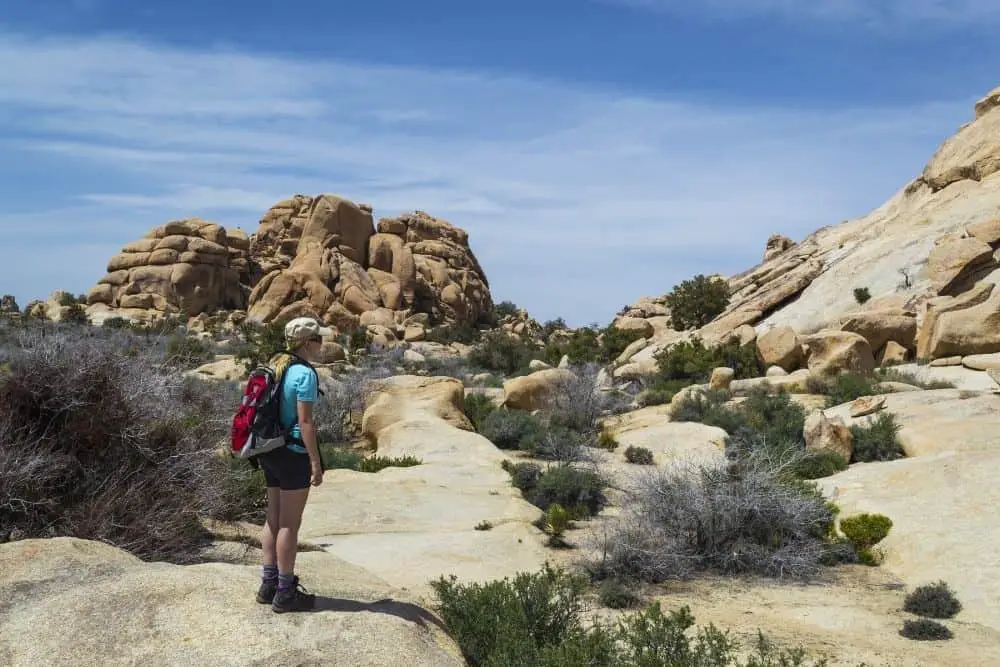 2. Improved grip on surfaces
Joshua Tree National Park has diverse terrain. The right hiking boot provides a better grip that keeps you stable. Wearing a hiking boot can be the difference between running down a hill and tipping over.
To improve your grip on surfaces, you need to look out for the outsoles. While all hiking boot outsoles are made of rubber, some have additives like carbon to boost hardness. Hiking boots usually come in different sole designs for different surfaces.
Depending on the terrain you plan to hike, you also need to pay attention to the lug pattern. Deeper and denser lugs are good for mountaineering and backpacking boots because they improve grip.
On the other hand, if you are hiking on a muddy surface, you will need a boot with widely spaced lugs. This is because it is easier for them to shed the mud so that your boot doesn't feel like a deadweight.
When hiking a mountainous trail like Ryan Mountain, you will need a hiking boot with heel brake. This clearly-defined heel zone lowers your chance of sliding when descending a steep slope.
Therefore, it is important to study the trail that you will be hiking and choose a hiking boot with the right grip for the terrain.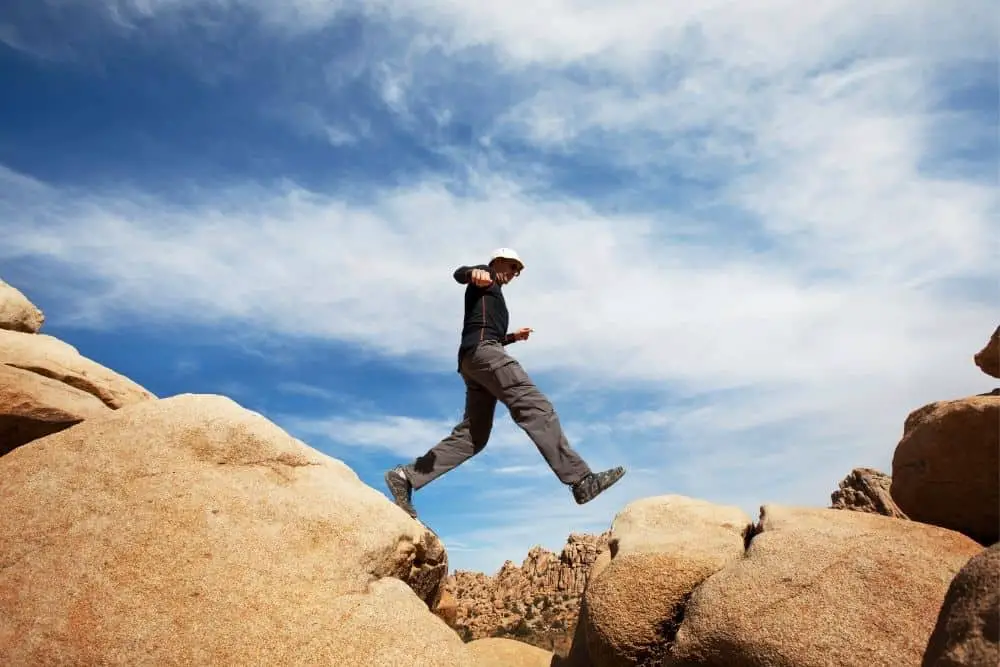 3. Cushioning for your heel
Walking for long hours can put pressure on your heel leading to a burning sensation. The feeling is worse if you walk on hot surfaces like you will find in Joshua Tree.
Hiking boots come with thick soles that insulate your feet from the heat of the ground. Some come with flexible, soft soles that make them more comfortable for hiking.
4. Maintaining foot temperature
Hiking boots are either made with insulators for use in cold regions or with breathable material (mesh lining, full grain leather, suede or high denier nylon) for use in hotter regions like Joshua Tree. Thus, you can easily choose a hiking boot that fits into your hiking trail.
The more comfortable your feet feel, the further you can go. This feature also prevents more serious health conditions like frostbite and smelly feet.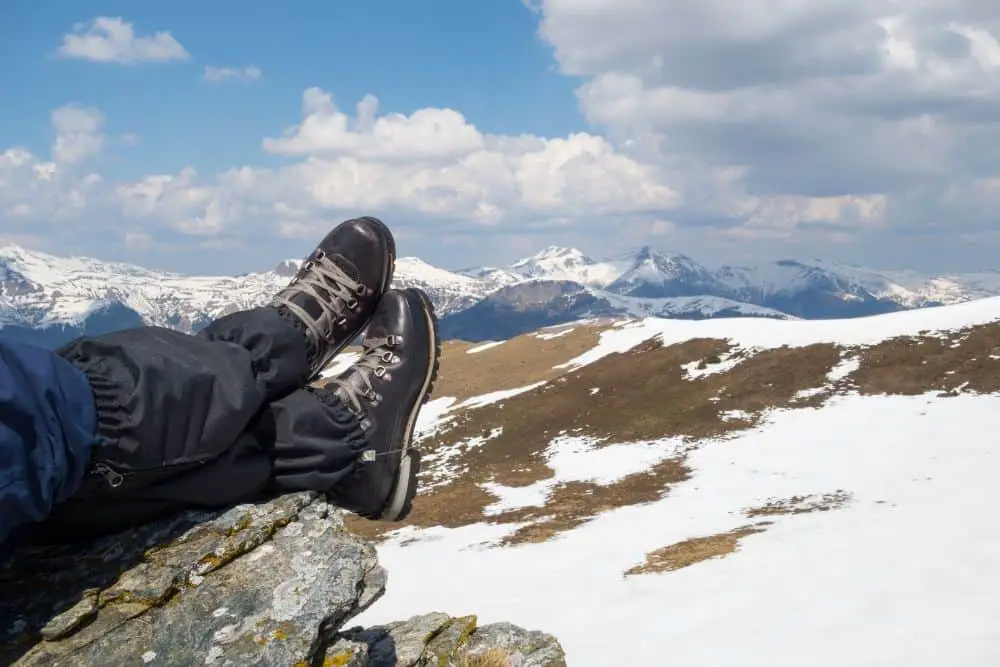 5. Lightweight
Hiking boots are mostly made to be lightweight for shorter overnight backpacking and day hikes. Lighter hiking boots increase your efficiency to cover more ground.
When hiking through really tough and rugged terrain like Fortynine Palms Oasis, heavier boots help to absorb heavy load shocks on rocky ground and support your feet in the right places.
Hiking boots are often very diverse when it comes to weight, you will have a lot of different choices for your journey.
6. Good foot and ankle support
Irrespective of design and outward appeal, hiking boots are designed to provide foot and ankle support—and this is where they differ from hiking shoes.
Hiking shoes have low-cut and flexible midsoles. Inasmuch as it protects the feet, it doesn't offer enough protection for the ankle.
Day hiking boots can be mid- or high-cut. They offer support for the ankle really well.
If the road ahead is rough and uneven, hiking boots with a height of more than 5.5 inches are the number one choice. They provide excellent protection and support to your ankles.
How to choose hiking boots for Joshua Tree
A good hiking experience begins with happy feet. When it comes to choosing the right hiking boot, aesthetics alone is not enough. Your dream hiking boot needs to be suitable for your hiking location. They need to be the perfect fit too.
While there are many types of boots out there, not all of them are suitable for hiking Joshua Tree. However, the numerous choices can make it difficult for you to make a decision. Below are some of the features that you should look out for when picking your Joshua Tree hiking boot.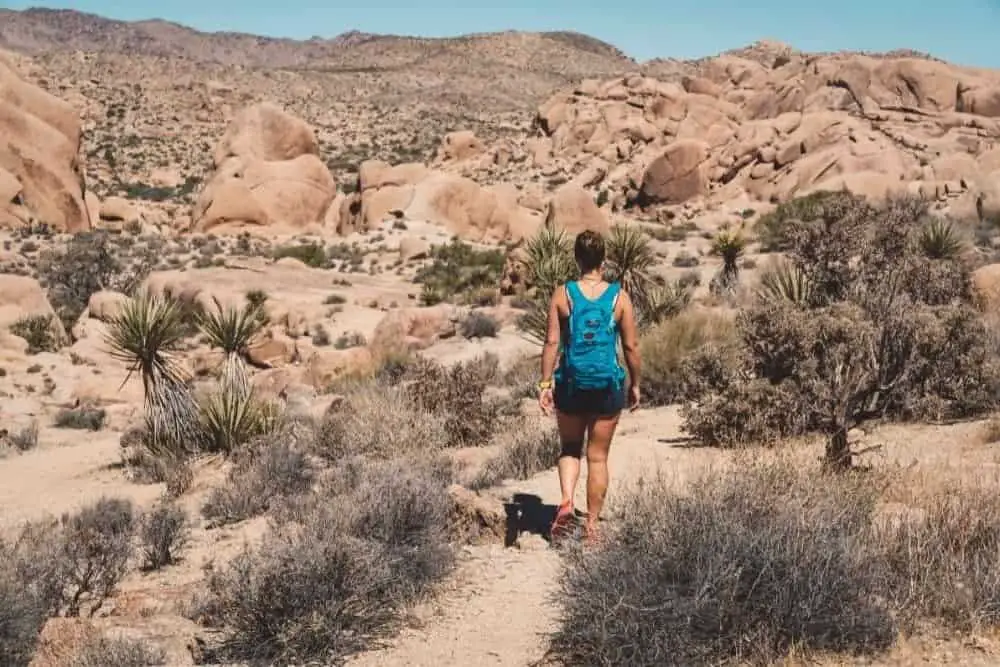 1. Comfort
Hiking boots for Joshua Tree should have a snug fit and that entails knowing your size. They should not be tight on any area and give room for wiggling your toes. Make sure you try them on with your hiking socks.
Considering the rough terrain of Joshua Tree National Park, a comfortable hiking boot can be the difference between walking two miles and stopping at one.
The foot swells at the end of the day making it the best time to test your shoe. The last thing you need is to buy a boot that is too small. Spend time in the new boot, stroll the length of the store, up and down the stairs, and inclined surfaces.
For increased comfort, look for boots with better cushioning and shock-absorbing soles.
If you are shopping for your hiking boot online, it's important to stick with familiar brands whose products you trust. If your shoe fits but is uncomfortable, consider changing the way you tie your lace.
2. Protection
The amount of protection that hiking boots deliver will depend largely on the type of material that was used. The material will also determine their weight, water resistance, durability, and breathability.
The materials usually used in the manufacture of hiking boots include full-grain leather, synthetics, suede, waterproof-breathable membranes, and mesh.
Mesh is highly breathable, thus, better for hiking Joshua Tree, but they are less durable. Full-grain leather is the least breathable and heaviest of all the options.
While it is important to wear a thick boot for adequate protection from predatory insects and reptiles, you also need a breathable boot to withstand the scorching heat of Joshua Tree.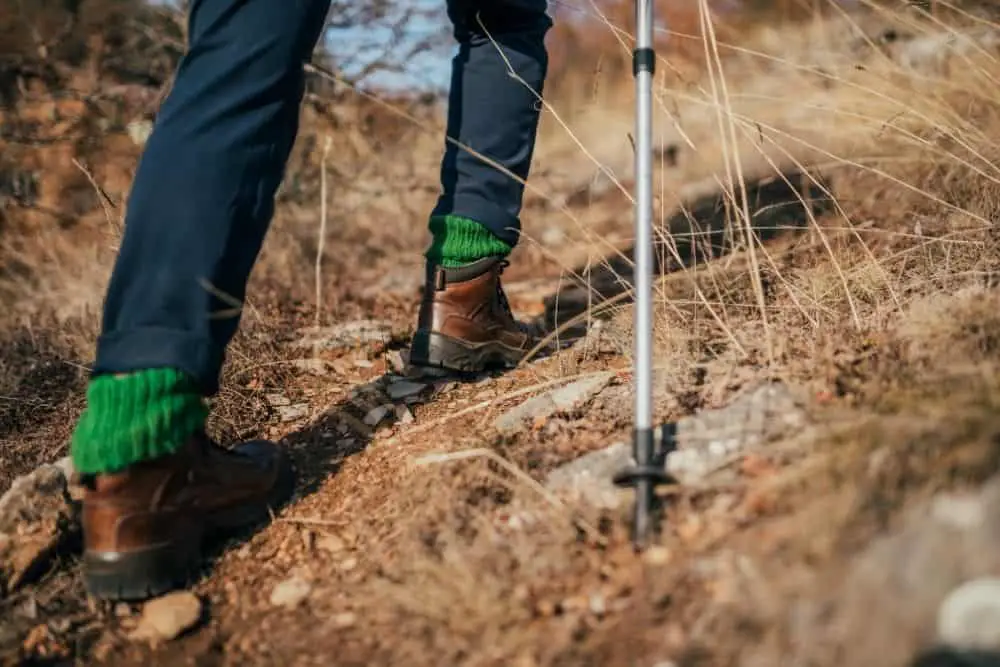 3. Traction
Rock surfaces can be slippery—and Joshua Tree has lots of them—which explains why you need a hiking boot with good traction. The performance of different soles varies depending on the surface. Thus, matching the traction with the terrain is crucial for a successful hike.
For example, rubber soles stick to rocks to enhance your balance but will have you sliding in mud or snow. Likewise, lugs on hiking boots dig into downhill trails to keep you steady but are hopeless on smooth rocks.
Determine the terrain you are about to overcome and the environmental conditions there and choose the most suitable outsoles.
4. Waterproofness
Although Joshua Tree is mostly dry it still gets an average of 8 inches of rain annually. This is nothing compared to the 38 inches national average. Peak rainfall is usually in February with an average of about 1 inch of rainfall throughout.
Therefore, if you are hiking Joshua Tree around this time, you will need waterproof hiking boots. Hiking boots made of leather or suede are usually the least on the waterproofing scale.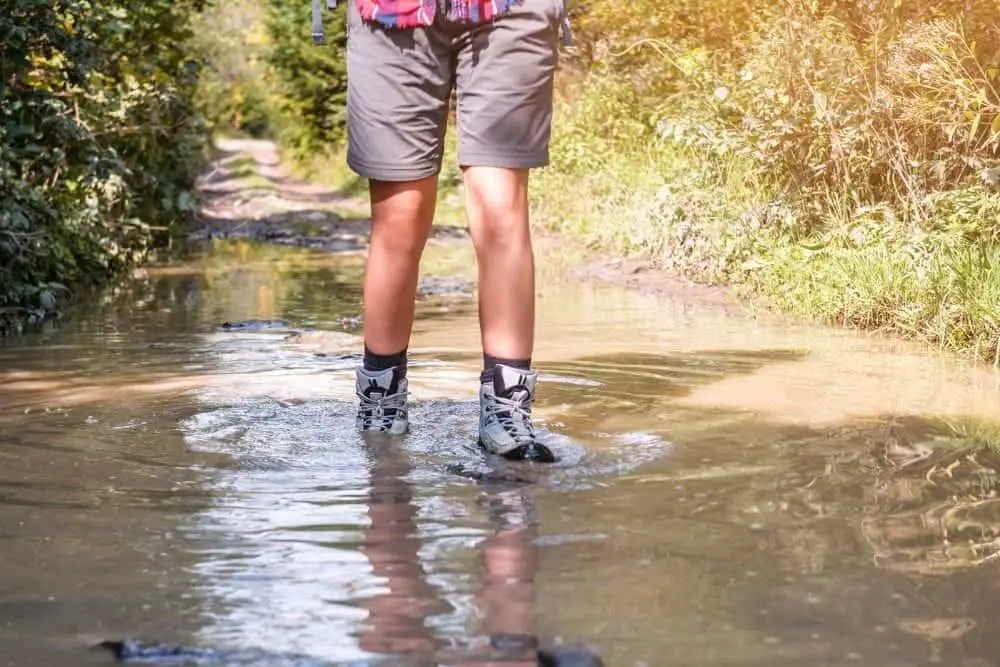 5. Breathability
Since the temperature of Joshua Tree is mostly high, there is an increased likelihood that your feet can get sweaty. Sweaty feet can lead to more serious health issues like toenail fungus, athlete's foot, and foot odor.
Therefore, if you are going to choose a hiking trail of over 1 mile, the smart thing to do would be to wear breathable hiking boots. In addition to protection, they allow your feet to stay cool and dry during long hiking hours.
You can find hiking boots that have mesh or nylon on uppers, they offer greater breathability than one that is made entirely of leather.
6. Durability
It is heartbreaking to spend your hard-earned money on hiking boots only for them to become useless after one hike. In other words, everyone wants to have hiking boots that last long enough to pay for their cost.
Durability is usually tied to the type of material used in the manufacture of the hiking boot. Below are the materials used in the manufacture of hiking boots and how they can affect its durability.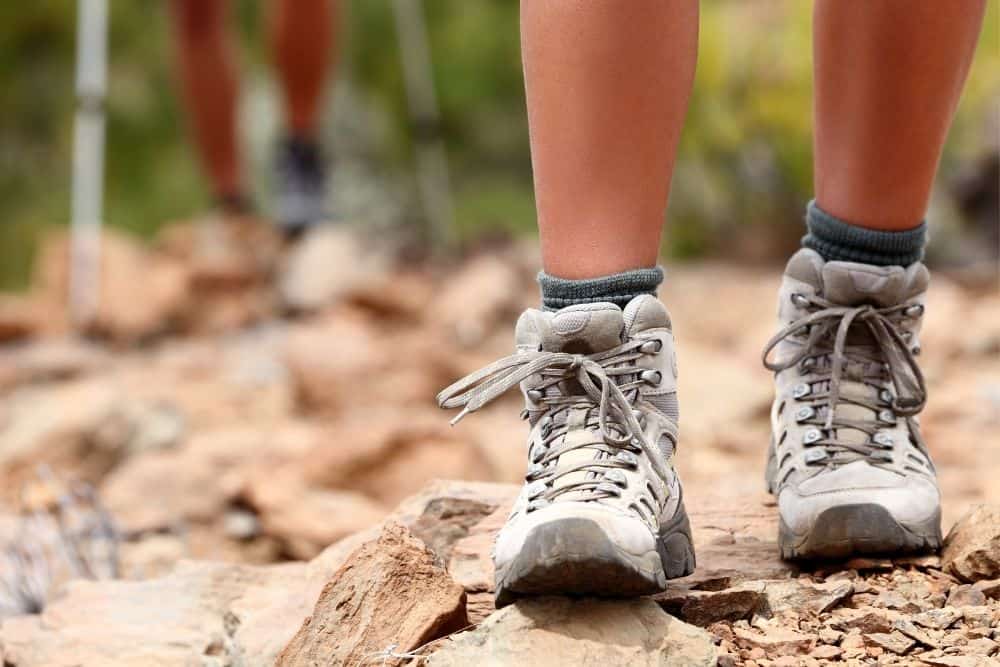 Split-grain leather
Made by mixing synthetic material and leather to give highly breathable boots that are great for hiking Joshua Tree in the summer. However it is less water-resistant.
Full-grain leather
Boots made of full-grain leather are more durable making it the choice of most hikers. In fact, most boots designed for mountaineering are made from full-grain leather. It is also the most durable.
Nubuck leather
Sometimes, full-grain leather is buffed to give a suede appearance. This makes them more abrasion and water resistant. They become fairly flexible and more durable too.
Mesh membrane
The biggest advantage of mesh boots is waterproofing. They help keep your feet dry during the rainy season and also have high impact resistance.
Synthetic
Modern boots often make use of nylon and polyester which are lighter than leather, dry faster and usually less expensive. However, they are nearly not as durable as the rest of the pack.
A hiking booth that combines leather, mesh, and nylon will satisfy both breathability and durability.
It is also important to mention that the durability of your hiking boots can be greatly reduced if you fail to follow manufacturer instructions regarding cleaning and storage.
Above are all the properties of the materials commonly used to make hiking boots. Once again, determine the environmental and terrain conditions you are about to face in Joshua Tree and choose the most suitable hiking boots—they will be your companion in the long term.
7. Weight
On average, hiking boots for Joshua Tree should weigh 2 to 2.5 pounds. That translates to 1 to 1.25 pounds per pair.
The lighter your boots, the more distance you will cover. You probably have a lot in your backpack and weighty hiking books might just be the straw that breaks the camel's back.
Heavy boots will cause your thigh muscles to work harder in lifting your leg off the ground which may eventually lead to muscle pull if you push too hard.
Lighter boots lower the strain on your muscles. However, excessively light shoes may not be a good option too. To make boots light, the manufacturers will have to get rid of some useful protective features, especially in the soles.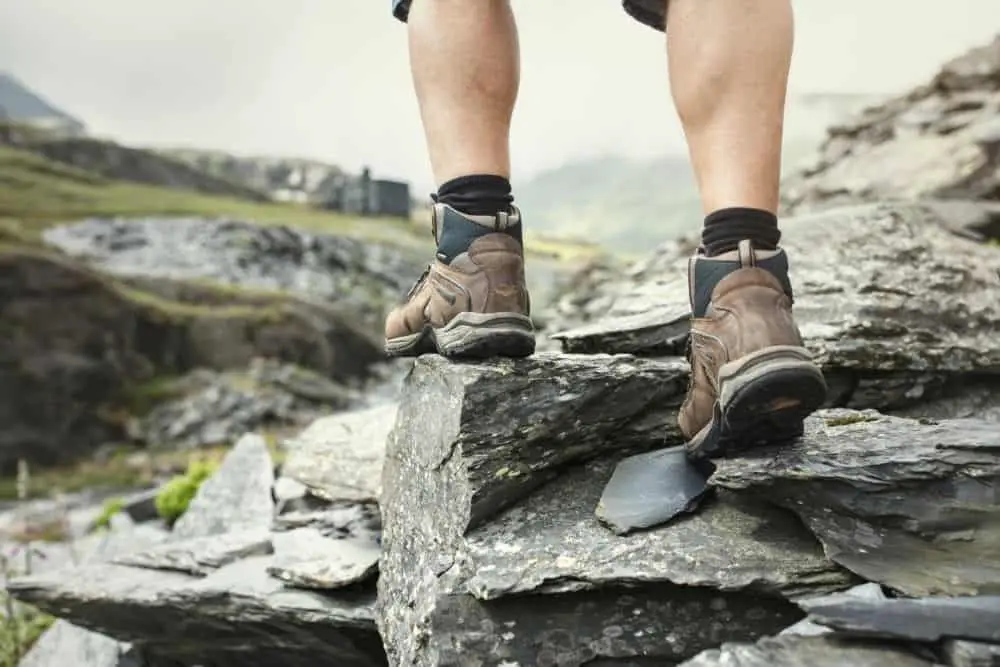 Challenges of hiking boots for Joshua Tree
While hiking boots have exciting features that make them great for Joshua Tree, they are not perfect. When you think about hiking boots, there are a few downsides that you need to consider.
1. Longer break-in period
It will take you about 80 to 100 hours to break in new boots. That means you will need to plan to get the boots a few weeks before your hike.
Moderate hikes like the Pine City which consist of fairly flat trails can last up to three hours.
If you wear your boots for the first time during such a hike without break-in, you will likely end up with blisters or sore toes.
The feeling may be worse with boots with terrible toe pinch if you hike more challenging trails like Lost Horse Loop where you will have to overcome mountainous terrain.
2. Less flexible
Hiking boots are usually stiffer with rigid outsoles compared to hiking shoes. While this is important for protecting you from bruising your feet on rough terrain, it can be an impediment towards mindful walking.
Also, footwear with thinner soles improves your ability to feel the ground which generally improves your hiking experience. Imagine the feeling of the beach sand between your toes. With hiking boots, there is a disconnect between you and the hiking trail.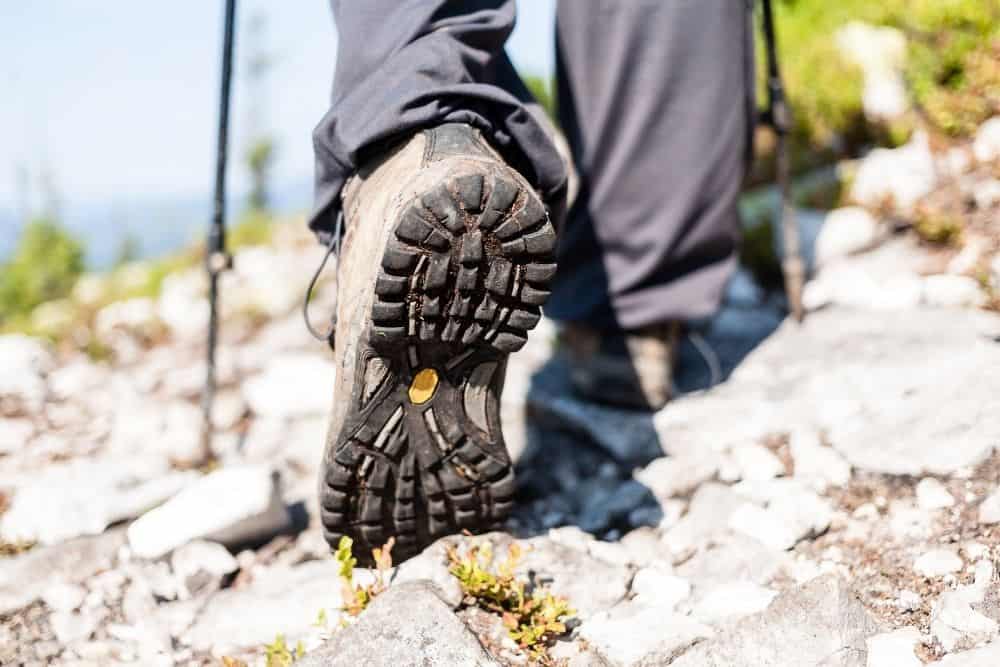 3. Costly
When you compare hiking boots and hiking shoes, the price of boots is always higher. The determination to get a hiking boot can put you under financial stress if you are already low on budget.
| | |
| --- | --- |
| Features | Editor's rating |
| Comfort | ⭐⭐⭐⭐⭐ |
| Protection | ⭐⭐⭐⭐⭐ |
| Traction | ⭐⭐⭐⭐ |
| Waterproofness | ⭐⭐⭐ |
| Breathability | ⭐⭐⭐⭐ |
| Durability | ⭐⭐⭐⭐⭐ |
| Flexibility | ⭐⭐⭐ |
Important tips for hikers
Visiting Joshua Tree for the first time can be overwhelming for an expert hiker—talk more of a beginner. It is always important to make sure you double-check your backpack to make sure you have all the essentials that you need. It is also important to:
Hike with a companion. Joshua Tree can be really confusing and you can easily get lost if you go solo. If you must go solo, tell someone the trail that you will be hiking.
 Make sure that the weather is convenient for hiking or plan according to weather changes.
Carry food and water bottles along to avoid getting dehydrated. Finding water in Joshua Tree is really tough. The closest retail outlet is in the neighboring town.
 Plan your hike so that it doesn't stretch into the sunset.
 Break big hikes with smaller ones
Go with a GPS and paper maps because even expert hikers can run into problems. It is always important to know before you go.
What should I wear to hike Joshua Tree?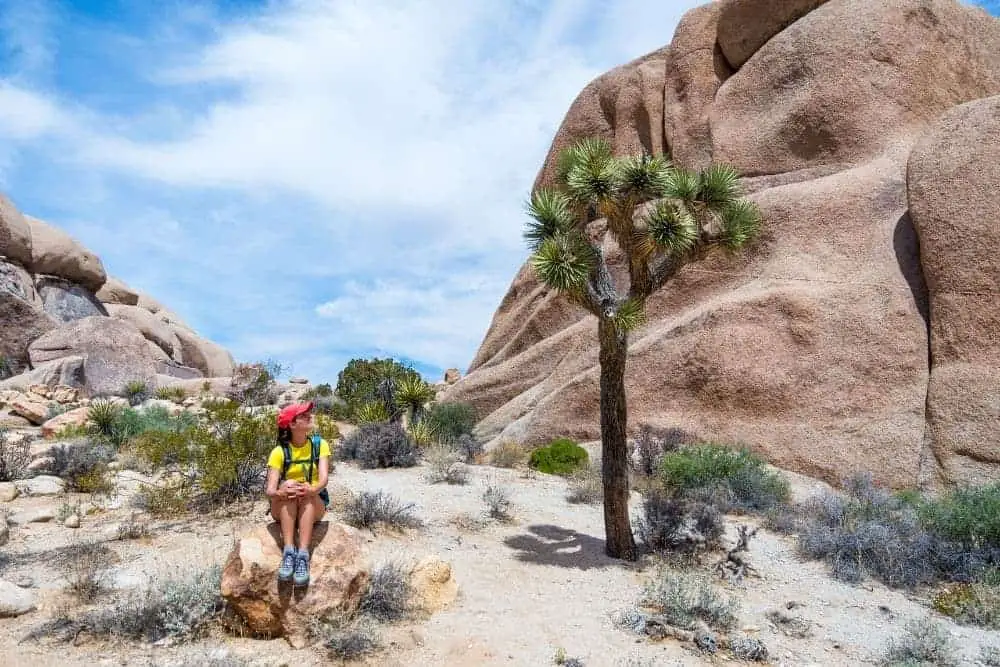 Due to the hot desert condition in Joshua Tree, you are better off with loose-fitting, bright-colored clothes with a hat.
Temperatures can drop significantly at night. Therefore, if you are hiking at night or during the winter months, bring along thick clothes and jackets. Other things you can wear depending on the weather include:
Button-down shirts. They are less likely to be figure-hugging thereby giving you room to breathe
T-shirt with moisture-wicking properties to stay cool
Jackets for cold seasons
Quick-drying underwear
Breathable rain jacket
Ball hat or sun-shield hat
Warm gloves
Synthetic or wool socks
What should you not miss in Joshua Tree?
It is true that the majority of those that visit Joshua Tree are there for hiking, climbing, or camping. However, mentioning it like that amounts to an oversimplification that can take the shine off this whimsical location. When you are visiting Joshua Tree—particularly for first-time visitors—don't fail to:
Hike the Hidden Valley Nature Trail and Day Use Area
Experience the Keys View
Visit Skull Rock
Pose at the massive Arch Rock for the gram
Explore Barker Dam Nature Trail
Camp at Belle Campground
Dare the Cholla Cactus Garden
Attempt rock climbing
Hike the Ryan Mountain
Appreciate nature through birdwatching
How long is the Joshua Tree Hike?
Joshua Tree hikes are divided into short, moderate, and hard.
Under the short category, you will find the very short Cottonwood Spring (0.1 miles) to the longer Skull Rock (1.7 miles). It will take you 10 minutes and up to 2 hours respectively to complete. This category is most suitable for beginners or those hiking for the first time.
For intermediate hikers, there is the Hi-View which is just 1.3 miles, and the longer West Side Loop that stretches 4.7 miles. It should take you about 1.5 hours and up to 4 hours respectively to complete.
The longest among the experts is California Riding and Hiking Trail. It runs for 35 miles and will take about 2 to 3 days to complete.
It is highly inadvisable to attempt this hike during the summer. Due to extreme heat, you risk dehydration.
A shorter but highly challenging hike is the 3 miles Ryan Mountain. This is one of the most popular hikes in Joshua Tree as visitors try to reach the peak of the mountain. It will take you about 2.5 hours to complete.
Some information is referred to National Park Service
Is it safe to hike Joshua Tree?
Joshua Tree is safe to hike. However, it is always important to stick to safety precautions. If you camp in Joshua Tree, the National Park Services recommends drinking a minimum of 4 liters of water daily to replace the water lost through sweat to avoid dehydration.
Also, treat every wildlife you meet as potentially dangerous. Don't try to get close to them to take pictures or pick them up. Apart from physically attacking you, some of the wildlife may carry deadly diseases like rabies, plagues, and hantavirus.
When climbing or hiking, bring two gallons of water per person and go home once you have exhausted half of your supply. Carry a compass and a map and make sure you let a friend or family member know the route that you will be taking—even if you are going with a group.
Some information is referred to National Park Service
Top 3 hiking boots for Joshua Tree
The plethora of hiking boot options means you have to spend more time trying to sift through in order to find your perfect match.
We want to make that job easier for you by presenting the top three hiking boots for Joshua Tree. We picked them for various reasons.
Let's take a look!
1. Best waterproof hiking boot for Joshua Tree
Last update on 2023-01-17 / Affiliate links / Images from Amazon Product Advertising API
Pros
Made of breathable membrane to keep your feet cool
Rubber outsoles with high traction and grip
Removable dual-density EVA footbed provides arch support
Waterproof with PFC-free water repellent treated leather.
Locked-in heel support with dynamic flexibility
Cons
Narrow footbed makes it unsuitable for people with wide feet
Durability is a source of concern
The KEEN Men's Venture comes with rubber soles which are more flexible and comfortable, it's a huge plus for rugged terrain of Skull Rock at Joshua Tree. This hiking boot will come in handy if you are hiking Joshua Tree in February during the peak of rains because it is waterproof.
Although KEEN Men's Venture is made with breathable membrane and leather, the latter is treated with PFC-free water repellant to make it waterproof. That means the same waterproofing without harmful chemicals.
KEEN all-terrain rubber outsoles are suitable for all environments, thanks to their 4mm multi-directional lugs. Thus, you can use it on muddy or rocky surfaces.
The Torsion stability External Support Shank (ESS) helps you to maintain your stability on uneven surfaces.
Some users have complained of their feet getting wet even though the boots are touted as waterproof. A few others say the outsoles pulled off after hiking for a few miles.
Perhaps, these are isolated cases that have to do with manufacturer error. KEEN Men's Venture remains an excellent hiking boot for Joshua Tree.
2. Best traction hiking boot for Joshua Tree
Last update on 2023-01-17 / Affiliate links / Images from Amazon Product Advertising API
Pros
Waterproof hiking boot with feminine design
Available in multiple colors
Lace-up closure ensures an adjustable and secure fit
Multi-terrain traction system
Breathable mesh and full-grain leather construction
Cons
Requires lengthy break-in
Too light to offer good protection
The Columbia Women's Newton Ridge pairs fancy feminine designs with advanced technology for improved comfort and durability. It features a lightweight design with durable midsoles for superior cushioning.
In addition to the aforementioned properties, it comes with advanced traction rubber soles which ensure slip-free movement in rough terrain like that of Joshua Tree.
The combination of waterproof full-grain leather and mesh bootie construction confers dual properties on this boot.
Thus, while being breathable to keep you cool as you hike through Joshua Tree, it is still highly waterproof—a property that all the customers hail to be through.
Columbia Women's Newton Ridge is not perfect. It has a terrible toe pinch that will take break-in to correct.
Also, the boot is extremely light which is both good and bad. It is good because it doesn't increase your load and helps you to feel your environment.
However, because of its extremely light nature, cholla spikes may penetrate them and hurt your feet. Regardless, the good part outweighs the bad.
3. Best protection for Joshua Tree Hiking
Last update on 2023-01-17 / Affiliate links / Images from Amazon Product Advertising API
Pros
Comes with rustproof speed lace
Covered by Timberland Limited Warranty
Features compression-molded EVA foam midsole comfort system
Eco-friendly with lug soles made from recycled rubber
Removable anti-fatigue footbed
Cons
The waterproofing claim is misleading
Durability is questionable with multiple reports of boots failing after short use
Timberland Men's White Ledge comes with thick rubber soles that provide maximum protection for your feet from the rugged terrain and spiky cactus Joshua Tree. It features a lace-up vamp and rear pull loop to help you achieve a snug fit.
Interestingly, Timberland Men's White Ledge has padded collar, removable dual density EVA footbed, and superior insulation that keeps your feet warm even when you hike on snow.
The oiled leather finish helps to improve its waterproofing ability. These features will come handy if you hike Joshua Tree in winter or camp overnight.
Lately, it appears Timberland is outsourcing their manufacturing process to companies that use inferior products.
Hence, there is a growing complaint from customers on durability. Also, you may get an awkwardly painful pinch on your toes until you break in this boot.
Timberland is made with leather which makes the waterproofing claim tricky. Managing leather is not as easy as membrane mesh.
Finally, good insulation means less breathability and increased chance of having sweaty feet when hiking Joshua Tree. Nevertheless, it is still a great product to have for hiking Joshua Tree.
Conclusion
At this point, it is obvious that you need a hiking boot for Joshua Tree. They are not optional, rather, a necessity that can determine how good or bad your hiking experience will go.
When choosing a hiking boot for Joshua Tree, it is important to pay attention to traction, protection and waterproofing, breathability, and durability.
Thankfully, we have provided steps you should follow to make it easier for you to find your perfect hiking boots.