Seeing people pair hiking boots with shorts when out on a hike is not strange at all. In fact, if you are an avid hiker, you have probably met someone donning that combo before.
Wearing hiking boots with shorts looks cool—if you do it properly. Hikers that appear on the tail in this outfit do it either as a fashion statement or as a necessity (owing to hot weather).
Well, unless you are hiking on a trail with freezing temperatures, you may be forced—or tempted—to wear shorts at some point. Let's face it, there is a form of freedom that comes with shorts. Feeling the gentle breeze on your bare skin is priceless.
Perhaps the reason why you are searching for the right way to wear hiking boots with shorts is that you have seen a few people wear them in a way that is distasteful.
Shorts are casual, but that doesn't mean you should appear on a trail looking unkempt and scared. The essence of being picky with clothes is to enhance your looks, and any combination that doesn't achieve that aim should be reviewed.
Wearing boots with shorts is tricky because everything can go wrong if you don't get it right. We don't want you to add that to your list of anxieties, which is why we have created a list that will help you wear boots and shorts like a pro.
Can hiking boots be worn with shorts?
Without mincing words, the answer is an emphatic yes. Hiking boots can be worn with shorts. While hiking in shorts is not what most hikers will want to do, there are a few benefits that come with the practice.
Shorts allows free movement and a wider range of motion compared to pants
They are more comfortable for summer hikes
Smart choice for short and warm hikes with easy to moderate difficulty
Gives your legs room to breathe and stay dry
However, you must put a lot of thought into the styling to keep it presentable. Firstly, you need to consider the weather, the nature of the terrain, the type of boots (low-cut, mid-cut, or high-cut), the material of the shorts, and how long you will be spending outdoors.
Stepping out in the wrong outfit is a recipe for a disastrous hiking experience—you will hardly enjoy your hike if you don't feel good and confident about your appearance. This is because there are a number of downsides to wearing shorts on a hike including;
Lack of protection for your legs
Less versatile than pants
To make it easier for you to decide whether wearing shorts for a hike is a good or bad idea, let's break down all the parameters we mentioned above and tell you how each of them can affect your hike.
1. Weather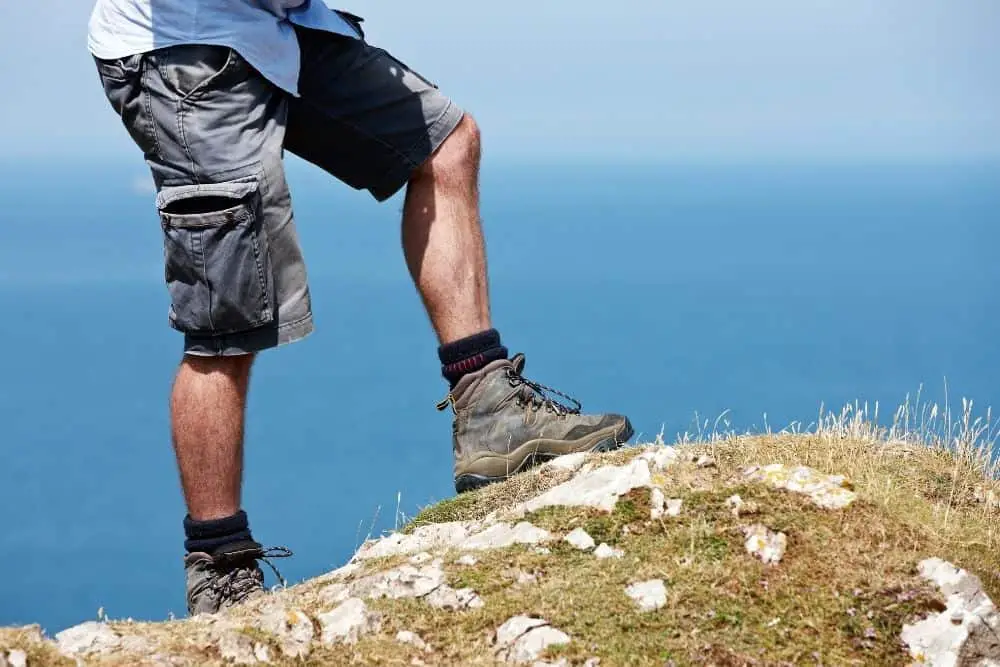 Obviously, the weather is the first thing you consider when picking an outfit—not just for hikes alone. The only time you should consider wearing shorts is when the weather permits it.
Avoiding wearing shorts for a hike during the winter is a no-brainer. You only get to give this a thought during the hot summer months.
In Bermuda or Joshua Tree, you will easily see people wearing shorts with buttoned-down shirts and hiking boots. Now you have another reason to pay close attention to the weather forecast.
2. Nature of the terrain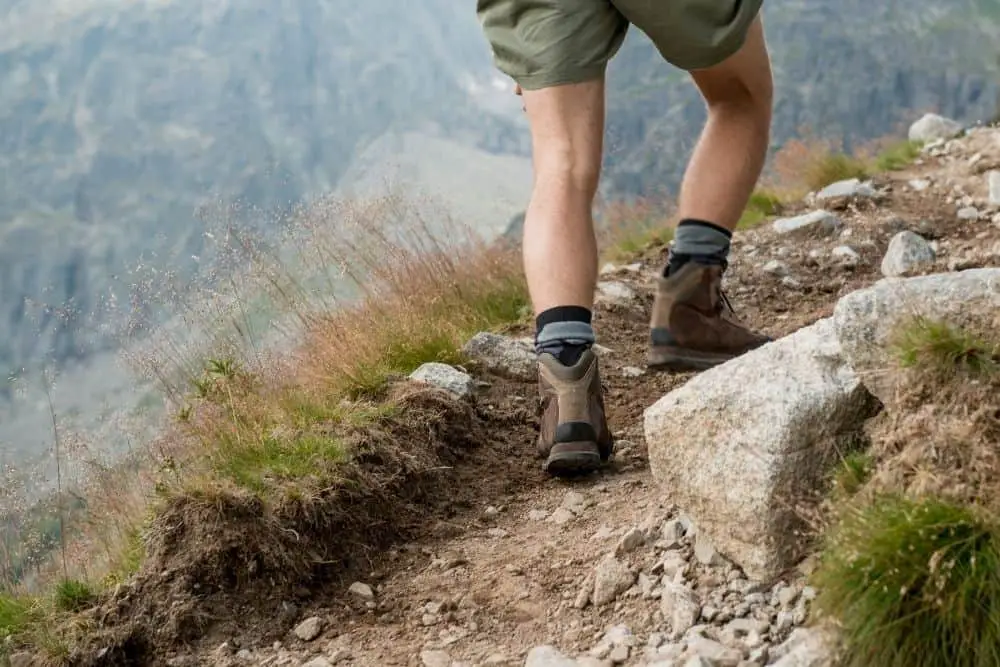 The nature of your hiking terrain is another factor that you should consider when picking your outfit. If you are going to be hiking on a trail that is crawling with vegetation, especially those with spikes, wearing shorts may be a bad idea.
For example, the spikes of the Joshua tree are so harsh that they often penetrate the uppers of hiking boots. Imagine what they will do to your skin if they have direct contact with it.
Plants are not the only things that can deter you from wearing shorts. If you are hiking on a trail full of notorious insects with painful (or harmful) stings, you need to keep every part of your body covered.
If your hiking trail has rugged terrain or involves some kind of cave exploration, it is always wise to avoid wearing shorts entirely.
3. Type of boots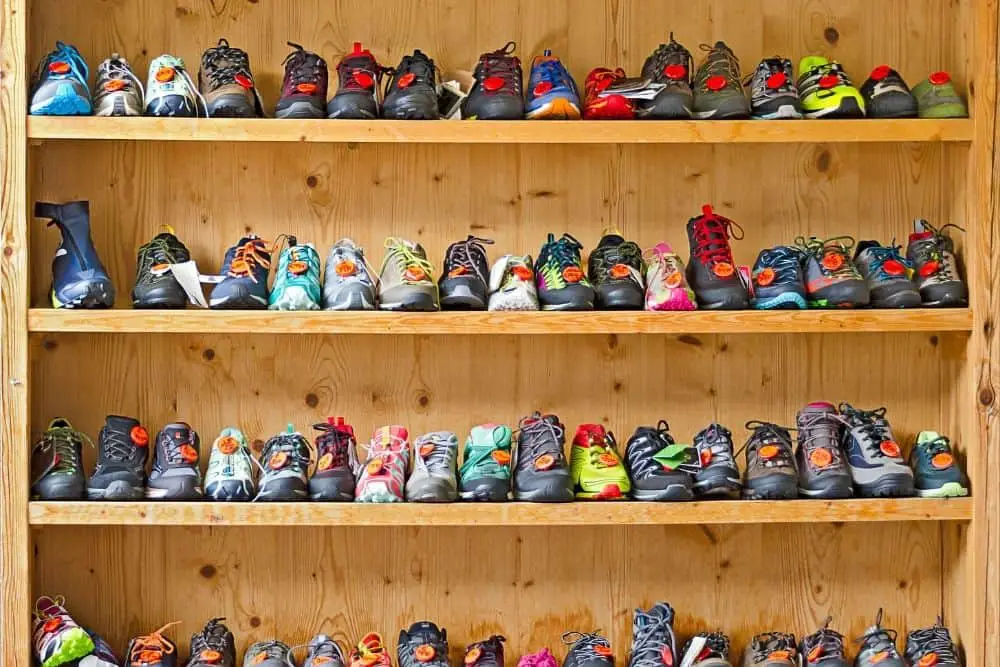 Hiking boots come in different lengths and materials. The mid-cut and high-cut hiking boots are the most versatile for wearing with shorts—and likely the ones you will see the most.
While low-cut boots are not commonly combined with shorts, one way you can pull it off is by wearing a pair of colored merino socks that blend with the color of your shorts. Again, if the weather is really hot, wearing socks can be really uncomfortable which explains why many people avoid it altogether.
4. Material of the boots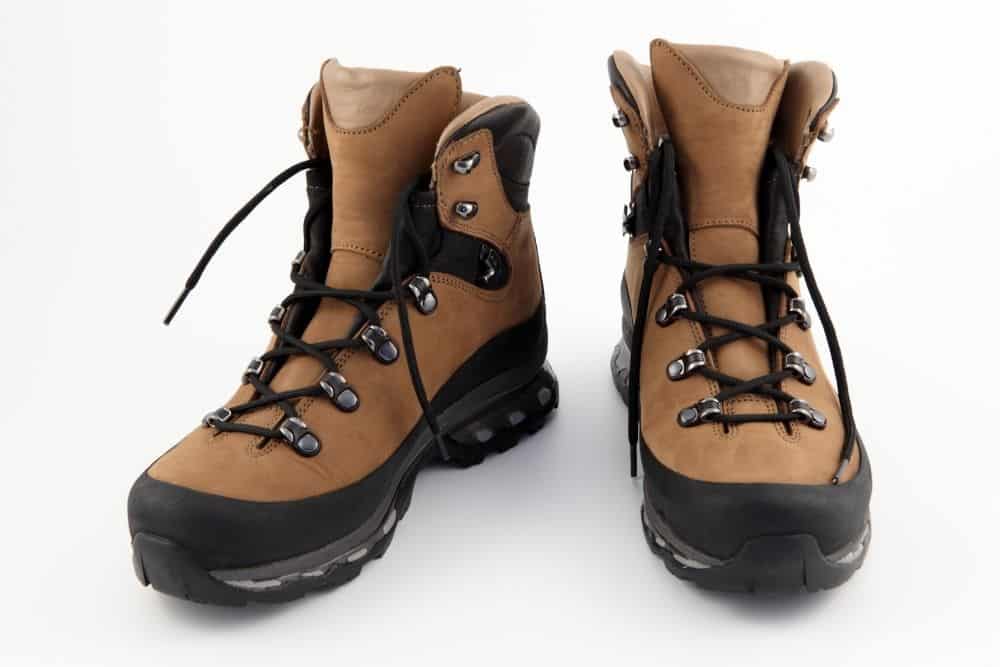 Full-grain leather or nubuck leather blends better with shorts compared to boots made of synthetic materials. If you must wear shorts, the last thing that you will want to worry about is the safety of your feet.
Full-grain and nubuck leather boots perform better when it comes to ankle support. Also, the materials are sturdier and trendier than synthetic materials so that you don't appear on the trail looking like a drunkard recovering from a hangover.
5. Outdoor duration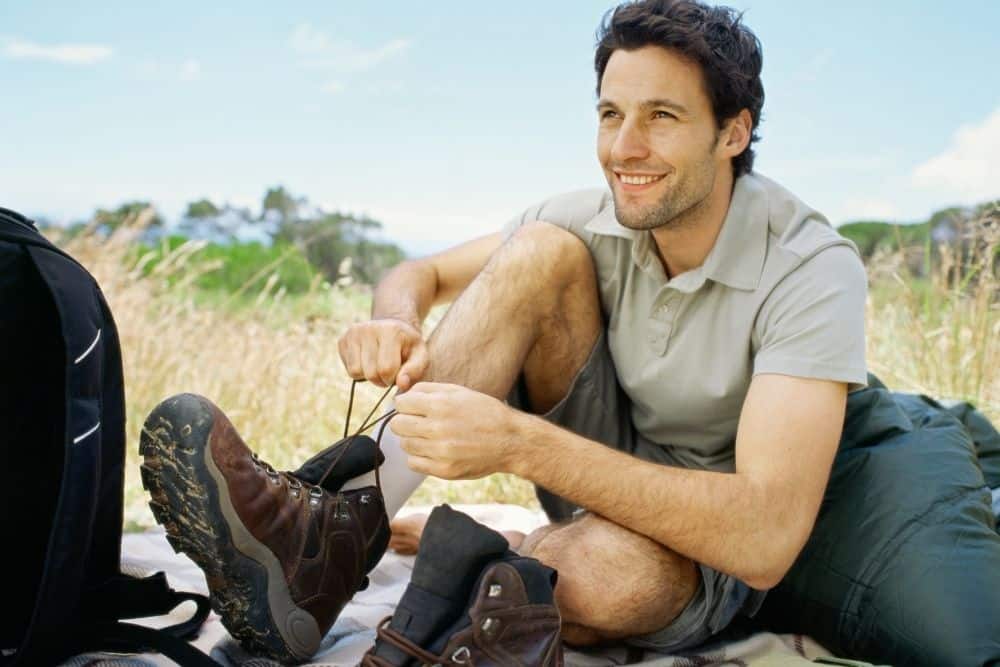 The temperature of some hiking locations can change by several degrees within twelve hours. The weather forecast should be able to predict the morning, afternoon, and evening temperatures.
The temperature usually drops in the evenings. Therefore, if your hike is going to last beyond twenty-four hours or cross deep into the evening, make sure you carry appropriate pants so that you can easily change when shorts become uncomfortable due to temperature drops.
How to wear hiking boots with shorts?
Now that you know that shorts can be worn with hiking boots, the next big question is how to wear them so that they look appealing. Firstly, you can't just pull out any shorts from your box and pair them with your boots.
For men, the ideal hiking shorts that work well with high-cut hiking boots should be at least 2 inches above the knee cap. Women can get away with shorter shorts if they wear crop or body-hugging tops.
There seems to be an unwritten code that has gained general acceptance among hikers when it comes to pairing hiking boots with shorts. Below are some of the ways you should wear your hiking boots with shorts.
1. Wear hiking boots with hiking shorts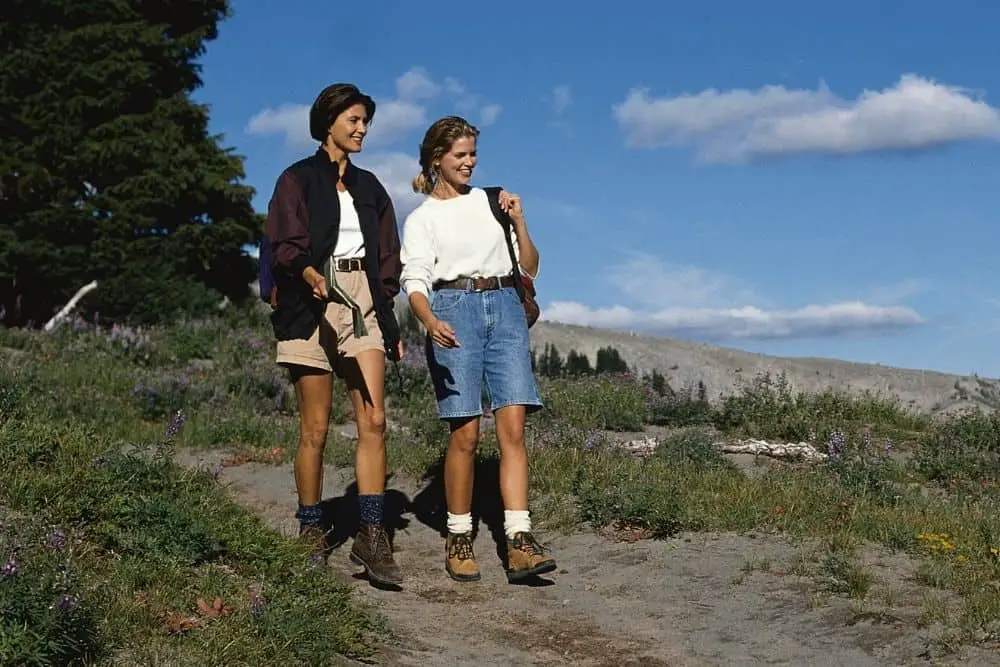 Hiking shorts are made of nylon, are more comfortable and lightweight compared to cotton shorts. Another important feature of hiking shorts is their multiple pockets which allows you to carry important electronic gears hands-free
Hiking shorts give a better appeal when they are paired with hiking boots made of full-grain leather and calf-length cotton socks. To increase your glow, make sure the boots are well-polished to a shiny finish.
Last update on 2023-09-22 / Affiliate links / Images from Amazon Product Advertising API
2. Pair hiking boots with denim shorts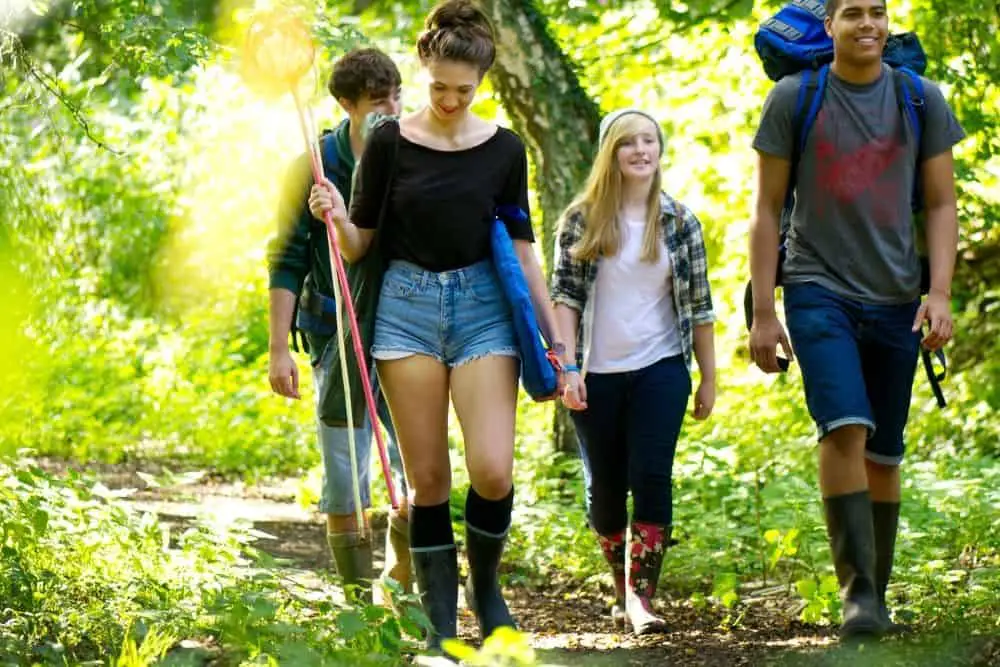 There is an elevated street appeal that laced-up, high-cut hiking boots give when they are combined with denim shorts. If you choose denim shorts for your hike, it is most preferable to pair them with black or brown suede hiking boots.
Also, shorts with a plain design usually pair better with hiking boots compared to shorts with exaggerated patterns like polka dots or floral prints. Trust us, you don't need that much attention.
Last update on 2023-09-22 / Affiliate links / Images from Amazon Product Advertising API
3. Wear hiking boots and shorts with a hat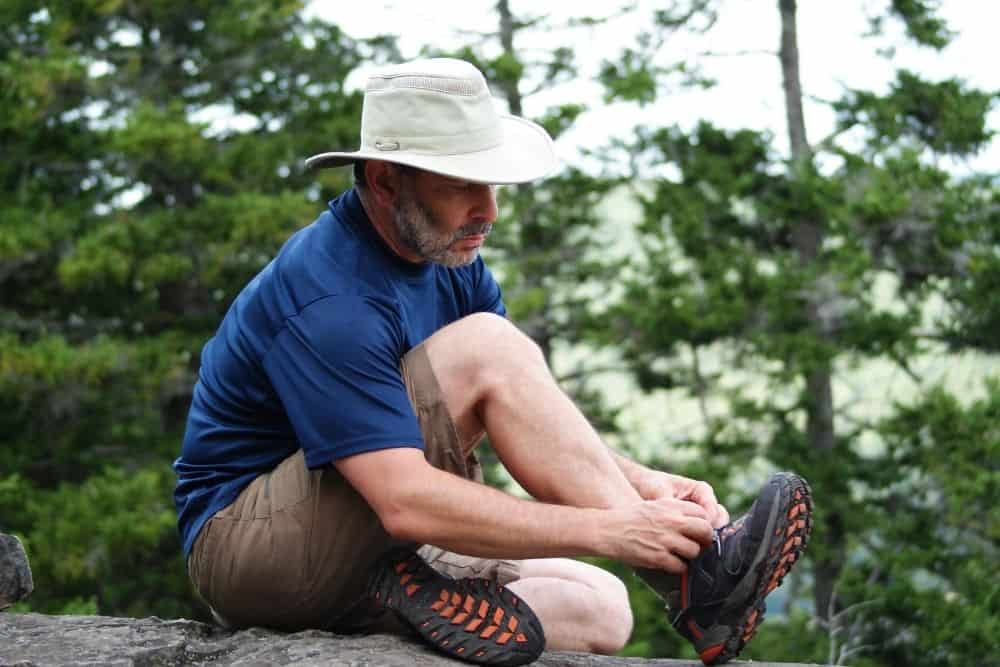 While combining hiking boots and shorts can be tricky, you can enhance your appearance using accessories. One of the main reasons why people consider wearing hiking boots with shorts is because they anticipate hot weather. Hot weather often boils down to high solar intensity.
Wearing a wide-brim hat or fedora can help to keep the sun off your face. Hats made of felt or straw are better for hot weather because they are breathable, keeping your head cool while also shielding you from harmful sun rays.
Peradventure it starts to rain during your hike, hats will also help to keep the rain off your face. Hats can also help to draw attention away from your shorts and hiking boots combo—making you feel less uneasy.
Last update on 2023-09-22 / Affiliate links / Images from Amazon Product Advertising API
4. Wear hiking boots and shorts with socks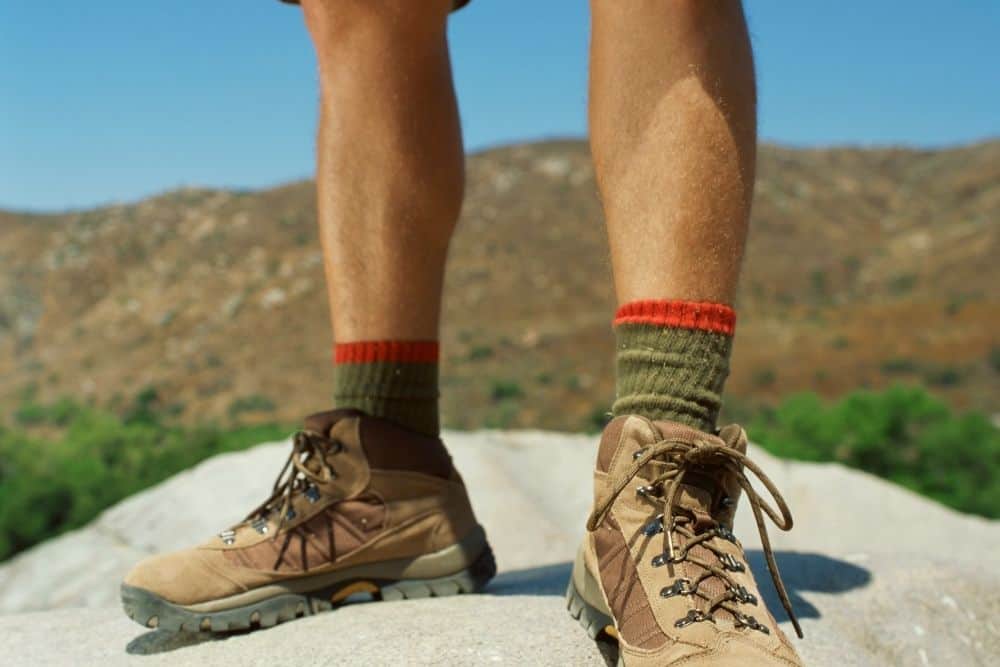 If you are one of those that only wear socks to keep your feet dry, you have to start putting thought into your choice of socks. Pairing the right material and color with your hiking boots and shorts can make it look less awkward.
Experts recommend merino socks because they are highly effective at keeping the feet dry. However, when picking socks, make sure that they are a complementary color to your shorts.
Also, your socks should never go higher than your mid-calves. In fact, the length of the socks should be such that at full stretch, only about three to four inches of the socks should be above the collar of your hiking boots.
Interestingly, besides keeping your feet dry, merino socks can also protect your feet from sliding in your boots, which is one of the leading causes of blistering.
Last update on 2023-09-22 / Affiliate links / Images from Amazon Product Advertising API
Once your dressing gives off a street or vintage vibe, people will stop judging it because there is no wrong in those genres. If you are anxious about your appearance, one of the things you can do is to wear your boots and shorts with an unbuttoned shirt.
Wear a light moisture-wicking polo on the inside and wear a short sleeve shirt on top without buttoning the shirt. This gives a cool street appearance that will make you the center of attention.
If there is a sudden drop in temperature, you can easily button up the shirt to provide a second layer that helps to keep you warm. Choose a bright-colored shirt or one with elaborate colors to draw attention away from your boots and shorts.
Last update on 2023-09-22 / Affiliate links / Images from Amazon Product Advertising API
Conclusion
While there is totally nothing wrong with wearing shorts and hiking boots, a lot of people are wearing them the wrong way. When worn correctly with the right accessories, hiking boots and shorts blend well to give a youthful appearance.
If you have seen the movie "Jumanji: The Next Level" you will notice Kevin Hart wearing hiking boots and shorts throughout the movie—and there are many more movies like that. That is to tell you that there is nothing wrong with wearing hiking boots and shorts.
However, if there will be any form of formal event or business negotiations, courtesy demands that you show up in pants. The only reason why you will be forgiven if you do that is if you are a popular figure in society.
It all boils down to knowing where and when you can wear shorts with hiking boots. In the place and time, they look really cool but in the wrong place and time, even the best hiking boots and shorts collab will still look distasteful.