For enthusiastic hikers, only a few feelings in this world can be compared to that of getting new hiking boots. Holding it in your hands, you can't help but fight the exhilaration to take it for a spin.
Then you put on the boots and walk a few meters and discover that they are rubbing on your toes, ankle or heel. You try to go one mile and the pain becomes unbearable that you could feel blistering in some areas of your feet.
In a matter of seconds, all that excitement will evaporate from your face. If you have ever found yourself in this situation, find solace in the fact that you are not alone.
Hiking boots are indispensable hiking gear and how well they fit affects your hiking experience. There are a number of factors that can cause your hiking boots to rub your heels or ankles and cause pain or blisters.
Boots that don't fit correctly and the material used in making the boots are two of the leading culprits when it comes to why hiking boots rub.
Friction on your heels and ankles can be really painful and can prevent you from enjoying the hike or hiking at your pace. In most cases, it is because the boots are not the right fit.
One thing most people will suggest is that you return the boots and choose more fitting pairs. However, what happens if your return window is past due or you really love the boots?
If you have been battling with pain on any part of your feet due to boot rubbing, we have all the solutions that will make the pains go away. Keep reading to find out.
Why do my hiking boots rub my feet, legs, and heels?
If your hiking boots are rubbing on any part of your feet and legs, it is most likely because of one of the following reasons.
1. Wearing the wrong size
One of the most common reasons for hiking boot rubbing is when you wear boots that are not the right fit. Interestingly, studies show that a lot of people wear boots that are not their right size—especially women.
With the explosion of e-commerce, a lot of people don't always get what they ordered. At other times the wrong labeling of the products by the vendors leads to the purchase of the wrong boots.
The chance of purchasing the wrong hiking boot size is higher when you shop at the wrong time of the day. Feet swell during the day which makes it the best time to shop.
When the boots are a bit bigger than your feet, rubbing is almost inevitable. This is because the extra room will allow your feet to move around in the boots which will lead to rubbing.
The awkward and sometimes painful feeling of hiking boots rubbing against your feet is worse when you climb up a hill.
The movement of your feet makes them rub against your boots leading to what is called a shoe bite. To stop your hiking boot from rubbing, you have to reduce the friction between your feet and the inside of your boots—that is if you really love the boots.
Interestingly, when your exact size is not available in the boot of your choice, it is better to buy a pair that is a bit bigger than your feet than those that are smaller. While there are techniques you can use to make bigger boots fit better, there is almost nothing you can do to achieve a perfect fit with smaller boots.
2. Your boots are made of thick leather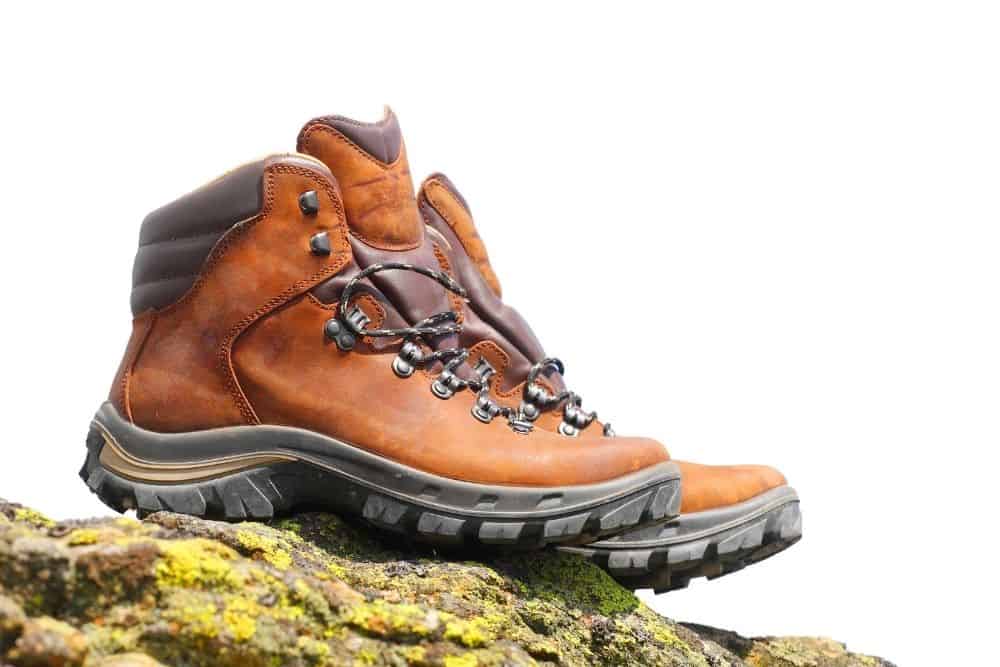 The chances of feeling different parts of your legs rubbing against your boots are higher when the boots are made of thick, genuine leather—this doesn't mean that you may not feel rubbing with boots made of other materials.
Leather boots are more prone to rubbing because they are stiffer than boots made of suede, nubuck, split-grain, or polyester. While the other materials can easily flex, full-grain leather will take a beating to become more flexible.
The stiffer the material of your boots the more painful the rubbing will be. To get a clearer picture, rub the back of your hand against a wall and another against your mattress. Which feels more painful?
How to stop hiking boots rubbing?
The technique you should apply will depend on which part of your feet is experiencing the rubbing. Nevertheless, there are some non-specific techniques that will work regardless of which area of the boots is rubbing.
Rubbing is usually more intense in leather hiking boots. Therefore, all the solutions discussed here will focus on leather hiking boots. Nevertheless, some of the techniques will still work if you are using boots made of suede or other synthetic materials.
Interestingly, you can even combine two or more techniques to achieve better results. Without further chit-chat, find all the solutions to stop hiking boots rubbing below.
1. Change your lacing technique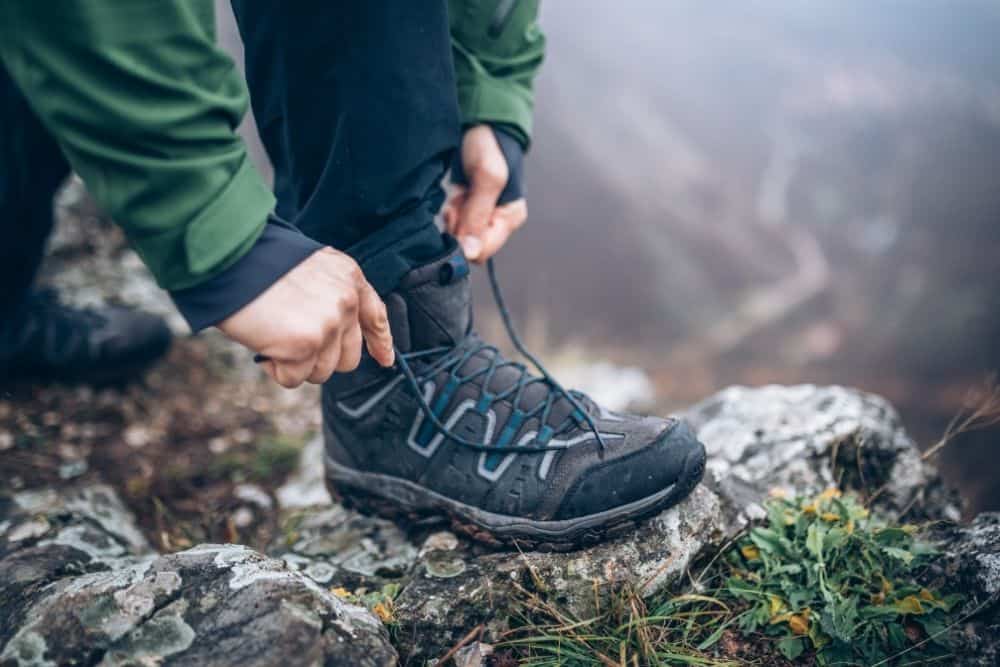 If the collar of your high-cut hiking boot is rubbing on your calves, the first thing you would want to do is to change your lacing technique. Making the lacing tighter at the collar will give it a snug fit around the calves which will limit or eliminate rubbing.
If you have been using regular lacing techniques, you may need to spend some time learning about surgical knots. With the right knotting technique, this problem should easily go away.
Pros
Doesn't require spending on accessories
It will not affect the lifespan or integrity of your boots
Cons
Wrong lacing will make the boots too tight at the collar leading to discomfort
Takes a while to learn new skills
2. Tuck your pants into your boots
If you are used to wearing long pants (even when hiking in the summer), tucking the narrow end into your boots will stop your boots from rubbing on your calves. The pants will not only fill the boots to make the collar tighter and more fitting, but they will also create a barrier between your calves and the collar.
The combination of tucking in your pants in your boots and using the right lacing technique will not only achieve a perfect fit but also keep sand out of your boots as well as stop the rubbing.
Pros
Gives an appealing fashion sense
Doesn't require the purchase of any accessories
Anyone can pull it off
Cons
Wearing pants during summer hikes can lead to excessive sweating
If your pants are not long enough you will need to pause and adjust frequently
3. Wear long thick socks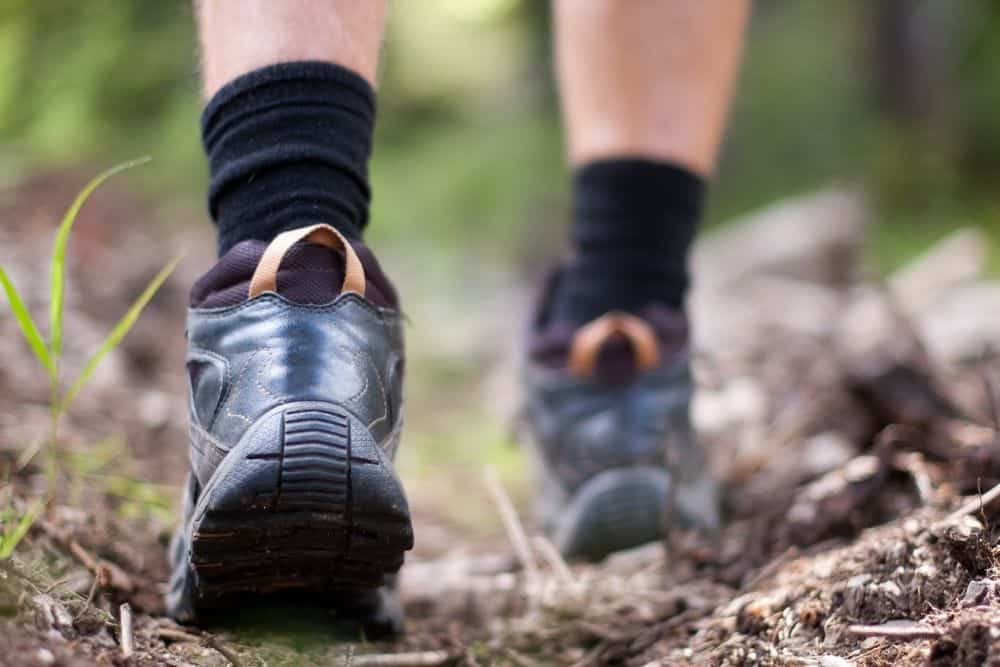 One way of stopping the collar of your boots from rubbing on your calf is by wearing long socks and pulling them up all the way to the calves or. The thicker the socks, the more effective they will be in stopping the rubbing.
This will definitely come in handy during summer hikes when you may want to wear only shorts to your hikes to prevent excessive sweating.
Tucking pants into socks and then pulling the socks up to the calves or knees will prevent the awkward situation where you have to stop from time to time to tuck in your pants properly in the boots.
Wearing special socks made of merino wool can also help to stop rubbing the heels and every other part of the feet with the boots. In some cases, doubling your socks may be an effective strategy to combat the problem.
Last update on 2023-11-11 / Affiliate links / Images from Amazon Product Advertising API
Pros
Needs no special skills
Socks protect other parts of your feet from rubbing
Doesn't require an excessive lifestyle change
Cons
Getting the right socks may be difficult
If the boots are already tight, wearing thick socks may make it painful in some areas
4. Use leukotape around your toes
Wrapping leukotape around your toes or around any hot spots will prevent the direct rubbing of your toes or that area with leather on the inside of the boots. This prevents friction with the skin—the main cause of blistering or chafing.
It is always a good idea to carry either duct tape, leukotape, or moleskin along with you whenever you are going on a hike because they can come in handy along the way and save you from a painful hike.
Last update on 2023-11-10 / Affiliate links / Images from Amazon Product Advertising API
Pros
Easy to use
Can be applied while on a hike
Tapes can also be used on the heels
Cons
Some tapes easily lose their grip once the feet get sweaty
A few products leave glue residue on the skin
5. Use of toe cap protector
Another way you can stop the rubbing of your toes with the boots is to use a toe cap protector. They provide a soft cushion that covers the toes.
The advantage of using a toe cap protector over taping is that the former is not affected by sweat. You can even trip them down to fit snugly on all the toes.
Also, some people's skin reacts to adhesives which is the main component in tape that keeps it in position.
Last update on 2023-11-11 / Affiliate links / Images from Amazon Product Advertising API
Pros
They are soft, comfortable, and durable
Adjustable and can be trimmed to achieve a perfect fit
Cons
They can cause your toes to get really sweaty during summer
6. Use of heel grip
Heel grips stick to the back of the hiking boots creating a barrier that prevents direct contact of your heels with the hiking boots.
Heel grips also fill up the extra space in the boots making your feet tighter in the boots. This helps to limit the movement of your legs in the boots and the rubbing that comes with them.
Last update on 2023-11-11 / Affiliate links / Images from Amazon Product Advertising API
Pros
Easy to use
No glue required
Cons
The strength of the adhesive of some products are questionable
7. Use specialized insoles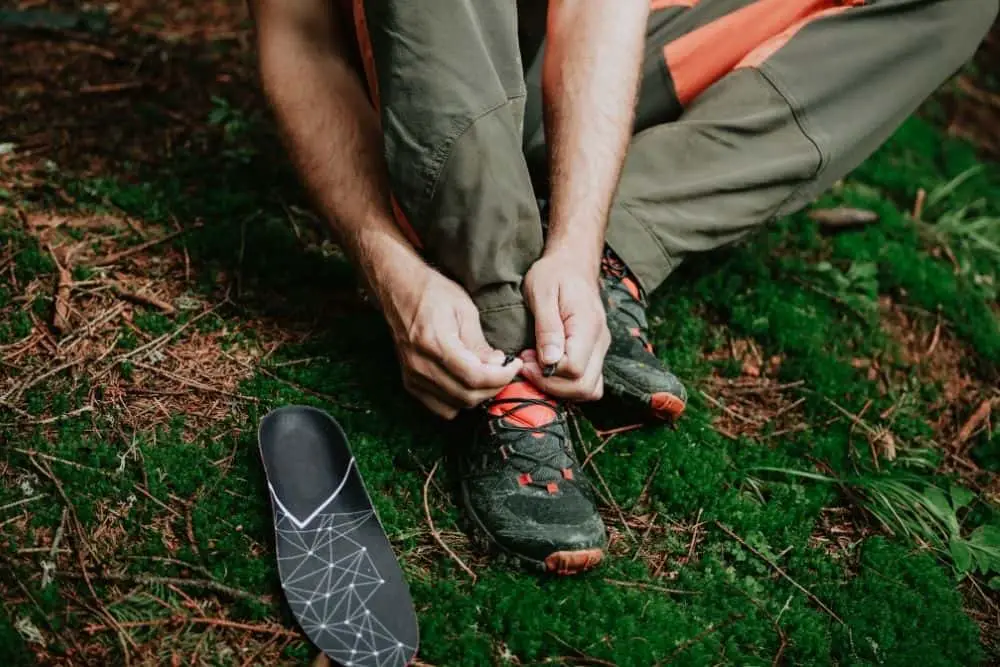 Changing the insoles of your boots may be all you need to stop your heels from rubbing on the boots. There are specialized insoles designed with a carbon fiber stabilizer cap and supportive heel cups to lock your feet in place to prevent movement that will lead to rubbing.
Specialized insoles are usually sturdier and will fill up extra spaces in the boots to give you a better fit. See all the ways to stop heel lift here.
Some experts also suggest doubling the insoles if the rubbing is on the upper part of your toe. By doubling your insoles, you push the top of the foot closer to the hiking boot tongue.
When combined with the right lacing technique, this should be enough to stop your feet from rubbing. This technique will also be effective if the boots are a bit bigger than your feet.
Last update on 2023-11-11 / Affiliate links / Images from Amazon Product Advertising API
Pros
Improves stability and foot comfort
Useful for customizing boot fit
Cons
It is only easy to use when gluing is not required
Finding the right fit for your boots may be a serious challenge
8. Inserting tongue pads
Tongue pads stick on the inside of your boot tongue and create a barrier between the tongue and the top of the foot to prevent rubbing.
Another thing that the tongue pads do is push the feet back so that they stay in place and do not move around. The use of tongue pads can also be used to stop rubbing of the heels.
Last update on 2023-11-11 / Affiliate links / Images from Amazon Product Advertising API
Pros
Easy to use on the hike
Doesn't lead to adhesive irritation
Replaceable
Cons
Finding the right size for your boots can be tough
Some products have weak adhesives
9. Keep feet from sliding forward
Rubbing of your feet will also occur if your feet slide in your boots. Apart from the pain and blistering that this can cause to different areas of your feet, it can also cause you to lose your balance and fall.
This often happens when you choose the wrong boot sizes. However, excessive sweating is another factor that can lower the friction in the boots causing your feet to slide around with ease.
Choosing the right hiking boots accessories as well as making some behavioral changes can help you overcome this problem. This may mean fitting cotton pads in front and behind your feet or changing your insoles.
We have discussed how to keep feet from sliding forward in detail including the causes and ways to stop the problem.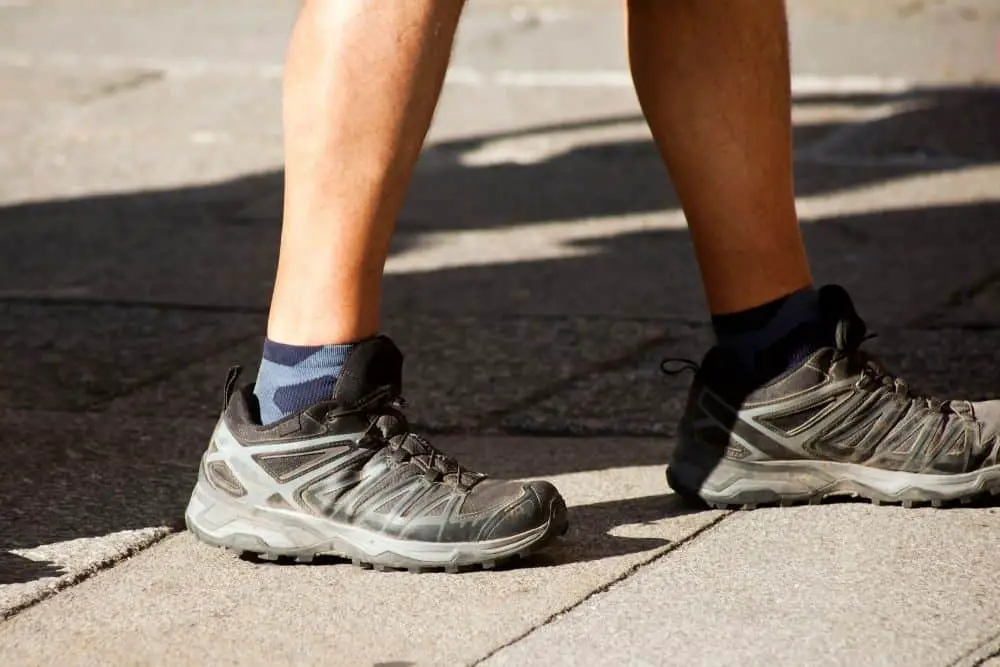 Pros
Keeping feet from sliding will improve comfort too
There are myriads of ways to achieve this aim
Cons
Needs behavioral changes which takes time to achieve
10. Stretch the hiking boots
Properly stretching your hiking boots before taking them for a spin on the trail is another way of preventing them from rubbing. The right stretching technique literally forms the boots around your feet giving them a snug fit.
It is important to note here that stretching is only useful when the boots are slightly smaller than your feet or the same size as your feet but painful in certain areas. If the boots are already bigger than your feet, there is no need to try to stretch them further.
In the latter case, your best bet would be to give them out to someone that will find them more fitting. From the use of boot stretchers to steam treatment, we have covered all the techniques that you can use to stretch your hiking boots here.
If the problem is only at the toe box, there is no need to stretch the entire boots. All you have to do in such an instance is to stretch the toe box. We have also discussed all the techniques that you can use to stretch the toe box here.
Pros
Forms the boots around your feet giving a better fit
Most stretching techniques can easily be achieved
Cons
Boot stretching is time-consuming and tiring
11. Break in hiking boots
Every new leather boot will likely give you problems with fitting particularly rubbing—and that is understandable. This is because the new leather will likely be very stiff and will need some sort of break in to fit properly.
Therefore, even if you choose the right fitting pair, you may still experience some discomfort in certain areas of your feet. Breaking in helps to soften the materials of the boots—and there are so many of them out there.
There are many break in techniques and you may want to try more than one until you achieve the perfect fit. We have given a step-by-step guide to all the different break in techniques and the materials that you will need to achieve them here.
However, the most popular break in technique is usually to wear the boots for a short space of time while walking up and down a ramp.
Another technique that is widely employed is the use of a hairdryer. In this technique, you will wear two pairs of thick socks and a hiking boot. Then use a hairdryer to heat the toe box.
This allows the leather to stretch. New boots are more likely to cause blisters on the toes unless they are properly broken in.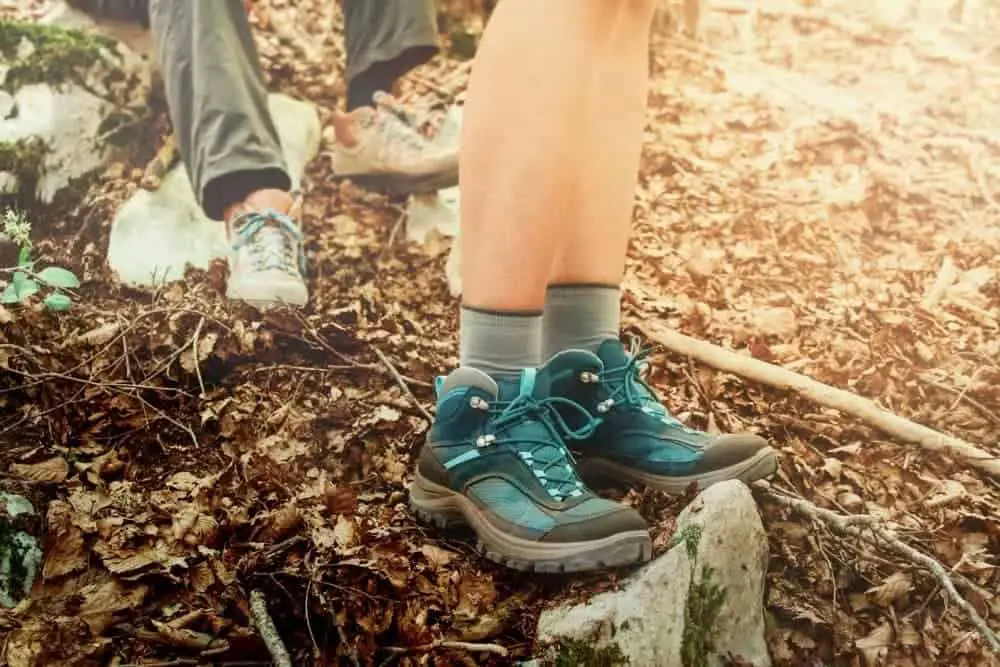 Pros
There are lots of break in techniques to try
Configures the boots to the shape of your feet
Most of the techniques are not complex
Cons
Break in is a slow and time-consuming process
12. Stuffing boots with soft materials
Like we already mentioned a number of times, the main reason why boots rub is that they are bigger than your feet. If you love the boots and don't want to return them, one of the techniques you can use to achieve a better fit is to stuff them with soft materials.
Get pieces of clothes, tissue paper, boot scuffs, or cotton balls and stuff them into the boots. These soft materials will serve both as a cushion that will prevent your feet from coming in direct contact with the boot material as well as help to fill up the extra spaces, thus, making it difficult for your feet to move around in the boots.
This is one of the best DIY techniques for stopping boots from rubbing because you can use any soft material around the home for the stuffing.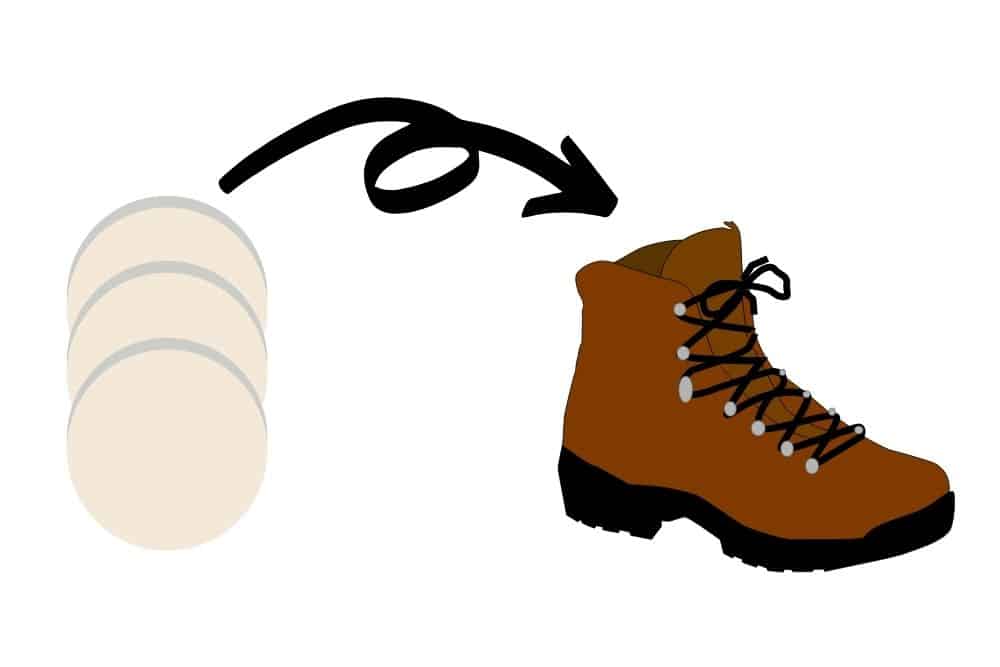 Pros
Anyone can do this
Doesn't require any expensive accessories
Cons
Leaves your boots untidy
You may feel uneasy pulling off your boots in public even when you need your feet to breath
Conclusion
Sometimes, you may need to pay a visit to the cobbler to help you fix the problem particularly when the boots are bigger or smaller than your feet. The cobbler may use some sewing techniques to make the boots more fitting.
At other times, the best decision would be to go for a new pair of hiking boots. You should consider this if the resources and time you will spend to fix the problem are costlier than getting a new pair.
Remember, you can always try more than one technique until you find a combination that perfectly helps you to deal with the problem.
Breaking long hikes with short periods of breaks where you pull off your boots and socks and allow your feet to breathe will help to relieve pressure and prevent the buildup of moisture and heat that will eventually lead to blistering.
If you have already started to feel pain or swelling in any part of your feet, elevating them by propping them up with your backpack can help to improve circulation and reduce the swelling. Such breaks will also help you to take out sand or other debris that may find its way into your boots.
While this may slow you down, a popular bon mot said, "It is better to be safe than sorry"—and we totally agree with that!