Deserts are known for their extreme hot weather and sandy terrain. In fact, if you are hiking there for the first time, you may not know what to expect, because the terrain is different from the others.
When you think of the desert, you may probably picture a wide range of sinking sands, no plants, no water. And honestly, you wouldn't be wrong, meaning you have to be concerned about what you wear. And this concerns what footwear you choose to wear.
You should wear footwear that would protect you and make you comfortable on the trail. Then comes the question "should you wear hiking boots in the desert?"
Well, you are about to know if that is a good choice. This article will discuss whether hiking boots are good for desert hiking by looking at their merits and drawbacks.
Let's find out!
Read more: Are Hiking Boots Good For Sand?
Should You Wear Hiking Boots In The Desert?
Just like you need the right outfit for hiking in the desert, you need appropriate footwear as well. You should know that what doesn't fit can ruin an enjoyable experience, which is not a good feeling.
Does that mean hiking boots can ruin your hike on the desert trail? No. In fact, wearing hiking boots in the desert can further contribute to an overall exciting and relaxing experience for you.
Like you probably already know, deserts are usually hot and super sandy. Also, there is water scarcity, lack of vapor in the air, high sunshine, and more.
And unless you choose to hike during the night, it would probably be hot all through the time you are on the trail. So with all of these, what makes hiking boots suitable for desert hiking?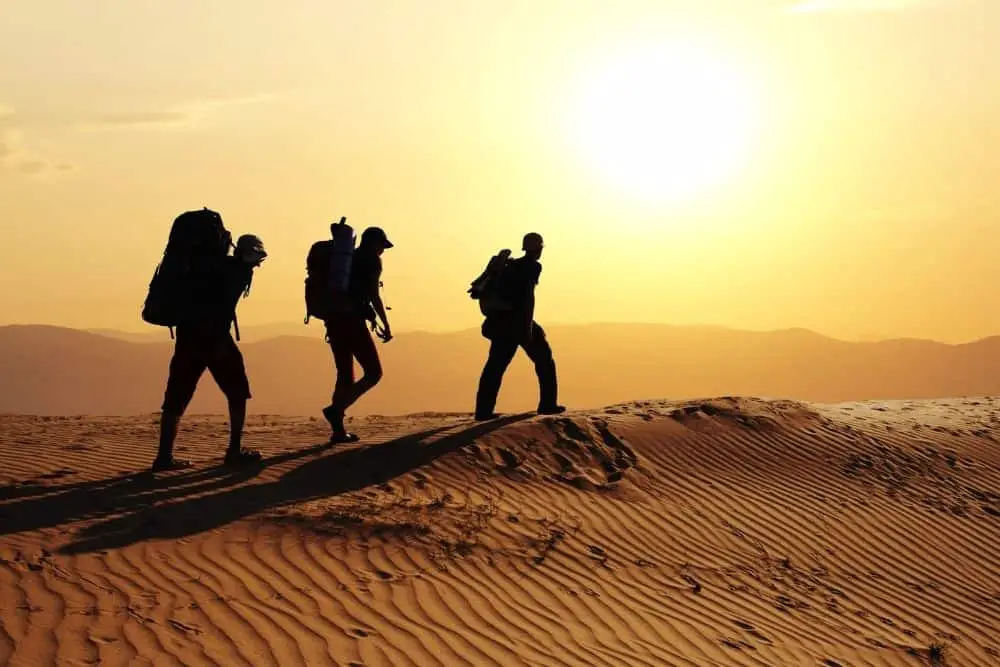 Benefits of Wearing Hiking Boots In The Desert
We have established that hiking boots are good for hiking in the desert, but how is that possible? The reason for this is due to some of the features they possess. Let's take a look at those benefits.
1. High traction outsole
For you to hike safely, you need footwear that provides you with adequate traction on the trail. You can get that with the appropriate footwear, and hiking boots have just the feature that ensures that.
For example, manufacturers design the boot's outsole to have high traction, even on sinking, slippery sand like the desert. That is, there are patterns or shapes underneath your hiking boots that help your feet grip the terrain and stand firmly on the trail.
This feature helps ensure that you are stable and firm on the terrain. Also, it helps protect your feet from slipping on the sand. Since the desert is very sandy and different from your usual walking surface, you may find it a bit difficult to walk like you usually do.
Although some people may disagree about the nature of the desert, it can in fact be pretty slippery and stinky upon each step. And it may take a bit of effort to pull your feet out of the sand with every step you take.
This could make your walk a bit awkward, but with adequate traction, you can move in the desert without slipping.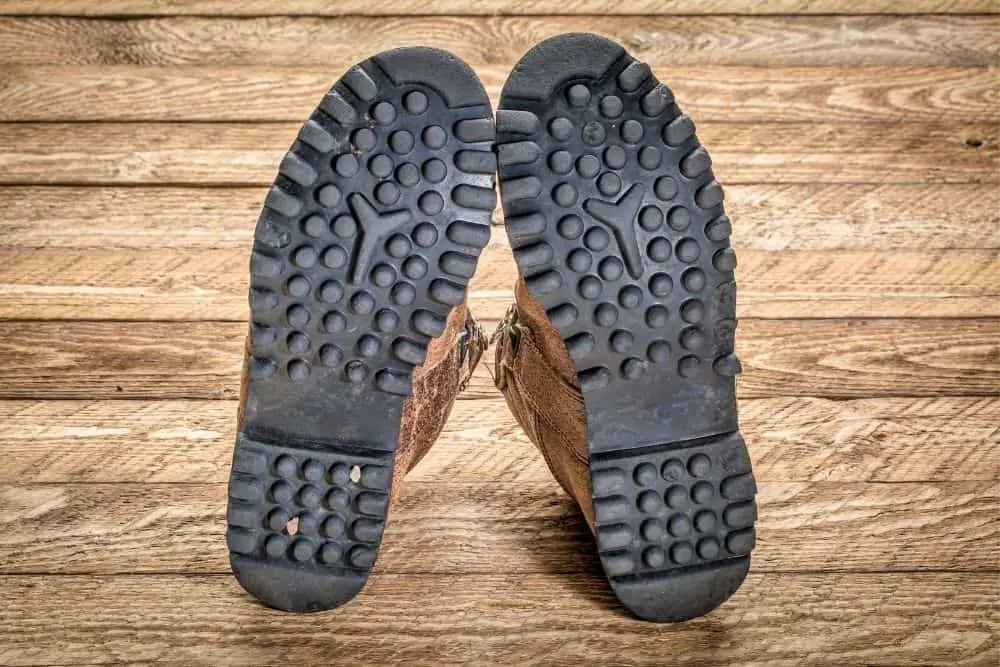 2. Extra padding and cushion for comfort
We would continuously state that when on a hiking trip, something you should never gamble with is your comfort. In fact, when comfort is missing, you have probably signed up for a shitty hiking experience.
But the good thing is hiking boots do provide you with maximum comfort. And since your feet do the job of moving you to and fro the hiking trail, this boot does an excellent job in ensuring that they are good.
How are hiking boots comfortable? Firstly, hiking boots have extra padding, which serves as a cushion for your feet. Then, the manufacturers usually add a soft cotton lining in the boots, so they are soft and comfy around your feet.
This extra cotton padding contributes to making your hike easier and more relaxing, no matter how stressful it may be. So, of course, you should wear hiking boots when hiking in the desert.
Lastly, the midsole contributes to bringing you the most comfort during each hike. Mostly, this is due to the PU and EVA-type midsoles which have been known to provide molded comfort around your feet.
3. Ankle coverage design for ankle protection
Your ankles are vital to your hiking trip; if you didn't know, a messed-up ankle can mess up with your experience, and you want to avoid that. Therefore, on the trail, you need ankle support and protection.
The good news is that many hiking boots have an ankle coverage design, where the top of the hiking boot is higher than regular shoes. Typically, manufacturers refer to this as high-cut, mid-cut, or low-cut designs
Plus, some hiking boots are higher than others, due to the shaft height. In addition, their levels of protection differ as well. Some, like high-cut designs, tend to offer the most protection for your ankle.
Moreover, they can also prevent sand or debris from getting into your hiking boots. Nevertheless, mid-cut hiking boots or higher hiking boots with ankle padding can as well prevent desert sand from getting into your footwear.
So how does the ankle coverage design protect your ankle? First, they provide ankle support for you on the trail; and of course, no one likes to be in pain when hiking. A twisted or painful ankle could make your hiking experience terrible and more stressful.
Since hiking boots have stiff upper ankle coverage, they can protect your ankle from twisting, moving, or hurting in the boots. The ankle support will help your ankle hold up your weight better on the trail.
However, some people might have their doubts about the need for ankle support in the desert; well, it is important. Why? As you know, the desert floors are pretty soft and that can easily imply terrains that will sink upon pressure.
When this happens unintentionally during a hike, without proper ankle support, you might risk twisting or dislocating your ankle.
4. Stability
You need stability and balance on the hiking trail, especially on unstable terrain like the desert. The desert sand is not as rigid as other plain terrains, so you could lose your balance when walking there if you are not careful enough.
Apart from the traction the sole provides, it helps you be stable on the terrain. One main feature that allows this is the shanks and plates in the hiking boot's sole.
Firstly, the shanks help to create the balance and stability you need when you step on unbalanced sand-filled terrains. If you think it is an insignificant feature; well, know that it will be responsible for keeping you standing should you encounter such an unbalanced trail.
Then, the plates will help to prevent unsuspecting sharp objects hidden in the sand from piercing through the sole to your feet. This feature contributes to stability by allowing you to continue your hike with ease even if you step on stones lying underneath the sand.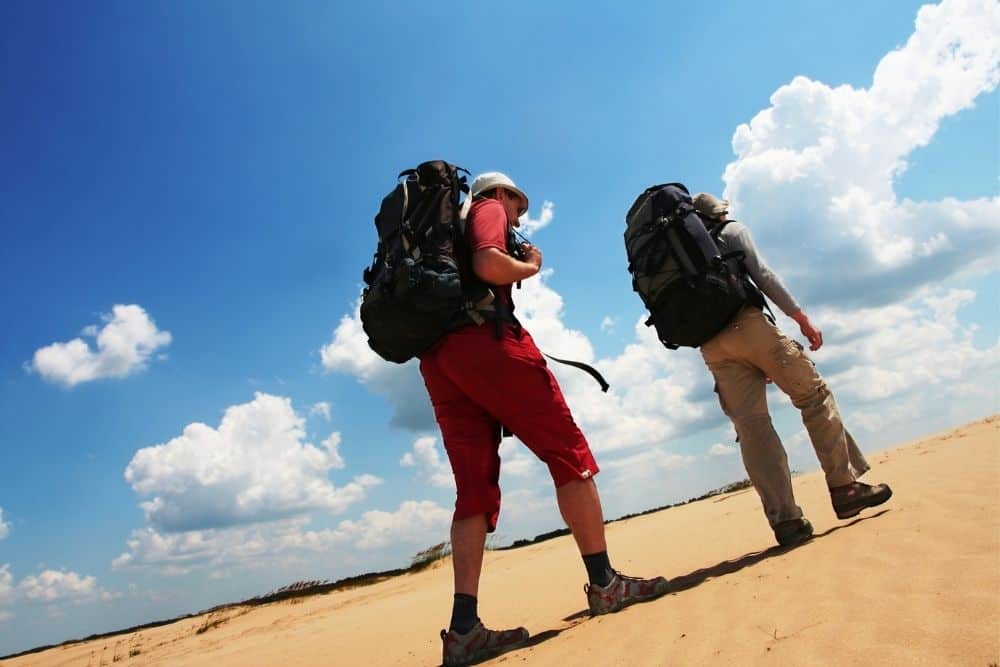 5. Breathable material
The desert weather is hot, and unless you hike during the night or it rains (very rare), you are in for a short or long hot hike. Due to this weather, you need to wear something that would not make you feel hotter or sweat excessively.
For this reason, we recommend breathable hiking boots that ensure your feet get adequate airflow. So if you have thought that hiking boots are not breathable and will make your feet hotter, you are wrong.
But, of course, it is dependent on the type of hiking boots you wear. First, hiking boots' materials vary, and so does their breathability.
Also, it seconds in their usage or the type of hiking trip it trails they are meant for. Now, you are probably wondering what material offers the most breathability.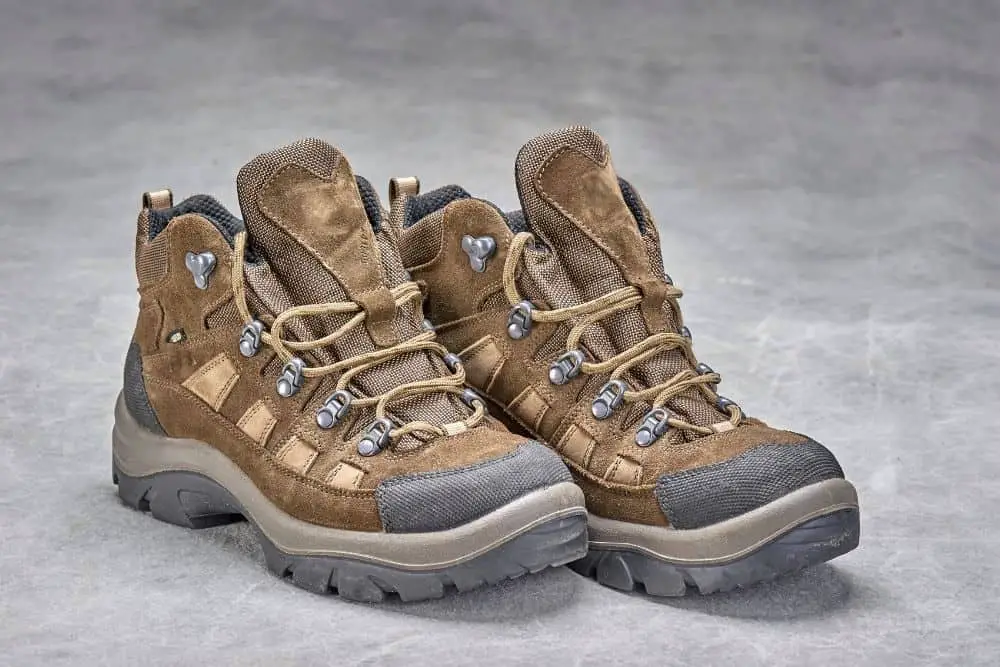 For example, mesh materials are more breathable than leather since they are fabric. But, you will likely notice sand getting stuck between the mesh lining on the upper.
In that case, we suggest synthetics like Denier and Cordura Nylon as they are as well highly breathable and are less likely to trap sand. On the other hand, leather materials are not as breathable as mesh or synthetics because of their texture and structure.
But if you really want to wear leather hiking boots for the desert, opt for suede or nubuck boots instead of shiny leather. They will be more breathable, scratch-resistant and suitable for more sandy terrain.
6. Protective uppers
Another feature of hiking boots that makes them suitable for a desert hike is their protective uppers. So many things can happen on the trail, and for a terrain not so rigid like the desert, you would still need protection.
First, you need to protect your feet from the sand, tiny rocks, and other particles that could make you feel uncomfortable in your footwear. Then, the choice of materials used by manufacturers tends to be perfect for sandy terrains.
For instance, synthetic materials like Cordura and high Denier Nylon have the anti-abrasive feature which means they are less likely to be damaged by sand. This means this type of material will prevent sand and other desert factors from coming close to your feet for a longer period.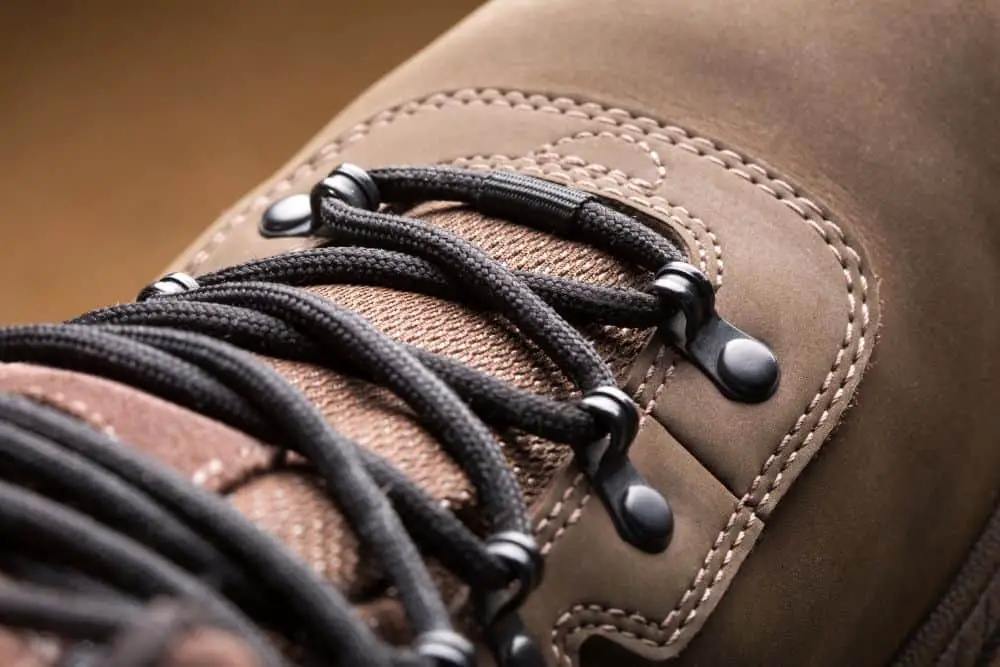 As mentioned earlier, hiking boots have different upper designs, ranging from low-cut, to high-cut designs. Wearing regular low-cut footwear would make your feet prone to dirt or tiny rocks.
Since the upper shaft height can extend a little over your ankle, they protect your feet to a certain extent. Also, the presence of features like gusseted tongues makes it almost impossible for sand to get into your hiking boot on the trail.
This feature intentionally keeps dirt, debris, and sand out of your hiking boots to prevent the discomfort that could make your steps awkward. To relieve yourself, you may have to make stops at intervals to remove your shoes and shake off the sand.
However, you can save yourself all of that by wearing hiking boots that prevent that from happening in the first place. So, of course, you should wear hiking boots when on a hike in the desert.
7. Reinforced toes for toe protection
You also need hiking boots in the desert for toe protection. Some hiking boots have reinforced toes that help reduce impact on your toes.
They help protect your toes from hurting if you hit stones or rocks on the terrain. Sometimes these stones are hidden in the sand, however, with the protection of your hiking boots, you don't have to worry much.
8. Hiking boots' hooks protect from debris
Wearing hiking boots in the desert can also protect your feet from debris. When hiking, sand, stone or pebbles are likely to enter your shoes.
Regular shoes with regular lace holes will not be able to do much. However, hiking boots have different hook types that can help prevent debris from entering your boots.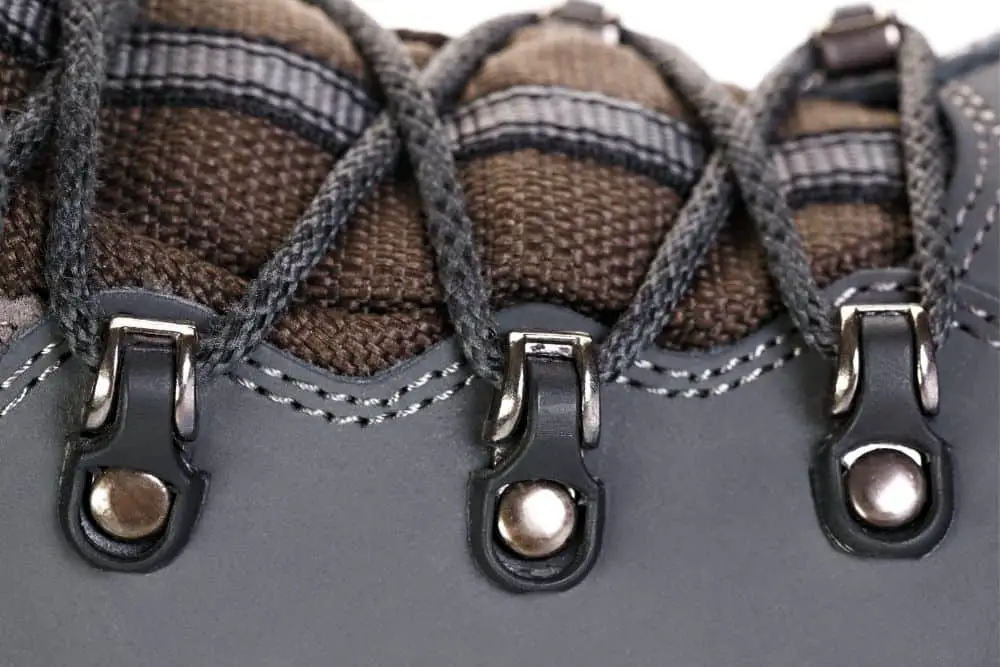 For example, there are hook designs like webbing, D-ring, hooks, and combinations of any of these. Since manufacturers mount those without punching holes in your boots, there is no way debris will enter through them.
9. Top 3 hiking boots for desert for you



Merrell Men's Moab 2 Vent Mid Hiking Boot, Walnut, 10.5 M US
KEEN Women's Voyageur Mid Hiking Boot, Brindle/Custard, 10 B - Medium
FREE SOLDIER Men's Tactical Boots 8 Inches Lightweight Combat Boots Durable Suede Leather Military Work Boots Desert Boots (Tan, 12)

Merrell Men's Moab 2 Vent Mid Hiking Boot, Walnut, 10.5 M US

KEEN Women's Voyageur Mid Hiking Boot, Brindle/Custard, 10 B - Medium

FREE SOLDIER Men's Tactical Boots 8 Inches Lightweight Combat Boots Durable Suede Leather Military Work Boots Desert Boots (Tan, 12)
Last update on 2023-01-17 / Affiliate links / Images from Amazon Product Advertising API
Drawbacks Of Wearing Hiking Boots In The Desert
While hiking boots are great for a desert hike, they could also make your experience a bit unpleasant. Just like some features make them fit, others can make them unsuitable for the desert. The following are the drawbacks to wearing hiking boots in the desert:
1. Bulky design may cause discomfort
One of the drawbacks of wearing hiking boots in the desert is their bulky designs. When you consider all that goes into making them, they are usually larger than your regular shoes.
Manufacturers have to ensure that they provide adequate protection for hikers. In the process, they add extra padding, insulation, rigid soles, waterproof membrane, and more features. And all these results in a bulky design that makes hiking in them a bit unpleasant.
First, the bulkiness will make you awkward or uncomfortable on the trail; that alone can make hiking more tedious than it should. Then, combining the fact that the terrain isn't rigid, and the sand can slow you down would make hiking longer and tiresome.
Furthermore, their weight can make your feet tired quickly on the trail. This would also make you sweat more since you would be using energy higher than you should. And that much stress during hot weather is not such an appealing picture.
However, you don't have to wear heavy hiking boots. Instead, you can go for lightweight hiking boots that are not so heavy, are comfortable, and protect and support your feet.
2. Too much insulation equals too much heat
Another reason wearing hiking boots in the desert may not be a good idea is the insulation some come with. While their insulation is there to keep your feet warm, they could also make your feet sweat, especially for desert hikes.
Plus, this can also happen when you wear hiking boots with thick insulation or socks that are not moisture-wicking. So, when the insulation becomes excessive and unnecessary, your feet don't get adequate airflow and will sweat.
When this happens, your socks will soak up the moisture, your feet will be wet, and you could get blisters from there or some other foot condition. Of course, the solution to that would be to wear hiking boots without insulating properties for hikes in the desert.
Also, you would need to wear lightweight moisture-wicking socks, which will help minimize the heat the insulation generates. Then, you can enjoy the warmth and other hiking boots features that make you enjoy hiking.
3. Punched eyelets and vented holes
Undoubtedly, the feature and design were meant by the manufacturers to be a plus, but sometimes, it tends to be a problem, especially on sand. Why?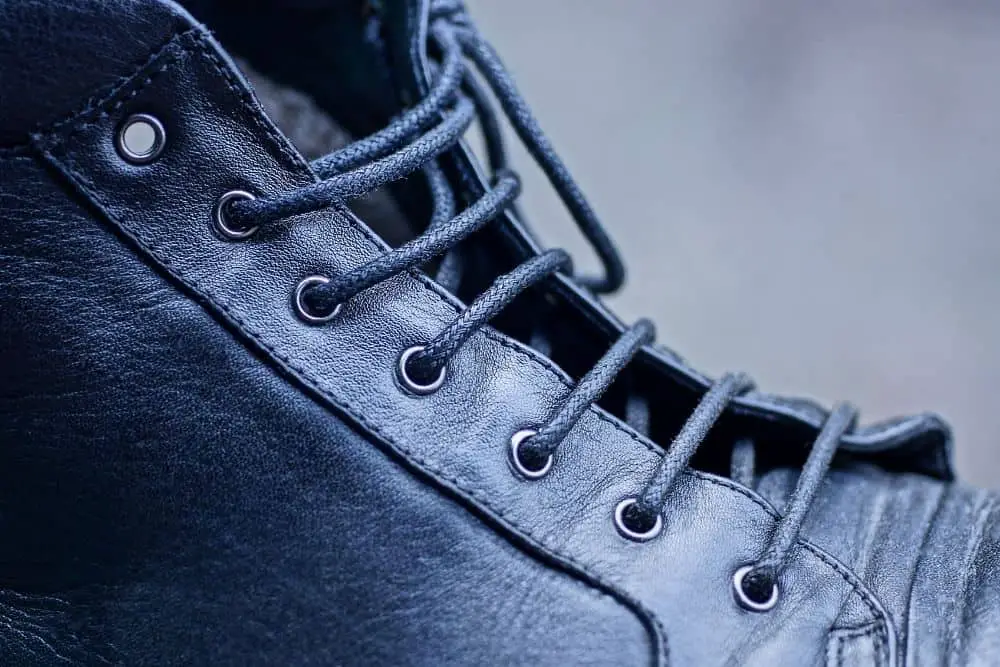 The punched eyelets and vented holes usually allow proper airflow in and out of the boots. Now, when hiking with this feature on sand, it acts as an "open door" for dirt and desert constituents gaining entrance into your boot.
In the end, this will lead to discomfort and an uncomfortable hike.
4. Inappropriate boot size can ruin the hiking experience
Hiking boots can ruin your hiking experience if they don't fit appropriately. One mistake people make when getting hiking boots is going for the wrong fitting ones.
There are many suggestions as to how to buy the appropriate size. For example, some say you should buy half an inch or an inch bigger than your shoe size and more. Plus, you can also try out the rule of thumb to check the appropriate sizing of your hiking boot.
However, size varies for hiking boots brands, so you may have to try them on before leaving the store. When you get the wrong size, your feet squash in the tight boots or move freely and often slip if they are too loose.
Since this is about hiking in the desert, it may not be a pleasant experience for you. Therefore, you need to get the right size before setting out.
Almost all other features may not matter if the hiking boots don't fit. So, wear them, walk in them and ensure you are comfortable before paying and leaving the store.
5. Crackable uppers
Another drawback of wearing hiking boots in the desert is that sand can damage the boots' materials. As earlier stated, sand can ruin your hiking boots, especially if they are leather materials.
First, you may not be able to get the sand off completely after hiking. And when sand stays too long in your hiking boots, it can sap the oil in them. This can result in your hiking boots drying out and eventually cracking.
Also, it means that if you don't try to remedy the situation as soon as possible, you will be bidding your hiking boots goodbye before you know it. So, ensure you wash them thoroughly, dry them, polish, or condition them after so they can maintain their shine for a longer period.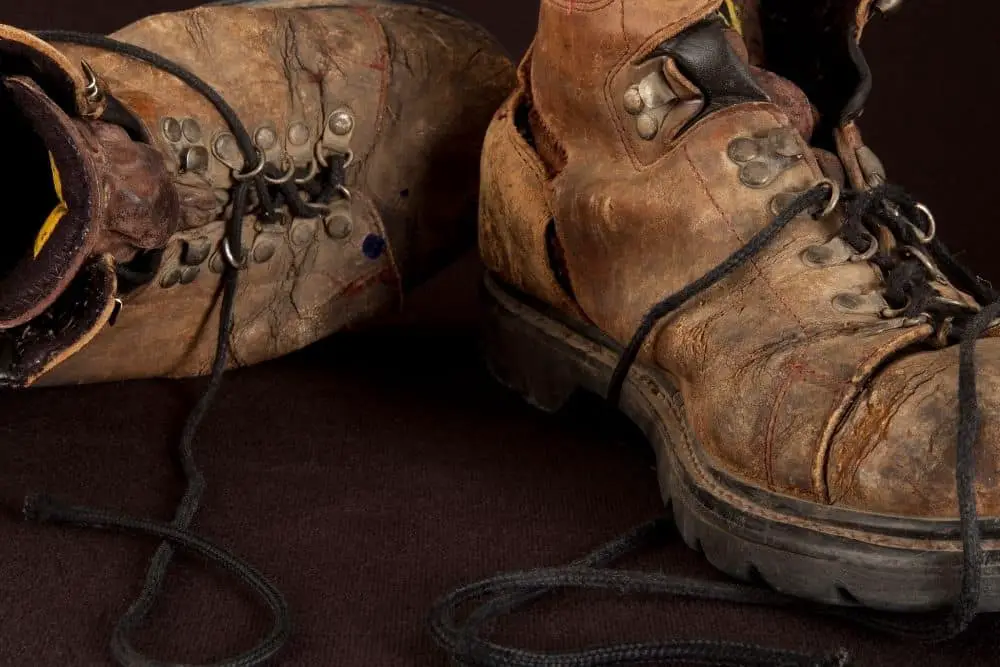 6. Hiking boot may be challenging to clean
After hiking in the desert, you may not be able to get the sand off your hiking boots completely. There will probably still be sand residuals in the eyelets, upper material, sole, and other parts of the hiking boots.
If you don't want the desert sand to ruin your hiking boots, you must clean them thoroughly. But, note that you will likely face challenges cleaning a sand-stained hiking boot. So, we suggest you clean them by vacuuming them or washing them with a machine.
Conclusion
Typically, hiking in the desert is quite different from other terrains. There are dunes in the desert, coupled with the dry and hot atmosphere; it makes you wonder if you need to wear hiking boots at all.
But of course, you still have to wear hiking boots in the desert for different reasons. So, when selecting boots for hiking in the desert, you should go for boots with high or mid-cut designs, D-ring, webbing, or hook eyelets, outsoles with good lugs, etc.
You shouldn't wear boots with lace holes or lack proper ankle support and protection. Besides, boots with gusseted tongues and padding collar are good choices to prevent sand from getting inside.
Also, don't forget that they have to be breathable and lightweight for comfort on the trail. I would choose hiking boots made from high denier nylon fabric, suede and mesh instead of leather to achieve that.
Finally, my hiking boots won't need to be waterproof or insulated. Those two factors will affect the breathability of the boots and are also not necessary for dry and hot places like the desert.
Get your hiking boots ready and go hike the deserts!