One thing about hiking is that you could be walking on rocky terrain one day, and the next could be on sandy trails. It all depends on what you feel like doing or how much you love adventures.
You would have probably heard that you need hiking boots for every hike, especially if it's your first time. If you didn't already know, they are suitable for providing support, protection, and other things that will make hiking easy and enjoyable for you.
You might have probably read articles about choosing the right hiking boots for your next trip and so much more. Anyway, the question right now is, are hiking boots good for sand or not?
Should you wear hiking boots or go for other walking footwear? And if it is okay to wear hiking boots on the sand, what kind should you wear, and what can you look out for?
You may feel a little confused about answering all those questions, but this article will answer all your queries. So, let us find out if hiking boots are good for sandy terrains.
Are Hiking Boots Good For Sand?
Yes, hiking boots are good for sand. How? First of all, these boots' manufacturers create them to offer the best hiking experience on all trails.
Also, they want to ensure that hikers are safe wherever they choose to hike, whether on rocky or sandy terrains. So, of course, hiking boots are suitable for hikes on the sand.
Furthermore, hiking boots have specific features that make hikes on sandy terrains safe and easy. On the other hand, hiking boots also have some features that bring about disagreement for use on sand.



Columbia Women's Newton Ridge Plus Waterproof Amped, Elk/Mountain Red, 6
Timberland Men's Flume Mid Waterproof Hiking Boot, Dark Brown, 9.5
Columbia Womens Newton Ridge Lightweight Waterproof Shoe Hiking Boot, Beach/Marsala Red, 9 US

Columbia Women's Newton Ridge Plus Waterproof Amped, Elk/Mountain Red, 6

Timberland Men's Flume Mid Waterproof Hiking Boot, Dark Brown, 9.5

Columbia Womens Newton Ridge Lightweight Waterproof Shoe Hiking Boot, Beach/Marsala Red, 9 US
Last update on 2023-01-17 / Affiliate links / Images from Amazon Product Advertising API
Hiking Boots Features That Make Them Good For Sand
As earlier stated, hiking boots can be used on sandy trails, and are in fact a good choice. But, what exactly makes them so good?
1. Non-slip outsole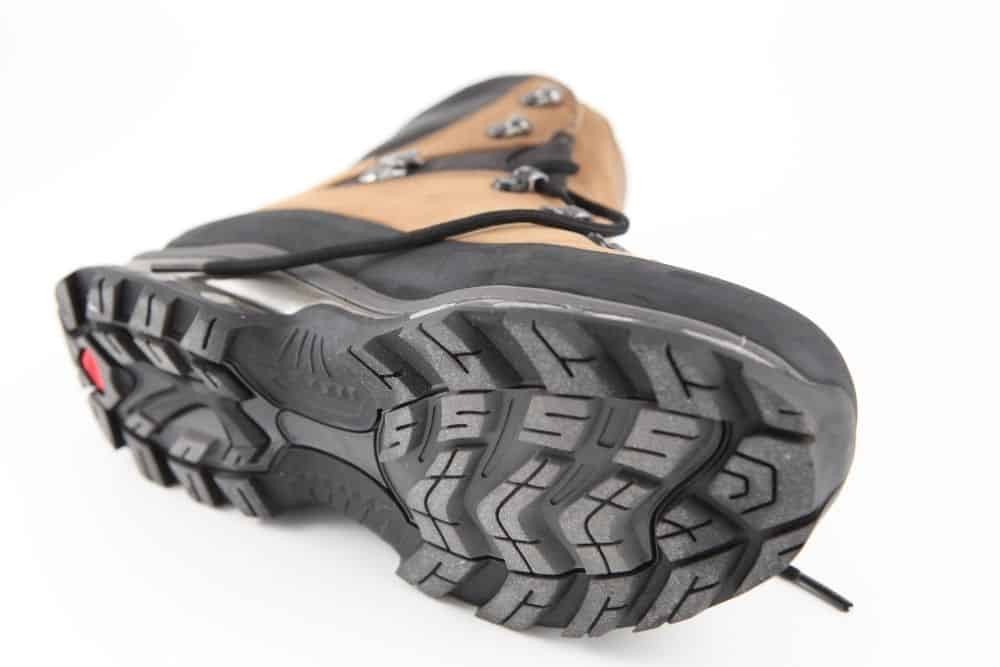 Hiking boots are pretty good at providing good traction, which you need on many hiking terrains, like sandy ones. For instance, the non-slip outsole design helps your feet to have a good grip on the ground.
If you have been to the beach more than once or even a single time, you know how it feels walking on it. For every step you take, the sand gives way under your feet, like it is slipping away.
You can imagine how much effort or energy you need to walk on the sand to maintain your stance and balance. Sometimes, it also depends on whether the sand is wet or dry. For example, it is easier to walk on wet sand than when dry because it is packed, making a more solid surface.
On the other hand, dry or soft sand isn't solid and gives way beneath your hiking boots, like on the beach. As a result, when you move on it, your step sinks or slips back, making you vulnerable to falling. This could make the whole process dangerous, causing you to stumble or twist your ankle.
However, with the right grip, you can be sure to hike with lesser risk. And the hiking boots' soles provide the right gripping traction that you need for that. And depending on the sole's lugs, you can get a good grip on sandy terrains.
In case you didn't know, the lug (or groove) is the design or pattern beneath your hiking boots. Therefore, hiking boots with good lugs will help you maintain your balance on sandy trails, whether walking uphill or downhill.
2. Hiking boots' uppers
Hiking boots are a go for sandy terrains because their uppers can offer the necessary protection for your feet. For instance, they offer protection ranging from pointy rocks on the terrain to preventing sand from getting into them.
Most times, the best material for your hiking boot's upper part when going on hikes in sandy terrain is leather. But, leather tends to lack the anti-abrasive feature, which can make it less durable.
However, materials like synthetics (Cordura Nylon) can be a better option, because these are anti-abrasive and will withstand the harshness of sand. Generally, when hiking on a sandy path, one thing you probably should avoid is getting sand into your hiking boots.
This is because sand can irk your feet, causing blisters or scratches, but the mid-cut (or high-cut) uppers can prevent that from happening.
3. Gusseted Tongues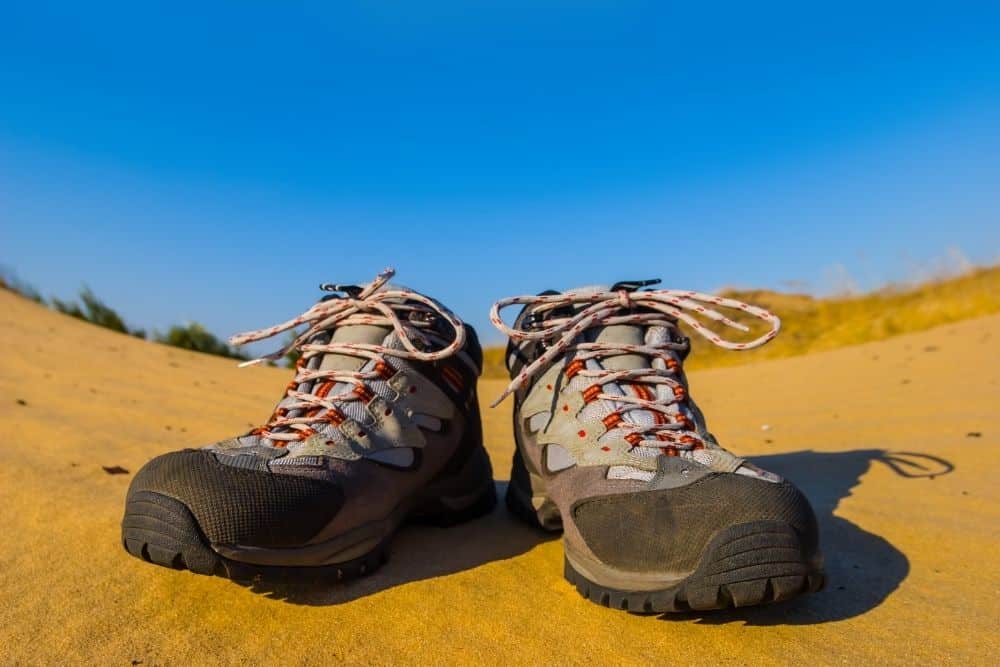 Basically, the function of this feature of hiking boots is to prevent dirt, sand, debris, and tiny stones from getting into your footwear. This part of your hiking boots usually lies beneath the laces and is sewn to the boots.
This special design leaves no space between the tongue and the boots, acting as a guard to thoroughly prevent dirt or sand from getting into the footwear.
Trust us, this feature is often the most needed when hiking on a sandy trail. You would figure it out in reality and you may like to say "thank you" to me for recommending this magic feature.
4. High cut design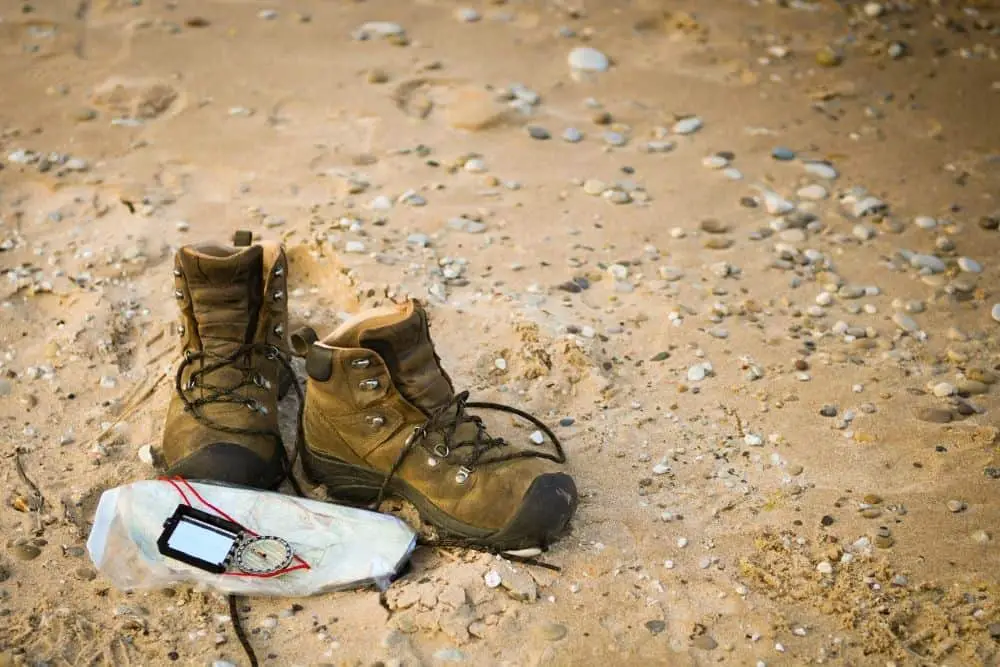 Another feature of hiking boots that makes them good for sand is their high-cut design, which provides good ankle support for your ankles. They ensure that your ankles stay in place and protect them from twisting.
This is thanks to the cushioning manufacturers include in the uppers and the material they use to make the boots. Also, they make the materials sturdy and stiff, so the ankle doesn't slip in the boots too much.
While not all hiking boots may provide 100% ankle support when on a hike on sand, they protect your ankles to an extent.
Furthermore, just like the gusseted tongues, the high-cut design will limit the amount of sand that can get into your hiking boots.
5. Midsole
Another good feature of hiking boots is their midsoles. The midsoles serve as a form of additional comfort provider for your feet when hiking on the trail.
When you'd be hiking on sand having fewer rocks, the midsole will still help to minimize the energy impact between your feet and the ground.
6. Shanks and plates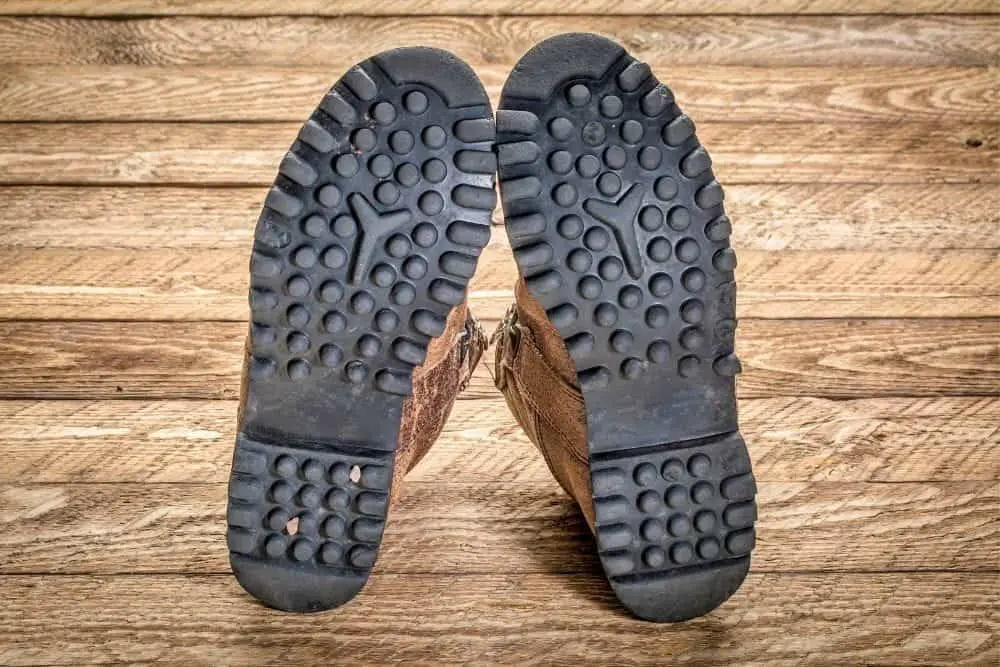 One thing you should not bargain with when choosing hiking footwear is its stability. This feature is very crucial if you want to enjoy hiking, and more importantly, stay safe.
First, hiking boots' soles ensure you get the additional stability you need on the sand. But, the shanks and plates are often the primary providers.
For instance, the shanks help to keep your feet balanced and stable on the sandy terrain, especially when it starts to sink badly. Then, the plates prevent any possible sharp hidden object within the sand from piercing your feet from underneath.
Nevertheless, hiking boots have supportive midsoles that help to maintain heels and arches to function well irrespective of the terrain.
7. Various types of hooks
Regular shoes have eyelet holes that are easy for sand to get inside, but hiking boots don't get this disadvantage.
Some hiking boots also have punched eyelets, but most of them have eyelets in the form of hooks, such as D-rings or webbing. This makes a lot of sense as these eyelets prevent sand from getting inside the boots.
It can be said that this is the great strength of hiking boots when used for sand.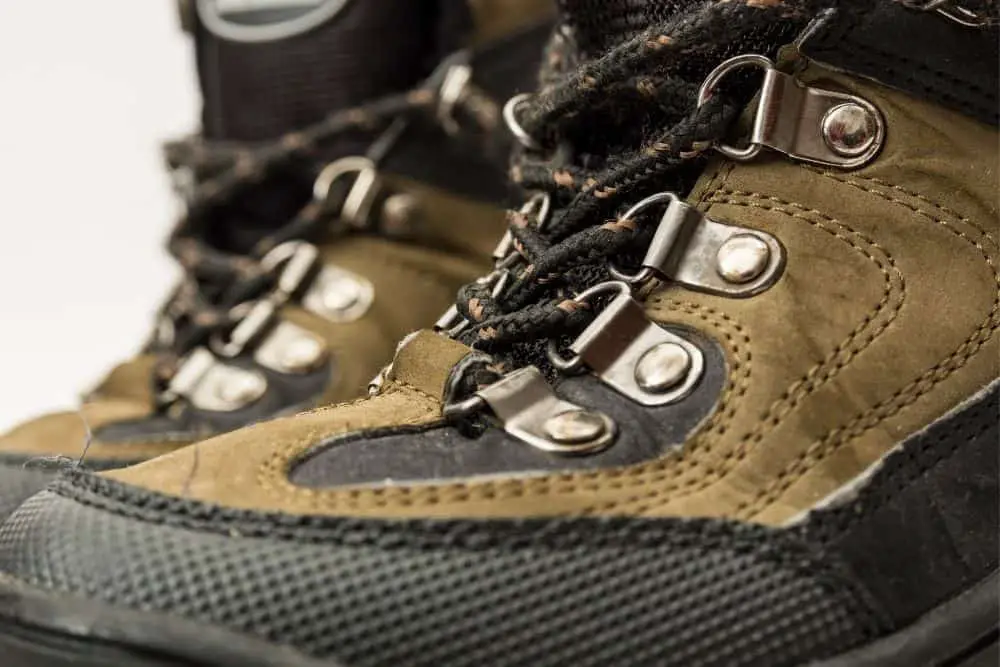 8. Fit design
Another reason you can definitely wear hiking boots on the sand is that they often come with fit designs. First, comfortability is key when hiking and the way the boots fit defines how comfortable your feet are. Otherwise, it could contribute to the worst experience ever.
Most hiking boots often have sporty construction that holds the feet pretty well as long as you pick your true size (or slightly larger – a half size up).
You don't often slip boots off the feet when trying to get out of quicksand or even a sand marsh. So, it makes sense to wear hiking boots on sand with safety.
9. Great structure for toe protection
Besides ankle support, another feature of hiking boots that makes them suitable for sand is the well-reinforced toes (usually reinforced with rubber).
This feature is a great aid for your hiking in the deserts like Joshua Tree. Reinforced toes protect your feet from sharp stones lurking in the sand.
Hiking Boots Features That Make Them Unsuitable For Sand
Of course, there are some features that make you want to rethink using your hiking boots on sandy terrains. However, these features are often there to help, but are pretty much the opposite in this terrain. What are they?
1. Eyelets and vented holes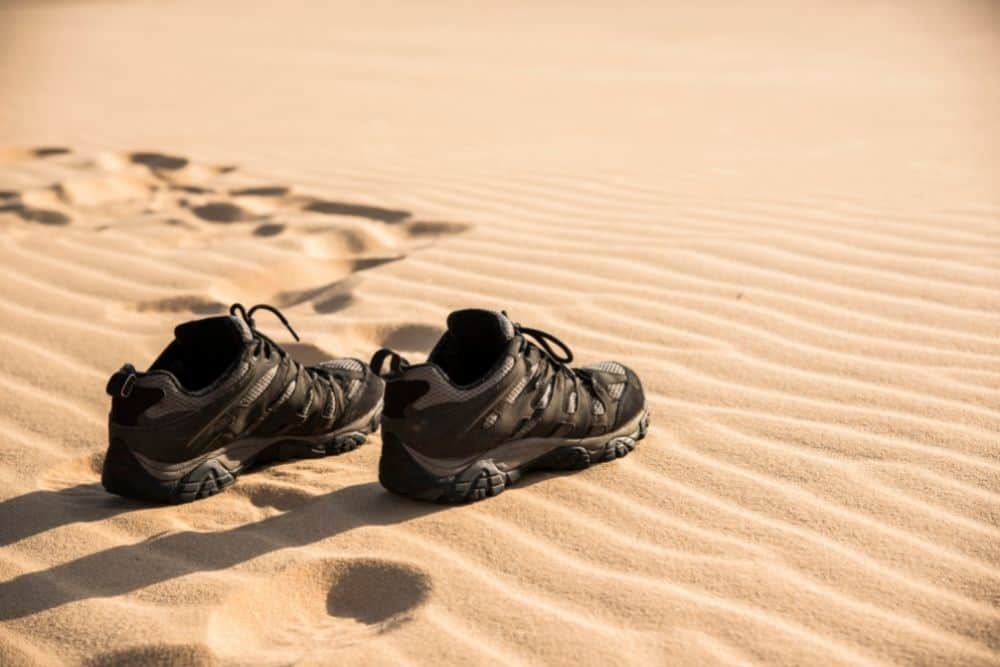 We understand that these features are meant to help you drain out water from the inside boots while boosting ventilation in hot and humid conditions, but they can somewhat be a huge let off.
When this feature is allowed to thrive in hiking boots meant for sandy terrains, they become open means for sand to get stuck into the middle parts of your footwear.
And as we have consistently stated, allowing sand into your footwear while hiking isn't a good sign.
Nevertheless, breathable materials and linings can be a better alternative for breathability on sandy terrains.
2. Not-so-easy-to-clean materials
One major downside to wearing hiking boots on sand is that it makes cleaning the hiking boots difficult afterward. It can be tasking to get sand out of hiking boots after a long day on the trail.
And sometimes, this could be worse, especially when wet sand sticks in the hiking boots materials. You have to get every grain of sand out of your hiking boots if you want them to last longer.
And that could involve a lot of stress from removing the insoles and washing the hiking boots to rid them of any sand particles. However, there are different ways in which you can completely remove sand from your hiking boots.
3. Vulnerable hiking boots' materials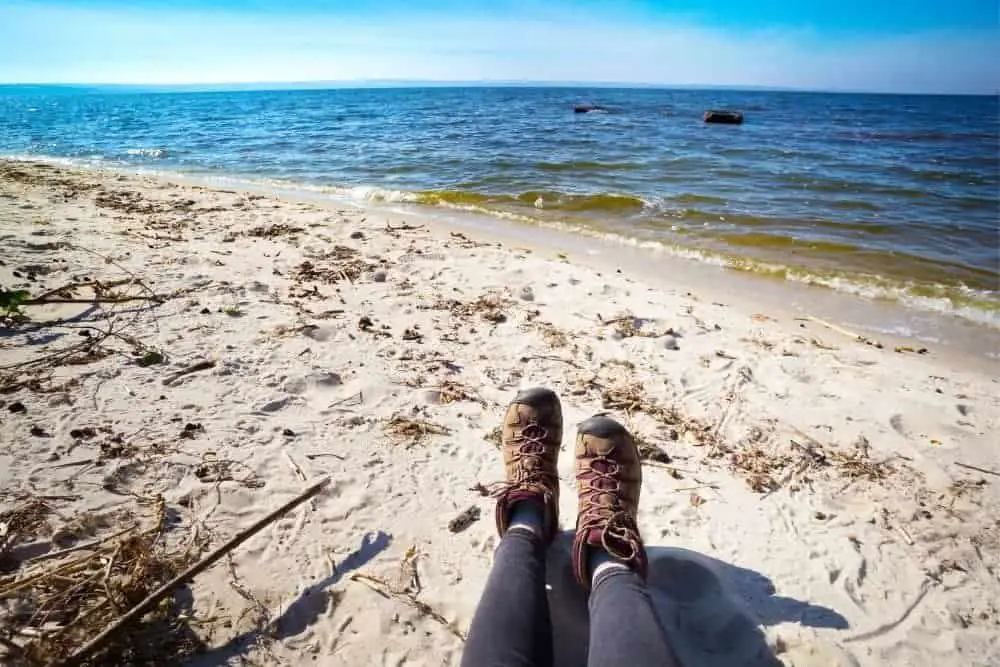 Sand getting stuck in your hiking boots can ruin the material, especially if it is leather. This often happens when you are unable to get all the sand particles out of your hiking boots.
Also, if you don't clean your boots on time, leaving the sand in, they can make your hiking boots dry out. As a result, the material will lose its shine and probably start cracking. In the end, this will somehow shorten the lifespan of your hiking boots.
4. Hiking boots' weight
Another downside to wearing hiking boots on sand is that they can make you tire easily. But, again, this is due to hiking boots' weight. Generally, you'd refer to hiking boots as lightweight outdoor footwear, but for sandy conditions you might want to rethink your stance.
As you know, hiking boots' weight varies, and depending on the type and their different purposes. However, to a certain extent, they are heavier than regular shoes.
The problem with the weight would usually arise when your feet are sinking into the quicksand. Now, if you combine their original weight with the possible sand that might get into it, you can imagine how much more power you need.
And the more power you use, the quicker you get tired, making your journey longer or unbearable. Nevertheless, hiking boots' weight ranging between 1.5 lb to 2lbs could be ideal.
How To Choose Hiking Boots For Sand?
Choosing the right hiking boots is serious business and something you should pay utmost attention to. For instance, wearing unfit hiking boots on the trail could be one of the most uncomfortable feelings you can experience while hiking.
This is why hiking experts recommend that you wear proper shoes. Like we mentioned earlier, you need lightweight hiking boots on the trail, so you have fewer things to spend your energy on when hiking.
So, what are the things you should consider when choosing hiking boots for sand? Here's how to choose hiking boots for sand:
1. Wider outsole with lugs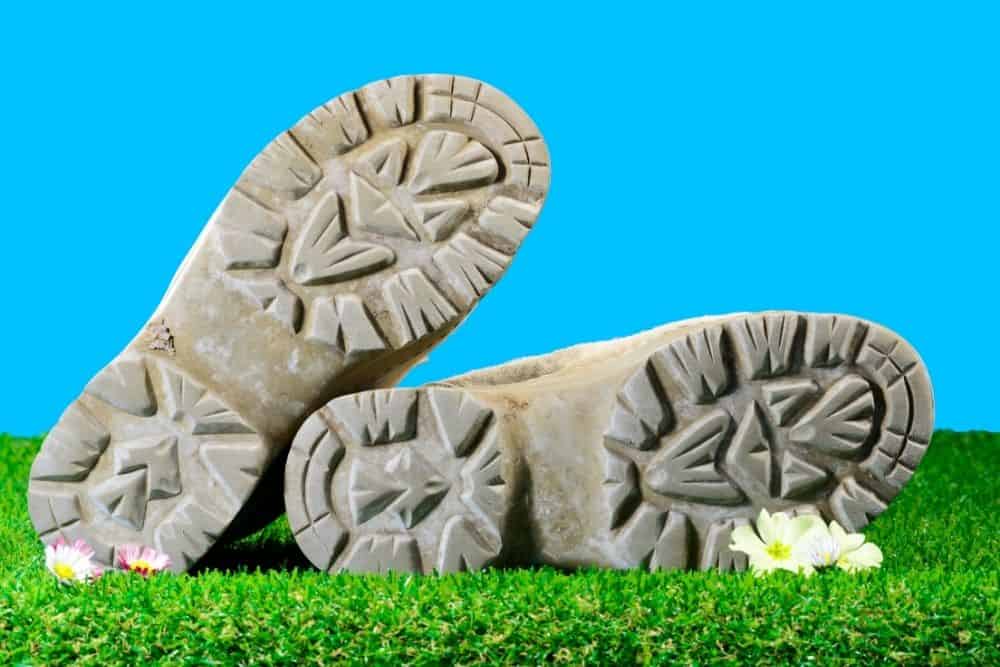 Since sand is shifting, whether it's wet beach sand or dry desert sand, your feet tend to sink in them quickly if you don't have hiking boots with wider outsoles.
This feature expands the area of direct contact with the sand from the top, thereby reducing the chance of your feet being quickly submerged.
It will save you a lot of energy pulling your feet out of the sand.
In addition, hiking boots with obvious lugs help prevent sand from entering the inside (through vented holes or ventilated micro holes on the boot's sides) as well as unwanted wet sand sticking to the outsole.
2. Lightweight boot construction
Different hiking terrains and purposes call for various hiking boots. Like we mentioned earlier, you need lightweight hiking boots for sand.
You don't want to add the hiking boots' weight to the energy you will use on the trail. And this means going for boots, not beyond 3lbs, not stiff, or having heavy materials.
Usually, leather tends to be heavier than mesh and other synthetic materials like Cordura, Nylon. However, if you are obsessed with leather, you can settle for nubuck or split-grain hiking boots.
These don't weigh as much as full-grain leather and they still provide you with the protection you need on the trail. Nevertheless, you should definitely check out the hiking boots' weight before purchasing them.
Besides, lightweight boot construction tends to dry faster when you unfortunately step your feet on a mix of sand and water.
Your preferred lightweight hiking boots should weigh somewhere between 2lbs and below.
3. Mid ankle support
You need proper ankle support on hiking trails, including sandy terrains. This is crucial for you if you have had ankle sprains or issues in the past; however, that doesn't leave you out if the reverse is the case.
As you know, sand can be pretty soft when stepped on, and this could cause sinking. So, if you don't get enough stability on the way to walk on sand, that would cause predictable twisted legs which is not good for ankles.
Yet, since the ankle support you need for hiking on sand is not equivalent to walking on rocky terrains, so personally I recommend going with mid ankle support.
4. Breathable upper
Another thing you want to consider when getting hiking boots for sand is breathable uppers. Sand can sometimes be hot like in the desert, and in such situations, you would need your boots to be breathable.
You don't want to deal with sweaty feet on the trail, as that can irk you and make you feel uncomfortable.
My advice is to go with a blend of mesh and synthetic fabrics (like Cordura or D-nylon) uppers that would give great lightweight and highly breathable effects.
Besides, breathable components ensure your boots dry up faster on your go. In turn, saving you from smelly feet, blisters, fungi infection, and other foot conditions.
However, you might want to be wary of this feature when shopping for a sandy terrain hike. Why? You may want to stay away from breathable upper that have tiny holes.  This will allow sand grains to get stuck, or worse, enter into your hiking boots.
5. Waterproof lining for wet sand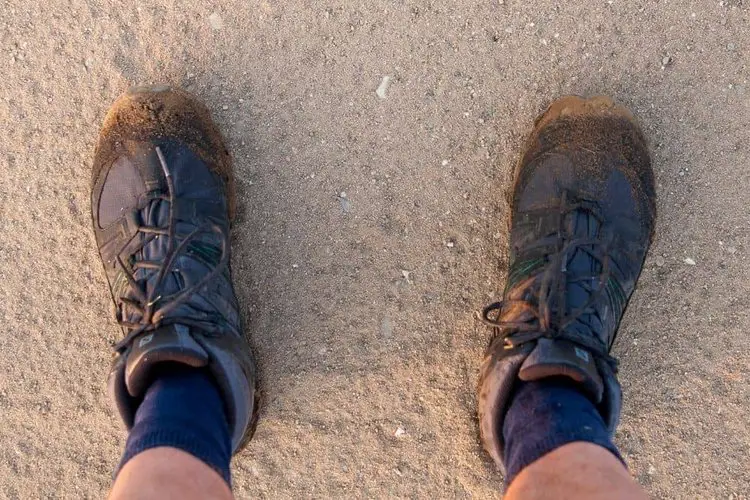 If you are planning to hike on the beach that comes with deep wet sandy puddles or sandy marsh, breathable things and high-cut design are not enough.
You may be in need of waterproof lining (like Gore Tex) to keep your feet dry and comfy from the inside, too. Something like Gore-tex also breathes well in hot and humid conditions, so they are not going to heat your feet up.
6. Usage
On some other days, you may want to extend your adventure to other hiking terrains, and of course, you would like to wear the same hiking boots. However, hiking boots are not so cheap that you can have a couple of them for different terrains.
Therefore, you have to consider their usability over other hiking terrains other than sand. You also have to consider that weather changes, and you would want a pair of hiking boots that would do fine irrespective of the weather.
So, you should go for hiking boots that are actually breathable and waterproof so they can work for both kinds of weather. The good thing is you can complement the hiking boots with appropriate socks.
Moreover, you might want to wear hiking boots on easy, rocky or rugged terrains. So, you should go for hiking boots that provide good ankle support, traction, and more.
7. Durability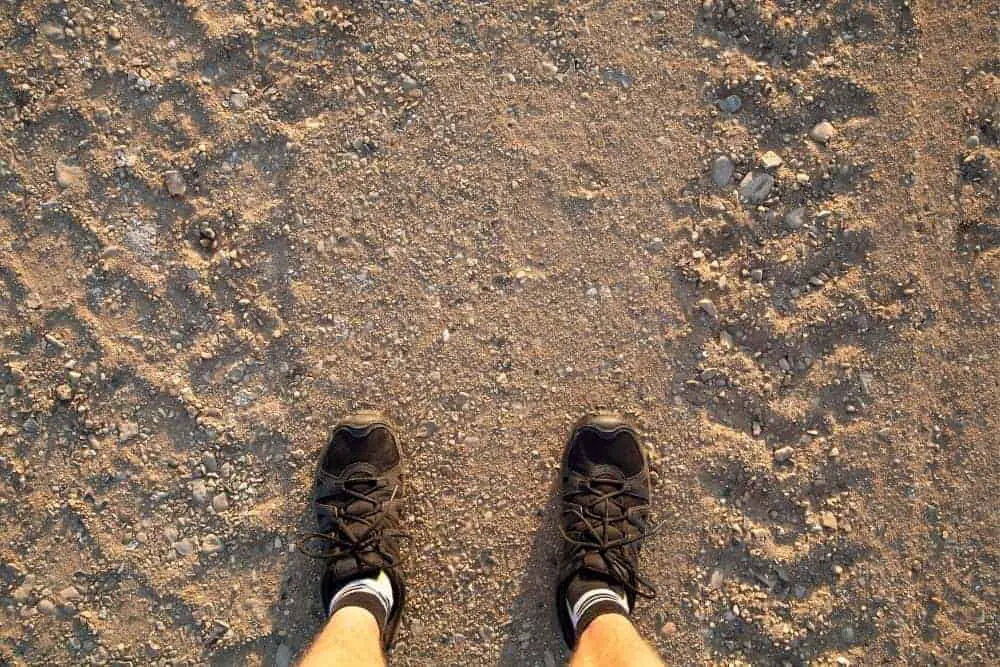 When selecting hiking boots for sand, you should go for hiking boots that would last for a long time. So, get hiking boots that will provide ankle support for an extended period, and ones that each of their parts won't fail too quickly.
You can also base your judgment based on the material. For instance, leather tends to be more durable if you maintain them properly; however, they tend to lack anti-abrasive features.
So, in this case, we would suggest that you go for materials like nubuck, suede, or Cordura Nylon, as they are more durable on sand. Regardless, the most important thing is that you care for your hiking boots. That way, they would last much longer.
8. Right fitting
Last but not least, your boots shouldn't be too tight or loose as they could result in mild or serious foot health conditions that you would want to avoid. Therefore, when selecting your hiking boots, you want to be sure they fit snugly but not too tightly around your feet.
Why? A well-fitted hiking boot will prevent sand from getting inside which can also cause blisters. Plus, you would want to ensure that your fitted hiking boots have enough toe box room.
Some experts recommend that when buying your hiking boots, you should go for half or a full inch bigger than your regular size. While this may work for others, it may not always be the case. We suggest that you use the rule of thumb to confirm the right sizing for your hiking boot.
The first reason is that manufacturers size their hiking boots differently, so you have to be sure that what you are getting is exactly your size. So, ensure you try the hiking boots at the store, have a feel of them, and see if they fit just right.
Conclusion
Hiking boots are perfect for hikes on sand, and that is what this article is all about. However, as you could see earlier on, there are several features of hiking boots that make them great and bad for sandy terrains.
Nevertheless, if you follow the guide on how to choose the perfect hiking boots for sandy terrains then you are sure to have an excellent hike. Happy shopping!