Hiking boots' expensive prices are no longer news to hikers. If you are new to hiking or it has only been a while, at some point, you will have wanted to purchase your hiking boots.
After checking boots both online and offline, you would have seen that their prices differed from your regular shoes or sneakers. Could it be because of their purpose, or why are hiking boots so expensive?
You will notice that hiking boots are built differently and you can hardly use other types of shoes for hiking. Although people wear other shoes for hiking, they just don't feel the same way as hiking boots.
The price of hiking boots should not discourage you from getting quality boots because, in the long run, they will serve you well and for a long period of time. A lot goes into making hiking boots quality outdoor footwear for a serious activity such as hiking, and this is one of the contributing factors to their prices.
But that is not all. Other important factors make hiking boots more expensive than regular shoes. Perhaps they will convince you that hiking boots are worth every penny.
Let's find out!
Why Are Hiking Boots So Expensive?
When you check hiking boots' construction, you can sense the quality of footwear that they are. From their upper materials to their technologies, outsoles, and every other feature and material used in their construction.
This makes them last a long time, irrespective of how rigorous the activity is or how rough the terrain is. Other footwear probably won't be able to measure up to it. Should hiking boots be expensive with or without all of these?
What makes hiking boots expensive? These are some of the reasons:
The upper material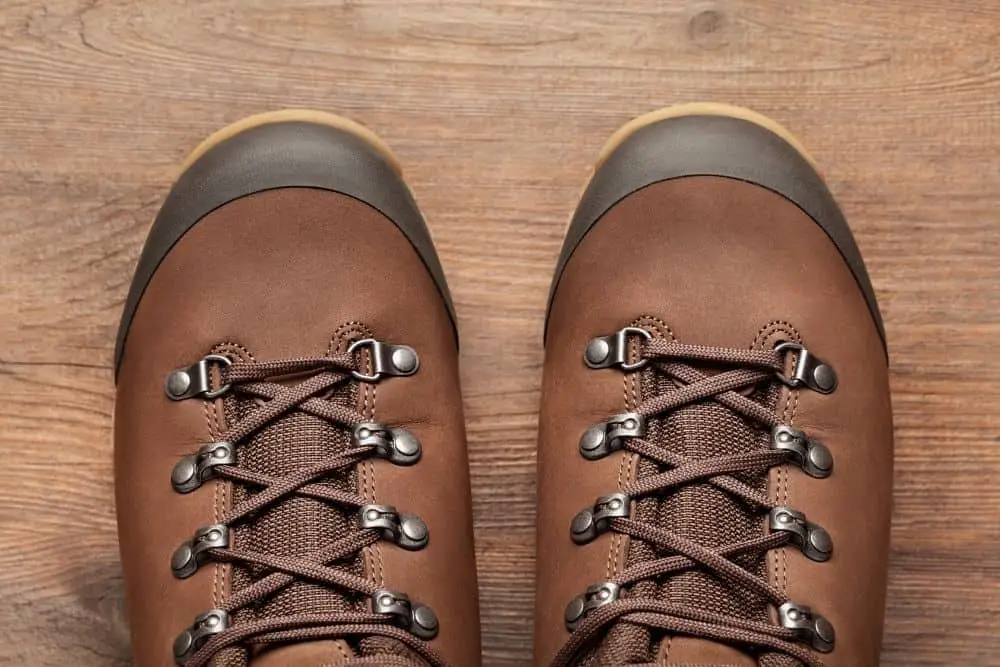 The major production cost goes into the materials that go into making hiking boots. The upper, for instance, is above the sole, and depending on which is used, it affects the price of hiking boots.
In making hiking boots' uppers, manufacturers use different materials like leather, fabric, synthetics, or blends of all or any. Of these materials, leather is the most expensive because it is gotten from animals' hides.
Originally, leather materials were waterproof, and waterproof is a major quality and feature of hiking boots, so this somewhat adds to their cost.
Other leather types like nubuck and suede are also expensive, and their natural materials add to the cost that adds to their price tags.
While synthetic materials are not as expensive as leather, they are also more expensive than regular shoes. Hiking boots' rigid upper materials enable them to withstand harsh conditions and are highly protective.
In addition, these materials are of good quality and very durable for long-term use, especially leather uppers. This also makes investing in hiking boots a bonus, because you get to use them for a long period of time instead of buying numerous unfit shoes for hiking.
The outsoles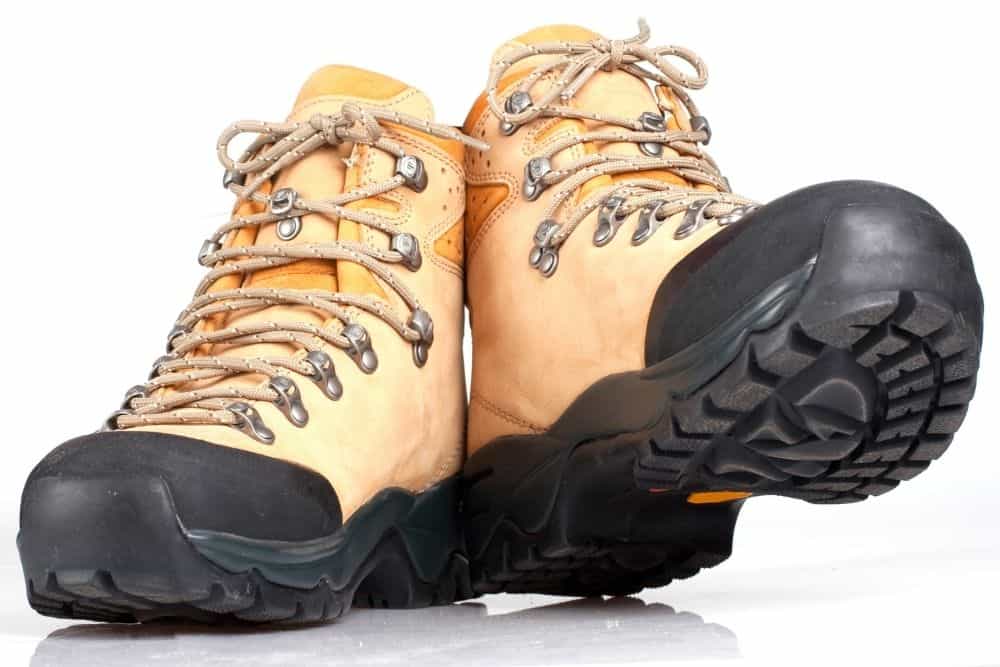 Hiking boots' outsoles are an integral part of the boots, and this makes them add to the price. The outsoles make contact with the terrain, so a little extra work goes into ensuring that they provide enough support and protection for hikers on the trail.
From the material used in their construction, the lug design, thickness, rigidity, and so much more.
Most hiking boots' outsoles are made from rubber; not just any, but heavy-duty ones that are solid enough to withstand harsh weather, environmental conditions, and situations on the trail.
For hiking boots to ensure a hiker's stability on the trail, manufacturers ensure that the soles are large and wide enough to ensure that every step you take, they are solid on the ground.
In addition, the outsoles on hiking boots usually have aggressive lug patterns for enhanced traction on the trail. That way, you can be sure of balance on the trail.
Many hiking boots have Vibram soles, and they are very durable. Therefore, manufacturers using quality materials for the soles to aid hikers' protection on the trail means that the boots will be expensive.
Better materials equal more money. Vibram soles are very expensive, but they can last for years without tearing or breaking. However, they are more likely to fade and wear down.
Therefore, if you want to use your hiking footwear for a long period, you need to be prepared to invest in quality hiking boots, and that's definitely a lot of money.
In addition, manufacturers take proper care in ensuring that the lugs beneath the soles are good and functional enough to aid traction on the trail.
When it comes to the outsoles, it is not just about the price of the material manufacturers use in making them. The effort that goes into making them good and effective for hiking purposes also adds up to the hiking boots' price tags.
The midsoles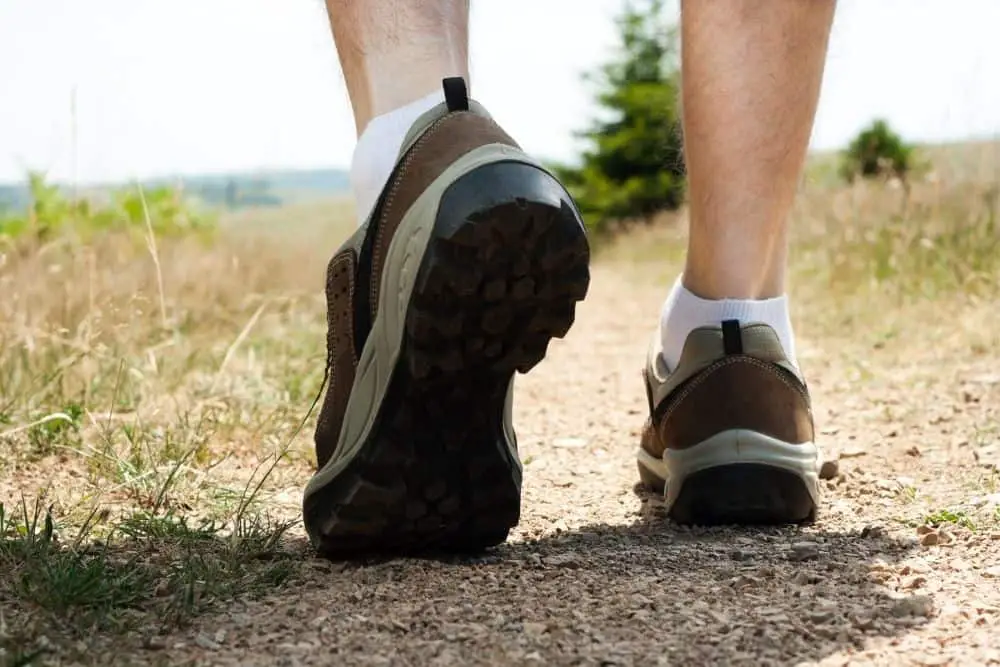 Another part of hiking boots that makes them expensive is their midsoles. The midsole is typically sandwiched between the outsole and the insole, and it serves as an additional layer of protection between your feet and the terrain.
Together with the outsoles, they help with shock absorption and ensure the hiking boots' rigidity and firmness on the trail. In addition, they are often soft, so they are easy and gentle on the skin, which makes hiking boots gentle on the feet.
Manufacturers know the importance of insoles in hiking boots in enhancing their rigidity and stiffness, which is good for rocky and uneven terrain and long hikes.
For midsoles to serve their purpose, manufacturers need to ensure that they use quality materials, especially when you consider some hiking situations.
Regular shoes may not do much to reduce the terrain's impact on your feet and make your feet hurt. Therefore, manufacturers usually make the insoles from ethylene-vinyl acetate (EVA) and polyurethane.
The prices of both materials differ, and they add up to the price of hiking boots. For example, EVA is less expensive than polyurethane and is lighter and cushier.
Even though they are light, they are rigid in hiking boots, and that depends on the density manufacturers use during production.
Polyurethane, on the other hand, is more durable and firmer than EVA, so you will find them mostly in mountaineering and backpacking boots.
Therefore, you will notice a price difference between different hiking boots and their usage. All of this is so that your feet enjoy optimum protection and support on the trail.
So, midsole costs during production contribute to the hiking boots' market price.
Plates and shanks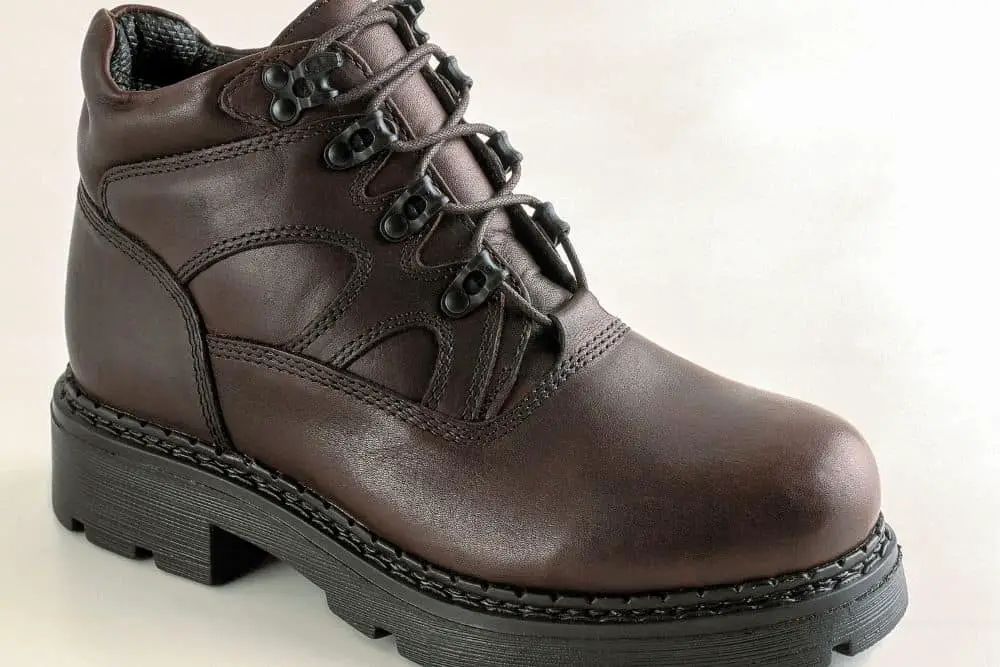 Different hiking boots' components contribute to their costs, and some of them are the plates and shanks. These are thin plates or materials that manufacturers insert between hiking boots' outsoles and midsoles, and they help to contribute to their rigidity and sturdiness.
This also helps to contribute to the support hiking boots provide to hikers when on the trail. Plates and shank inserts are more helpful in backpacking hiking boots because they help with the extra load hikers carry on their back.
They make hikers more stable and help with arch support with the extra load. These plates are usually steel, and, of course, they will add to the cost of production.
These rugged components contribute to the heavy-duty construction of hiking boots, which adds up to making quality footwear for hikers on the trail.
Brand's popularity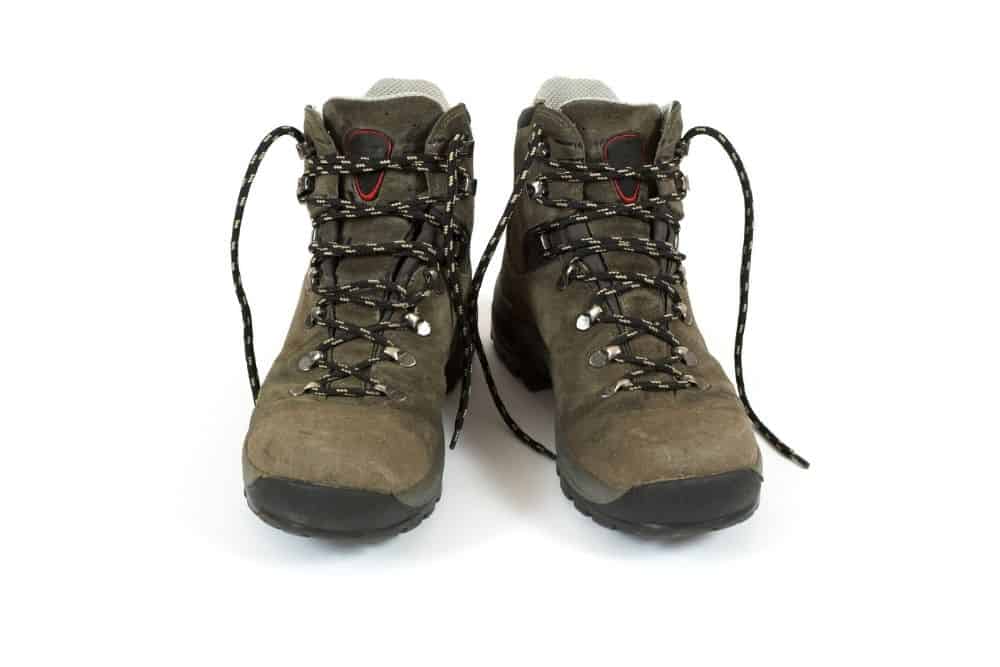 Another thing that adds up to the price of hiking boots is the brand's name and popularity. This is not a new thing because it occurs among other products apart from hiking boots.
For example, if you want to buy designer clothes, you can estimate how much you will pay rather than going into a store to buy a lesser-known brand.The difference will show in the price and maybe in the quality as well.
In the hiking boot market, there are quite a few popular brands, like Merrell, Oboz, Columbia, Salomon, and so much more. This is not to mean that they are expensive because they are more popular brands than others.
Apart from the name they have, they use quality materials in producing their hiking boots. For them to maintain their status as some of the top brands in the industry, they have to live up to their names with their production quality.
Another thing is that brands invest a significant amount of money in marketing their products. This is bound to affect the ultimate price of hiking boots.
While some people may believe that the cost only covers the production of the leather, laces, and rubber soles, the truth is that it is way more than that.
Some brands' prices can be really high, while others' be low. It depends on what you can afford and what the hiking boots have in terms of quality and special features.
Labor cost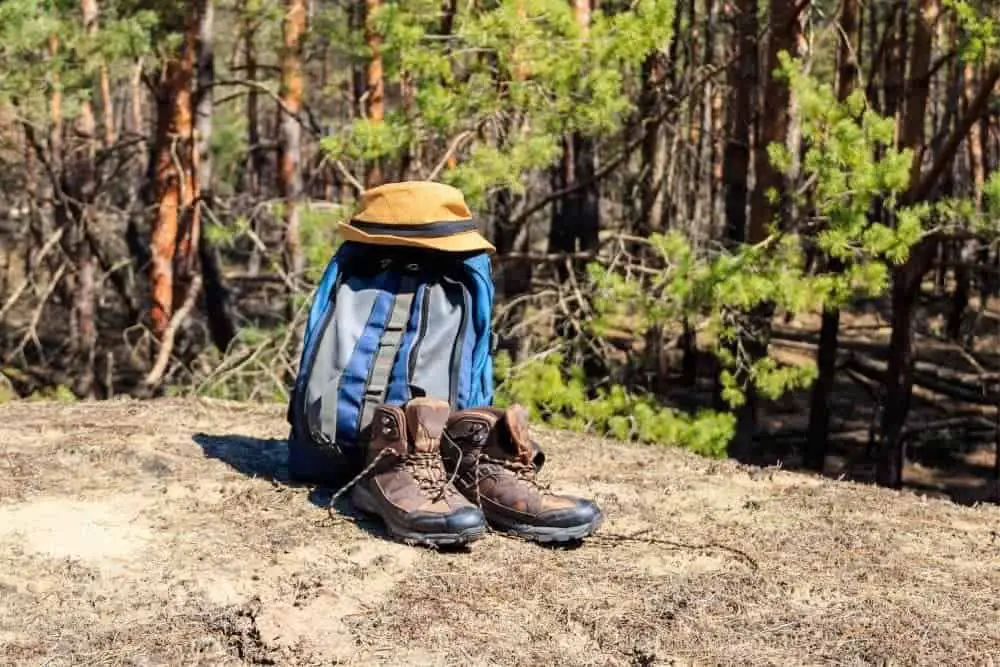 Apart from materials, one other major thing that matters in making hiking boots is the effort that goes into producing the boots. Manufacturers try to ensure that users get the best of their products.
Therefore, in making their product, they make sure that they pay attention to every detail and craft the product for long-lasting use. Depending on the type of hiking boots you choose, handmade or not, you can tell the difference in price.
The construction process of hiking boots makes up a large part of their cost. For example, you will notice a difference between a line of hiking boots made with an automatic line or with your hands.
Manufacturers can easily miss some faults with the former but not with the latter. But that isn't to say that they don't pay attention to their production.
Manufacturers are all out to produce quality products so that their users can keep coming back. This ranges from selecting the best materials to being thorough with the production.
The time that goes into producing the hiking boots also matters, because thorough processes take more time and effort. In the end, they will be able to produce more quality products that will last for a long time. However, this is not the case in all cases.
A manufacturer that puts a lot of work into producing quality will, of course, want to reap the benefits of their efforts. That aside, hiking boots' production is not a one-man job but a collective effort from different people.
Therefore, depending on the production cost regarding labor, hiking boots can be expensive.
Cutting edge technology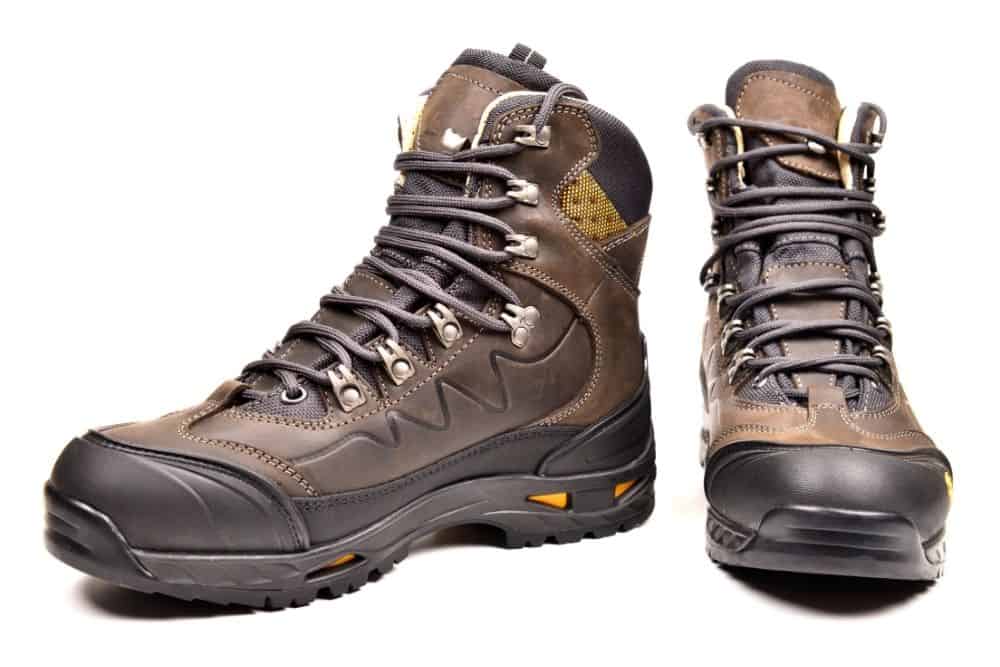 Hiking boots are different from regular shoes, and a lot goes into their products to make them fit for hiking. Not only do hiking boots have to be supportive or protective, but they also need to be waterproof, breathable, and lightweight.
Manufacturers indeed intend to make hikers comfortable on the trail without sacrificing very important and crucial features. But, of course, manufacturers didn't do this within a day or start producing immediately after birthing the idea.
The science that goes into ensuring that hiking boots' beneficial features and the research that contributed to them add up to the production cost.
Of course, now, they have a working, structured system for producing their boots, but they do evolve in their production to ensure the best. Therefore, research never ends.
Moving on, when you consider the different technologies available in hiking boots, one can only expect them to be expensive.
For example, manufacturers use technologies like Vibram megagrip, Gore-tex for waterproofing, NestFit for comfort, CleanSport NXT for minimizing odors, and more, in hiking boots.
Think about the waterproof membrane, insulation, breathability, ensuring materials are lightweight and cutting down weight, and so much more. All of these add to the cost of producing hiking boots.
The idea, time, and money that go into this increase the proof of hiking boots. However, thankfully, the economies of scale in their production helped to beat down the price a bit.
And without that, sometimes, you are likely to pay more for a pair of hiking boots. Therefore, if you need all that mega protection and those juicy benefits in hiking boots, you should be ready to pay more for them because the cost of producing them can be expensive.
Conclusion
Hiking boots' prices vary, but oftentimes, they tend to be on the high end, and this depends on different factors. The major contributing factors to hiking boots' expensive nature are the materials that go into their production and their cost.
Other things that matter are labor costs and branding. You can opt for less expensive hiking boots that are within your budget. However, you should not be discouraged from buying quality hiking boots for use on the trail.
In the end, they pay off because they last a very long time and they are much more comfortable for hiking than other footwear.