One of the features that many people are most interested in hiking boots is the waterproof ability. Because when your hiking trips last for several days, it is inevitable to encounter rain, and you will have to deal with small to large puddles and muddy roads.
However, hiking boots don't always come with waterproofing and you'll need to consider a few aspects.
Today's article will talk about the waterproof ability of hiking boots. Things you need to consider and how to find a pair of hiking boots that are really good enough to keep your feet dry throughout the journey.
Let's check it out!
Are Hiking Boots Waterproof?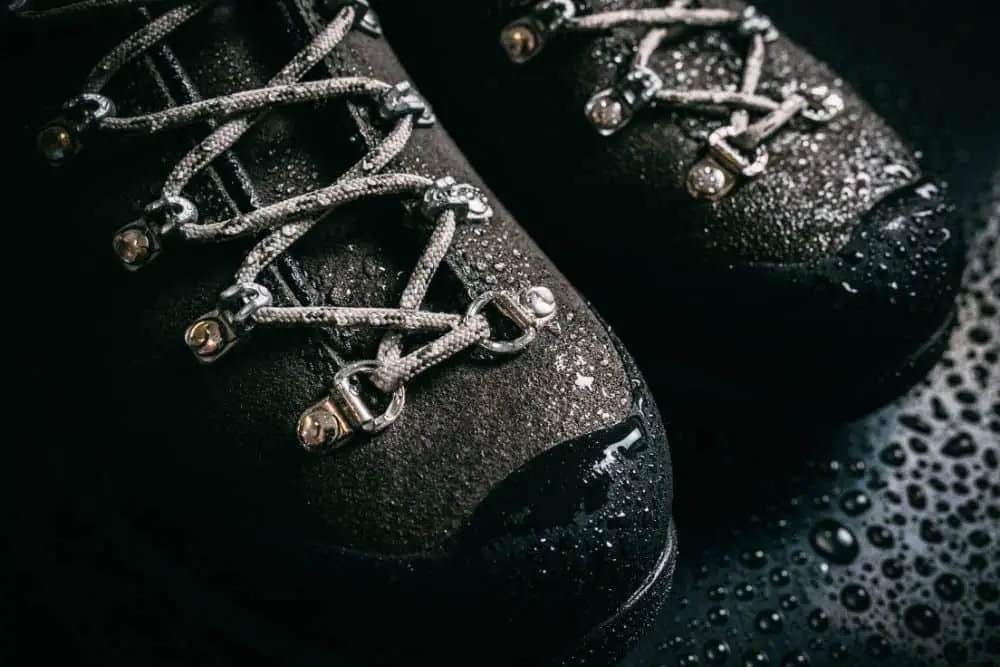 Many hiking boots are waterproof, but not all, so you need to be careful.
In fact, whether hiking boots are waterproof or not is often indicated by manufacturers in the product description.
The main reason is that many hiking boots for hot and dry terrain often come with breathability, not water resistance. If you're in need of boots for the upcoming wet and nasty environment, stay away from those boots.
Don't think that leather hiking boots have good water resistance, even though the nature of leather is capable of that. However, most hiking boots made from leather also come with mesh and fabric for breathability, so water can still pass through them.
Therefore, if the manufacturer does not mention the waterproof ability of the hiking boots, there is a high chance that they are not.
Besides, in many cases, there are many hiking boots that, even though they are marked as waterproof, still make your feet wet due to faulty construction or something else.
To avoid that, you should carefully read the reviews of previous users (if buying online) to know their experiences. These are very valuable tips and advice!
And the other case, many pairs of waterproof hiking boots after a long time of use often lose their waterproof ability. You should recheck their waterproofness by putting them on, then pour a bucket of water over them.
If they can't keep your feet dry, consider using products like waterproof spray. However, these products only really protect you against small puddles or light rain, not fully waterproof.
If you need a fully waterproof function, buy a new pair.
In general, soaked feet or heavy wet boots are a disaster for hiking, and no one wants this. We have gathered some characteristics that waterproof hiking boots often possess, you should refer to below.
What Makes Them Waterproof
You may have been wondering how some hiking boots are waterproof while others are not. So, what makes them separate from each other?
1. Waterproof Lining
Waterproof hiking boots have linings in them that prevent water from entering them. And manufacturers usually place these linings after the outer layer of your hiking boots.
Also, they make this lining from expanded polytetrafluoroethylene (ePTFE). Gore Tex's founder discovered this waterproofing "technology" while experimenting for his clothing brand.
This ePTFE hardly absorbs water and has good resistance properties, and that is why different manufacturers use this technology in their products.
Gore Tex's waterproofing technology is the most popular; however, some manufacturers have their unique technology, like Merrell. Merrell uses a waterproof technology they call, M-Select Dry, which they use in their hiking boots.
So, manufacturers put this waterproofing technology between a lining and knit backers.
After that, they insert the combination in the hiking boots uppers to prevent moisture from entering. Also, they add some waterproofing features on hiking boots' tops to prevent water from entering.
2. Water-repellent coat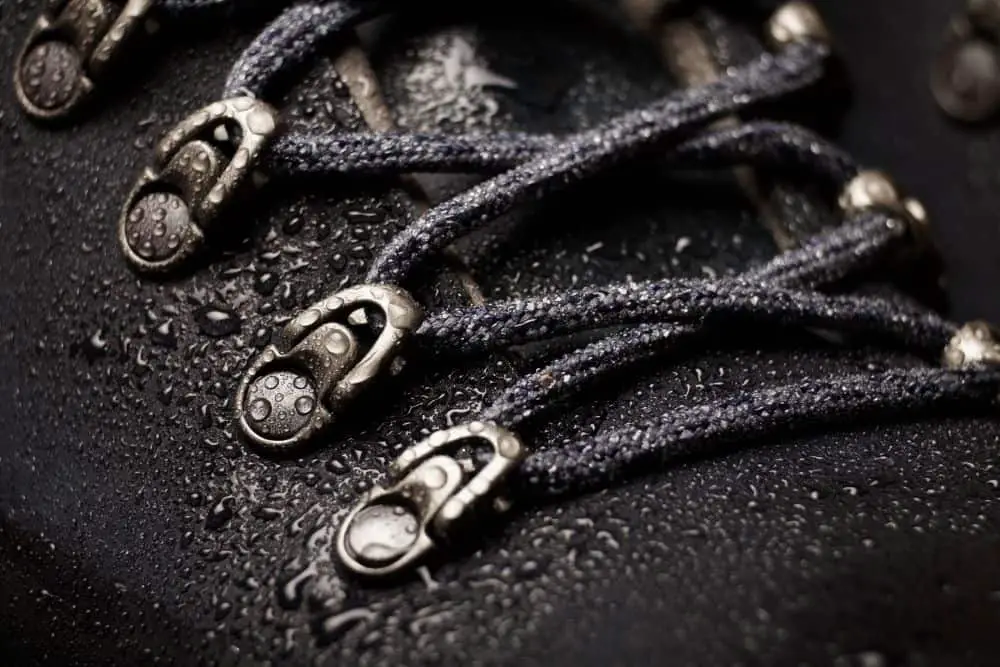 Manufacturers sometimes use waterproofing materials or treat the tops with durable water repellent (DWR). They also use a water repellency coat on other parts of the boots to ensure that the boots are waterproof.
The only issue with DWR or water repellency coats in general, is that it can wear off with time. However, you can remedy that with waterproofing treatments.
3. Gusseted tongues
Another part that makes hiking boots waterproof are the gusseted tongues. They're usually at the top part of your boots, in between the lace hooks or eyelets.
Manufacturers don't only attach these tongues to hiking boots' base, but to the sides as well. That way, they prevent anything from entering the boots.
Also, they prevent water from getting into your boots from that side, or any form of leaking at all.
4. Raised eyelets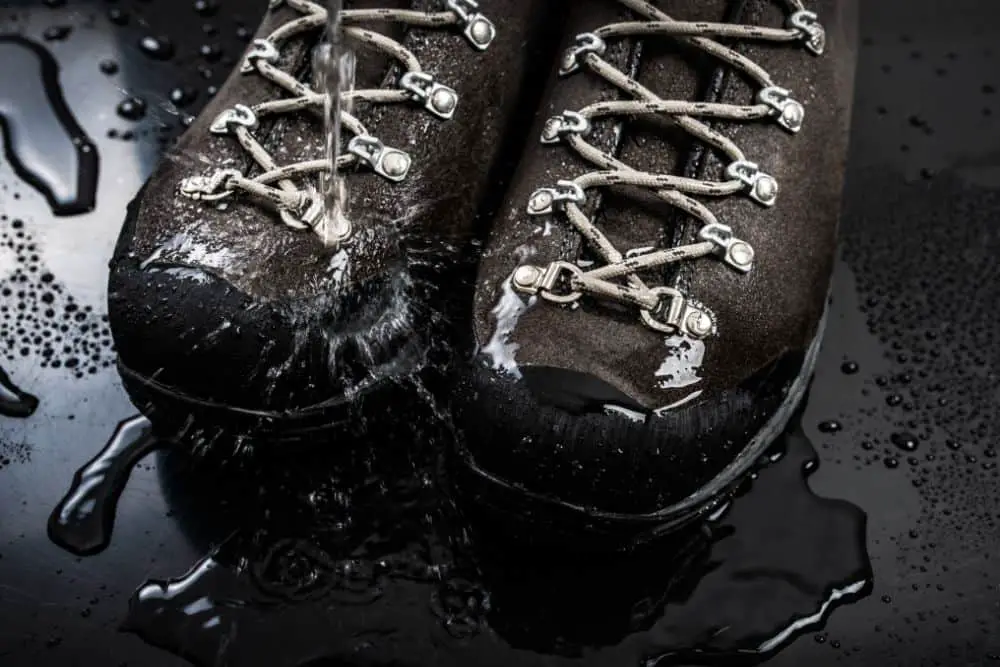 Another way manufacturers make hiking boots waterproof is through raised eyelets. Using eyelets instead of hook holes ensures that there is no form of opening that water can enter through.
5. Waterproof sole glue and stitching
Manufacturers also use waterproof sole glue and stitching to prevent water from getting into hiking boots. They secure the soles with this waterproofing method so water won't slip in from any opening beneath.
Benefits of Waterproof Hiking Boots
Why do you need to wear waterproof hiking boots? Primarily, manufacturers add this feature to hiking boots to protect hikers' feet on terrains from getting soaked.
1. They keep your feet dry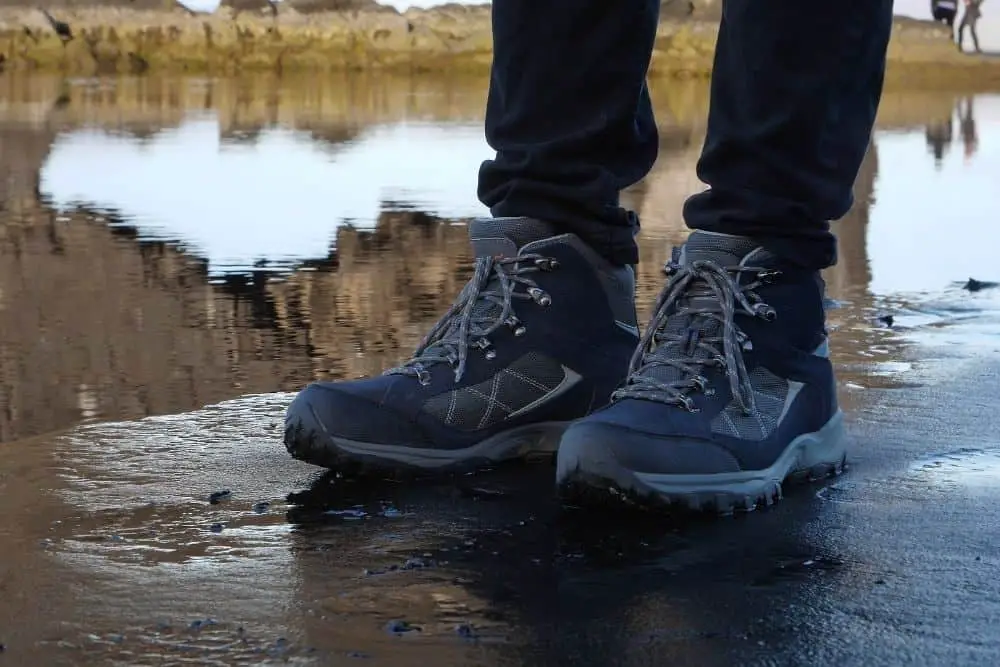 A so-called benefit of waterproof hiking boots is that they keep your feet dry through your hiking trip. It doesn't matter how long you'd be on the trail for.
Generally, a lot can happen when hiking; for instance, sudden rainfalls or hikes through a stream. You would need waterproof hiking boots for those situations to protect your feet.
They may be your best bet for long hiking durations.
Also, wearing non-waterproof hiking boots for long hiking trips might not be the best choice for you. This is because you may not have adequate time or equipment to dry wet hiking boots.
However, waterproof hiking boots hardly get soaked, so you can be sure that you'd keep dry feet till you're back to the comfort of your home.
The fact that regular hiking boots get wet also unintentionally makes your trip more difficult, because water will make the boots heavier.
Further, there are situations where you have to consider buying waterproof hiking boots. First, you need to consider your hiking environment.
For instance, if you were to go hiking in the desert, there wouldn't be any need to wear waterproof hiking boots because you're not likely to step on water. Also, it's less likely to rain in the area.
However, if you're hiking in the Pacific Northwest, where rainfall is pretty consistent, you'd need waterproof hiking boots. Even if it's not the rainy season, you could still get wet from the moist underbrushes.
2. They're durable
Another reason why you should own waterproof hiking boots, especially in humid environments, is that waterproof hiking boots last longer and are more endurance.
Water infiltrating into boots for a long time will cause the glue, or components of the boots to quickly lose its adhesion and separate.
Hiking boots that are waterproof can prevent that from happening in the first place, so they definitely last longer and endure better.
Remember, the right boots for the right terrain and environment are best!
3. They are warm all the way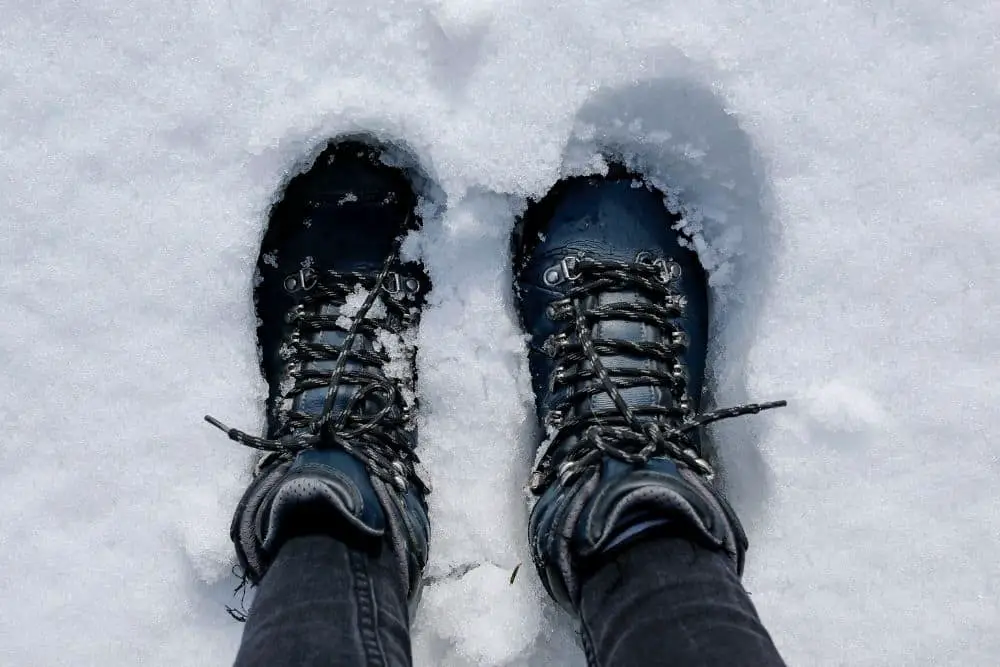 There is nothing better in the winter than hiking in rainy, snowy and cold weather with dry feet. Obviously, waterproof boots do a lot for your foot health, comfort and safety around this time.
Besides, waterproof functions prevent cold air from the outside from getting into your feet just like the way they help keep your feet dry and comfy from water and wetness.
Water repellency is a must to survive in snowy rains or snowfalls.
4. Easy to clean
One of the other highlights of waterproof hiking boots is that they are easy to clean.
Sometimes you just need a hose to wipe away all dirt and mud on your boots.
If it's for non-waterproof hiking boots, you'll probably need a special brush and soap to do this.
Some Drawbacks of Waterproof Hiking Boots
People have different experiences with hiking boots, and for that reason, some say that you should ditch the waterproof versions. Why should you say no to waterproof hiking boots?
1. You have to sacrifice breathability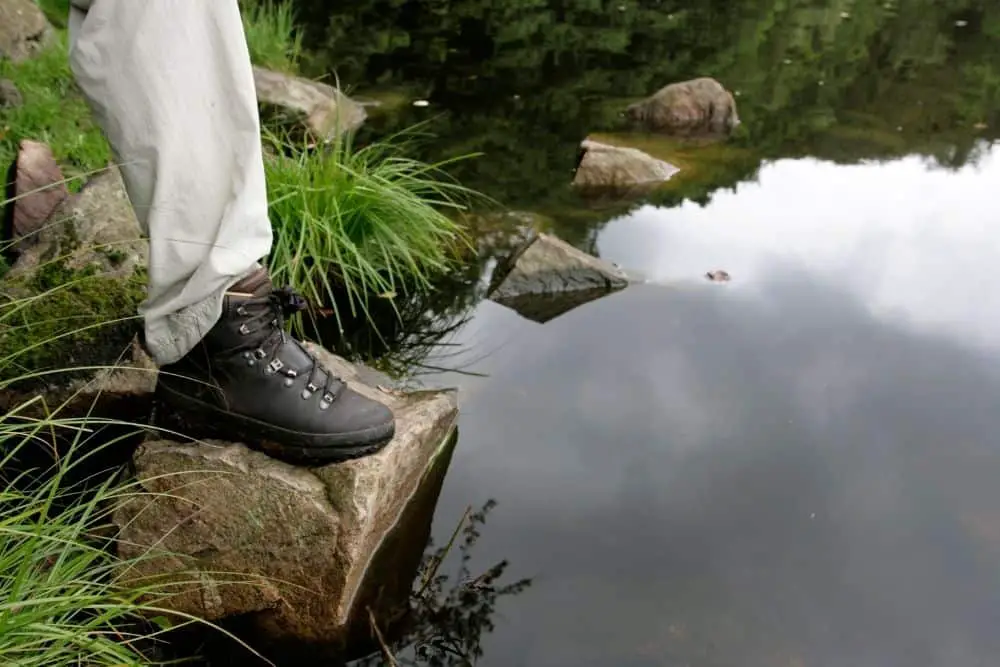 Most waterproof hiking boots are hardly breathable. How? You're preventing airflow within and outside the boots when you seal up openings to prevent water from getting in.
Since they keep moisture out, they also trap moisture within your boots. As a result, you have to deal with sweaty feet all through your hiking trip.
Also, sweat could soak up your socks, making your feet wet and smell. You could also get blisters and have an overall awful hiking experience.
When you consider this, you might start reconsidering getting waterproof hiking boots for yourself. So, the safer option would be to get mesh materials that allow for unrestricted airflow within and outside your boots.
2. You don't need them always
Another reason you don't need waterproof hiking boots is that you won't always need them. First, they are not so breathable, which makes them quite uncomfortable.
Second, you may not need the waterproof effect on hot sunny days or summer seasons because it's less likely to rain. Instead, you'd be after hiking boots' breathability on a sunny day.
Also, when you consider the hiking trails you'll wear them on, you may not need waterproof hiking boots. Like the example we gave earlier, you wouldn't need waterproof hiking boots in the desert because it's usually dry.
3. They're heavier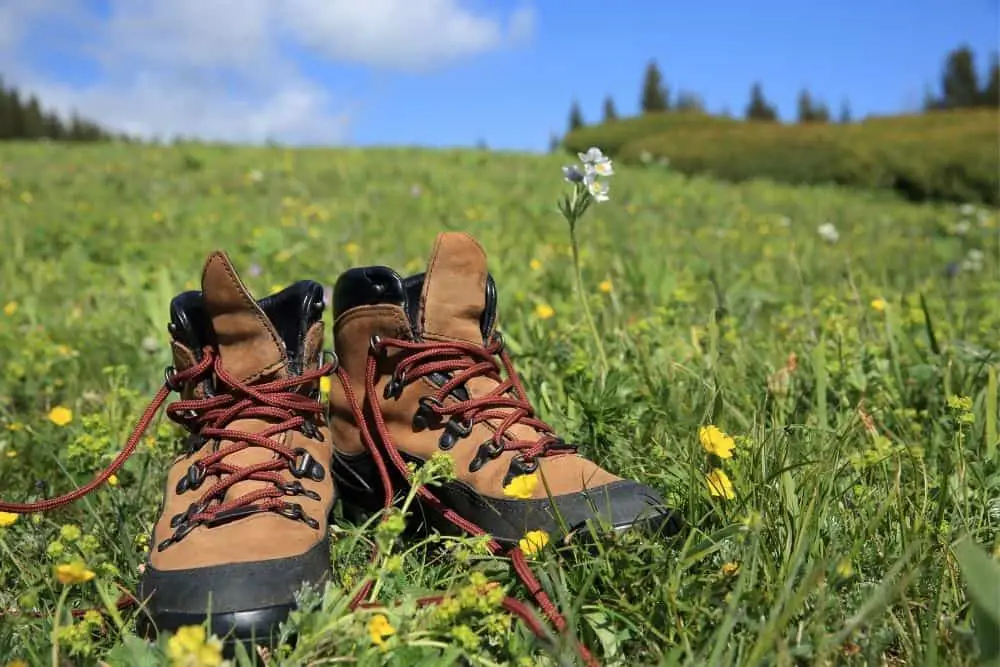 Another reason people would rather not wear waterproof hiking boots is that they are heavier than non-waterproof ones. Manufacturers usually add some type of lining to them that makes them waterproof.
This adds some ounce of pounds to the hiking boots' weight. If you don't need the extra weight, you're better off without it.
You know you don't need the extra weight if you're hiking on simple terrains and during warm weather. This is because their weight could make you tire easily when you only need to relax and unwind.
4. They're more expensive
Waterproof hiking boots cost more than non-waterproof ones. The waterproof feature and the extra materials that manufacturers add make them cost a few dollars more.
If you go for non-waterproof ones, you'd be saving yourself some money, especially when you don't exactly need the waterproof feature. However, you shouldn't let the price bother you much if you know you need waterproof hiking boots.
For example, waterproof boots will serve you better during the rainy season, wet terrains, and longer hiking.
5. They're not fully waterproof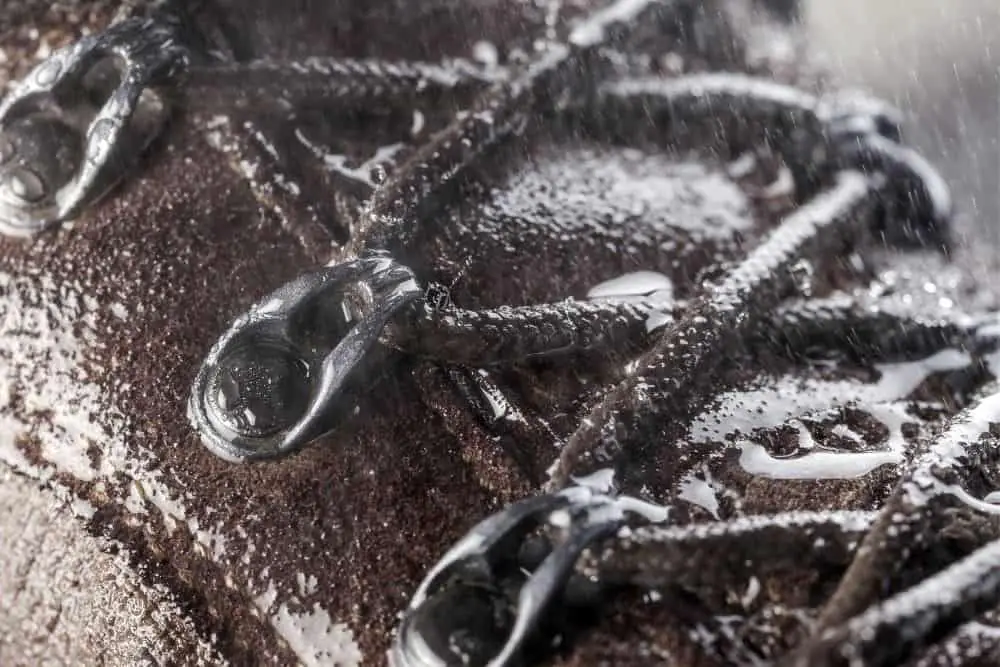 One other reason some people see waterproof hiking boots as unnecessary is that they're not totally "waterproof." How?
First, their waterproofness wears off overtime. The more you wear them, the less they can resist water. This is because you expose them to dirt and abrasion from time to time.
Also, water reduces their level of waterproofness, so you'd have to reproof them as time goes on.
In the end, they're not as waterproof as people think. So, they'd rather wear hiking boots without the waterproof feature and enjoy breathability, less weight, and save money.
The debate of whether to wear waterproof hiking boots or not depends on you and other things. The factors depend on the weather, the hiking trail, and your geographic location.
How To Waterproof Hiking Boots?
First, you should know that you can waterproof your hiking boots. Like we stated earlier, materials like leather usually have some waterproofing features, unlike synthetics.
In some other cases, manufacturers can spray them with DWR, which isn't precisely a waterproofing membrane. This is why you notice that water stays on your boots and trickles down without getting into your hiking boots.
However, this coating may wash off as time goes on, and the more you wear your boots, so you'd need to recoat them. Although some people think it may be impossible to waterproof synthetic hiking boots, you actually can. How?
1. Prepare the waterproofing materials
You don't need much to waterproof your hiking boots. You only need to get the right product for each material and apply them to your hiking boots. Some materials are tender, so what works for one may be too much for the other.
You can waterproof your hiking boots with proofing wax, cream, spray, or others. But, again, you should ensure that you get a proof product that is particular to a material.


Nikwax Nubuck & Suede Proof Spray-On ,4.2 oz. / 125ml
Nikwax Fabric and Leather Proof Waterproofing (Spray-On) 14.61 x 4.45 x 4.45 cm; 113.4 g

Nikwax Nubuck & Suede Proof Spray-On ,4.2 oz. / 125ml

Nikwax Fabric and Leather Proof Waterproofing (Spray-On) 14.61 x 4.45 x 4.45 cm; 113.4 g
Last update on 2023-03-22 / Affiliate links / Images from Amazon Product Advertising API
2. Prep your hiking boots
You need to brush off the dirt from your hiking boots and get them cleaned the way you would clean them usually.
3. Apply waterproofing product
Now, you can apply the cream, wax, or spray and leave them to dry.
Note that you have to let them dry naturally. Don't heat them to speed the process; however, you can dry them with a fan. Also, leave them in a place with enough ventilation.
This way you'll have your waterproof hiking boots for your next hiking trip.
You can check out more methods of waterproofing hiking boots here!
Before you leave
The simple answer to "are hiking boots waterproof" is yes. However, not all hiking boots are waterproof.
So, should you wear waterproof hiking boots? Absolutely, but only when necessary. After reading this article, you'll see that you don't always need waterproof hiking boots.
You need to consider the weather, your location, and the hiking terrains. We also discussed the disadvantages of waterproof hiking boots.
As you know, dry feet are happy feet, so you need to protect them as much as you can when hiking. So, whether you wear waterproof or non-waterproof hiking boots, ensure your feet are safe, happy, and dry.
Enjoy your next hiking trip!