When it comes to hiking boots, several features are a top priority in the eyes of the manufacturers. And you would agree with us that the outsoles on hiking boots are one of those "top priority" features during their production.
Due to the "function" performed by hiking boots, you would expect them to have some levels of slip resistance. Well, like you, many people (myself included) have asked the same question "are hiking boots slip-resistant?"
As we proceed in this article, you will discover whether hiking boots are slip-resistant or not. We will also highlight the features making hiking boots slip-resistant and their uses. Additionally, we will reveal the benefits and slight disadvantages of having slip-resistant hiking boots.
Let's get started!
Are Hiking Boots Slip Resistant?
For a long time, we have been ardent users of hiking boots, and during this period, the slip resistance of this footwear has been remarkable. Nevertheless, sometimes the "slip resistance" on hiking boots can be questionable.
The slip resistance function of hiking boots has for long been one of its major selling designs. And you would agree that it provides an excellent function to be get that high tag as a design.
We understand that some people might have had issues with the slip resistance of some hiking boots. But, if you have used multiple hiking boots as we did, you would discover that the "poor slip-resistant" ones are few compared to the many good versions.
In fact, if you consider the primary use of these boots, which is for hiking, you will understand why they "must" be slip-resistant. So, based on our experience using hiking boots, we can confirm the presence of slip resistance on its outsoles.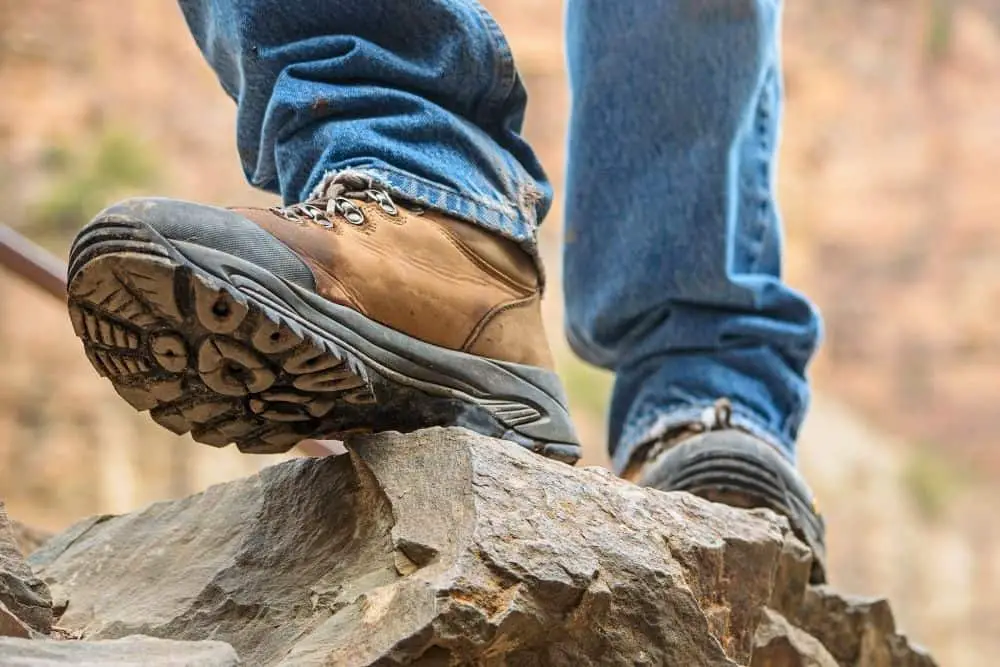 Are hiking boots slip-resistant? Yes.
Are there some poor slip-resistant hiking boots? Yes.
Are there more poor slip-resistant hiking boots than good ones? No.
You would agree that slip resistance on hiking boots is an important function for the footwear. Why? It allows you to walk over wet surfaces better and more comfortably. Plus, it will prevent you from falling or slipping, which is good to keep you upright.
Features of Hiking Boots Making Them Slip Resistant
You might have probably wondered about the features of hiking boots, making us state it as slip-resistant. Well, you must understand that outsoles on hiking boots are fully responsible for the "slip-resistant" nature they provide.
Outsole Material Design
One of the first features of hiking boots' outsole, giving them high gripping prowess on any terrain, is the build material used during construction. For starters, most hiking boots come with rubber outsole designs.
And for a long time, rubber outsoles have proven to be more slip-resistant and provide better traction in hiking boots. In addition, the flexible nature of rubber allows it to grip or possess sticky features to the floor better than other designs.
Generally, the more flexible the rubber outsole design in hiking boots, the better slip resistance it will provide. And in hiking boots, the rubber outsole construction is primarily of two types; blown and carbon.
The blown rubber outsole design in hiking boots tends to be lighter and softer, giving its unique slip resistance. But, then, the carbon rubber outsole design tends to be a bit heavier and tougher; however, it also makes hiking boots pretty slip-resistant.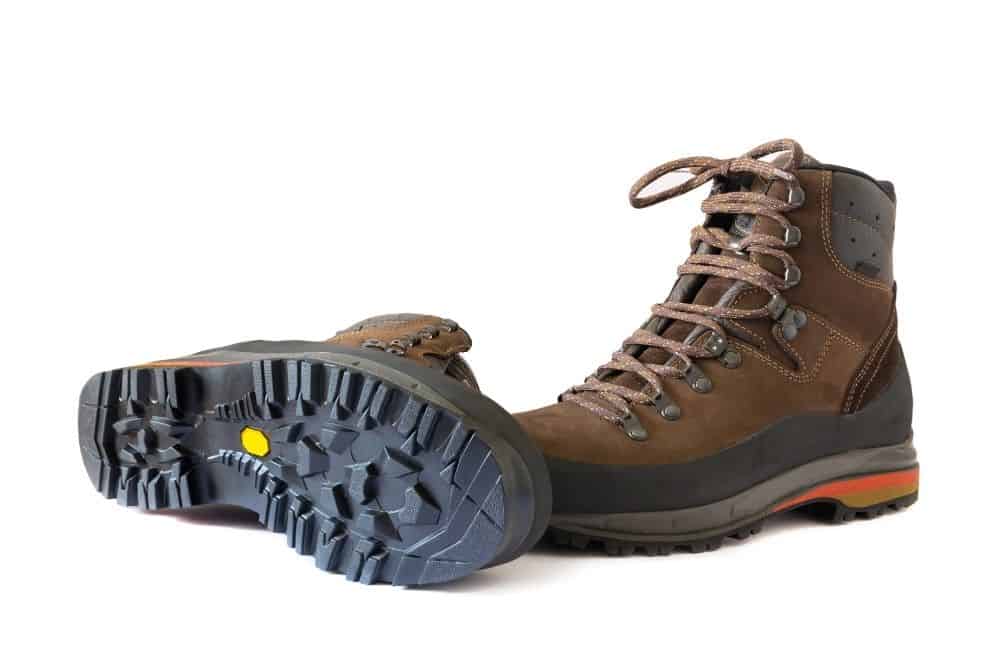 Tread Pattern
If you observe the outsoles of hiking boots, you will discover several designs or patterns on them. These patterns could be scattered or uniquely organized, and you can generally refer to them as the hiking boots' tread patterns.
What these tread patterns do is create additional friction for your hiking boots. Once this friction has occurred, it gives the hiking boot "slip resistance" on even wet surfaces.
Generally, hiking boots' outsoles come with larger quantities of different small tread patterns for traction. And based on research, we found out that hiking boots with many small tread patterns provide better slip resistance. Nevertheless, this is when you compare it to the few large tread patterns.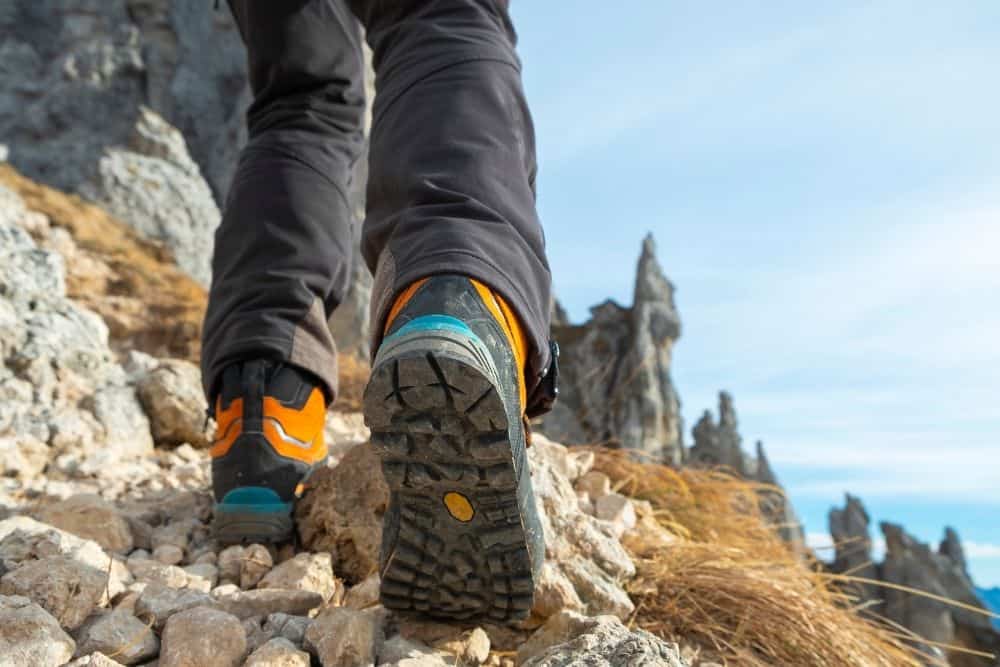 Deep Grooves
Closely looking at hiking boots' outsoles, you will also see that there are numerous deep grooves. These deep grooves serve the same purpose as the ones you would see on car tires – which is to provide traction.
The reason for the grooves is to allow the flow of water or liquid under the outsole. In addition, the cut grooves create flexible parts that are less likely to trap water underneath your feet. If you didn't already know, water trapped under shoes without cut grooves is more likely to cause slipping.
When liquid or water easily flows through the grooves on the outsole, there are fewer tendencies for water to gather under the hiking boots. This is primarily the function of the deep-cut grooves on hiking boots in preventing slippage.
However, different hiking boots come with different types of groove depth. For instance, hiking boots made for wet or highly rugged terrains tend to have deeper grooves on the outsoles than the ones for mountaineering and jungle simple trails.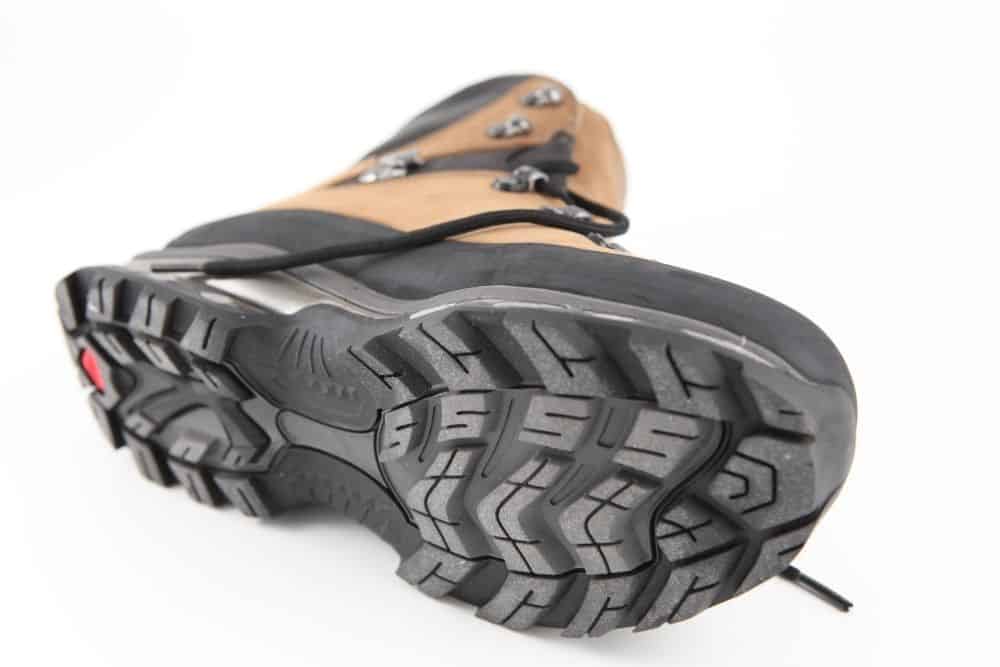 Outsole Shape
Hiking boots' outsole shape is unlike other shoes, especially the traditional flat footwear. The shape of hiking boots' outsole takes the rounded sides form, which adds another necessary slip-resistant design feature to the footwear.
Generally, flat-edged outsoles are also more likely to trap liquid under a shoe, which is bad for slip resistance. But, hiking boots' manufacturers tend to consider this and change the shape design.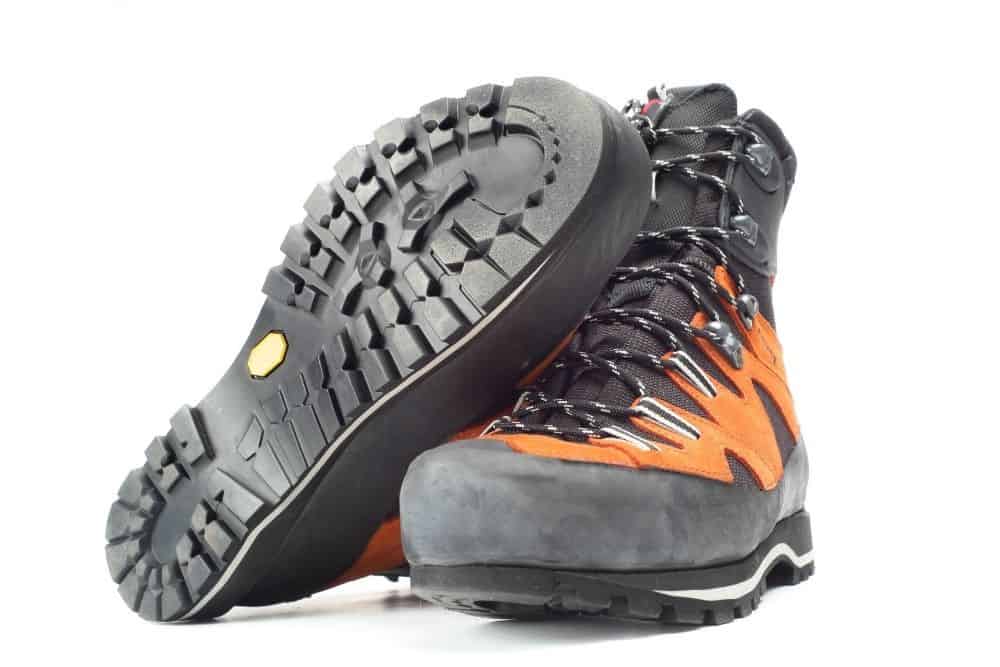 What Are Non-slip Hiking Boots Used For?
Generally, non-slip hiking boots serve several purposes. And honestly speaking, hiking on uneven, wet terrains is one of those major purposes.
However, you will also see several other outdoor activities that require the slip-resistant nature of non-slip hiking boots. For instance, hunting, mountaineering, motorcycling, and bouldering activities would require non-slip hiking boot outsoles.
Generally, hiking boots aren't only for hikers, even though they are the primary users. Some other people using the non-slip hiking boots include:
Hunters.
Boulders.
Industrial workers.
Armed personnel.
Mountaineers.
Casual use.
Camping.
Buncraft
Do exercise
Explore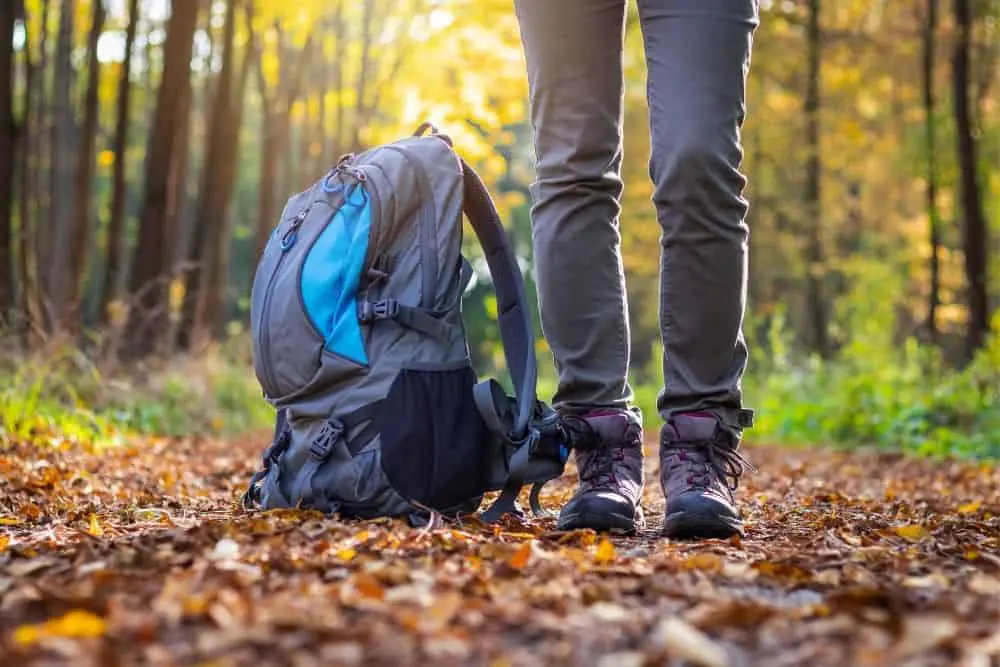 Benefits of Non-slip Hiking Boots
As you may already know, non-slip hiking boots are pretty beneficial to hikers and other professional users.
However, if you are wondering what those benefits are, then you are at the right spot. Some of the significant and minor benefits of non-slip hiking boots include;
It creates perfect traction with its sturdy outsole.
They offer water-resistant properties.
Keeps you standing upright even on wet or oily surfaces.
Prevents you from suffering fall-related injuries like an ankle sprain and dislocation.
Provides excellent gripping properties for your hiking boot.
Most of them protect your feet from electrical hazards, heat and sharp objects.
They provide better durability when compared to the traditional boot's outsole.
It usually feels lightweight but sturdy on the feet.
They help you move more flexibly on uneven or slippery surfaces such as the Grand Canyon or Smoky Mountains.
You will no longer worry about facing streams during hiking.
Slight Cons Of Non-slip Hiking Boots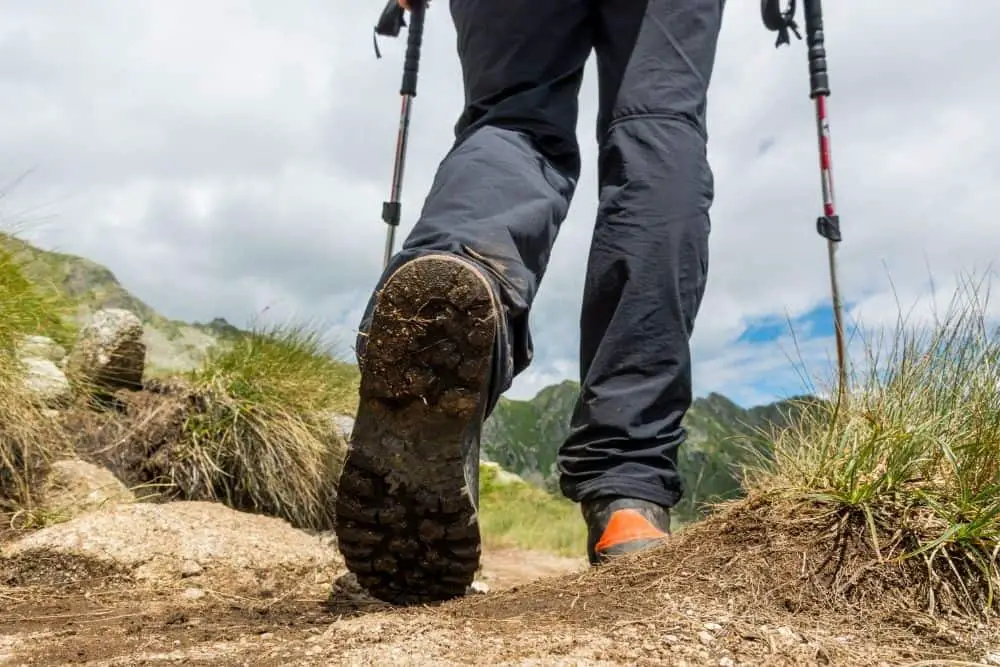 Genuinely, non-slip hiking boots are perfect and a must-have for hikers and hunters on wet terrains. However, sometimes the construction of non-slip hiking boots' outsoles tend to offer some setbacks.
One area with non-slip outsoles on hiking boots we have seen as a con is the deep groove it possesses. Although it prevents water build-up underneath the boot, those deep grooves can sometimes become home to tiny rocks, stones, and mud.
For instance, when hiking on a rocky or stony trail, the hiker's boot can sometimes gather a lot of tiny rocks or stones. When this happens, it could cause discomfort and unevenness while walking with hiking boots.
If you often hike in the muddy and nasty jungle terrain, it will take you a long time to remove the mud from the outsoles.
Generally, this is not a significant problem; nevertheless, it is a con of non-slip hiking boots' outsole. Besides, some hiking boots manufacturers have started to find ways to prevent rocks ,stones and mud from finding refuge in the grooves of outsoles.
Top 3 Slip-resistant Hiking Boots
We understand that deciding which hiking boots to pick for moving over slippery surfaces can be a challenge. And because of this, we have decided to reveal our top three "most slip-resistant" hiking boots.
1. Merrell Moab 2 Hiking Boot
Last update on 2023-05-12 / Affiliate links / Images from Amazon Product Advertising API
Pros
5mm lug grooves Vibram rubber outsole for maximum slip resistance.
100% suede leather and upper mesh design.
Highly breathable mesh lining.
Merrell's M Select + EVA contoured footbed for comfort.
Shock-absorbing and highly stable arch shank.
Cons
Several complaints about the durability.
Average waterproof membrane.
The Merrell Moab 2 hiking boot is highly slip-resistant footwear coming with 100% suede leather and mesh-made upper. In addition, this hiking boot features a reliable breathable mesh lining that many users have commended for allowing proper airflow.
Also, in terms of slip resistance, this hiking boot tends to perform exceptionally well. It sports the Vibram-made rubber outsole design, having a 5mm lug depth that allows water to flow underneath the boot. Additionally, its tread pattern is pretty unique, adding friction and slip resistance.
Then, this hiking boot features the M Select and EVA contoured footbed designs, which give superior comfortability. In addition, the Merrell Moab 2 hiking boot tends to offer shock-absorbing features and arch support designs, which users have largely stated to have gotten.
However, multiple complaints about this hiking boot's durability have come to light. Some users have stated theirs broke down within a few weeks of usage. Plus, the waterproof membrane on this boot is pretty average, and you might suffer wet feet sometimes.
2. Columbia Newton Plus Ii Hiking Boot
Last update on 2023-05-12 / Affiliate links / Images from Amazon Product Advertising API
Pros
Omni-grip rubber non-slip outsole.
Lightweight hiking boots.
Suede leather material in the upper.
Highly durable.
Advanced long-lasting comfortable midsole design.
Con
Several issues with the boot's narrowness.
The Columbia Newton Plus Ii hiking boot is highly durable footwear – according to several users. In addition, this hiking boot comes with suede leather material in its upper, contributing to the durable design.
This hiking boot plays a massive role in providing high traction on all surfaces. In addition, numerous users have praised the Omni-grip rubber outsole on this hiking boot for offering superior traction powers even on wet terrains.
Also, you will discover that this hiking boot is pretty lightweight when moving around with it. And this contributes to the already achieved comfortability gotten from the long-lasting midsole with proper cushioning.
However, this Columbia Newton Ridge Plus Ii hiking boot might not be for you if you have large and wide feet. Users have stated that it tends to run pretty narrow. Nevertheless, to overcome this, you might want to go for larger-sized versions than you would normally get.
3. Salomon Quest 4d 3 GTX Hiking Boot
Last update on 2023-05-12 / Affiliate links / Images from Amazon Product Advertising API
Pros
Contagrip TD deep lug pattern rubber outsole for ultimate slip resistance.
4D advanced chassis design for superior comfort and cushioning.
100% synthetic and slight leather upper design.
Highly breathable OrthoLite sock liner.
Con
Many customers have complained about the claimed waterproofness by Salomon.
The Salomon Quest 4d 3 GTX hiking boot sports a unique breathable lining from OrthoLite. Then, the upper part of this hiking boot comes with 100% synthetic and leather material design.
To prevent easy slips and keep your hiking boot slip-resistant, it sports the Contagrip TD rubber outsole, having deep lug patterns. And this makes it highly slip-resistant, which many users have commended Salomon for adding.
In addition, the 4D advanced chassis design comes into play to provide comfort for your feet during rugged activities. This means whether you are on a paved or rough terrain, your feet will remain cushioned.
However, the waterproof membrane promised by the manufacturers doesn't seem to live up to expectations. There have been several consistent complaints about the waterproofness not lasting for a long time.
Conclusion
Are hiking boots slip-resistant? Our answer is yes. We also highlighted several features earlier in this article backing up our reasons for its high traction.
Additionally, we stated the use of non-slip hiking boots alongside their benefits and slight con. Nevertheless, you can always refer to this article whenever you need to inquire about what makes a hiking boot slip-resistant.