When talking about hiking the Grand Canyon, Yellowstone, you need to understand it might refer to two different things. For instance, you might mean hiking down at the bottom or moving up to the top.
Many people planning a hike on that path frequently ask, "do I need hiking boots for the Grand Canyon, Yellowstone," and it is pretty understandable.
However, we will share our thoughts and expertise about hiking the Grand Canyon, Yellowstone, with or without the hiker's boots.
But, first off, we will give a breakdown of all you need to know about the Grand Canyon, Yellowstone.
Let's dive in!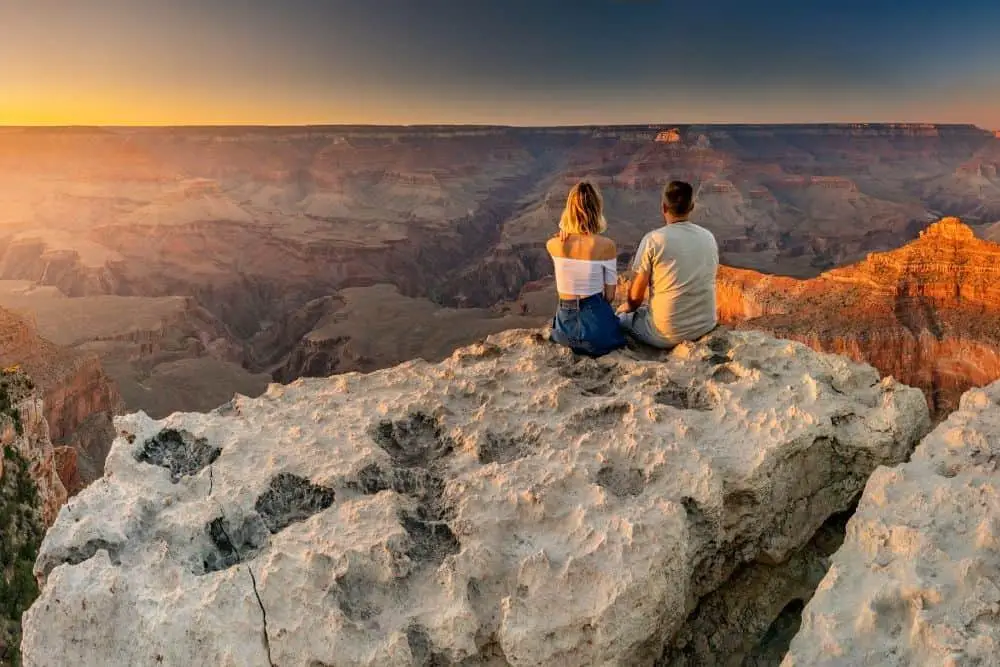 Grand Canyon, Yellowstone | Everything About It
Geographically speaking, the Grand Canyon, Yellowstone is the first massive Canyon in Yellowstone National Park in Wyoming.
Most hikers wanting to hike this Canyon should expect an elevated height of about 6,181 feet, spanning roughly 20 miles.
The Grand Canyon, Yellowstone is home to some of the finest terrains, excellent conditions, crazy environments, and wild animals. However, you can also refer to it as an exciting zone for hiking.
Nevertheless, before taking a hike on the Grand Canyon, Yellowstone, there are some things you need to know about the place. Having this knowledge will make your hike smoother and keep you safe from potentially harmful threats.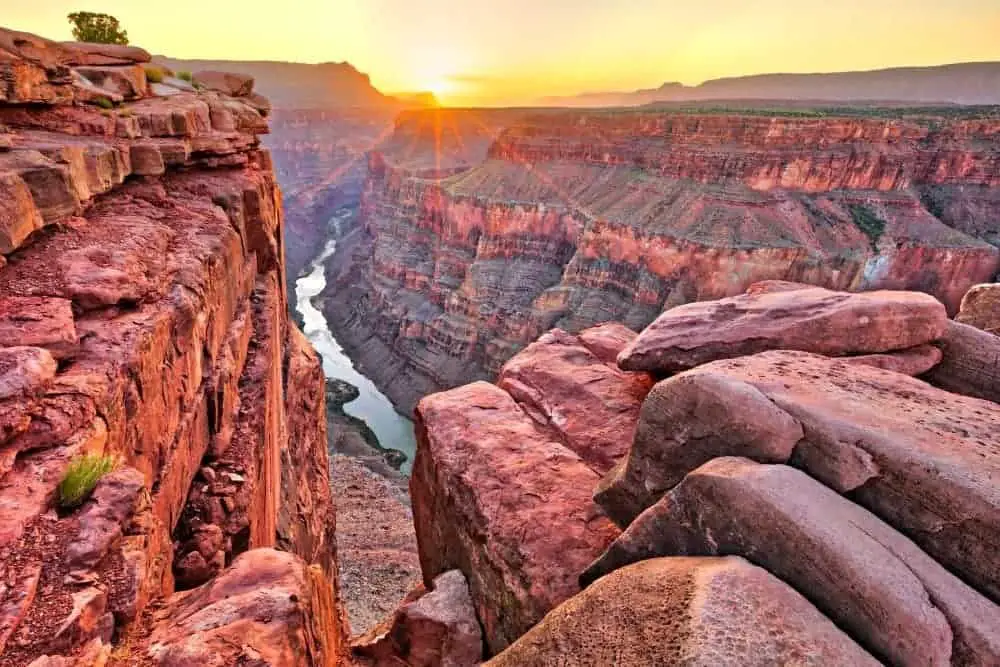 Terrain
Some information is referred to the National Park Service: Grand Canyon of the Yellowstone
This is one thing every hiker should have knowledge about before hiking. From personal hiking experience at the Grand Canyon, Yellowstone, we can tell some things about its trails.
For instance, most of the trails on both rims have steep stairs or grades. This is due to the slant vertical descent and returning ascent.
Personally, this terrain might not be favorable for hikers with lungs, heart, and some other health conditions.
In most of the Grand Canyon trail, you would find rugged mountains and deep glacier-carved valleys.
In addition, you will discover eroded basaltic lava flows, odd erosion forms, and black volcanic glass (obsidian) mountains.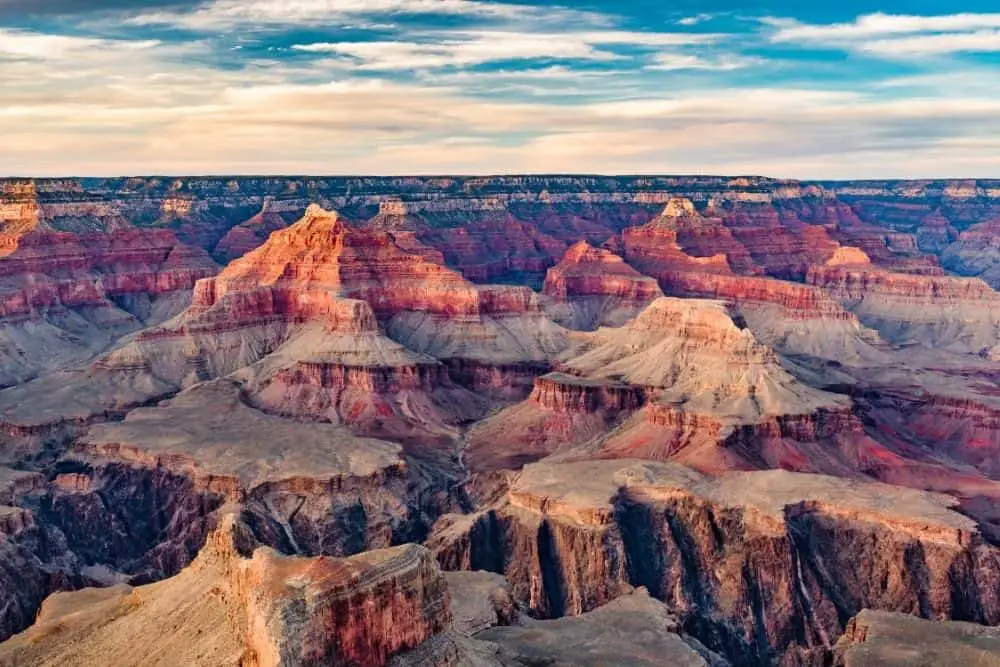 Natural Condition
Experts believe that the geology of the Grand Canyon came as a result of erosion caused by the Yellowstone River. And till today, there are traces of continuous eroding by the Yellowstone River on the Canyon.
In the Grand Canyon, Yellowstone, there is evidence of thermal activities existing in the form of hot springs and geysers. The reason for the rock color changes is due to the heat from chemical alterations in some compounds.
Generally, the condition of the Grand Canyon, Yellowstone is such that its rocks and land are oxidizing. And as a result, the effect is likely causing rust to the Canyon.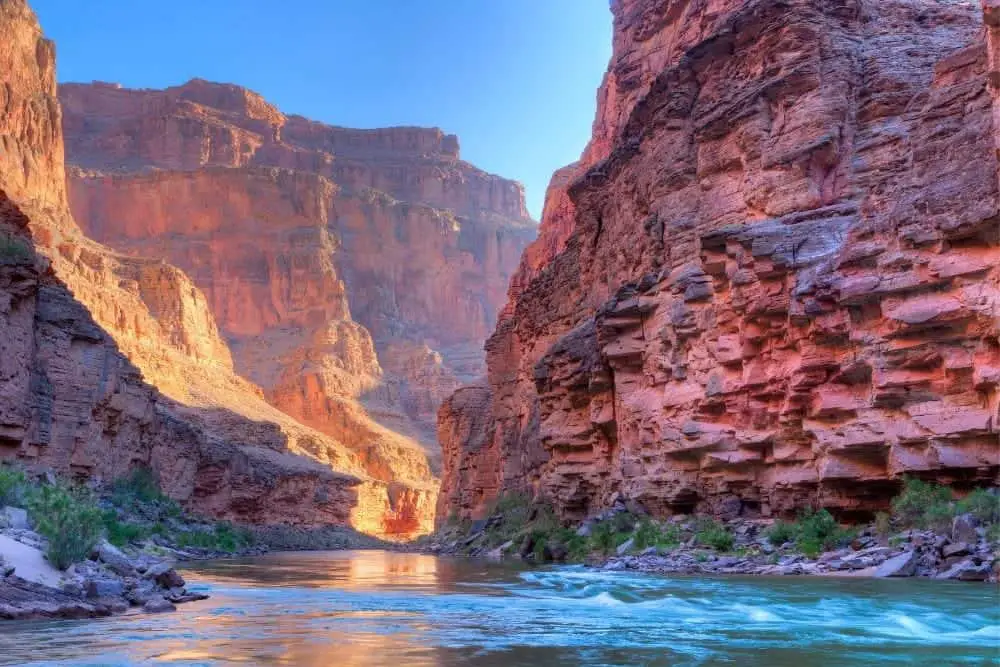 Environment
According to several visitors, there's a saying in Yellowstone, "you will mainly find two seasons in the Yellowstone and that's winter and July."
The winter in Yellowstone is unnecessarily too long and by far its longest season. The weather conditions in the Grand Canyon, Yellowstone gets characterized by summer days that are mild and cool nights.
Usually, the temperature in the daytime ranges between 70 and 80°F. And by nighttime, it often falls below 40°F.
Some information is referred to the Yellowstone History: YELLOWSTONE'S CLIMATE AND WEATHER
In the summer month (mainly July), the Grand Canyon experiences its warmest weather condition of the year.
The temperature is high but rarely ever exceeds about 90°F. That is the temperature in the low areas.
If you go hiking in higher places, it is still cold at night, can reach low temperatures and cause freezing.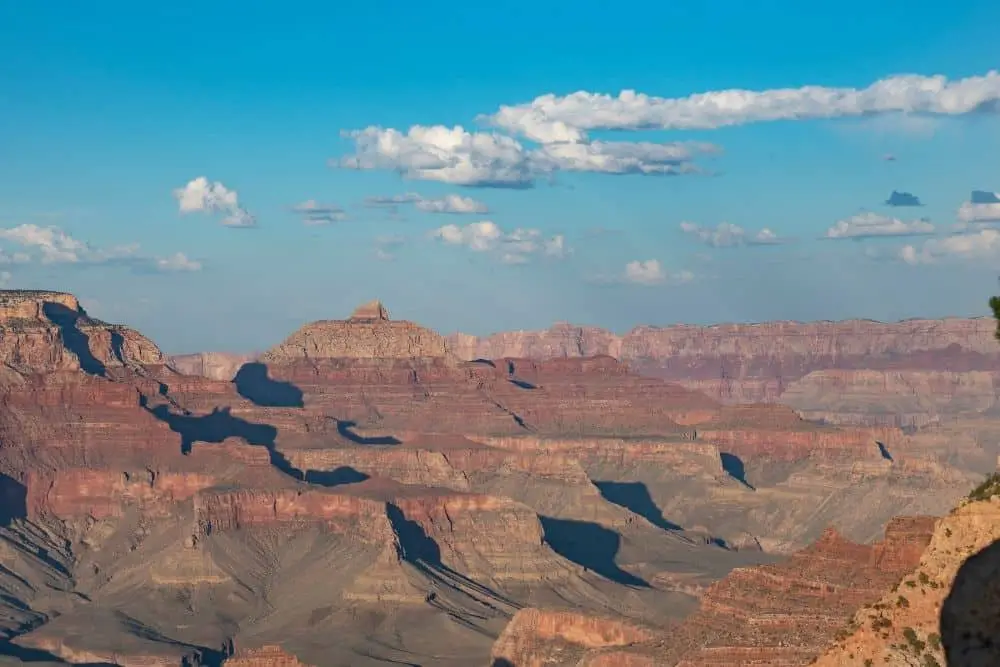 Meanwhile, winter is usually the longest season in the Canyon. The temperature is usually freezing and rarely rises above that.
However, the highest recorded freezing temperature at Yellowstone was -66°F in 1933.
Regardless, the Grand Canyon, Yellowstone stands tall at approximately 8,000 feet and the freezing temperatures tend to increase as you climb higher.
For instance, in August, you can almost notice thick snowfalls in the Canyon.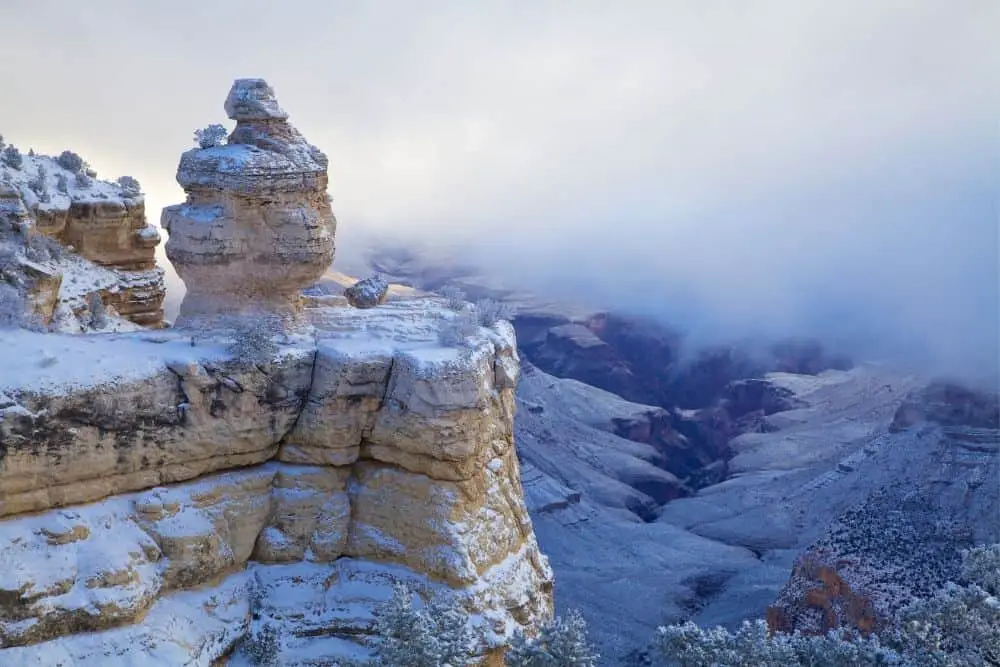 You can refer to these months as transitional seasons. Sometimes, you might rarely notice its presence as it usually falls between the cold, long winter and the mild, short summer. The temperature during this time can be pretty average at about 60°F.
The bottom line about the temperature and weather conditions at the Grand Canyon, Yellowstone, is that it can be unpredictable. Therefore, we advise that you expect varying weather at any time, especially freezing ones.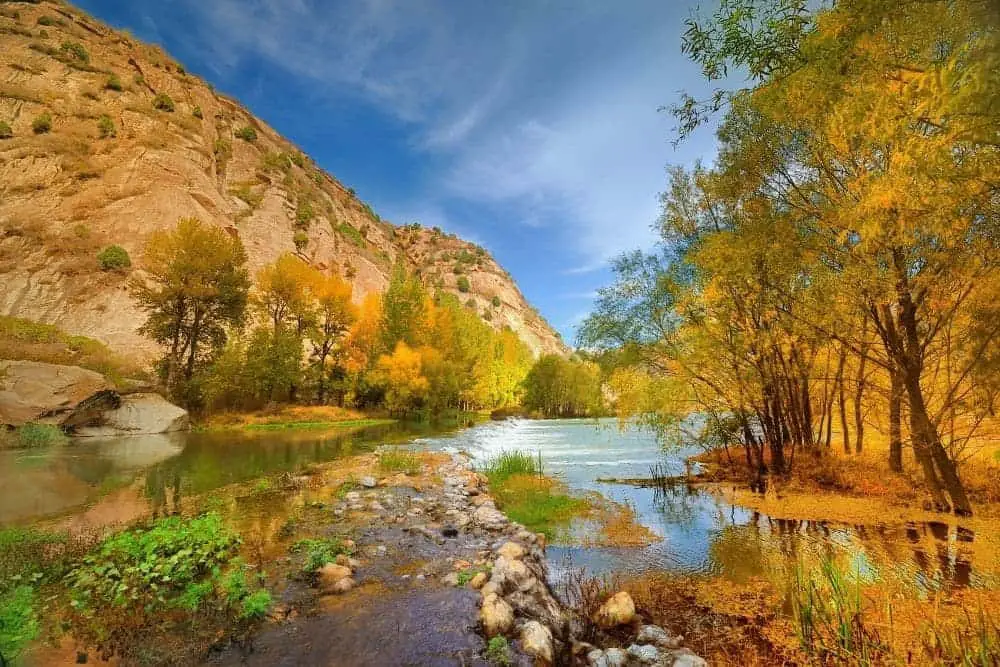 Animals
Here's the deal with the Grand Canyon, Yellowstone; it isn't only a destination zone for hikers and great outdoor explorers. It is also home to some of nature's finest and biggest mammals in the lower 48 states.
At the Grand Canyon, Yellowstone, you are likely to see large Bison, Elks, and Ravens. However, you might not easily spot Wolves, Coyotes, Black Bears, and Pronghorn, but you might see them if you take along binoculars.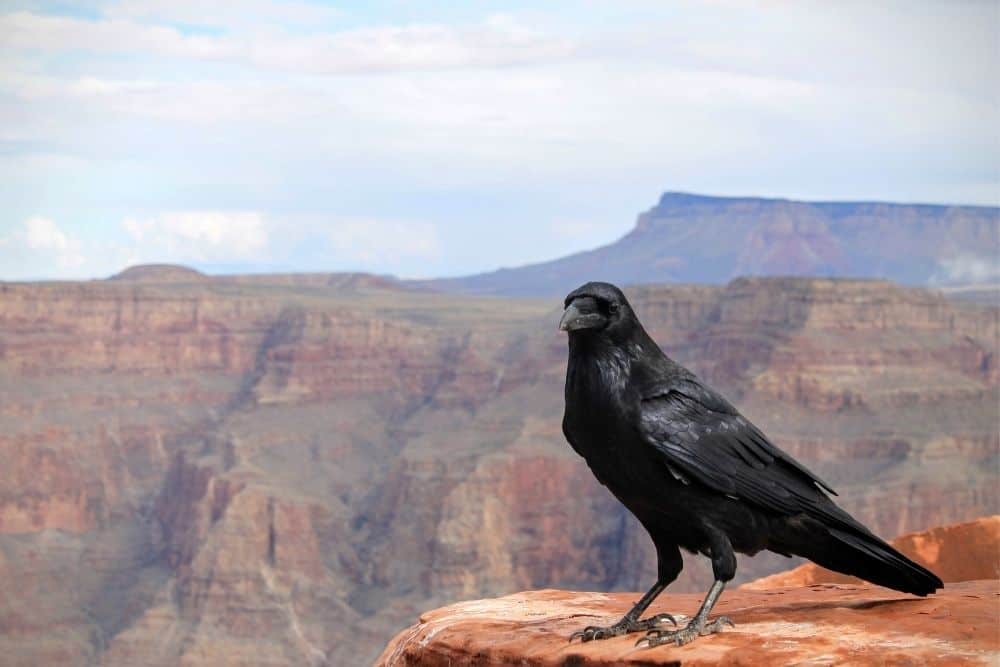 Nevertheless, as much as these animals look cute and friendly, they are pretty wild.
Therefore, during your hike at Yellowstone, you must never engage these animals or try to feed them. This is for your safety and that of your fellow hikers.
Do I Need Hiking Boots For the Grand Canyon, Yellowstone?
Over the years, we have come across horrific stories about hiker's experiences due to poor shoes. And looking closely, you would discover that these people chose the wrong pair of boots for hiking the Grand Canyon.
When the option for the perfect footwear for going on a hike at the Grand Canyon comes, it is always between hiking boots and others. Therefore, you can never overemphasize the need for hiking boots at the Grand Canyon.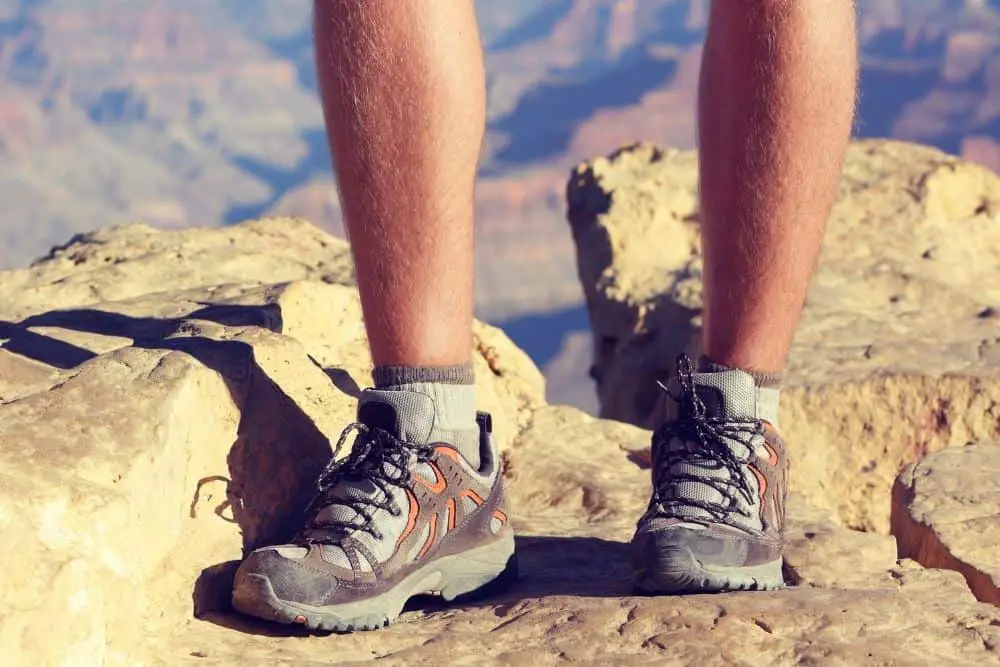 These boots offer good stability, comfort, and durability to withstand any condition the Canyon would likely throw at you. So what's worse than going off-trail on a hike? Choosing the wrong pair of hiking boots for a hike.
And for this reason, we would advise anyone to go with hiking boots whenever they plan a hike at the Grand Canyon. Although some shoes have proven effective in hiking the Grand Canyon, Yellowstone, it is often an unnecessary risk.
Do you need hiking boots for the Grand Canyon, Yellowstone? Yes.
Are there other shoes you could wear to hike the Grand Canyon, Yellowstone? Yes.
Is it advisable to hike without hiking boots at the Grand Canyon, Yellowstone? No!
Trust us when we say hiking boots are the best option for going on hikes at the Grand Canyon.
As earlier stated, the terrains and weather conditions can be rough and crazy; only hiking boots have "bested" in every area as protective shoes.
Nevertheless, we know you might be curious about the features of hiking boots.
So, we will highlight some excellent features about these boots that make them perfect choices for the Grand Canyon. In addition, we will also reveal some discouraging features they possess.
Read More: Do I Need Hiking Boots for Smoky Mountains?
Great Features Of Hiking Boots For The Grand Canyon, Yellowstone
Generally, hiking boots have proven to be the best footwear for going on hikes at several locations. And this accomplishment is due to the excellent features they possess.
So let's see some great features of hiking boots that make them suitable for the Grand Canyon, Yellowstone.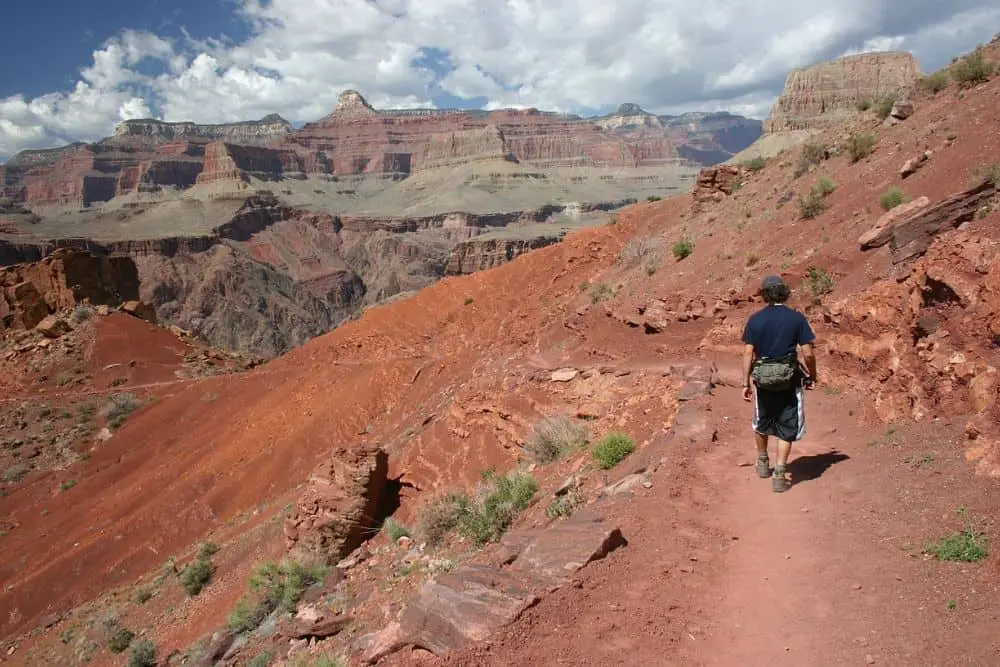 1. Stability
Primarily, almost all hiking boots manufactured (cheap or expensive) have shown great stabilizing prowess. And believe us when we say stability is an optimum requirement for hiking any location.
With hiking boots, you usually get rigid and wide soles that balance your feet on sharp stones, rocks, and slippery wet logs. Due to this, you will find yourself safe from falls and slips while using hiking boots.
Even while holding heavy packs or bags, hiking boots have unique designs underneath that cushion the feet. This underneath cushioning creates a stable platform for your feet and keeps you standing on rocky or slippery grounds.
2. Durability
The truth about hiking boots is that they are highly durable. Although some people would want to compare with other shoes – understand that hiking boots are the most durable for the Grand Canyon Yellowstone hikes.
Due to the already lightweight design of hiking boots, manufacturers tend to use thick, durable materials in the upper part and soles.
This design makes the boot last longer and can take whatever condition Grand Canyon hiking throws at it.
3. Protection
Remember we earlier stated the thick material designs of hiking boots? These are also great for offering protection for your feet and toes.
In fact, most hiking boots come with unique toe protective features – rubber or composite caps.
You could hit your feet on a hard rock or stone, and you would barely feel it due to the protective toe caps at the front.
The high tops (or shaft height) also offer protection from debris and brush against your ankles.
In terms of ankle protection, most hiking boots have proven to be great for preventing broken or sprained ankles. This is because hiking boots tend to tighten around the ankles and keep them stable to avoid any form of twisting.
It can be said that hiking boots reinforced at the toe cap with good ankle support are important for hiking in the Grand Canyon, Yellowstone terrain as your toes will face many sharp, rough and hard rocks. Besides, the steep and rocky terrain will be a real challenge for your ankles.
Finally, the good water resistance of hiking boots is also a big highlight, most hiking boots are waterproof or at least water-resistant.
And like I said above, there are only 2 seasons in Yellowstone, July and winter. Winter is very long, if you do not hike in the July season, you will have to experience the wet and icy conditions.
Waterproof hiking boots are exactly what you need to look for. And they're usually warmer than hiking boots that don't have this ability.
Read more: Can You Use Hiking Boots for Wading?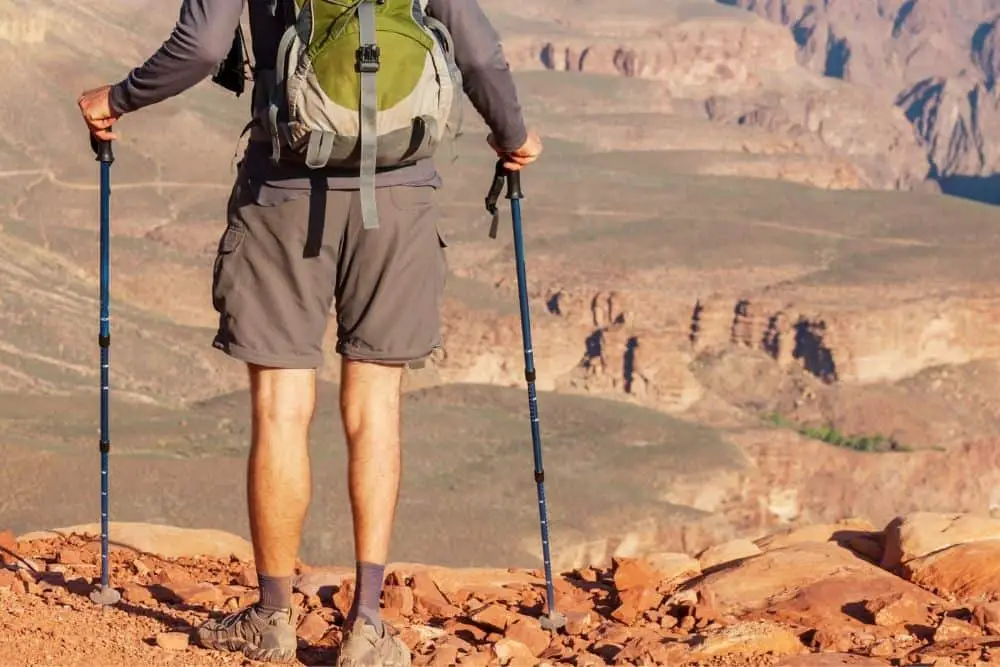 4. Comfort and Support
You will need all the comfort and support for your feet while hiking – this is a fact!
At first, your hike might not seem strenuous to your feet, but as you go on, it will begin to sore. However, with a good pair of hiking boots; you will rarely have to suffer sore feet during a hike.
Most hiking boots come with EVA or PU midsoles that are soft and mold over your feet.
For support, many hiking boots have stiff outsoles and possess torsional rigidity that prevents foot twisting as you walk.
With the rough, hard and uneven terrain of the Grand Canyon, you will realize how important the comfort and support that hiking boots can be.
5. Traction and Gripping
This is one selling feature of hiking boots. Unlike any other footwear you can think of for going on hikes, hiking boots offer the best traction. And boot traction has to do with the ability to resist slip and grip the ground.
The designs on the outsoles of hiking boots are randomized, and this allows the shoe to grip any type of Grand Canyon surface properly.
Let's face it, sometimes it will be snowy or wet, the grounds will get slippery, and the best option to prevent falls is hiking boots.
These boots have thicker lugs with more aggressive tread patterns and extra grip, even on rocky surfaces.
And of course, when hiking the Grand Canyon, Yellowstone, you have to consider accident prevention, and that's the primary function of traction in these boots.
6. Breathability
Although the weather conditions in Yellowstone are sometimes cold, the summer periods and bottom of the Canyon can be hot. Therefore, when you hike during the summer or at lower elevations of the Canyon, you will need breathable boots.
Boot breathability refers to the shoe being able to wick moisture away, reduce foot sweat and odor, and allow proper airflow in the boot.
Undoubtedly, hiking boots have the most breathable designs compared to any other footwear for Grand Canyon hikes.
You wouldn't want your feet sweaty in your boot or without proper airflow, as this can result in foot health problems.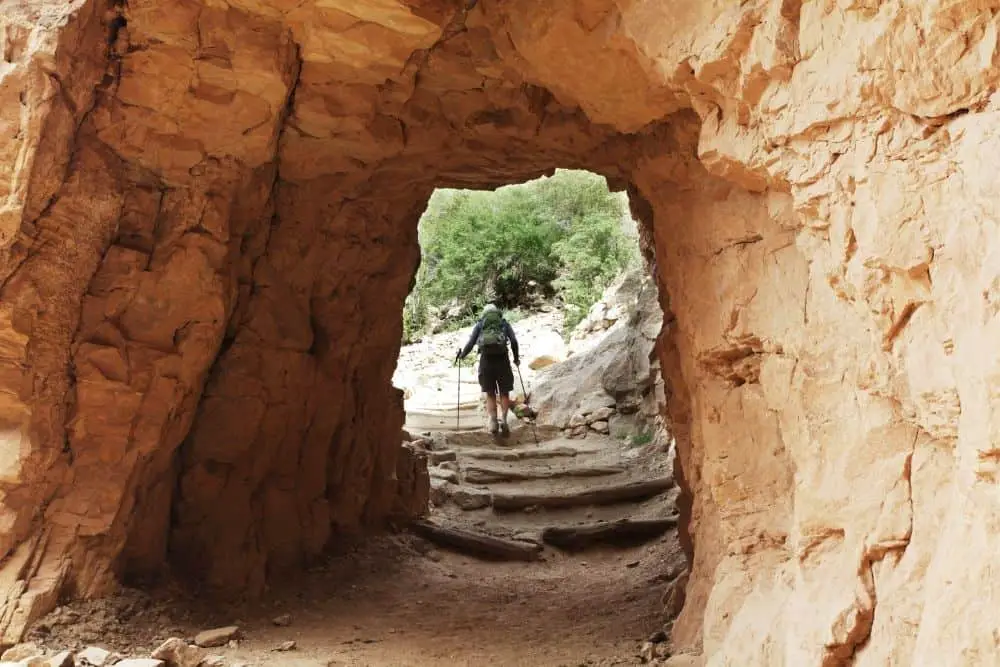 7. Weight
When hiking in the Grand Canyon, Yellowstone, your body weight and load are essential factors. For instance, if your boot is heavy, it will affect the efficiency of your hike by slowing you down and weakening you.
For this reason, hiking boots manufacturers have designed their shoes to be as lightweight as possible. Believe us when we say the lightweight feature of hiking boots is an excellent design for hikes in the Grand Canyon.
Believe me, for about a 24 mile Grand Canyon Rim-To-Rim hike in rough and uneven terrain, you definitely need light footwear. A pair of 1-pound to 1.5-pound hiking boots will be a great companion.
You would love your hike more when you can move with ease due to lightweight boots. However, to become this lightweight, hiking boots lack some features like the Thinsulate insulating property.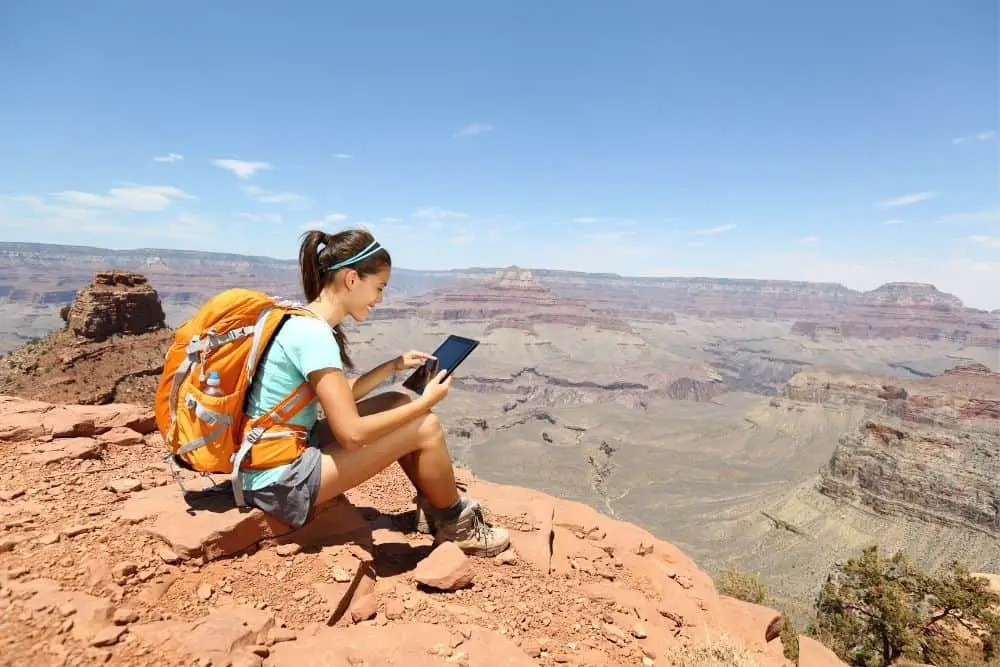 Discouraging Features Of Hiking Boots For The Grand Canyon, Yellowstone
Yes, there are many excellent features in hiking boots that make them great for going on hikes in the Grand Canyon, Yellowstone.
However, some features about hiking boots also make it discouraging to use for Grand Canyon hikes.
1. Insulation
Here's another truth about hiking boots; they are not the best insulating footwear out there. Although there are some hiking boots with insulation, they are often few and much more expensive than the traditional ones.
Boot insulation keeps your feet warm in freezing temperatures. And trust us, you will likely experience cold conditions when hiking the Grand Canyon, Yellowstone.
Insulating features is necessary when going on hikes, and the lack of it in most hiking boots is a discouraging feature.
Unfortunately, this means you have to spend more and risk the boot becoming slightly heavy to enjoy insulated hiking footwear.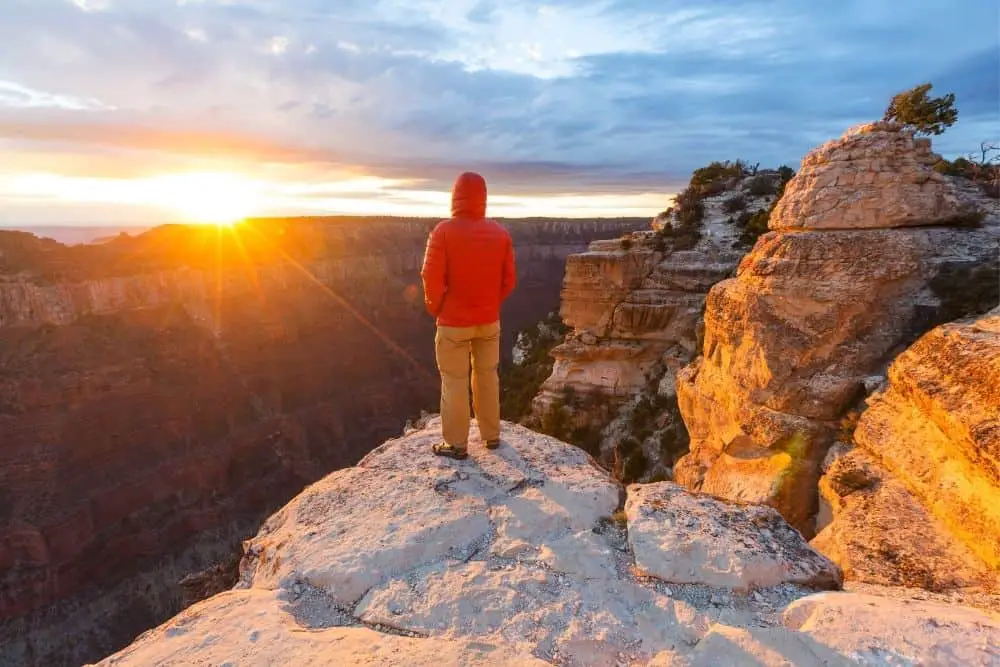 2. Long Break-In Time
This is one problem that is unique to most hiking boots. The prolonged break-in time of hiking boots, in a way, makes these shoes impossible to enjoy for the first few wears. This is due to the stiffness and rigidity they possess.
However, there are some hiking boots without this long break-in time, but not much. Know that the thicker and stiffer the materials used in their construction are, the longer time they would take to soften and conform to your feet.
The particular material with such problems is leather. This material often takes weeks to break in, giving other designs like mesh the upper hand.
Overall rating of the suitability of hiking boots for Grand Canyon, Yellowstone
| | |
| --- | --- |
| Features | Editor's rating |
| Comfort | ⭐⭐⭐⭐⭐ |
| Protection | ⭐⭐⭐⭐ |
| Flexibility | ⭐⭐⭐⭐⭐ |
| Waterproofness | ⭐⭐⭐⭐ |
| Durability | ⭐⭐⭐⭐ |
| Insulation | ⭐⭐⭐ |
How To Choose Hiking Boots For The Grand Canyon, Yellowstone
We know selecting the perfect hiking boots for the Grand Canyon can be exhausting. And for this, we decided to make your selection easier by giving you a guide.
This guide will help you differentiate the high-quality hiking boots from the subpar ones.
Before proceeding with the guide, we will divide hiking boots into three parts; types, components, and fit.
For going on a hike in the Grand Canyon, there are only two essential types of hiking boots. These hiking boots are the Day Hiking boots and Backpacking "Frankenstein" boots.
This has to do with the features of hiking boots to watch out for when going on a hike in the Grand Canyon, Yellowstone. We will look more at the essential components in the rest of this section.
The fit of hiking boots refers to the size and shape of your preferred footwear. You must ensure that whatever hiking boot you choose fits snug. That means it must never be loose on your foot.
Let's see the essential components of hiking boots that's needed for Grand Canyon Yellowstone hikes.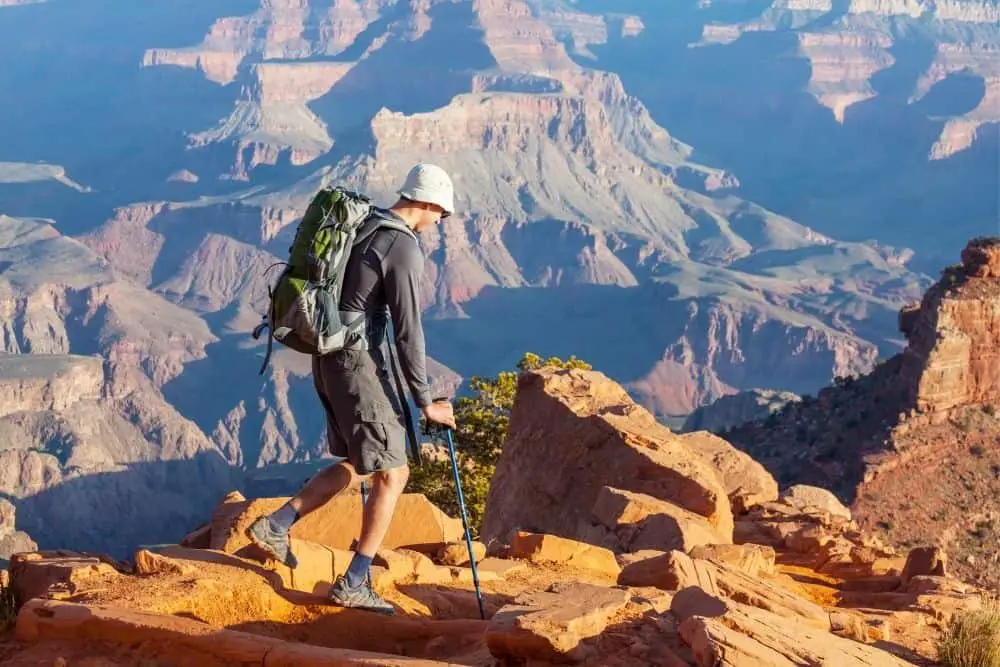 1. Material
This should be one of the first things you need to consider when choosing a hiking boot. The choice of material used in its production determines the hiking boot's durability, comfort, strength, and beauty.
Generally, full-grain leather material is the most durable and often the best type for hiking boots. In addition, synthetic, split-grain, and nubuck leather, mesh, and vegan materials are also suitable materials.
However, full-grain leather has been excellent over the years and is durable for use. Nevertheless, we'd also recommend split-grain leather and synthetic material if you cannot find full-grain upper hiking boots.
2. Midsoles | cushioning
The midsoles are all about cushioning and interior feet comfort. Generally, hiking boots use either EVA or PU-type midsoles, and they have proven beneficial for absorbing shock and cushioning feet.
The hiking boots with the best well-cushioned midsoles are the ones with EVA or PU designs. In fact, some hiking boots have a touch of both designs to offer better comfort and cushioning for your feet.
3. Outsoles and Support
The outsoles of hiking boots are the defining factors of your stability, balance, and support when hiking.
Therefore, this part of your hiking boot needs to have appropriate designs to keep you on your feet without pain or ankle sprain.
Firstly, you need to ensure the pattern of your lug outsoles is good enough to give slip-resistant traction.
Then, you need a proper heel brake on your hiking boot as it will reduce the likelihood of sliding when moving over steep descents.
Moreover, the best hiking boot outsoles are the ones that have rubber designs. However, there are two types of rubber usually used; brown and carbon.
We'd suggest that you go for hiking boots with outsoles made of carbon rubber, as they have proven to have more traction.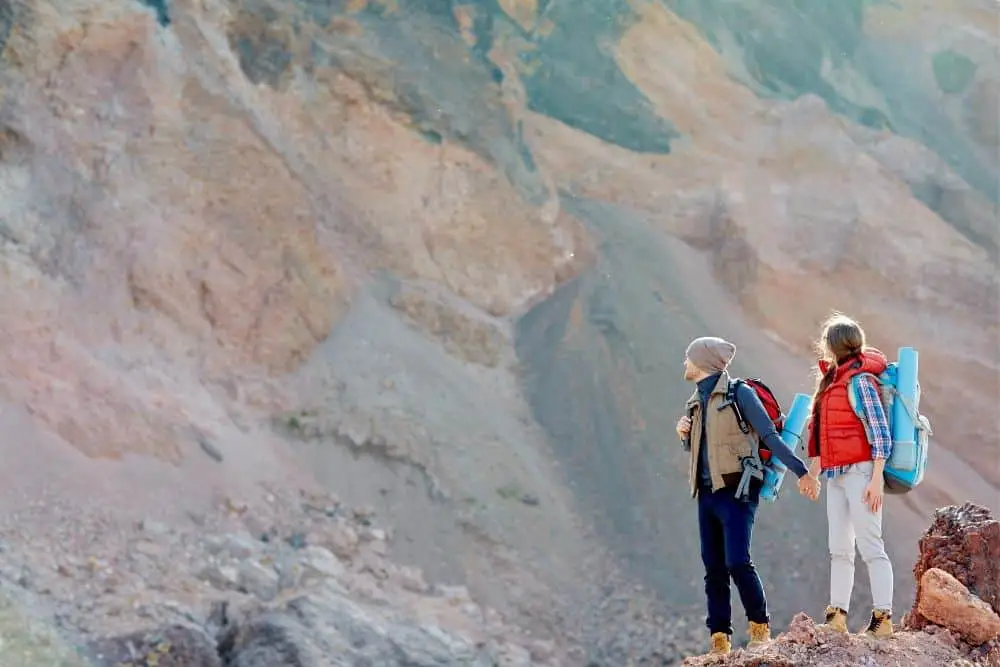 4. Breathability
Trust us; you need to ensure your hiking boot is breathable. This wouldn't be a hard feature to miss, as many hiking boots have a breathable design. However, it is best that you still keep an eye out for the feature.
This will determine whether your hike will be dry or your feet will sweat till you finish.
Generally, for every hike, you will need proper airflow in and around your boot because foot-related problems quickly arise when hiking with bad shoes.
Also, check to see how breathable it is because some have higher breathability than others. The best breathable hiking boots are the ones with leather and (or) mesh designs.
5. Insulation
When it comes to insulation for hiking boots, they aren't the best, but they offer significant benefits. Personally, insulation is an excellent feature to have in your hiking boot, especially for the Grand Canyon, Yellowstone.
As you know, that place usually has freezing and wavering temperatures, so we'd suggest you go for one with insulation. Spotting a shoe with insulation is pretty easy; first off, it will weigh a lot more than the regular one.
Secondly, the manufacturers tend to state it in its packaging. Most hiking boots will come with Thinsulate insulating properties, and you can check for this in your potential hiker's shoe before purchasing.
6. Weight
Let's not even leave this one out; the weight of your hiking boot plays a massive role in determining your ease of movement. Therefore, you have to keep your hiking boots' weight to the barest minimum.
As light as you can get for a good pair of hiking boots. Be careful not to go for the overly light hiking boots as they will likely lack some essential features for the Grand Canyon hike.
7. Waterproofness
It's going to rain sometimes; the grounds won't always be dry; it might be snowy out there. If these conditions don't alert danger to your feet, we don't know what does.
You need to ensure your hiking boot is 100% waterproof, not even water-resistant. Waterproof version doesn't allow water to penetrate, while the other allows after prolonged material drenching.
The best material for waterproofing hiking boots is leather; full-grain, split-grain, or nubuck, whichever is an excellent pick. Nevertheless, we would suggest you go for full-grain leather.
Advice for Hikers on The Road to The Grand Canyon, Yellowstone
Now, before you set out to hike the Grand Canyon, you first need to have certain things in order.
No, you should never rush a hike, else you will suffer the consequences while hiking. So, what are some noteworthy pieces of advice for hikers of the Grand Canyon?
Let's take a look!
Hike with a plan; tell people where you are going.
Never hike alone.
Don't start hikes very early and late in the day.
Avoid hiking between 10 am and 4 pm in the summer; extremely hot.
Remain hydrated always.
Take along trekking poles and use them.
What do you need to hike in Yellowstone?
To make your hike a bit more exciting and fun, you need to have some certain gears with you.
Yes, it might increase your load, but they are essential for your survival and hike. Some of these things include;
Water, snacks, and electrolyte drinks.
First aid kit (antiseptic, moleskin, ace wrap, bands).
Map.
Flashlight (with spare batteries).
Hat or cap and sunscreen.
Whistle for emergency calls.
Spray bottle to help cool your rising temperature.
Warm jackets (waterproof).
Hiking boots (definitely).
Extra clothes; in case of cold.
Fire Starter
A plan, detailed plan
Is it dangerous to hike in Yellowstone?
Generally, hiking can be dangerous, but all the dangers are preventable. For instance, hiking in Yellowstone is pretty safe, as long as you follow the park's rules.
In fact, among the 3.8 million visitors yearly, there are barely about 0-5 deaths. And those deaths or dangers arose from hikers disregarding the rules of the park.
Information is referred to the Rogue Survival: Is Hiking in Yellowstone Safe?
How many days do you need in Yellowstone?
Personally, the duration of your hike depends on you, the load you are with, and your group. Nevertheless, you can use about two days to truly experience the Yellowstone area while hiking.
However, some hikers tend to use three to five days to sightsee and explore the park more. Mainly they will engage in other activities alongside hiking.
Can I hike in Yellowstone alone?
One of the rules for hiking in Yellowstone is no "single hikes."
Never think or try to hike Yellowstone alone. It makes your hike unsafe, and you are prone to bear or other wild animal attacks.
Instead, always hike in a group with three or more people.
Top 3 Hiking Boots For Grand Canyon, Yellowstone
Picking the perfect hiking boot is utterly challenging, and that's why we earlier gave you a guide on choosing the right one.
However, we have decided to make your search easier by giving you our top three hiking boots for the Grand Canyon, Yellowstone.
1. Merrell Moab 2 Hiking Boot
Last update on 2022-09-23 / Affiliate links / Images from Amazon Product Advertising API
The Merrell Moab 2 hiking boot is a 100% suede leather and mesh-designed footwear spotting a 4.25 inches shaft height.
This hiking boot from Merrell comes with the M Select DRY waterproof feature, and it keeps water and other liquids out.
For foot protection against collisions and heavy impacts, the Merrell Moab 2 sports a rubber toe cap. Meaning you can safely hike without fear of breaking a toe or toenail.
For your comfort, this Merrell hiking boot has an air-cushioned midsole that absorbs shock and gives stability.
In addition, in case you want to hike the Grand Canyon in the summer, you can be sure of an excellent hiking adventure with its breathable designs.
It will wick away all foot moisture and allow airflow.
Additionally, you might have to bear the break-in period of this shoe as it can be pretty long. Aside from these, the Merrell Moab 2 is an excellent buy.
Pros
It comes with a waterproof design.
Presence of protective rubber toe caps.
Super comfortable midsole with shock-absorbing properties.
Breathable and wicks moisture efficiently.
High traction Vibram rubber outsole.
Cons
It takes a little long time to fully break-in.
2. Timberland Mt Maddsen Hiking Boot
Sale
Last update on 2022-09-23 / Affiliate links / Images from Amazon Product Advertising API
The Timberland Mt Maddsen hiking boot comes with a 100% premium full-grain leather design that gives it its high durability and sturdiness.
As a plus, with the full-grain leather, you get efficient waterproofing features in the Timberland Mt Maddsen.
This boot from Timberland sports rubber lug outsoles that give you maximum slip resistance or traction on the Grand Canyon.
In addition, it possesses gusseted tongues underneath that helps you reduce and keep out any form of debris.
For comfort, the Timberland Mt Maddsen sports a compression-molded EVA midsole. This feature offers shock absorbing and lightweight cushioning properties for your feet at all times during a hike.
However, you might dislike the narrowness of this Timberland hiking boot, especially if you have big feet.
Many users share this same complaint about it, and it seems to be bothersome. Nevertheless, if you have a way to overcome this, then go for this boot from Timberland.
3. Columbia Wahkeena Hiking Boot
Last update on 2022-09-23 / Affiliate links / Images from Amazon Product Advertising API
The Columbia Wahkeena hiking boot sports a highly breathable full-grain leather design that ensures your feet remain dry in hot conditions.
This boot from Columbia has proven to provide one of the best waterproofing designs over the years.
One central selling feature of the Columbia Wahkeena is the lightweight design that makes it easy for hikers to move around the Grand Canyon. This is due to the lack of features like insulation.
For foot comfort, this boot from Columbia sports superior advanced cushioning, offering long-lasting feet ease.
In terms of support, the Omni-grip rubber outsole technology provides high traction and slip-resistance to wet surfaces.
However, this Columbia boot might not be the best for winter hikes at the Grand Canyon; nevertheless, it's an excellent pick.
Pros
Omni-grip rubber high traction outsole.
Waterproof.
Highly breathable full-grain leather.
Lightweight and durable design.
Superior cushioning and long-lasting comfort.
Cons
Several complaints about the lack of insulation.
Conclusion
This article has given a well-detailed answer to the question, "do I need hiking boots for the Grand Canyon, Yellowstone."
In addition, we have been able to outline the features that make hiking boots great for Grand Canyon hike and what doesn't make them so good.
As a plus, we have highlighted some ways for you to choose the best hiking boots.
And lastly, we gave our top three hiking boots to use for Grand Canyon, Yellowstone hikes.