In literature, you will often see authors have their characters glamorize walking barefoot on the beach and feeling sand between their toes. Well, having pebbles jump into your boots when you are hiking will elicit the direct opposite feeling.
One of the feelings that is hard to get used to even among professional hikers is that of having stones in your boots. It is almost unavoidable when you hike down rocky trails.
Pebbles in your shoes make hiking uncomfortable—and sometimes painful or lead to blisters. Thus, you will find yourself stopping from time to time to get them out which ends up slowing your pace.
Hikers have devised several means to overcome this menace. Some are professional while others are simple DIY techniques.
Nevertheless, they all have their pros and cons. In this post, we will look at the different ways of keeping sand out of your hiking boots.
How to prevent stones from getting in hiking boots?
Irrespective of the nature of your boots, there is always that slim chance that you will have particles from your hiking trail get into your boots. Three of the most dreaded particles that hikers always fight to keep out of their boots are stones, ice, and water.
The solution will be slightly different depending on what you are trying to keep out. For example, if you are trying to keep out water from entering your boots, one of the best solutions would be using waterproof boots.
However, using waterproof boots will not stop stones and dirt from entering your boot if you are hiking a rocky trail. If you want to prevent stones from getting in your hiking boots, below are some of the solutions you should try.
1. Changing the way you walk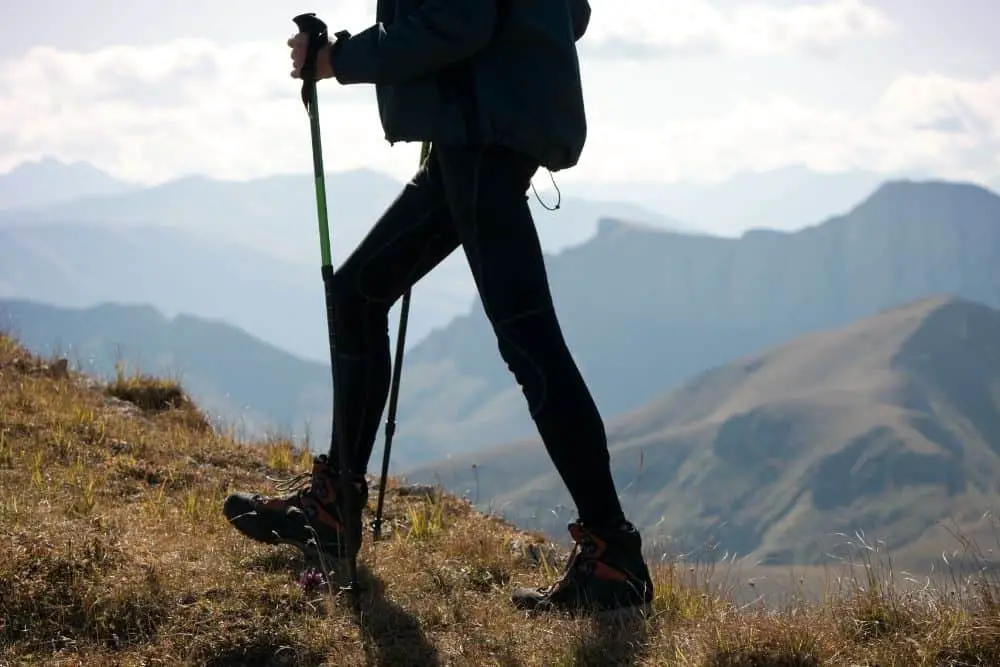 Just like the tire of a vehicle throws up clogged dirt when it is in motion, so will your feet throw stones and dust in the air. The faster you walk and the higher your feet lift off the ground, the higher your chance of getting stones in your boots.
While changing the way you walk can solve this problem, it is more demanding and would force you to cautiously walk in a certain unnatural way. Also, to achieve this you have to be cautiously aware and pay constant attention to your steps which can take the fun away from the hiking experience.
Rather than changing the way you walk to prevent stones from getting into your boots, there are better alternatives that you should try.
2. Use of gaiters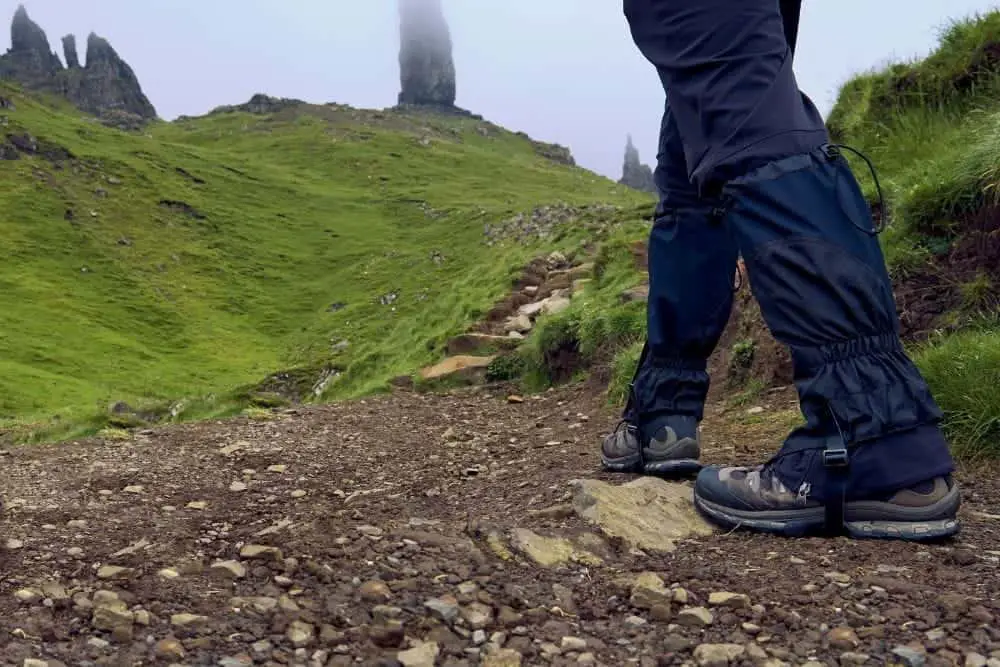 Most hikers rely on gaiters to keep stones out of their shoes. Gaiters come in different shapes, sizes, and designs depending on the primary element that it is designed to keep out.
Gaiters designed for use on snow or icy trails are usually taller because snow depth can often reach incredible heights. For example, Tamarack, California was reported to have a snow depth of 451 inches (37.5 feet) in March 1911—certainly, a designated hiking trail should not have that much snow.
Last update on 2023-01-18 / Affiliate links / Images from Amazon Product Advertising API
When choosing a gaiter for preventing stones from getting into your boots, make sure the gaiters cover your shoes and socks. Also, make sure they have attachment points that keep them firm and ensure they are compatible with your boots.
3. Use taller boots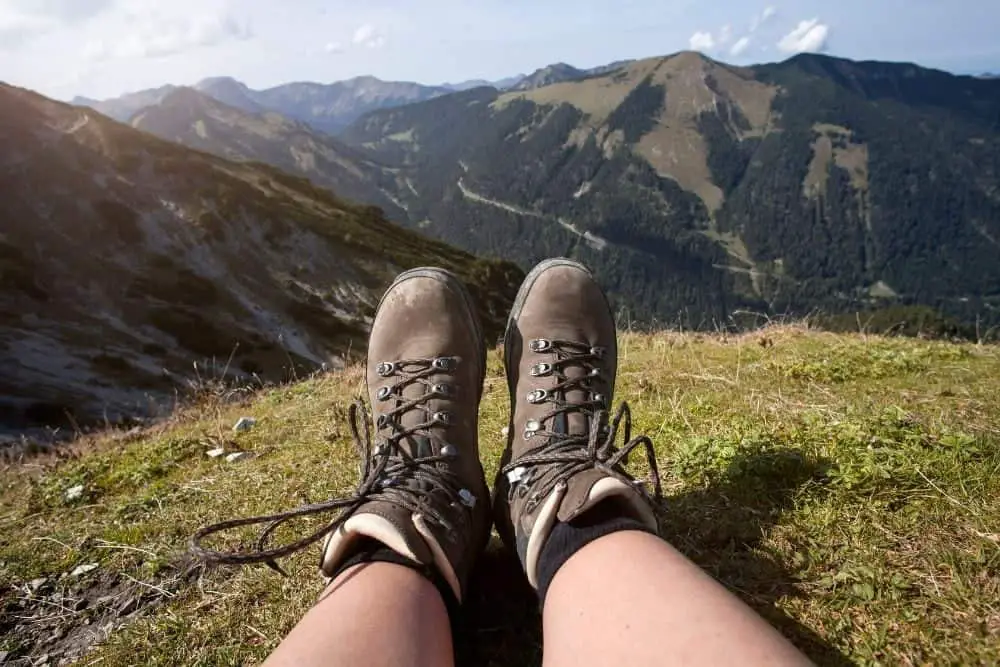 The higher the height of the ankle of your hiking boots, the more difficult it will be for stones to get in. There is still a huge chance that small pebbles can still get in from the laces—if it is not done properly.
Before settling for taller hiking boots, you need to bear in mind that they are usually more expensive than regular hiking boots and usually come with extra weight. If those are not deal breakers for you, taller hiking boots can solve your stone problem.
Last update on 2023-01-18 / Affiliate links / Images from Amazon Product Advertising API
4. Wearing longer pants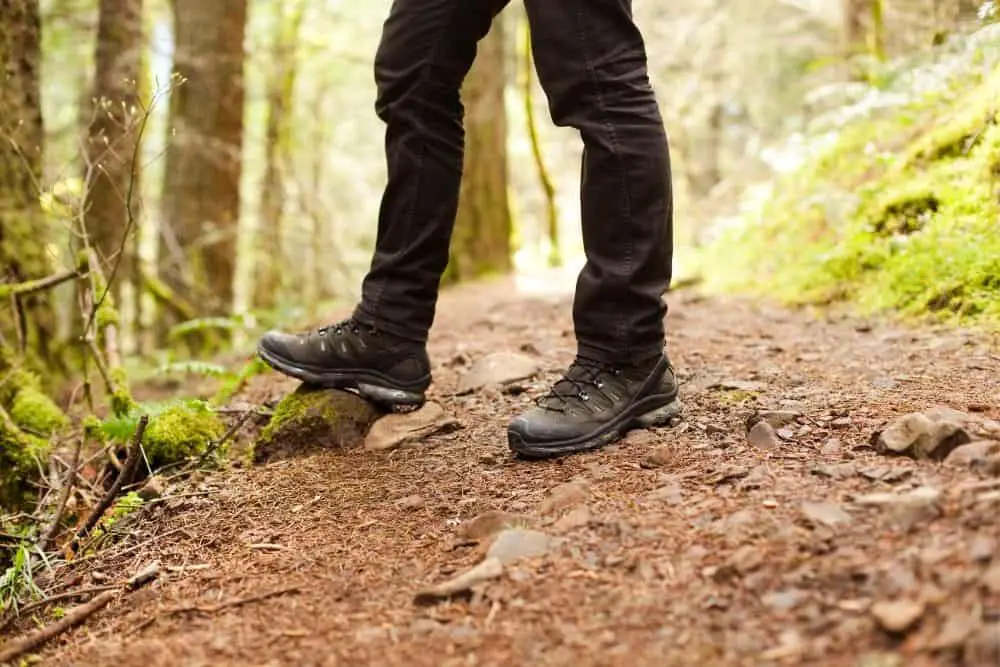 Wearing longer pants that cover the collar of your boots can stop stones from getting into your boots. If there is room between your leg and boot collar, tucking your pants into your boots can close that gap.
However, when you are hiking during the summer, this can make you sweaty and uncomfortable. It is not surprising that hikers usually resort to short pants and light tops during the summer.
The hotter you are, the less likely you would want to go a longer distance—especially if you have a limited water source. When it is not convenient to wear long pants, there are other things that you can do.
5. Wear thicker socks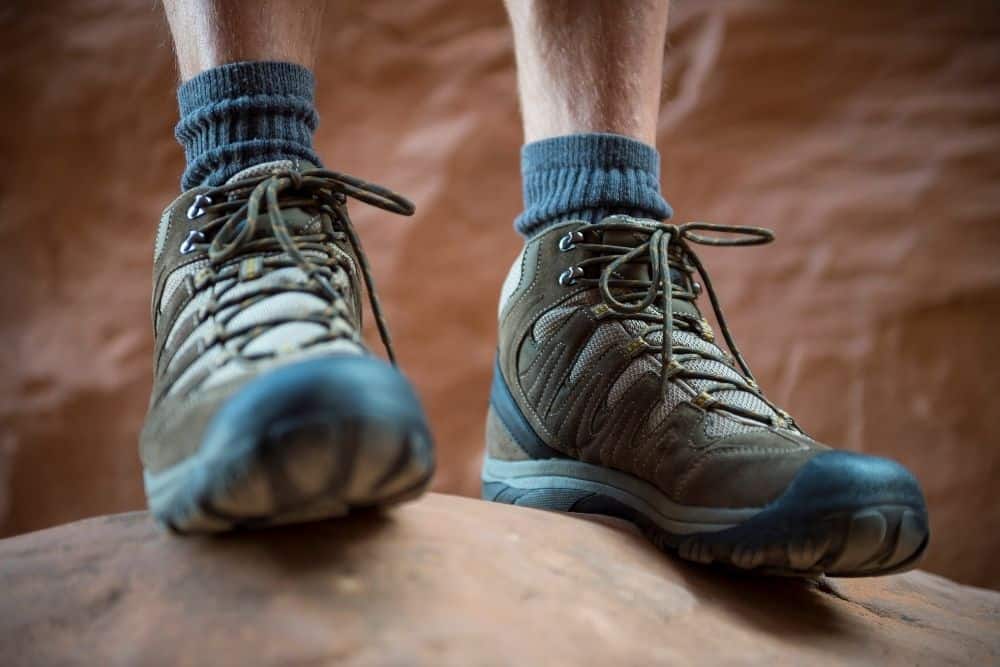 Wearing thicker socks will give you the luxury of wearing shorter pants when hiking in the summer. To make thicker socks even more effective, give them pleats close to the boot collar.
The pleats will further fill up the collar making it more difficult for stones to find a path of entry into your boots.
Last update on 2023-01-18 / Affiliate links / Images from Amazon Product Advertising API
6. Walk on a clear path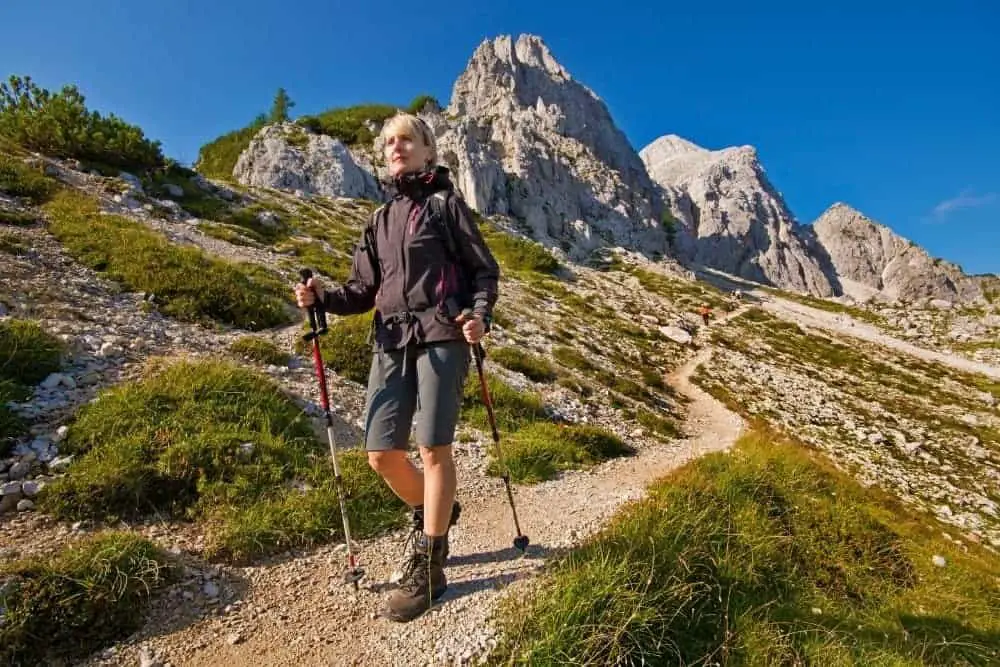 Hikers often veer off trail for one reason or another—but this is not always a good idea. When you veer into thick vegetation that carpets the ground, it becomes more difficult for you to understand the terrain—and you could even slip.
Walking on clear paths or clearly established trails lowers the chances of rocks flying into your shoes because you can carefully select where you place your feet (especially in terrains such as Grand Canyon or Smoky Mountains). Also, it is easier to get lost or take longer to get to your destination when you move away from established trails.
When you get to a path with unclear trails (perhaps they have been covered by bushes), the smart thing to do would be to turn back or pull out your GPS. Cutting through thick bushes is a bad idea—and probably the beginning of all your problems.
7. Try better fitting boots
When stones keep getting into your boots it can be that you are wearing the wrong boot size. Oversized boots will affect your walking posture, increasing the chance that you will throw more stones, dust, and dirt into the air.
Changing your hiking boots into the ones that fit better may be the solution to all your problems. The right boot size and fit will improve your walking posture and help you cover more hiking distance.
8. Give beach shoes a try
While beach shoes are not designed for hiking, they can come in handy as part of your backpacking accessories. Beach shoes easily let water, sand, and rocks flow out of your shoes.
Therefore, if your hiking trail has a sandy area, you can swap between your hiking boots and beach shoes until you have crossed the area then you change back to your boots. The same applies if you have a swampy area in your route which can get into your boots and make them stink.
Last update on 2023-01-18 / Affiliate links / Images from Amazon Product Advertising API
9. Tighten your shoelaces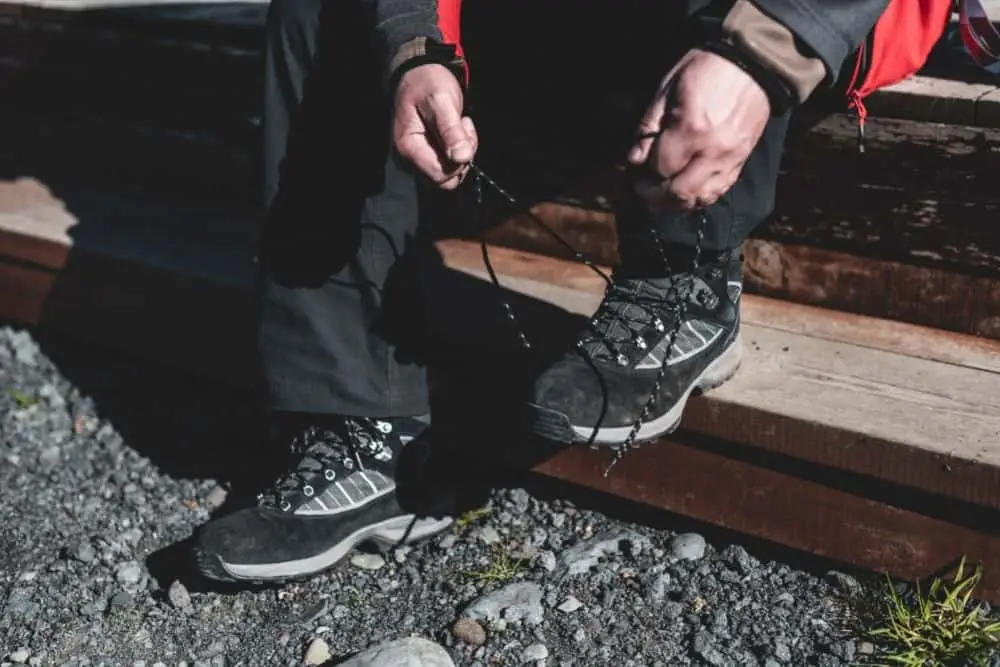 When your boots give a snug fit, there is that inertia to lace up. Normally, that should not pose any challenge unless there is a gap between your ankle and the collar of your boot.
Lacing your boots properly—with special focus on the toes and ankle eyelets or hooks—will help to close up any gaps where stones can easily get in. Nevertheless, don't make your laces too tight that it becomes uncomfortable to walk.
If you have been lacing your boot using a particular technique, it may be a good idea to try another. There are numerous resources online that highlight the different lacing techniques that you can try before sticking with the one that finds the balance between fit and preventing stones from getting in.
Some of the common lacing techniques you should try include standard crisscross, ladder, rope ladder, bar lacing, and Italian corkscrew.
10. Choose hiking boots with padding collar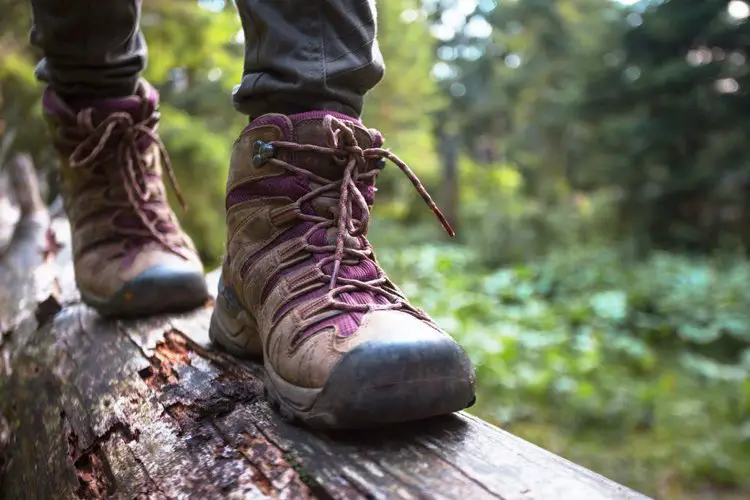 Today, many tall hiking boots (about 8 inches) have been released, along with padding collars.
This structure allows the padding to wrap your ankle carefully. This prevents strange objects from falling inside the boots, including stones. Or in some other cases, it can prevent rain or snow (to keep you warm).
This type of hiking boot can support your ankle very well and can be said to be a heavy-duty hiking boot.
If your upcoming trip is in rocky mountains with lots of stones, then hiking boots with high tops and padding collars are a great choice.
Other ways to prevent stones from getting into your hiking boots
Sometimes you just have to rely on DIY ways to help you keep sounds out of your shoes—as the saying goes, necessity is the mother of inventions. Don't be afraid to try out new ideas because you will never know the one that will work until you try.
One of the best DIY solutions we saw resembled gaiters except that it was far less expensive. While gaiters can be pretty pricey, this solution will cost you old female stockings.
Take a pair of knee-high women stockings—preferably the thick cotton type. Cut out 5 to 6 inches in length beginning from the toe area and pull it over your pants to sit on the ankle. Next, put on your boots and pull the other end of the stockings to cover the boot collar.
Last update on 2023-01-18 / Affiliate links / Images from Amazon Product Advertising API
If you do it properly, it functions like a gaiter and prevents stones from getting into your boots. Interestingly, if you use the right material it should not slide down as you walk—which is one of the hikers' biggest worries when using gaiters.
Conclusion
When it comes to keeping sand out of your shows, you may need a combination of two or three techniques to effectively conquer the menace. Sadly, there is no one-cap-fits-all solution that will work for everyone.
Keeping sand out of hiking boots is often a personal journey. Therefore, pay attention to your feet and discover what works. If there is a DIY solution that has helped you to overcome the problem kindly share it in the comment box.