Undoubtedly, you want to have an exciting hiking experience when buying a pair of hiking boots. But when putting your feet on them, you find your ankles feel quite painful but do not know why?
You feel a little bit disappointed and want to figure out this issue as soon as possible. Don't worry! We are here to help you out!
We have researched and compiled a list of reasons why hiking boots detrimentally affect the ankles. It's time to know what they aren't! Let's get started!
Why Do Hiking Boots Hurt My Ankles?
As you might know, ankles connect your lower legs and feet. When doing activities, especially hiking, you will need to provide adequate ankle protection as this body part is easily prone to injuries.
In other words, painful ankles mean they do not get the right protection. So which factors affect the footwear protection for the ankles? Let's take a look at the following reasons.
Reason 1: Improper Fit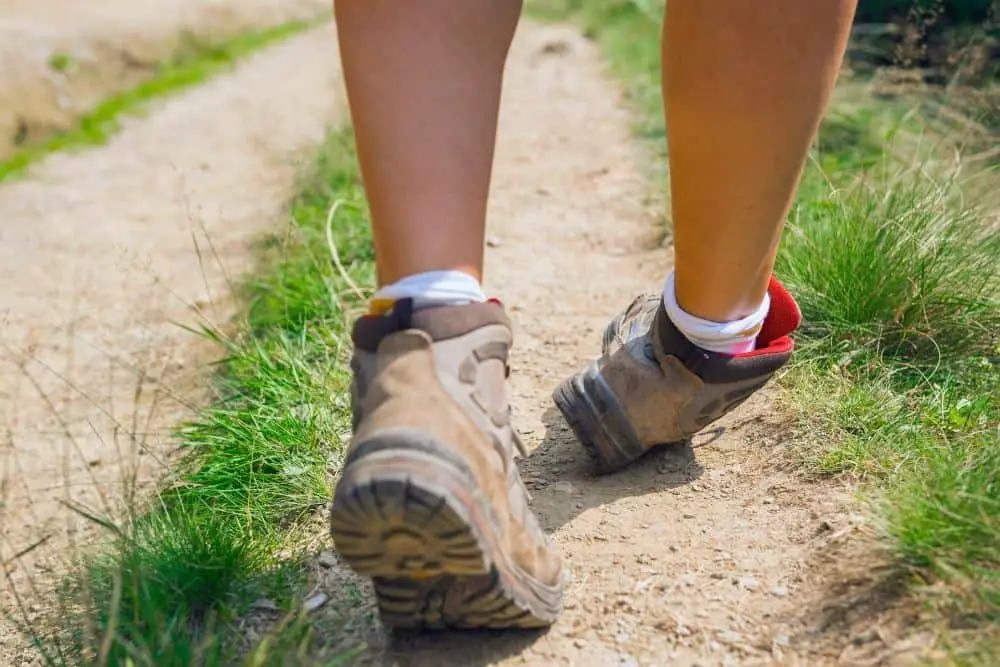 Hiking boots with improper fit cannot hold your feet right when you are walking on steep slopes or rocky surfaces. You can feel too tight or too narrow when wearing such hiking boots.
In this case, the lack of space can limit the movement of your feet or lead to loose stability.
As you might know, the stability of the boots can affect your ankles. Without a proper fit, your hiking boots can cause unnatural walking gaits when hiking, significantly affecting how your ankles are supposed to function properly.
That's why your feet must be adjustable to meet the tightness or width when wearing wrong-sized hiking boots. This somehow puts extra strain on your ankles and feet, causing pains both in the ankles and arches, calves, and toes.
The shape and size of your hiking boots can determine how they fit you. So it is best to check if your footwear comes with a deformed shape.
Reason 2: Rigid Shafts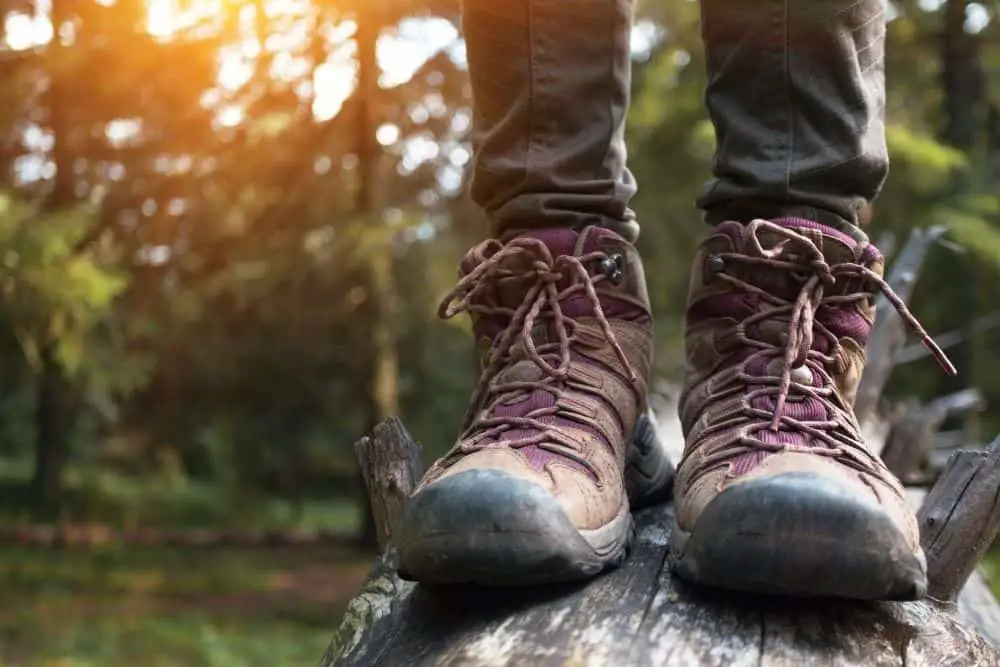 Another reason for your ankle pain is that your hiking boots come with rigid shafts. This issue might be due to the leather material which is too stiff out of the box to wear comfortably.
Accordingly, when you hike, especially on the rocky and steep slopes such as Smoky Mountain, Grand Canyon or Arches National Park, hiking boot shaft stiffness will have a detrimental influence on the range of motion of your ankle joint.
Besides, a non-flex boot shaft cannot provide a proper function for the natural stabilizing reflexes of the feet as expected. As a result, they can make sprained ankles more probable for the long term.
Reason 3: Collar Design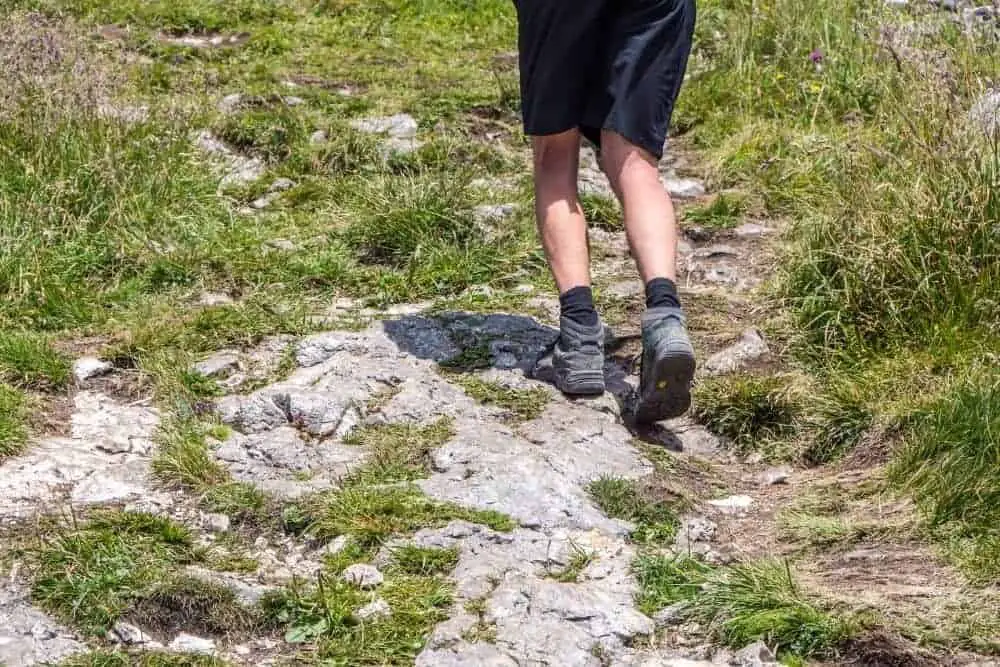 The collar design of your hiking boots is also a reason for your painful ankles.
While low-cut hiking boots can enhance the movement of your ankles and strengthen them to avoid getting pain, the higher-cut models can be the brace limiting the flexibility in the functions of your ankles.
In this case, your ankles cannot freely move, making them feel uncomfortable and possibly get exhausted from hiking for a long time.
The rubbing between the collar and ankles can cause a certain scratch when you are on a long trip.
Reason 4: Exaggerated Support
Too much support does not mean good for your ankles. Highly supportive hiking boots are only suitable for challenging terrains like long rocky trails, mountain climbing, or river crossing.
If you wear hiking boots with too much support in the arch or heel portion in lighter activities like hiking on moderate trails or paths, they might increase the pressure around the ankles and lead to fatigue when wearing them for a long time.
Reason 5: Wrong Socks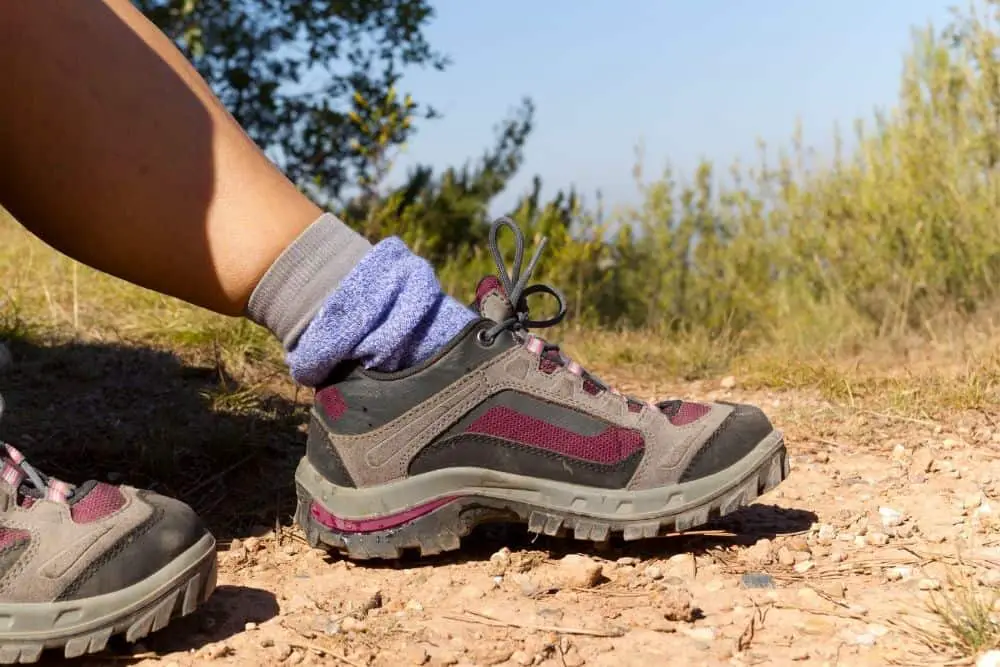 Many ignore the importance of choosing the right socks as they do not think they matter.
In fact, the appropriate socks can keep your feet fixed or not. If your socks are too thick, they can stoke your feet and lead to compression causing ankle pain.
Besides, if they come with a seam layer in the ankle area, they can lead to ankle pain as the socks can deliver pressure on the ankles.
Reason 6: Improper Cushioning
The pain in your ankle might be attributable to insufficient cushioning. The right cushioning in the heel and arch can significantly absorb shocks during activities like jumping, hiking, and running while deterring injuries to the feet, particularly the foot bones.
So if you have ankle pain, it is advisable to check if your hiking boots have enough cushioning.
Reason 7: Non-supportive Heel Cup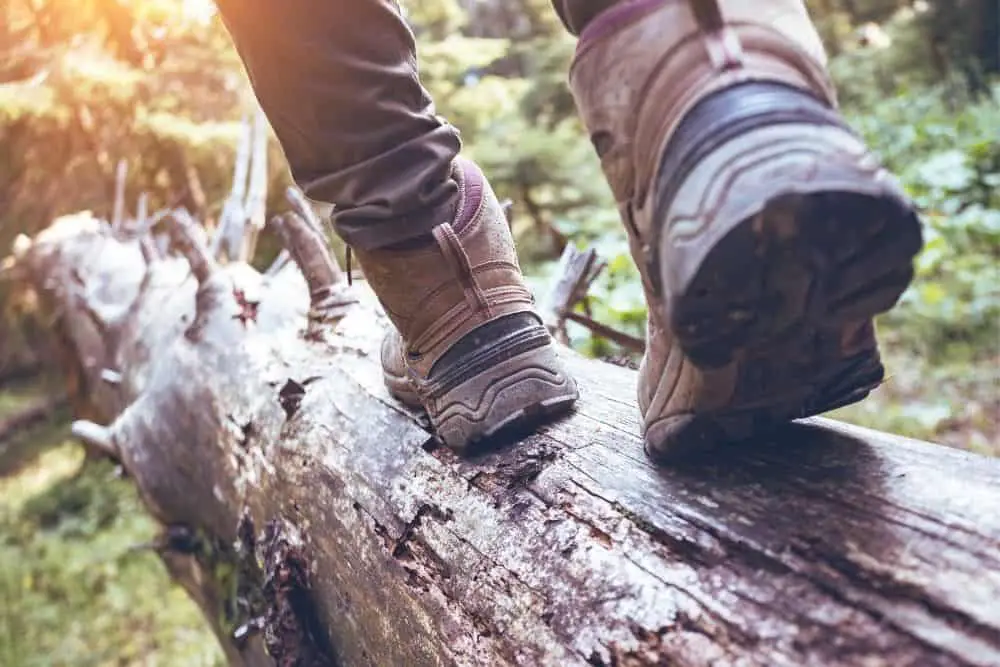 Do you know the right heel cup can provide a roomy contact space between your heel and the surface, eliminating the pressure on the ankles?
If your hiking boots come with a non-ergonomic heel cup, they can hurt your ankles. The reason is that high heel hiking boots will put more pressure on the feet and the ankles than lower heel models.
Reason 8: Your hiking boots are not broken in
Believe me, one of the biggest causes of ankle pain is that your boots aren't broken in.
New hiking boots will be very stiff, especially leather boots. They are not flexible enough to overcome difficult terrain such as mountain trails. Make sure you break in your hiking boots before your two-day trek.
Make sure they are softer and more flexible. It usually takes 1 to 2 weeks with normal use to break in boots.
But if you use some of the break in hiking boot methods we outline below, I believe in less than a week, you are able to use them for your upcoming trip.
How Do I Stop My Boots From Hurting My Ankles?
Below are some common methods to protect your ankles when wearing hiking boots.
Method 1: Padded Collar
To provide extra comfort and support around your ankles, you need to equip your hiking boots with padded collars.
Thus, your ankles will thank you as they will not get any hurt caused by the hiking boots, especially when hitting the trails or hiking on steep slopes.
In addition to the padded collar, you can significantly prevent a twisted ankle or blisters as well.
Method 2: Stretching foot tendons
If your ankle pain is attributable to the heel cord – a fibrous tissue tough band connecting your calf muscles to the heel bones, it is best to apply a stretching solution prior to starting to hike.
That said, you had better be careful when applying this method. Overstretching might lead to more severe issues.
Also, you possibly stretch the tendon when generating stops during the hikes. If you feel pain, it is imperative to take an immediate break for short stretching and then continue.
Below is a guide on how to stretch the muscles of your ankle area. Hope it will work for you!
Method 3: Lower Cut Shaft
You might not know this, but a pair of hiking boots with a lower-cut shaft will provide a greater range of motion at the ankle joint compared to higher-cut models. In other words, low hiking boots can support the motion of your ankles.
Besides, lower-cut shafts can decrease the fatigue and pressure around your ankles when you are on heavy-duty activities like hiking, trekking in forests, and more. Accordingly, they can avoid the subsequent risk of ankle injuries in hikers.
Method 4: Have Proper Fit
We all know our boot size. That said, the true size might vary from brand to brand and from type to type.
Two different hiking boots at a similar size can differently fit on your feet.
If you go for hiking boots at a store, ask the seller even when you get your size. The reason is that they possibly know something you do not and advise you to buy more suitable hiking boots.
One more thing, it is best to have a small space between your toes and the hiking boots. Hence, you can freely bend the toes.
If you cannot, you should choose a slightly bigger size (probably half a size bigger). Don't forget to try the hiking boots with the socks you plan to wear when hiking.
Another way to have a proper fit is to use a shoe stretcher. The shoe stretcher is ideal for hiking boots with leather from its sides and top.
As you might know, the leather can sit tightly on the feet to cause much pressure on the sides, resulting in ankle pain.
Last update on 2023-05-12 / Affiliate links / Images from Amazon Product Advertising API
This way can help you make the leather fibers broader, which makes them more comfortable to wear. You can combine this method with using a special solution and then expand it with the right device.
Method 5: Loosen Lace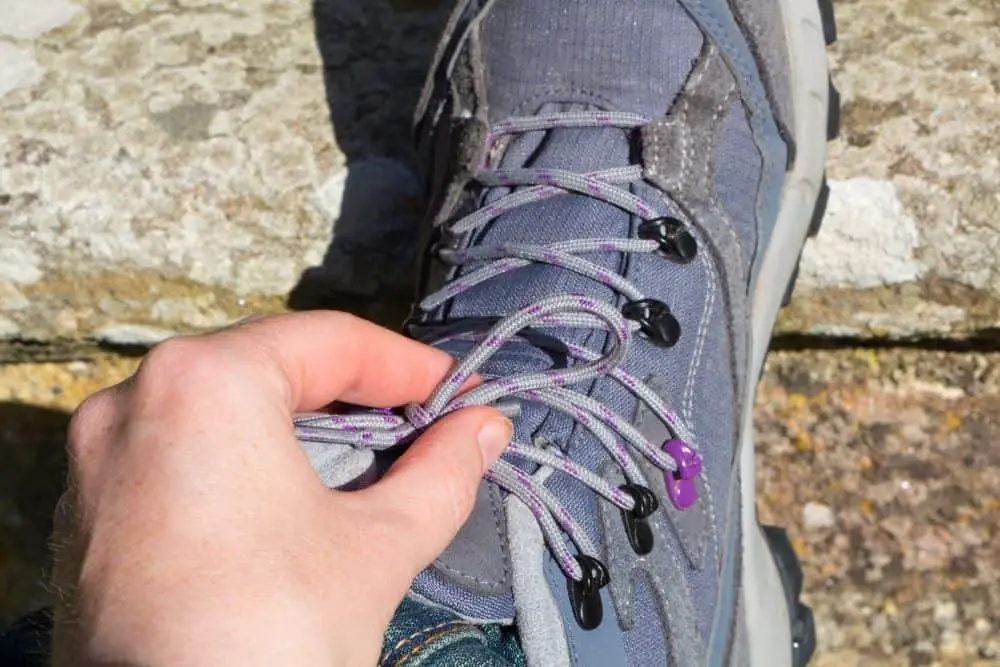 In fact, this method is just for hiking boots with high collars. If you have low cut models, you can skip this one.
When you tightly tie your footwear, it might be the cause of your ankle pain. We know some might feel secure with the tight lacing. It might prevent dropping your boots on the hikes, for example.
Still, too tight lacing can result in serious issues. It is worth noting that letting your feet a bit loosen when hiking is better than keeping them completely fixed.
You will undoubtedly tie the hiking boots tightly when you choose the wrong size for your footwear. As they are too big, you want to tie the lace as tightly as possible to avoid the footwear falling off your feet.
But we have to say, it is a really bad method as the compensation can cause unnecessary pressure on your ankles. So keep in mind to loosen your hiking boots a bit when you plan to hike.
To help you properly lace your hiking boots, we have researched and found out a helpful tutorial video for your consideration as follows.
Method 6: Break in your hiking boots
The aim of breaking in hiking boots is to make them more flexible and softer. That ensures they mold your ankle better.
Some popular methods to break in hiking boots are:
Steam inside boots: Use the steam of the kettle to do this, after steaming, wait for them to cool down, put them on for a few rounds until they cool down – don't forget to wear socks and be cautious of burns
Spray wet hiking boots, put them on and walk until they are completely dry
Use leather conditioner to make leather hiking boots softer, thus breaking in faster.
Using boot stretcher to stretch the inside of hiking boots is also a good choice to break in them
Apply boot stretcher spray to stretch your hiking boots, thereby making them break in easily



Leather Honey Leather Conditioner, Best Leather Conditioner Since 1968. for Use on Leather Apparel, Furniture, Auto Interiors, Shoes, Bags and Accessories. Non-Toxic and Made in The USA!…
FootFitter Heavy Duty Premium Professional Boot Width Stretcher - Stretching Hiking & Work Boots, Loosens Tight Toe Box - Women's Small (US 3.5-6)
Bickmore Boot & Shoe Professional Leather Stretcher Spray - Stretch Tight Fitting Boots, Gloves, Bags + More | Suede & Nubuck | for Women and Men

Leather Honey Leather Conditioner, Best Leather Conditioner Since 1968. for Use on Leather Apparel, Furniture, Auto Interiors, Shoes, Bags and Accessories. Non-Toxic and Made in The USA!…

FootFitter Heavy Duty Premium Professional Boot Width Stretcher - Stretching Hiking & Work Boots, Loosens Tight Toe Box - Women's Small (US 3.5-6)

Bickmore Boot & Shoe Professional Leather Stretcher Spray - Stretch Tight Fitting Boots, Gloves, Bags + More | Suede & Nubuck | for Women and Men
Last update on 2023-05-12 / Affiliate links / Images from Amazon Product Advertising API
Wrapping Up
Well, it is really bad if your ankles feel painful when wearing hiking boots. It will significantly affect the joyfulness of hiking.
You know it is not good at all, isn't it? That's why you had better find out the reason for your ankle and choose suitable solutions.
Carefully check your hiking boots as well as the physical conditions of your feet. The sooner you solve your pain, the better.
Just one more thing to remember, ankle pain can be manageable, so do not stop hiking!
Related post: Do Hiking Boots Protect Ankles?