We believe that hiking boots are more common in America than in most parts of the world, but the common question remains, are they good for our feet? Do they harm our feet and bodies in ways we aren't aware of?
Hiking boots are ranked high among the basic gear required for a good hiking experience, although finding the right boots for the right kind of terrain can be exhausting.
Most hiking boots don't just fit onto the feet from the onset; they often need to be broken into, which is why getting new pairs is always better than borrowing.
The happier your feet are, the better of a hiking experience you will have. This is the major reason why we must seek the most suitable hiking boots when shopping.
Hiking boots are not like other hiking gear that you can easily buy based on recommendations. The journey to finding the best-fitting hiking boots is often a solitary one.
Even when you have a list of brand recommendations, you still have to test them out to know the one that fits the most. This is because there are subtle differences in everybody's feet' width, volume, length, arch, etc.
So, are hiking boots bad for your feet, or is there a caveat that determines whether they are good or bad for your feet? What could make hiking boots potentially dangerous for your feet?
We will also be tackling some of the common misconceptions, myths, and beliefs surrounding hiking boots with important tips on foot health and care.
Are hiking boots bad for your feet?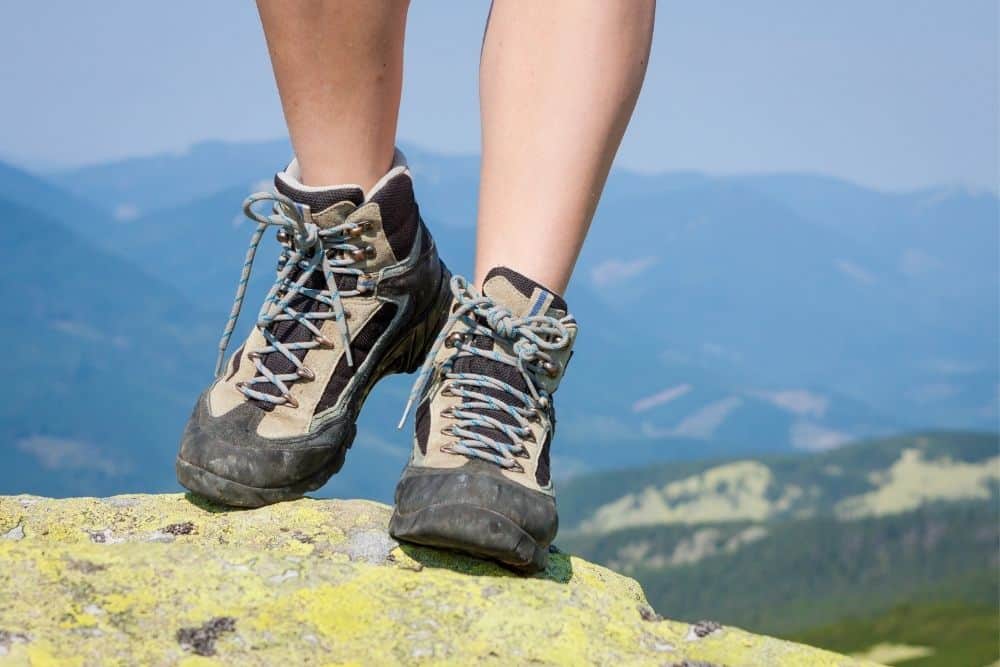 Hiking boots are not bad for your feet—except when you wear the wrong-fitting pair. The major reason why hiking boots are made is to protect the ankles and feet while we go on outdoor hikes.
Hiking boots are often the reason why hikers can walk very long distances on rough forest paths without getting blisters or other common foot injuries.
Durability, comfort, and quality shouldn't be taken for granted when selecting new pairs of hiking boots because these features are what make hiking boots safe for extended periods of use.
Good hiking boots must be able to protect a hiker's heels and feet while at the same time providing adequate ankle support. Hiking boots are often more comfortable when they are lightweight and have thin soles.
When hiking boots give a snug fit, they prevent soreness and blisters on the feet. Most of the time, you will have to use your hiking boots with the right accessories to make them safer and more comfortable.
Every activity that comes with outdoor hiking often has a suitable hiking boot specially designed for it, with the hiker's comfort and safety being the center of focus.
Types of hiking boots
Understanding the types of hiking boots will help you make the right decisions while you go shopping for new hiking boots. Below is a list of the three major types of hiking boots.
Mountain hiking boots
Sale
Columbia Women's Newton Ridge Plus Waterproof Amped, Elk/Mountain Red, 8.5
ADVANCED TECHNOLOGY: The Newton Ridge Plus Waterproof Amped Hiking Boot features a seam-sealed...
DURABLE HIKING BOOT: This women's boot is inspired by classic mountaineering style. A durable mid...
ALL TERRAIN TRACTION: Our signature Omni-GRIP non-marking traction rubber outsole provides high grip...
Last update on 2022-11-05 / Affiliate links / Images from Amazon Product Advertising API
Mountain hiking boots are specially designed for hilly and mountainous terrain. These boots are suitable for mountaineering and backpacking.
Oftentimes, crampons (climbing irons) are affixed to them for an enhanced grip, mostly during winter when a thick layer of snow covers some hiking paths.
These boots are extremely tough and durable, with firm soles that protect the feet from difficult rocky terrain.
For protection, support, and insulation, mountain hiking boots are designed differently from regular hiking boots.
Trail shoes 
Sale
Last update on 2022-11-05 / Affiliate links / Images from Amazon Product Advertising API
These hiking shoes are common and are specifically designed for hiking in dry, rocky paths, places with patchy climates, and less rugged terrains. They are mostly used for day hikes.
Trail hikers 
KEEN Men's Targhee II Hiking Shoe, Raven/Tawny Olive - 15 D(M) US
WATERPROOF: KEEN.DRY waterproof breathable membrane keeps your feet dry and comfortable all day long...
TRACTION: KEEN ALL-TERRAIN rubber outsole provides high traction grip in muddy environments and on...
SUPPORT: External Support Shank delivers balance on uneven surfaces; Contoured heel provides next...
Last update on 2022-11-05 / Affiliate links / Images from Amazon Product Advertising API
Trail hikers are hiking boots designed for steep and muddy hiking paths. They are usually lightweight, which makes them suitable for navigating the previously mentioned terrain.
Aside from being lightweight, trail hikers are also higher-cut, sturdy, and waterproof. They provide ankle protection and stability to the feet and lower body while hiking in difficult terrain.
Basic parts of hiking boots
Aside from knowing the types of hiking boots, it is also imperative to understand the basic parts of hiking boots, which will enable you to make better choices and also take better care of your hiking boots so they can be more friendly to your feet.
Below is a list of some of the basic parts of hiking boots:
1. Screw Collars: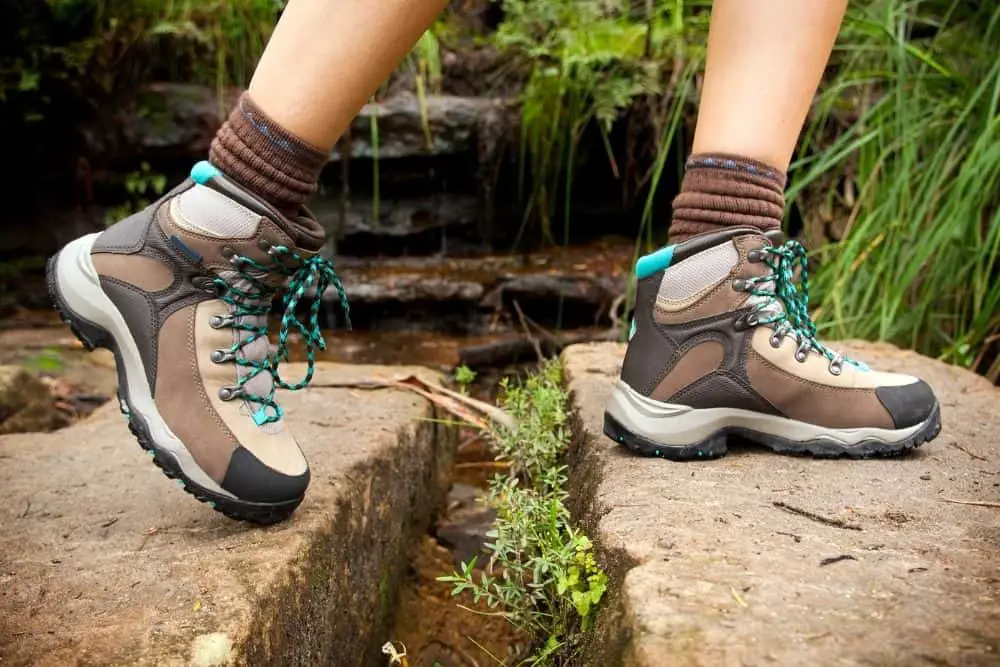 This feature is usually a cushion located around the top of hiking boots to protect the ankle and Achilles tendon from abrasion. It also helps in keeping loose particles of rock from entering the boots.
2. Crampon Connections: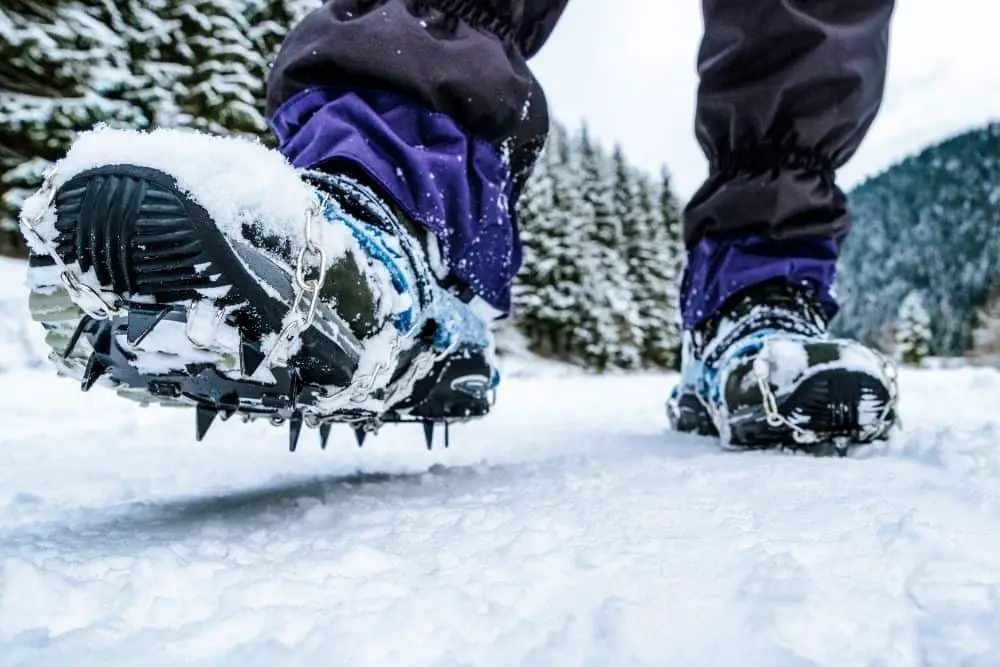 These are metal gears worn on hiking boots for added traction on ice and snow. Not every hiking boot has a provision for attaching crampons.
3. Footbeds or Insoles: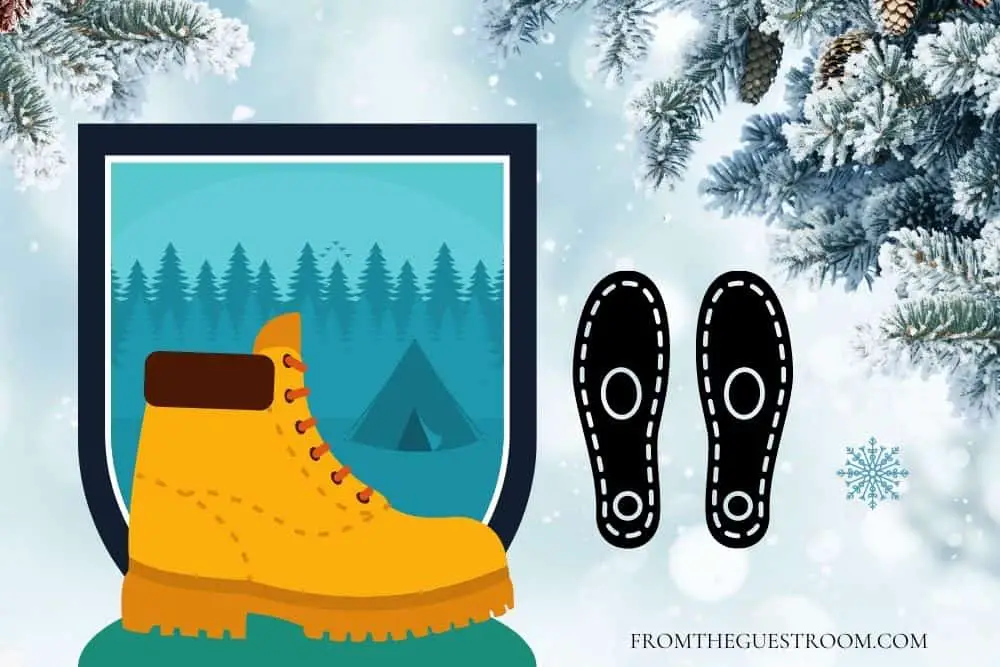 This part of the hiking boot is located at the bottom part of the inner sole where the feet rest. They are usually soft and shaped to resonate with the hiker's feet for an added feeling of comfort.
4. Shanks: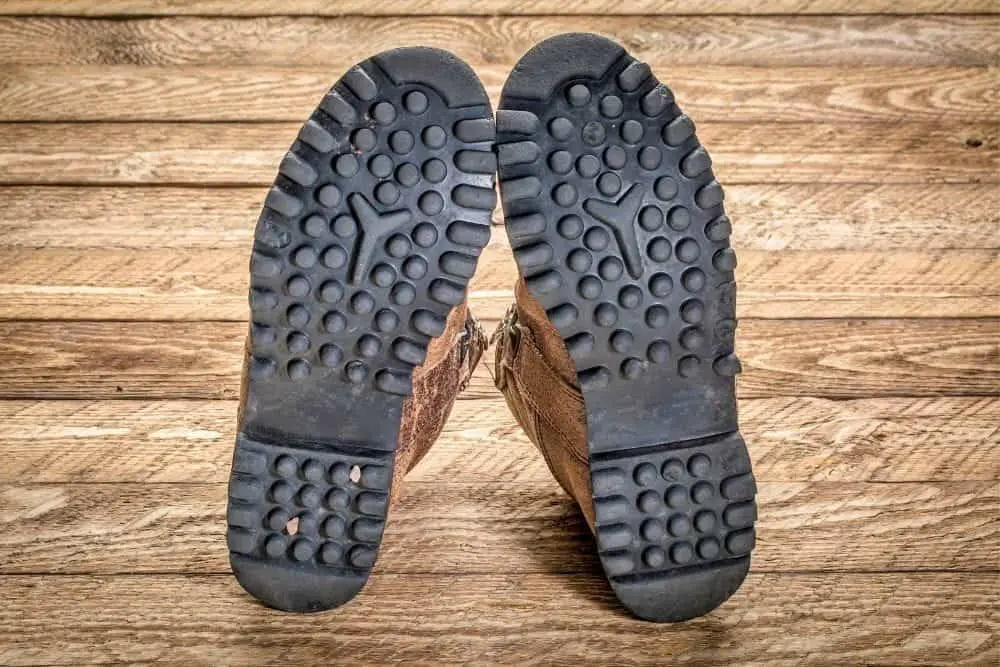 The shanks can either be made with metal plates or stiff plastic, and they are embedded into the sole of the hiking boot. The longer the shanks on the hiking boots, the stiffer the boots.
5. Tongues: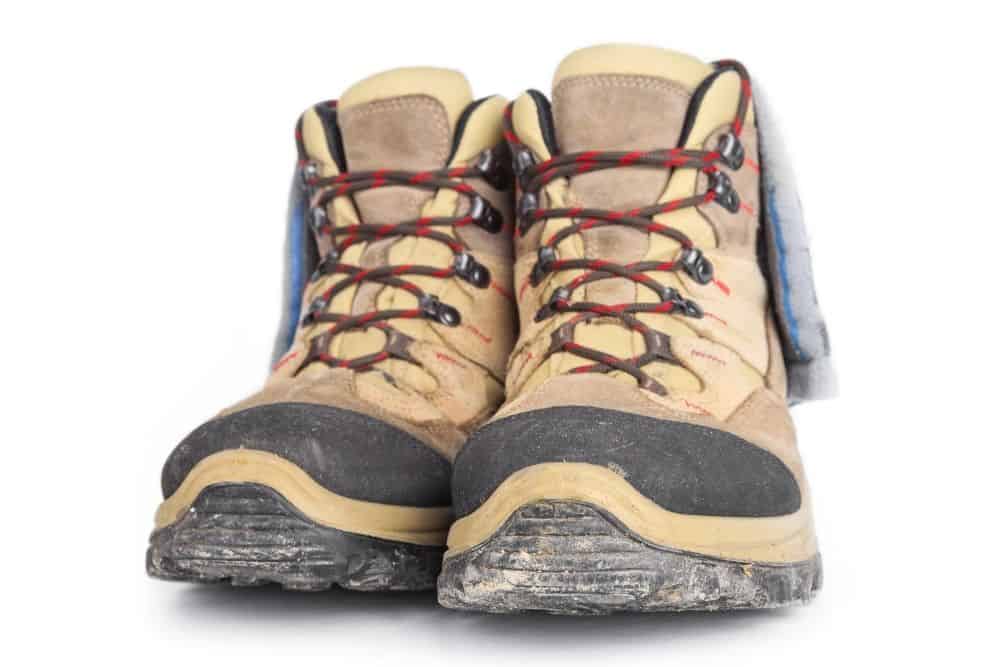 The tongues are those tongue-like flaps that stand between the laces of your hiking boots and your instep. They usually exist to prevent debris, dirt, and water from entering your boots.
6. Paddings and Linings: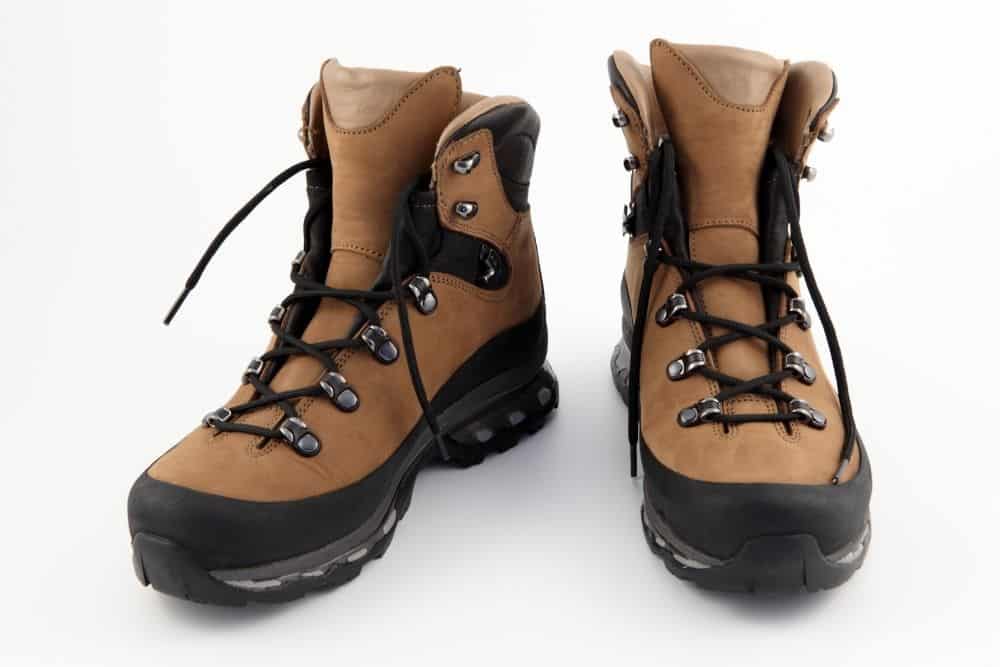 Padding and linings are found on the contact points of the hiking boots to increase comfort, provide protection, and reduce friction on the feet.
7. Upper: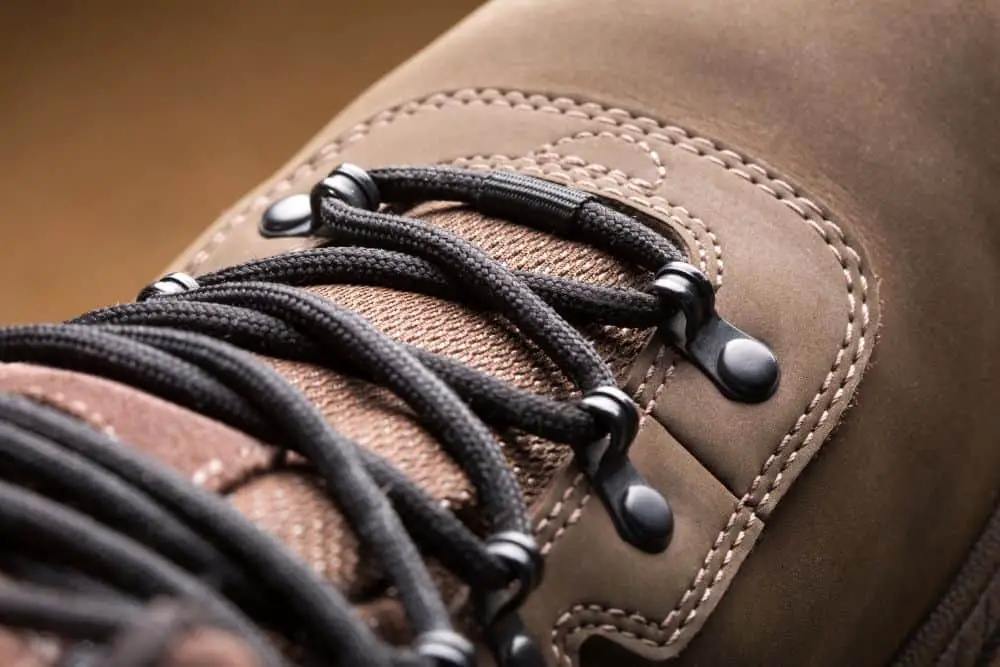 This comprises the entire upper layer of the hiking boot, and its major purpose is to ensure that the foot is completely protected and snug in the boots.
Even though the upper is usually waterproof, it allows for breathability which makes sure that the hiking boot doesn't get too warm and uncomfortable for the feet.
8. Soles: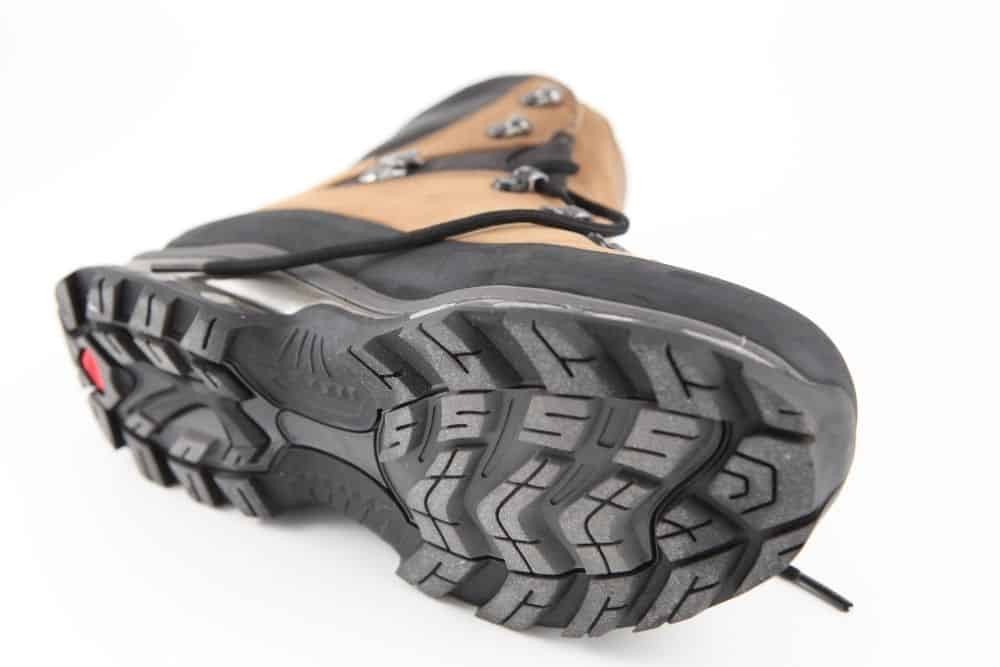 This is the part of the hiking boot that makes direct contact with the ground. The soles on hiking boots usually have deep lugs and are made from tough rubber.
The soles help us stand and walk confidently on difficult surfaces, and they also absorb and redirect shocks by providing extra cushioning for our feet.
Myths and beliefs surrounding hiking boots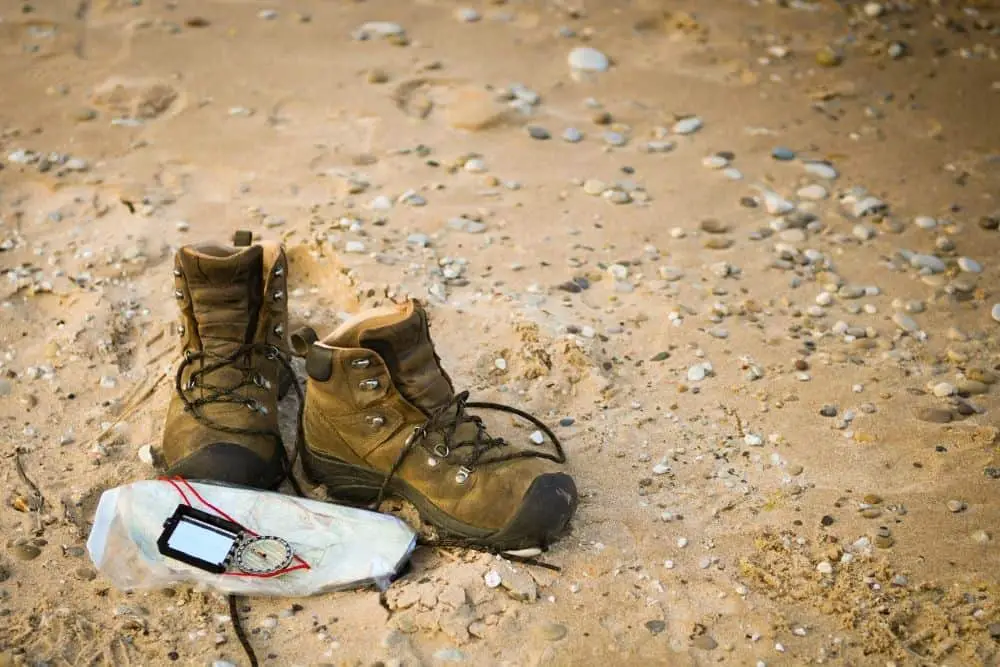 There are myths and beliefs about hiking boots that are not necessarily true. Some of the ones we hear about often are:
For hiking boots to be durable and effective in protecting the feet, they must be clunky or heavy-duty.
Hiking boots help prevent ankle injuries when they have a rigid upper and brace-like ankle support.
For hiking boots to protect hikers from debris and rough terrain, they must possess rigid, heavy, and thick lugged soles.
Most of these myths have been in existence for quite a while, and most people believe them entirely. Some hiking boot manufacturers know about them, so they often try to pattern their designs to suit people's beliefs to boost their sales.
Since misinformation can often be very harmful, let's take a closer look at some of the above-mentioned myths and try to debunk them to the best of our knowledge.
Hiking boots must be clunky or heavy-duty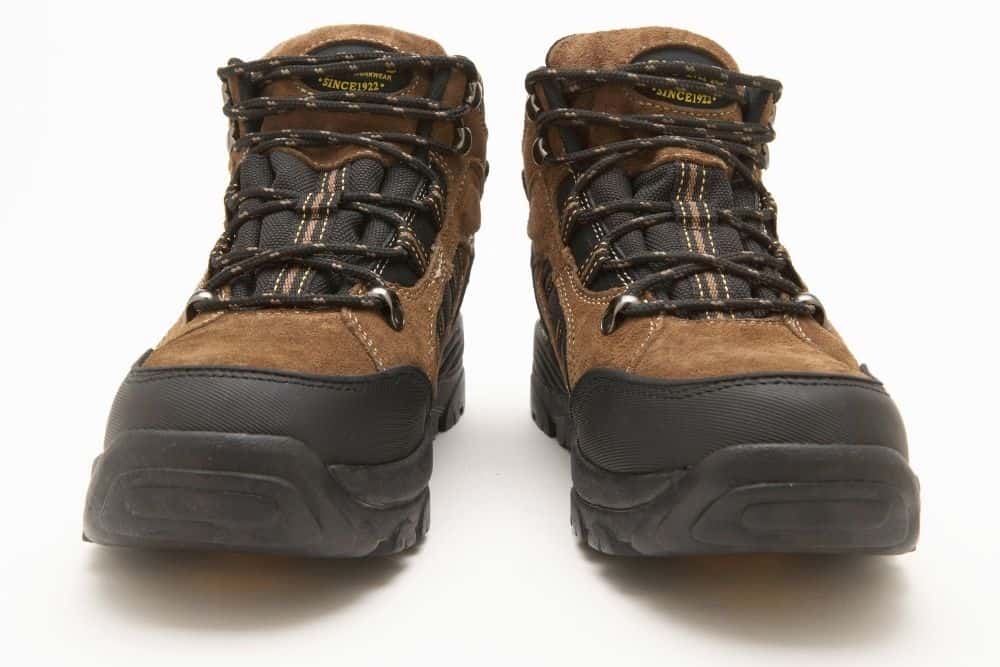 Most of us have been programmed to believe that for hiking boots to be durable and effective, they must look heavy, bulky, and encase the foot like a maximum-security prison.
There is something faulty about this belief, because by observing mountain porters in the high Himalayas, you will discover that they transport heavy materials on their backs while wearing only sandals without much difficulty or injuries.
The Tarahumara tribe (a native American tribe from northwestern Mexico) is also known for running ultramarathon miles on nothing other than thin huaraches footwear.
It is common around the world, especially in developing countries, to see people trekking long distances and rough terrain on simple footwear without much difficulty or injuries to the feet.
To avoid getting the wrong ideas, the message we are trying to pass through is that hiking boots can be minimalist or remarkably lightweight and still be appropriate for hiking.
You need to first understand your feet, then the terrain that you plan to hike, and choose the most appropriate boots that strike a balance between comfort and protection.
Rigid upper and a brace-like ankle support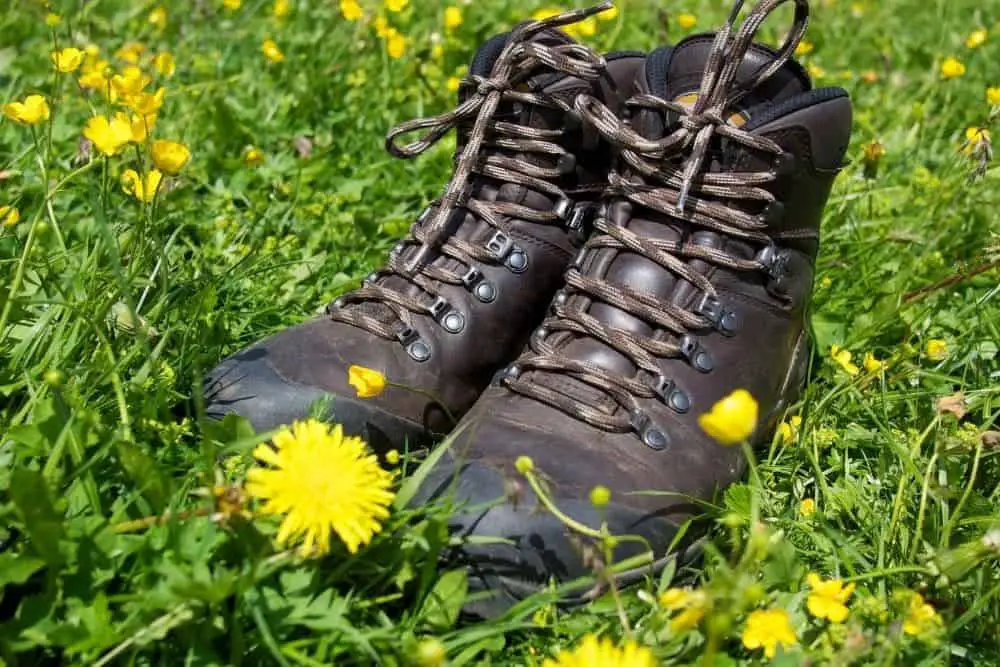 We can guess what your original beliefs are, but we are here to let you know that hiking boots mustn't have a rigid upper to support your ankle and prevent inversion sprains from occurring.
An inversion sprain is a situation whereby a forceful rotation of the ankle causes the ligaments on the ankle to strain.
From our research, we discovered that what protects the ankle from strain isn't a rigid hiking boot upper or brace-like ankle support but rather healthy and firm ligaments and tendons surrounding the ankle joint.
The best way to protect your feet from inversion sprains is to work on your lower leg and foot strength by wearing comfortable footwear that enables your feet to become resilient and strong by themselves.
Comfortable footwear must allow your lower leg and foot to function as nature intended, so that your body can remain protected from injuries and aches resulting from an imbalance of body weight and bad posture.
A flexible and thin outsole enables your feet to be more balanced on the ground and also lowers your feet's center of gravity. This, in turn, minimizes injuries to the feet.
Must possess rigid, heavy, and have thick lugs on the soles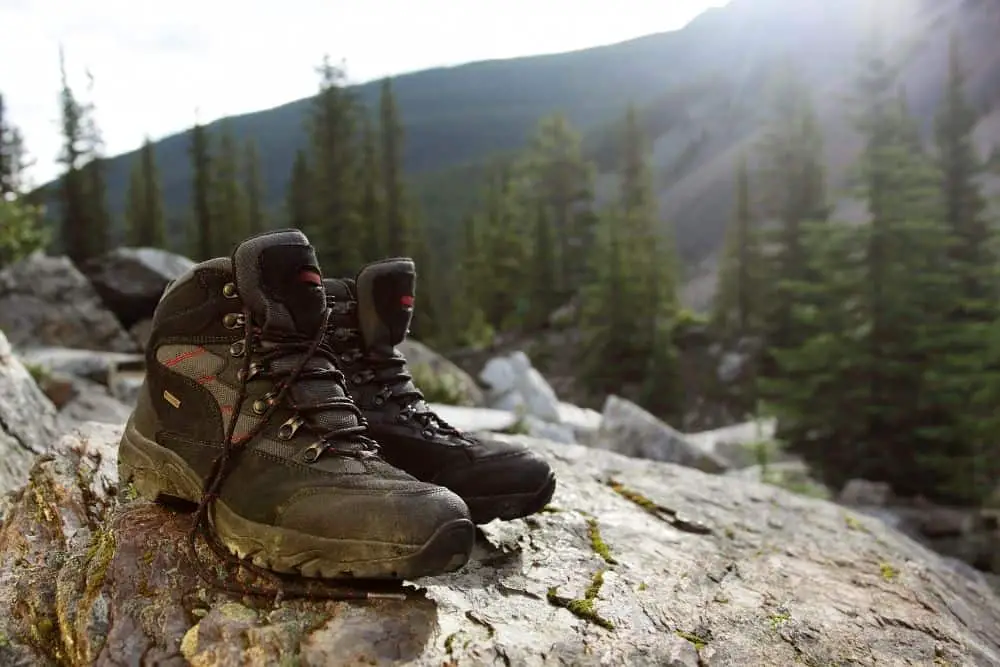 There is no doubt that most people often tend to believe that authentic hiking boots must have rigid, heavy, and thick lugs on the soles.
We guess this is why finding hiking boots without the above-mentioned characteristics is often very difficult. Hiking boot manufacturers would always try to produce boots in line with people's beliefs and not necessarily their needs.
Rigid, heavy, and thick soles are often harmful to the foot because they prevent the feet from feeling the ground.
Inflexible and heavy soles, when combined with other faulty hiking boot designs, will often immobilize your feet and prevent them from functioning naturally.
Thick lugs on the soles can distort your walking style and give you a false feeling of balance. On the other hand, lighter soles can make walking more flexible and also increase your ability to feel the ground.
People usually prefer hiking boots with thick lugs because they feel they will provide more traction on slippery surfaces, which is not entirely false.
A variety of terrains typically traversed by hikers can be successfully traversed using boots with minimal lugs on their soles.
Why ill-fitted hiking boots are bad for your feet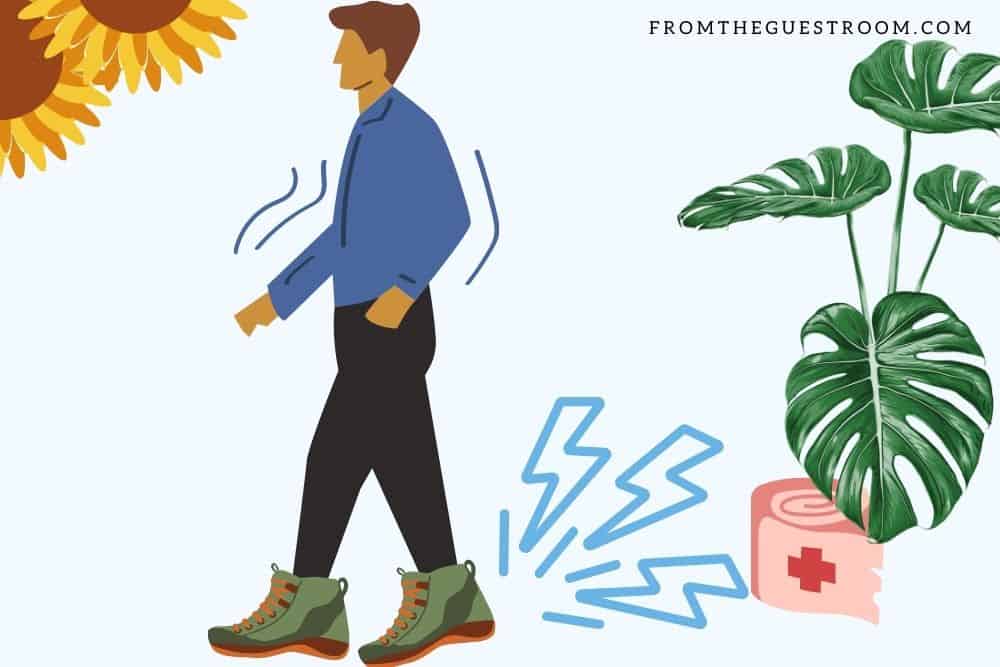 Hikers are often advised to desist from using ill-fitting hiking boots, especially for an extended period. Using the wrong-fitting hiking boots can cause severe damage and excruciating pain to the feet.
Finding the perfect hiking boot size can make all the difference when it comes to the health of your feet. In summary, avoid hiking completely if your hiking boots are over or undersized.
Aside from making hiking difficult and unadventurous for you, ill-fitted hiking boots can also cause you the following problems:
Hiking in the wrong sized boots can cause you long-term leg and foot pain.
Ill-fitted hiking boots are more likely to cause blisters and hotspots.
Wearing the wrong hiking boot size can lead to a bruised toenail and even complete toenail loss.
Descending a cliff or walking downhill with ill-fitted hiking boots can be very difficult and can even send you tumbling.
Pain in your knees, back, and hips after a long hike, especially on uneven terrain.
The first step to taking proper care of your feet as a hiker is buying the right-sized hiking boots. This will save you from sores, injuries, and catastrophic scenarios that can take months or years to resolve.
A hiking boot that fits properly but has a poor design is better than a well-designed hiking boot with a poor fit.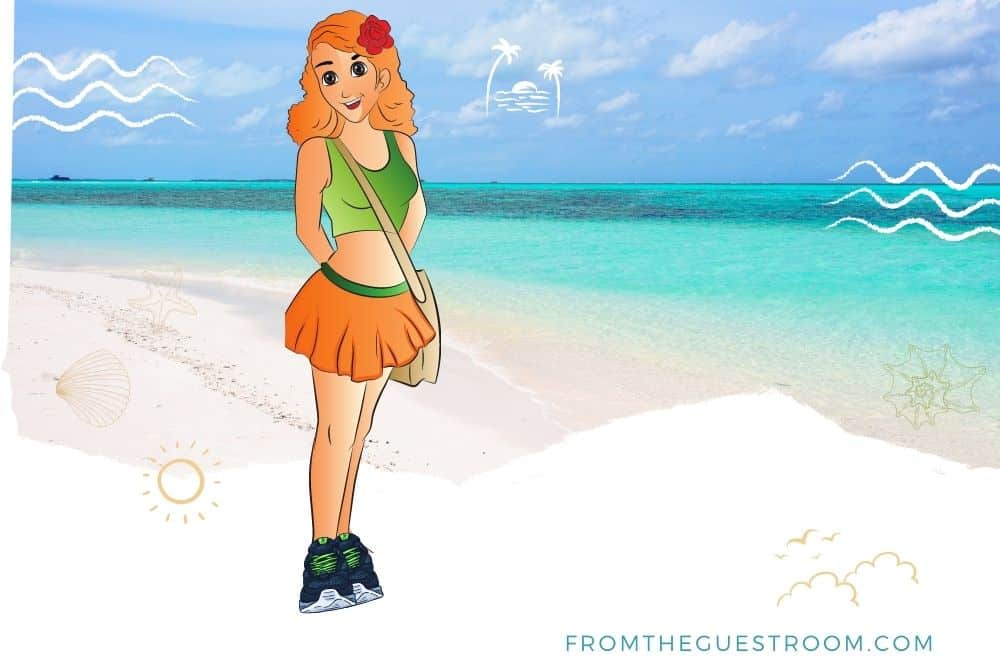 Beginner's guide for choosing the right hiking boots
The right hiking boot for you must be tight nowhere, snug everywhere, and also have enough room for your toes to wiggle.
Make sure the new boots you are testing out are properly laced without feeling any space above your foot's topmost part.
When you find a boot that properly fits, never forget the brand that manufactured it. Always stick with a brand that feels more comfortable for you.
Don't neglect the importance of your hiking boot's insole because insoles can greatly affect your boot's comfort.
Try to identify the types of hiking boots available and only select the one that matches your specific needs.
Take into consideration the materials the available hiking boots are made of, because some materials are more comfortable than others.
Avoid wearing new hiking boots on hiking trails without breaking them in.
No matter the time of day or season of the year, wearing the right pair of socks and adding arch support inserts to your insole will help keep your feet healthy, firm, and happy while hiking no matter the time of day or season.
Conclusion
People seem to enjoy hiking even though it can often be very challenging, especially when it is on an unfamiliar hiking trail or route. Hiking can take a toll on the body, especially on the feet, if the right measures are not taken or the right gears are not used.
Taking proper care of your feet as a hiker should be a priority if you want them to keep carrying you for the rest of your hiking years. Buying the proper hiking boots can make a whole lot of difference in keeping your feet healthy.
Hiking boots are not in any way designed to be bad for the feet. When you start experiencing problems with your feet, the problem is often not the boots but your poor decision-making.