Are you afraid of hiking during the winter months because you only have hiking boots and not snow boots?
We clearly understand your fears and concerns, knowing that wet and cold feet are the biggest hindrances to hikers during winter periods.
Hiking during winter is much more tasking and technical compared to summer periods, especially when you aren't equipped with the right gear.
While hiking in your hiking boots during the summer, you can easily switch them for another convenient pair, especially for those who usually hike with an extra pair of boots.
This scenario is very difficult or practically impossible during winter periods, depending on the intensity of the cold. On days when the snow piles up to a height of up to 1 meter, taking your boots off for a second can be a recipe for disaster.
Hiking boots can keep your feet warm during the cold seasons, but you must choose a hiking boot with good traction, enough insulation, and waterproofing.
In this article, you will get to discover some of the best hiking boots that can keep your feet dry and warm throughout the winter season.
Do Hiking Boots Keep Your Feet Warm?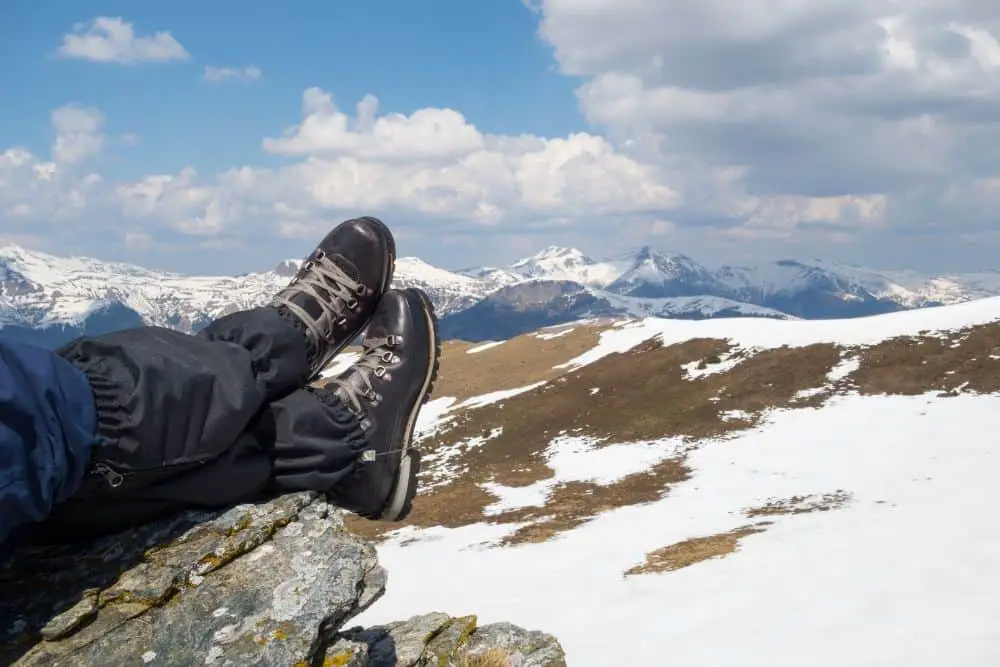 Hiking boots come in different brands and designs depending on their intended purpose. Not all hiking boots can keep your feet dry and warm during the winter, so you must take note of this while purchasing a new pair of hiking boots.
Many years back, hikers usually suspended hiking as soon as the winter period arrived. Back then, hiking was synchronous with only summer periods.
This problem was what brought about the gradual enhancement of hiking gear to enable passionate hikers to enjoy hiking all year round. Using crampons with the right pair of boots, hikers can now dare not just winter but snow mountains as well.
Modern hiking gear is usually designed to be multi-seasonal, waterproof, and warmer than its predecessors. This has made it easier for hikers to cope with harsh winter periods without necessarily changing boots.
Frostbites and cold sores on the feet wreak havoc on winter hiking.Wearing the right pair of hiking boots can go a long way in preventing these terrible experiences.
Apart from wearing ultra-warm coats during the winter months, you are also advised to get top-notch winter hiking boots for an optimal hiking experience.
Winter hiking boots will not only keep your feet covered and insulated but also help you walk properly in the snow while staying protected from natural elements that can cause you harm.
There are many features to look out for when purchasing a pair of winter hiking boots. The best hiking boots will always be determined by your hiking terrain; some terrains will necessitate more warmth than others.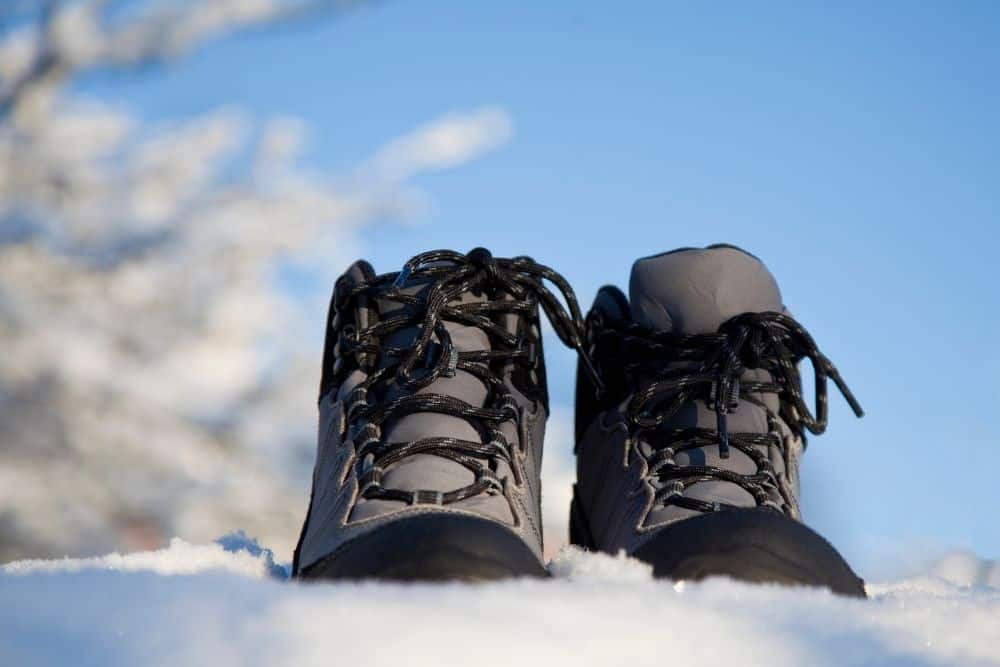 One of the most important features to look out for is whether the material used in making the boot is waterproof. A small seepage of moisture into the boot can cause serious harm to your feet.
Winter hiking boots also require more insulation than regular hiking boots, although they can make your feet extremely warm when the weather isn't cold.
The third feature to look out for while purchasing winter hiking boots is their midsoles and studs, which must be more pronounced than those on regular hiking boots, especially if you are hiking with heavy gear.
The last but not the least feature you must watch out for is the boot's sole, which should have wide, deep lugs suitable for traction in intense snow.
To help our readers avoid painful blisters and frozen toes during the winter season, we have compiled a list of tested and trusted hiking boots that can help their feet stay warm amidst the cold.
Are hiking boots good for winter?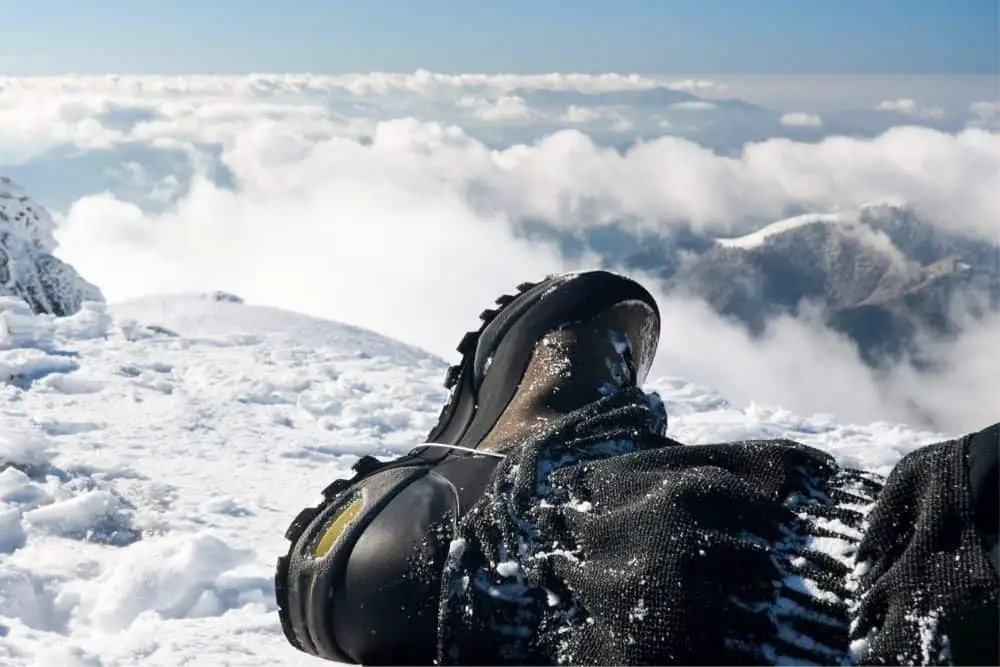 As earlier stated in the article, hiking in winter periods without the proper winter hiking boots can expose your feet to extreme cold, which can cause a lot of damage to your toes and feet.
In fact, in extreme cases, exposing parts of your body to severe cold can result in complications that can lead to amputations or even death.
It is not too difficult to keep your feet warm while hiking in sub-zero temperatures. When using hiking boots in winter, make sure that they are waterproof and also use warm socks and gaiters for optimal effect.
The kind of activity, type of boot, and nature of the weather come together to determine if a hiking boot is suitable for use or not.
For example, if the snow is mild and you aren't walking a long distance, hiking boots can be comfortably used to keep your feet warm while you wander.
In icy and slippery conditions, hiking boots can be merged with traction devices like microspikes and crampons for better balance and stamina.
If it is snowing heavily and you intend to use hiking boots that aren't waterproof, you can spray them with waterproof spray.
Properly insulated hiking boots are the most suitable hiking boots for winter periods because they keep your feet dry and warm as long as naturally possible.
Tips for using hiking boots in winter :
Use suitable high-grade snow gaiters.
Wear thick merino socks.
Test if your hiking boots are waterproof before using them.
Use traction devices when appropriate.
Don't deviate from already-existing trails.
Don't stand too long in one spot; always be on the move.
What is the warmest hiking boot?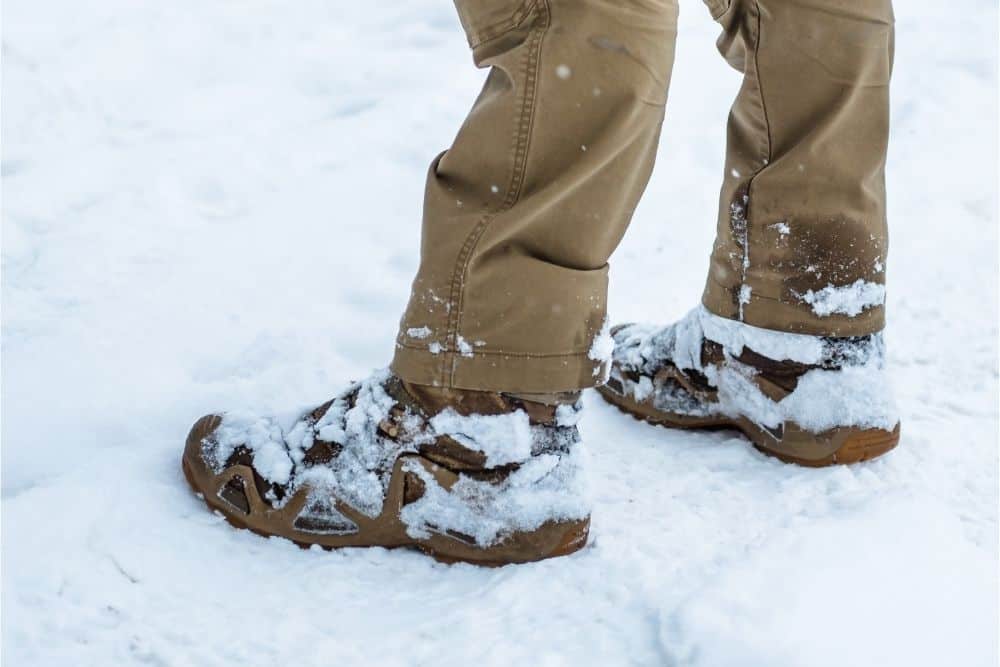 For hiking boots to be warm on the feet while being used in winter, they must pass certain tests based on their structure, features, design, and makeup material.
The better your hiking boots pass the above tests, the warmer they will be on your feet. For hiking boots to be warm on the feet during the winter, they must first of all be waterproof.
Hiking boots must also be properly insulated to increase their ability to keep the feet warm while being used in snow.
Wool is a good insulator of heat, which is why most winter hiking shoe manufacturers often use them as insulators on their shoes. The more wool was used in stuffing the upper of the hiking boot, the warmer it would keep your feet.
For warmer feet, winter hiking boots are often designed to be sturdy and secure around the ankle. This high ankle collar prevents snow from entering the boot while maintaining the original warm temperature inside the boot.
Many factors affect how warm a hiking boot will be on the feet of a user, which is why it is somewhat difficult to measure.
Our list of the warmest hiking boots was compiled using a good number of online shoppers' reviews and factors like comfort, warmth, traction, style, and support.
1. Merrell Thermo Kiruna Hiking Boot
Last update on 2023-11-07 / Affiliate links / Images from Amazon Product Advertising API
This winter hiking boot can keep your feet warm during the winter, but its major feature is its traction. Its pronounced rubber lugs are guaranteed to give you the necessary grip while walking through slippery snow trails.
The Merrell Thermo Kiruna hiking boot is designed with a super-soft wool material lining and, not just that, it also has a heat-reflecting insole that keeps the feet warm in very cold temperatures.
A user from Denver said the boots are warm and good for gripping rocks, while another shopper said the boots are fantastic for hiking in very cold and rocky environments.
2. Ugg Adirondack Hiking Boot  
Last update on 2023-11-07 / Affiliate links / Images from Amazon Product Advertising API
We can't confidently say for sure, but we can only guess that the reason why the Ugg boots have gotten a near-perfect rating from shoppers is because of their durability and comfort level.
This popular hiking boot has a cozy wool lining and a rugged outsole, along with a -32-degree Fahrenheit temperature rating.
Ugg boots are waterproof, which allows your feet to stay dry and warm while hiking in slushy terrain.
Your feet are guaranteed to remain comfortable and toasty warm even with temperatures as low as minus 30 degrees Celsius, which makes them a great choice for winter hikes.
3. Manfe Hiking Boots
Last update on 2023-11-07 / Affiliate links / Images from Amazon Product Advertising API
Aside from being very affordable and durable, shoppers love this hiking boot because of its light weight. Hundreds of shoppers recommend this product for winter hikes.
Manfen hiking boots are made of tough, waterproof materials that can withstand harsh winter blizzards while keeping your feet warm and safe.
This hiking boot also contains 200 grams of insulation that helps keep the feet warm in very cold temperatures.
With a snowshoe strap ridge, they provide adequate ankle support in case you intend to use them for snowshoeing. Outdoor enthusiasts would enjoy using these shoes, especially during winter.
4. Vasque UltraDry Hiking Boot
Last update on 2023-11-07 / Affiliate links / Images from Amazon Product Advertising API
With this smart-fitting winter hiking boot, you can easily navigate wet, slippery, and snowy terrain with incredible ease while maintaining dry and warm feet.
On the thick rubber sole of the Vasque hiking boot are rugged lugs for excellent traction and grip.
The waterproof materials that these boots are made of are what keep your feet warm and dry even while hiking through a foot of snowflakes.
One feature that most shoppers like most is its adjustable lace-up closure, which enables a stable and secure fit.
Another interesting feature on the boot is the terry loop located on its back, which enables an easy slip on and off.
Shoppers have openly confessed to this boot's authenticity and durability. Some even talked about their feet remaining warm in this boot while hiking in temperatures below zero degrees Celsius.
5. Columbia Newton's Hiking Boot
Last update on 2023-11-07 / Affiliate links / Images from Amazon Product Advertising API
These hiking boots are completely waterproof, seam-sealed, and airtight, as confirmed by many shoppers.
The extra cushioning and breathable lining on these hiking boots guarantee all-day comfort, while the tongue keeps your feet dry.
For excellent traction, the soles of Newton's boots are designed with Omni-GRIP technology, which is the brand's signature technology.
When it snows, this hiking boot can help keep your feet warm while you enjoy the scenery. There is no doubt that the comfort of your feet was what motivated the design of this hiking boot.
6. Mishansha Hiking Boot
Last update on 2023-11-07 / Affiliate links / Images from Amazon Product Advertising API
The Mishansha hiking boot is not just another hiking boot, it is the favorite hiking boot of over 5,000 shoppers.
Aside from its affordability, the Mishansha hiking boot is also reputed for its durability, sleek design, and warmth.
These boots have a lace-up feature, a thick faux-fur lining, and a cushioned EVA midsole, which makes them very comfortable on the feet.
While using these boots, the safety of your feet from harsh elements is guaranteed, mostly because of their protective toe cap feature.
7. Xpeti Thermador Hiking Boot
Last update on 2023-11-07 / Affiliate links / Images from Amazon Product Advertising API
You might think this hiking boot is like every other hiking boot out there until you take out time to read its over 1,000 reviews from satisfied buyers.
Aside from being made from waterproof materials, this boot also comes with a rubber toe cap for extra protection. Your feet are guaranteed to remain warm from its 200 grams of insulation.
The Xpeti hiking boot is very comfortable and offers great traction on ice and heavily snow-covered surfaces.
8. La Sportiva Makalu Hiking Boots 
Last update on 2023-11-07 / Affiliate links / Images from Amazon Product Advertising API
With the La Sportiva hiking boots, your days of sliding, slipping, and falling on snowy terrain are over.
These boots are designed using the Mountaineering Performance Evolution soles, which grip well on all types of ground surfaces.
For added comfort and protection, they contain a cushioned insole and a waterproof lining. These boots can keep your feet warm while hiking in the cold without causing you blisters of any kind.
While hiking in deep snowy environments, most buyers have commended the outstanding warmth, grip, comfort, protection, and support offered by the La Sportiva hiking boots.
Conclusion
We believe we have been able to answer all your questions concerning if hiking boots can keep your feet warm or not. We also believe that you have come to understand that hiking boots are not only suitable for summer seasons alone but also useful during winter.
In summary, for hiking boots to be suitable for winter, they must be properly insulated, comfortable, have good traction, be 100% waterproof, and have a tight cuff.
Finding the perfect hiking boots with all the needed features and characteristics can often be a difficult task. Thankfully, you don't have to go through all that stress because we have a list of products where you can begin your search.