Even though hiking boots are originally created for outdoorsmen, their practical design and fashionable appearance make them desirable for daily use. Many would wonder, "Can I wear hiking boots every day?". Our short answer is yes.
However, there are special traits that you have to pay attention to when picking hiking footwear for daily wear since the priorities are totally different.
We will guide you on this journey of choosing the most comfortable and durable pair of boots at a reasonable price.
Can I Wear Hiking Boots Every Day?
Learning about the advantages and disadvantages of using hiking boots daily before purchasing them is a smart idea.
We will list some features that may concern your foot shape, size, and condition. Let's find out how to make the most use out of them and avoid the inconveniences they may cause.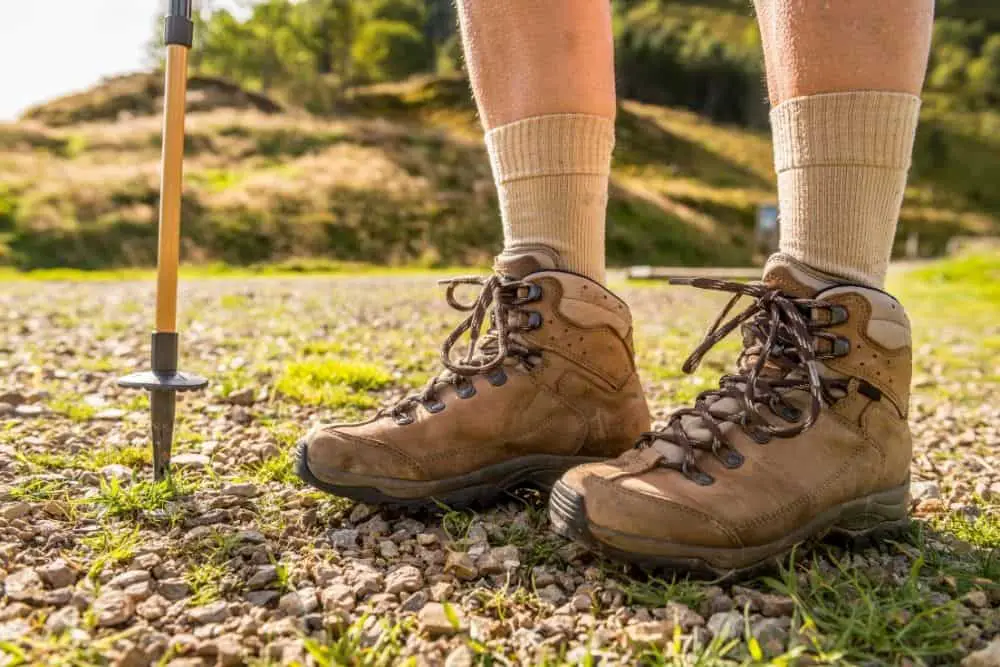 Pros Of Wearing Hiking Boots Daily
1. Suitable for all terrains and environment
Hiking boots have thick outsoles and this feature makes them ideal for walking on many terrains, including the rockiest ones. The outsoles protect wearers from sharp objects while giving a firm grip to prevent slips and falls on a wet cement road.
This is the feature that you can find in every pair of hiking boots, since it is the reason why they are created: diminish the danger that hikers have to face in complicated terrains.
If you need a pair to walk on slippery terrain, hiking footwear can do the job. Thanks to its flexibility and famous traction ability, you can experience a less slippery walk.
But, since hiking boots can be weightier than most ordinary shoes, we recommend that you take your time with them, or walk a shorter distance on the sand.
Some things about the environment here! Ex: Winter hiking boots have insulation, and hiking boots for hot weather are breathable.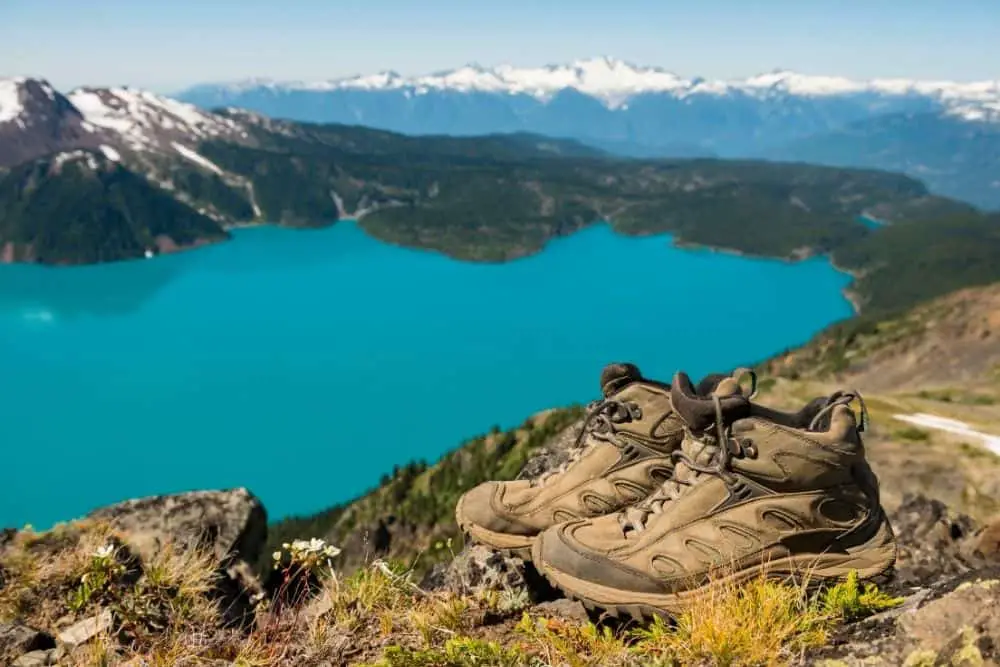 2. Appropriate for almost every event
It may surprise you but hiking boots can be found in both formal and informal environments.
At first glance, you can tell that hiking boots are suitable for handy tasks like farming, hunting, doing carpentry, constructing, etc. They fix your posture, pamper your feet, and avoid your pain when an object drops on your toes. So there is no reason to not put them on daily.
Also, if you buy a pair of black leather boots, you can even wear them to work (law enforcement for example) or attend formal events without looking impolite. They will add a sporty touch to the whole outfit but not in a tacky way.
3. No more wet socks and wet feet
Most hiking footwear is waterproof (or at least water-resistant) so if you own a pair, the weather won't be a bother anymore.
You can wear it out without being worried if it's going to rain. And you can cross the terrain of many puddles without being worried that the water is going to wet your feet and socks.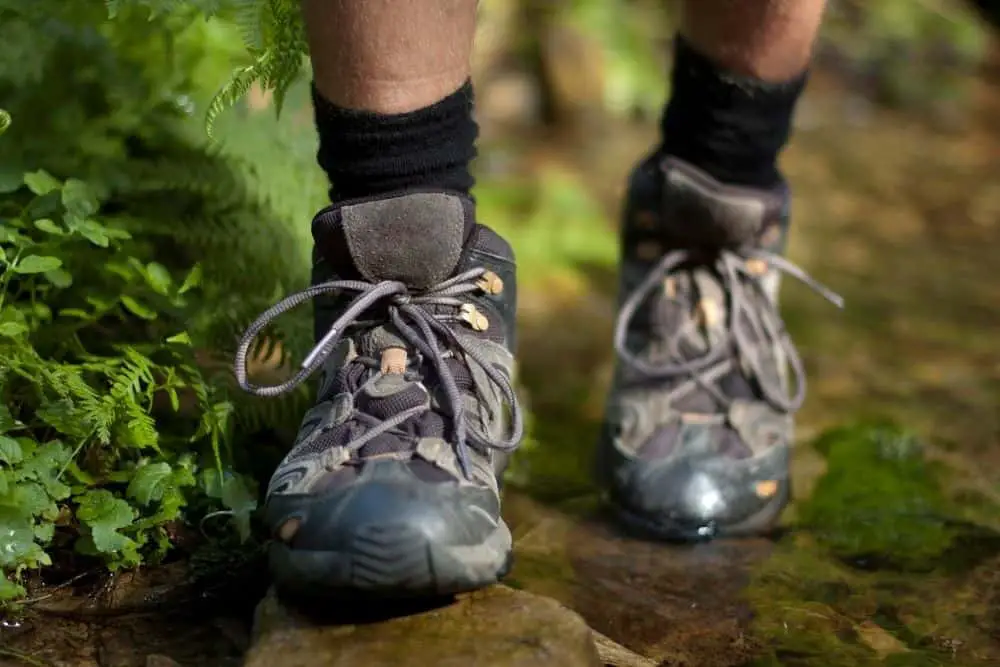 4. Less stuffy feet
Even though "waterproof" makes hiking footwear sound like they are stuffy, these shoes are actually very breathable. The materials that manufacturers use to create hiking boots have become more modern and technical over the years.
Now they are usually made of authentic leather, mesh or GORE-TEX membrane, etc. And these are quite breathable materials.
5. Healthy feet
Hiking boots come in a slightly flat-arched portion, which allows a more diverse choice of comfort. But do you know that most hiking boots have low arches?
These characteristics make the boots suitable for healthy wear and foot training. While giving you enough support and protection, the low-arch boots allow the muscles and tissues to strengthen over time.
However, it is more ideal for low arch and moderate arch types rather than high arches. So if you are born with high arches, it is important to figure out whether the boots are adequate for you to function well. If not, you need to insert an extra orthopedic insole for better comfort and well-being.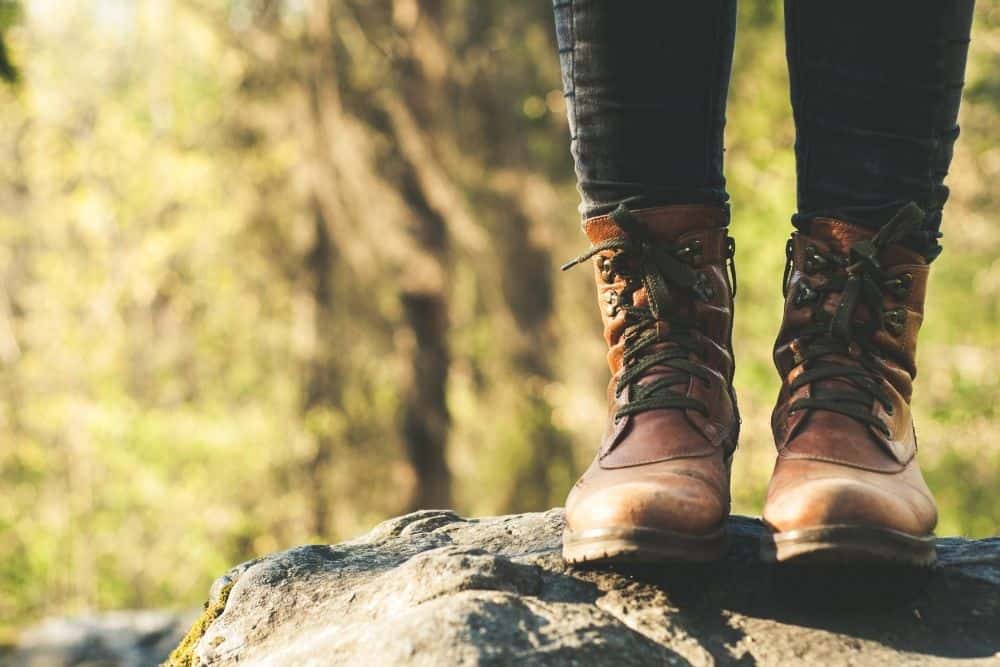 6. Good protection
You probably won't care too much about how well a pair of hiking boots can protect your feet if you only wear them to go to the supermarket, shopping, or hanging out with friends. But the truth is that you don't even know when your foot will hit a sharp iron or suddenly a stone will splash your ankles causing injury.
No worry, hiking boots reinforced with toe caps (in different materials for choice) will eliminate the chances your vulnerable toes and ankles are being hurt suddenly on your go.
Nevertheless, hiking boots provide protection that goes beyond that. This type of boot especially has a cushioned midsole that is thicker than sneakers, trainers, or tactical boots allowing long-day hikers to walk on them all day long with happy feet.
Therefore, this padding helps to better support the heel, ankles, and arches. Your feet will be less likely to get sore at the end of the day.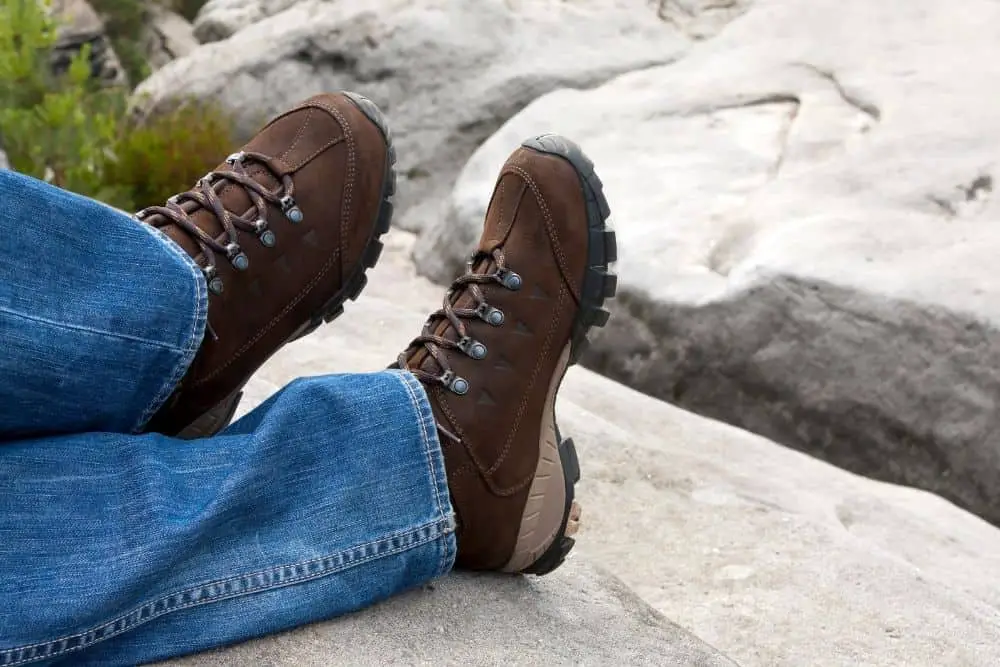 Like a specialized type of footwear, hiking boots are also built to hold up the feet and legs better than regular shoes. You'll feel your ankles and heels snugly while being provided with the perfect roomy toe boxes that allow your toes to move freely without any discomfort.
In particular, high collar hiking boots can replace a pair of winter boots or even snow boots but they are much better lightweight and well-functioned. Hiking boots contain Insulation and possess high-density nylon upper that is by far lightweight, warm, and water/snow resistant.
7. Fashion
Unlike tactical boots or work boots that often appear with a rigid appearance for the purpose of uniformity, hiking boots have a more liberal and colorful look because their users are mostly outdoorsmen.
They engage in dynamics and energetic activities that are stimulated by colorful and athletic vibes. As a result, camouflage/bold/sporty mix colors are more likely available for diverse choices.
If you walk on a pair of camouflage hiking boots, it does not mean that you are going to encounter a hunting/combat with some camouflage, it simply means that you are stylish and modern enough for a fun evening party with these specialized sports boots.
8. Lightweight
Hiking boots are one of the most lightweight boots to date. They are fairly airy! Because the structure of the boots is optimized to be able to walk on them all day long while being on long trips.
This comes from the materials that make up hiking boots which are available in not only full-grain leather, faux leather, or suede but also high-density nylon fabrics and mesh.
Also, most hiking boots are low-cut and so are relatively light and flexible to do anything from stepping out onto the street to getting indoors.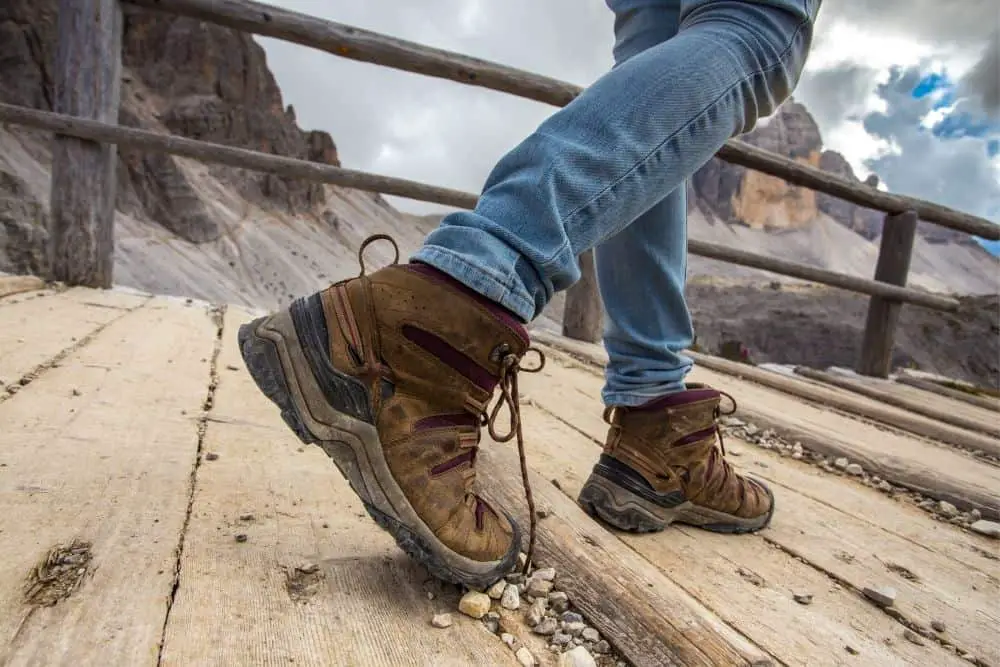 Cons Of Wearing Hiking Boots Daily
1. Pain in body parts
If you pick the wrong type of sole (between flat or arched), wearing hiking boots daily can affect the health of your feet, which leads to discomfort or physical disorder like back pain, quick muscle fatigue or soreness, loss of balance, etc.
However, if you understand the shape and condition of your feet, this situation can be avoided.
2. Take time to put them on
It will take more time to put them on than wearing sandals (lacing, tall shafts…). Their structure is closed and requires you to lace the boots.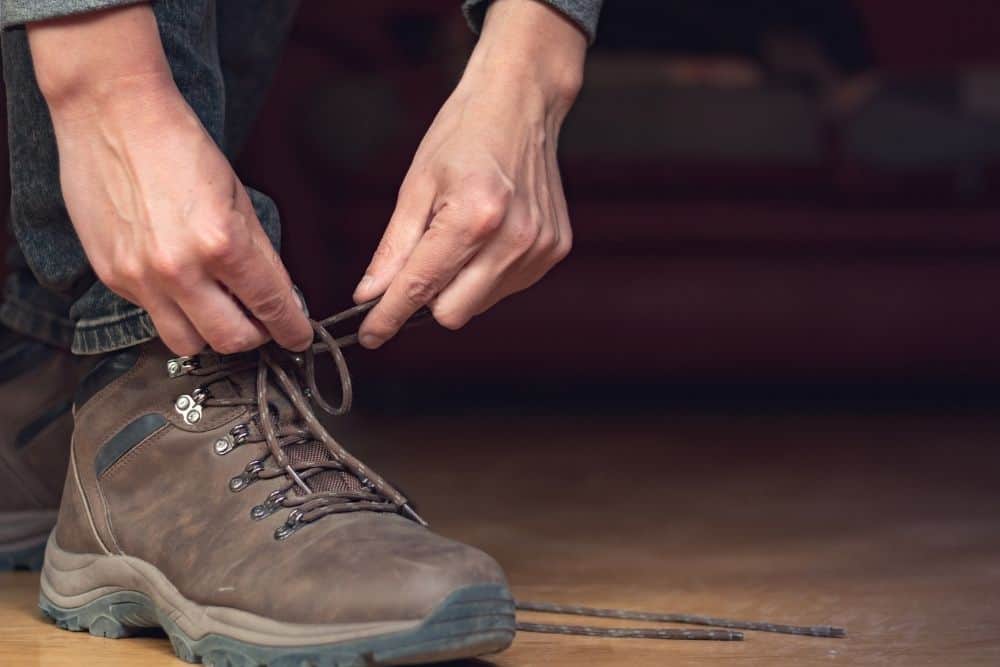 3. Not the best for running
You can't run far with hiking boots since they don't have the same softness and flexibility as running shoes. Running shoes are made of stretchable fabric which reduces friction when the wearer is running. This is the feature that most hiking footwear doesn't have.
Nevertheless, if you want to do a quick run to the nearby convenience store, it is still possible.
4. Overheating
We have stated that hiking footwear is made of breathable materials nowadays. But in summers, even the thinnest piece of clothes is suffocating. And since hiking boots have many layers to protect the wearers and high shafts, they can trap the heat during hot days.
The trick is to pick a pair mainly made of mesh, even though the material is less waterproof than the others. It is a fair trade-off between comfort and function.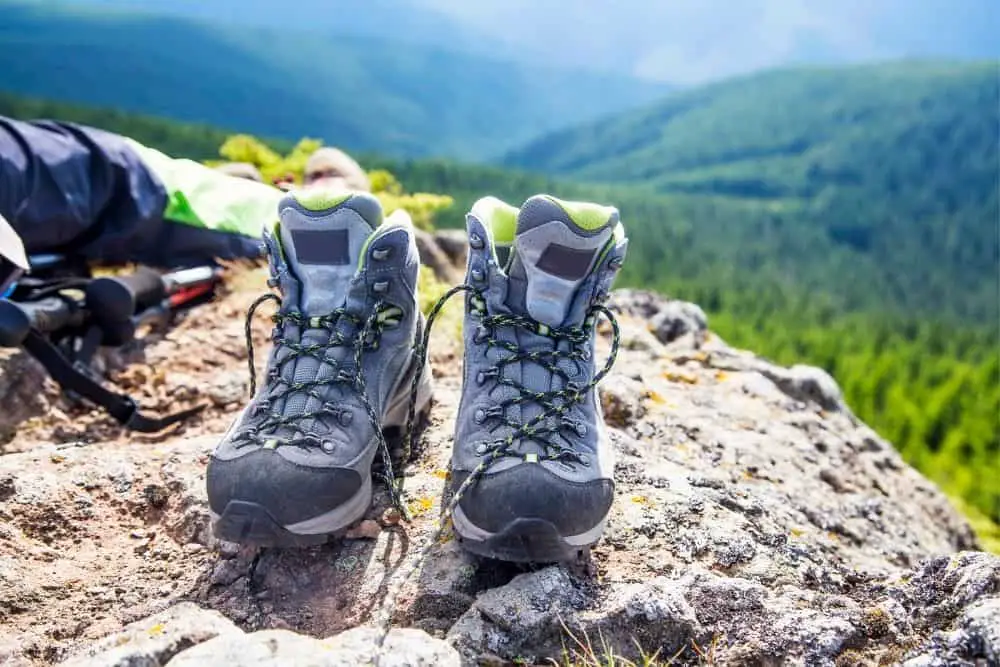 5. Lack of insulation for sub-zero temperature
Not all hiking boots are well insulated for winter. Winter hiking boots have that, but there are not so many pairs and generally quite expensive.
OVERALL RATING TABLE FOR USING HIKING BOOTS DAILY
| | |
| --- | --- |
| Features | Editor's rating |
| Comfort | ⭐⭐⭐⭐⭐ |
| Protection | ⭐⭐⭐⭐ |
| Flexibility | ⭐⭐⭐⭐ |
| Lightweight | ⭐⭐⭐⭐ |
| Durability | ⭐⭐⭐ |
How To Choose Hiking Boots For Everyday Use?
There are so many factors to consider but in this article, we will analyze the most basic features of a pair of hiking boots that you can wear every day.
Sole Type: Flat Or Arched
Flat soles in minimalist boots: Great for common users
Flat soles mimic the smooth terrain that we walk through barefoot. So if you pick hiking boots with flat soles, it will be similar to walking inside of your house without shoes on.
The benefit of choosing flat soles is that it trains muscles to become stronger and stiffer so that in the long run, your feet won't be prone to aches easily. Your feet are naturally healthier with flat soles and the plantar fascia (group of tissues under feet) isn't stressed out and causing pain.
Who should wear flat-soled hiking boots? We recommend this type of sole to wearers who have a normal longitudinal arch and don't suffer from any foot problems.
To have normal feet means that when people are standing straight or having their feet relaxed, the arch under their feet is visible instead of laying down flat to the floor.
In which environment should you wear flat soles? Flat soles fit smooth terrains the most since they are generally thin and have more direct contact with the surface. To avoid stress to the feet, flat soles should only be used daily if you live in a level area.
For flat footers, flat soles are not recommendable since they don't provide enough support for the plantar fascia.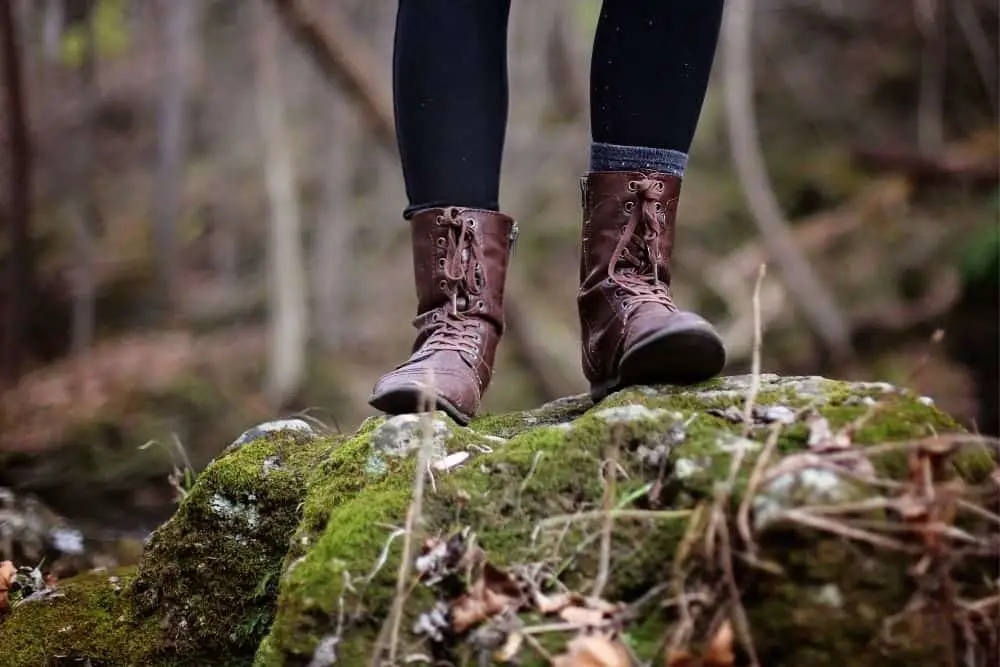 Arched soles in traditional boots: Great for flat footers
Arched soles are more commonly used than flat soles since they provide a lot of support for the feet. But we suggest them more for flat footers.
Arched soles are thick and curvy. They mimic the shape of the underparts of healthy feet and thus, adjust the posture of flat feet to have better arches. Nevertheless, arched soles are good for short wear as well.
In which environment should you wear arched soles? Since arched soles are thick, they are perfect for rocky terrains that cause more trouble to walk through. Places like the countryside with rocky roads, woods, or mountains have the terrain on which arched shoes work the best.
Why should flat footers wear traditional boots? Since their feet are always laid flat on the surface, the plantar fascia is stretched out all the way. Walking a long distance with no support on this part will provoke a lot of pain for flat footers.
Therefore, the arches in traditional boots help elevate the tissues so they don't have to bear the entire body weight in a bad posture.
Material: Leather, Suede, GORE-TEX lining
Authentic leather functions the same way as human skin. It breathes and is flexible so it is commonly used in the production of hiking boots. Leather is durable with adequate maintenance.
If you clean the boots weekly and fix any problem that comes up, a pair can last more than 3 years, even under the daily-use condition.
Suede is a good option for all seasons as it possesses a good level of breathability. Suede is not waterproof, but manufacturers have made it water-resistant, which means the material can withstand small rain and light water splash.
If you need a pair to wear daily in autumn or winter, suede is the one to go for.
Fabrics with GORE-TEX (GTX) membranes are the top picks by customers all over the world for many reasons.
It is one of the most breathable materials for hiking boots, but it also is waterproof to handle severe weather.
Toe Box's Size And Shape
A pair of boots with a good fit is ideal in every scenario. To measure the fit of hiking boots, you should consider two factors: the space of the toe box and the width of the sole and vamp.
When you measure your feet, make sure that you do it while standing up because that's when the feet spread, and if the shoes are too slim, they will contest the blood flow and irritate your skin.
Hiking boots have variable toe box shapes. But the most recommended shapes of toe boxes are broad square toe or broad round toe.
With wide toe boxes, your toes won't rub against the inner wall of the toe box too harshly while you are walking. Given that you want to use these hiking boots daily, it is an important feature.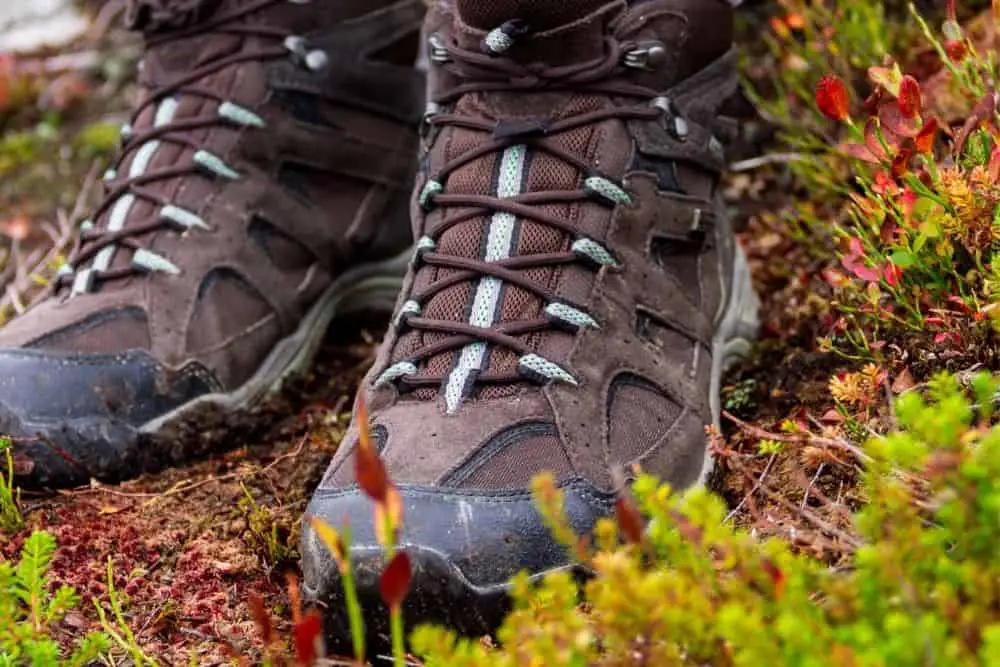 Low-cut shaft
If you usually limit your daily activities to going to work and then returning home on asphalt, you should choose low-cut hiking boots. They make your feet breathe well and more versatile to use.
If you also do some rock climbing or do exercise with some gym machines from time to time, these boots also stimulate your legs to work more productively on treadmill running, jumping rope, or legs weightlifting.
Low-cut hiking boots do not make your feet overly hot inside when your feet work continuously for many hours.
Be sure to choose boots with a mesh upper and breathable lining to increase breathability from the inside out and reduce foot odor. This is an indispensable pair of boots for everyday things in summer or hot weather.
Breathable upper
It would be a maddening sensation if you wore a pair of boots with a full-grain leather upper on a day when the temperature reached 38 degrees Celsius.
Even wearing daily hiking boots in winter, you still need a breathable upper to increase internal air convection, helping to reduce the risk of painful blisters and discomfort.
Hiking boots featuring mesh and fabric upper will enable more breathable performance inside and out than 100% leather upper.
You may not need to move constantly if you wear hiking boots for everyday use (unlike when hiking) but keeping your feet inside boots for up to 10 hours a day also stimulates the production of odor-causing microorganisms from within.
Therefore, I recommend choosing an upper combined with mesh to make your feet comfortable and healthy at the end of each day.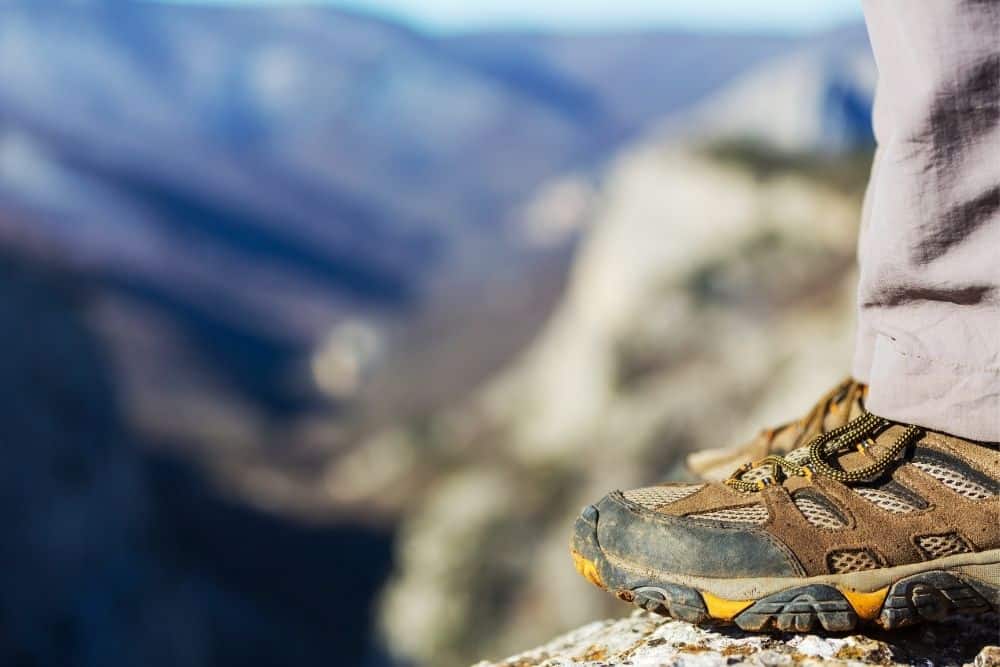 Waterproof membrane
Along with a breathable upper, a waterproof membrane should be the top priority. The constant change of environment such as from the air-conditioned environment to the room conditions or out to the hot outdoor environment will stimulate the feet to sweat according to the level of the body's response to the environment.
The higher the temperature, the more sweat the body produces to cool the body. That's why your hiking boots need a waterproof membrane so that your feet are always dry from the inside, reducing the risk of bad odors as soon as you remove the boots from your feet.
In addition, the waterproof membrane also helps prevent water from outside from reaching your feet if you are unlucky enough to encounter heavy rain on the way home.
We recommend choosing a waterproof membrane like Gore-tex lining because they are good at water-absorption/ sweat and moisture-wicking while still being breathable and won't cause bad foot odor.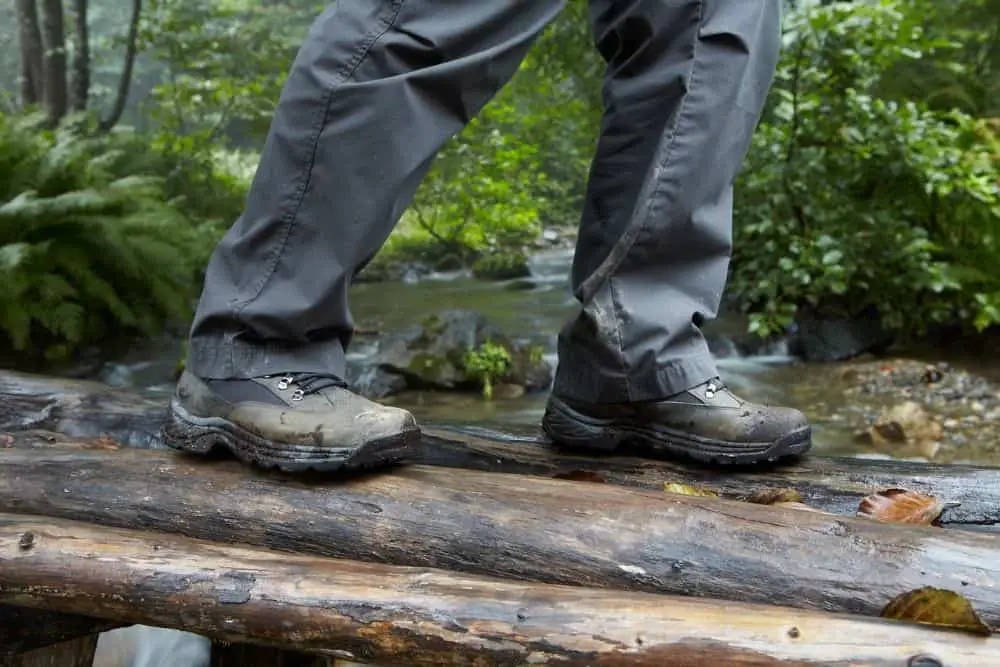 Non-slip outsole
This is a top safety feature that any footwear should have, especially a pair of hiking boots for daily use. You can run the risk of slipping and falling anywhere and on any surface that you cross.
There are even random deaths just because of falling due to slipping on the glib road.
Luckily, hiking boots are specially made to deal with the slippery, rough, and uneven surfaces you hike.
The rubber or synthetic hiking boot outsole features deep wide-spaced lugs and tread patterns designed to maximize grip and friction on sleek surfaces like concrete.
Shanks of boots contribute to improved balance and stability of the walk, thereby reducing the risk of twisting when walking on uneven roads.
Lightweight material
Last but not least, is the lightness of your hiking boots. The lightness of the boots can be directly proportional to their durability or not, depending on the material from which the footwear is made.
For example, full-grain leather uppers are usually relatively heavy while high-density nylon fabrics are lighter but can be as durable or even more durable than leather materials.
But anyway, leather boots still look more eye-catching and trendy while fabric boots often look rather idiosyncratic, dusty, and sporty. It's all your choice.
Lightweight hiking boots will contribute to activating the energy return system to make every step tired or sluggish after 9-10 hours of standing on the boots. Lightweight footwear will also be able to offer better breathability and quick-drying capabilities.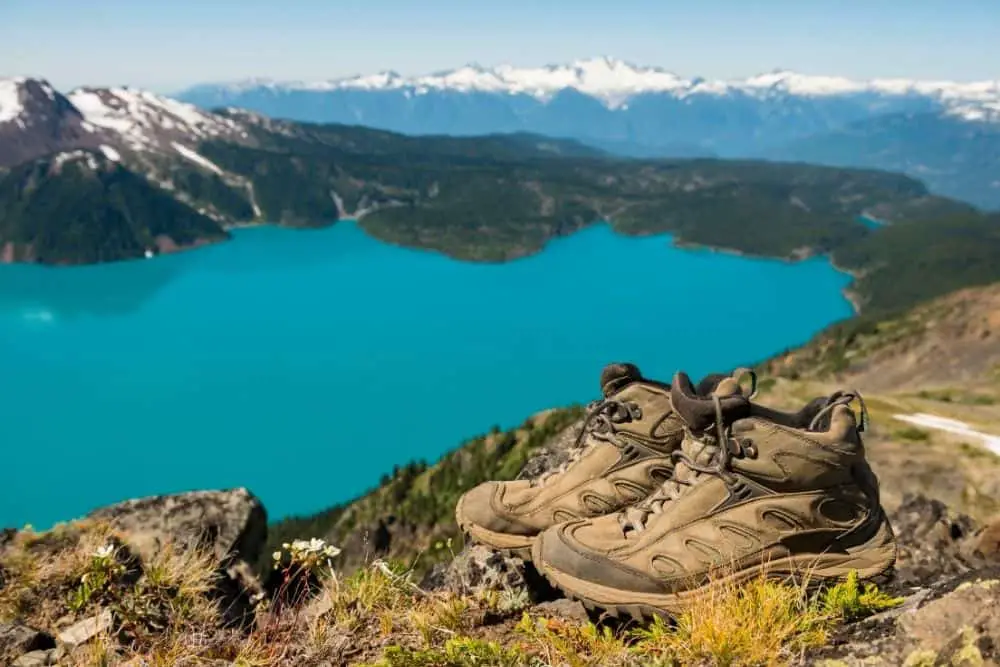 3 Best Handpicked Hiking Boots For Everyday Wear
No need to wonder, here we picked for you the best 3 options for casual use:
1. Columbia Men's Newton Ridge Plus Ii Suede Waterproof Hiking Shoe
Sale
Last update on 2023-01-17 / Affiliate links / Images from Amazon Product Advertising API
Columbia Men's Newton Ridge Plus II suede waterproof hiking boots are one of the best options on the market for freeze seasons.
With round toe boxes and fitted vamps, this pair is ideal for slim to regular-size feet.
The upper of this pair is made of suede and leather, which guarantee a decent breathable feel while still keeping the feet warm.
The outsoles are made of rubber with a proper arch shape which is suitable for common users and rigid flat footers.
The support from the soles makes this pair an ideal choice for construction workers or people who have to carry out heavy-duty tasks all day.
The cushion of the insoles reduces the chance of heel pain and worn-out ankles as well.
It is considerably lightweight and comfortable in comparison to the average models.
Features
Quality suede and leather upper
Mid-calf shaft for flexible movements and convenience
Seam-sealed boot construction for adequate water resistance
Excellent Omi-Grip outsoles for non slipping on all terrains
Con
2. Merrell Men's Moab 2
Sale
Last update on 2023-01-17 / Affiliate links / Images from Amazon Product Advertising API
Merrell Men's Moab 2 Mid Waterproof Hiking Boots is an extremely breathable pair for you to wear in every season with ease.
The pair is made of suede and mesh fabric which provides hundreds of ventilation holes for the heat and sweat to evaporate during summer times.
Being made mostly of fabric, this pair is a lightweight choice for optimum comfort as well. Customers have given feedback, and these are the biggest strength of the pair.
On the top of the toe box, you can find an extra layer of suede leather. This functions as extra protection for those who have to carry objects around frequently.
According to Merrell Footwear, these hiking boots are waterproof, but we can only guarantee that they are water-resistant.
Since they are made of mesh fabric, it is hard to avoid soaking when you wear the pair under heavy rain. Regardless, it can still withstand small rains and puddles of water.
Features
Quality, breathable leather/suede and mesh upper
Ankle-height shaft for enhanced flexibility
M Select DRY tech for great water resistance
Breathable lining for better waterproof from the inside
Excellent deep lugs and treat pattern outsoles on all terrains
A wide range of color options
Con
3. Mishansha Anti Slip Water Resistant Snow Hiking Boots
Sale
Last update on 2023-01-17 / Affiliate links / Images from Amazon Product Advertising API
If you need a fashionable pair of hiking boots to wear daily, Mishansha Anti Slip Water Resistant Snow Hiking Boots is our top recommendation.
This pair has a clean and modern design that makes it look slightly different from conventional hiking boots. Yet, the fundamental features of hiking boots remain.
These flat-soled boots are created for healthy feet training, and this feature is advisable for common users. The rubber soles provide a good grip while still being comfortable enough to walk in.
Being made of artificial leather and having a layer of fur insulation, Mishansha Anti Slip Water Resistant Snow Hiking Boots can keep the feet warm all day long during snowy seasons.
And thanks to the high shaft and secured lace system, you can avoid water from entering and wet the fur layer. Still, the pair is water-resistant, not waterproof. So if you live in a rainy area, you should keep this detail in mind.
Features
Quality, sleek-looked faux leather upper
Great insulation and snow boot-inspired design for cold conditions
Excellent anti-skid outsoles on slippery terrains
A wide range of color options
Con
Conclusion
A perfect pair of hiking footwear can make your daily walks more comfortable and lighter than ever. The key to choosing one is to understand what you need first.
You should check the shape of your feet and any special condition that needs extra attention.
Overall, hiking boots are the optimum option. You can wear them daily with comfort, and when the occasion presents itself, you have a pair of heavy-duty boots ready to go hiking on a mountain or a natural park.